By Angela Carter, with photography by James Carter — Evolution is an essential part of every business' daily life, and Glen's Fair Price owners (and siblings), Gary Stiteler and Melinda Bare, are no strangers to this. Often referred to as "Harrisonburg's Most Unusual Store" and "The Halloween Store," this extraordinary shop offers the nostalgia many of us travel hundreds of miles to experience and relive. Whether you enter the doors seeking to purchase a camera, or need an outrageous costume that no other person will wear for the occasion — or maybe you've been craving novelty candy that you haven't tasted in two decades, or you inherited a 35mm camera and it needs repair — Glen's Fair Price offers services and goods for children and the inner-child alike. All anyone has to do is take a few steps beyond the entrance to understand where the "like a kid in the candy store" expression originated from; a visit to this shop is a circus filled with nostalgia, with Gary, Melinda, and Gary's son, Gary, Jr., as your personal (and genuinely excited to help you!) tour guides.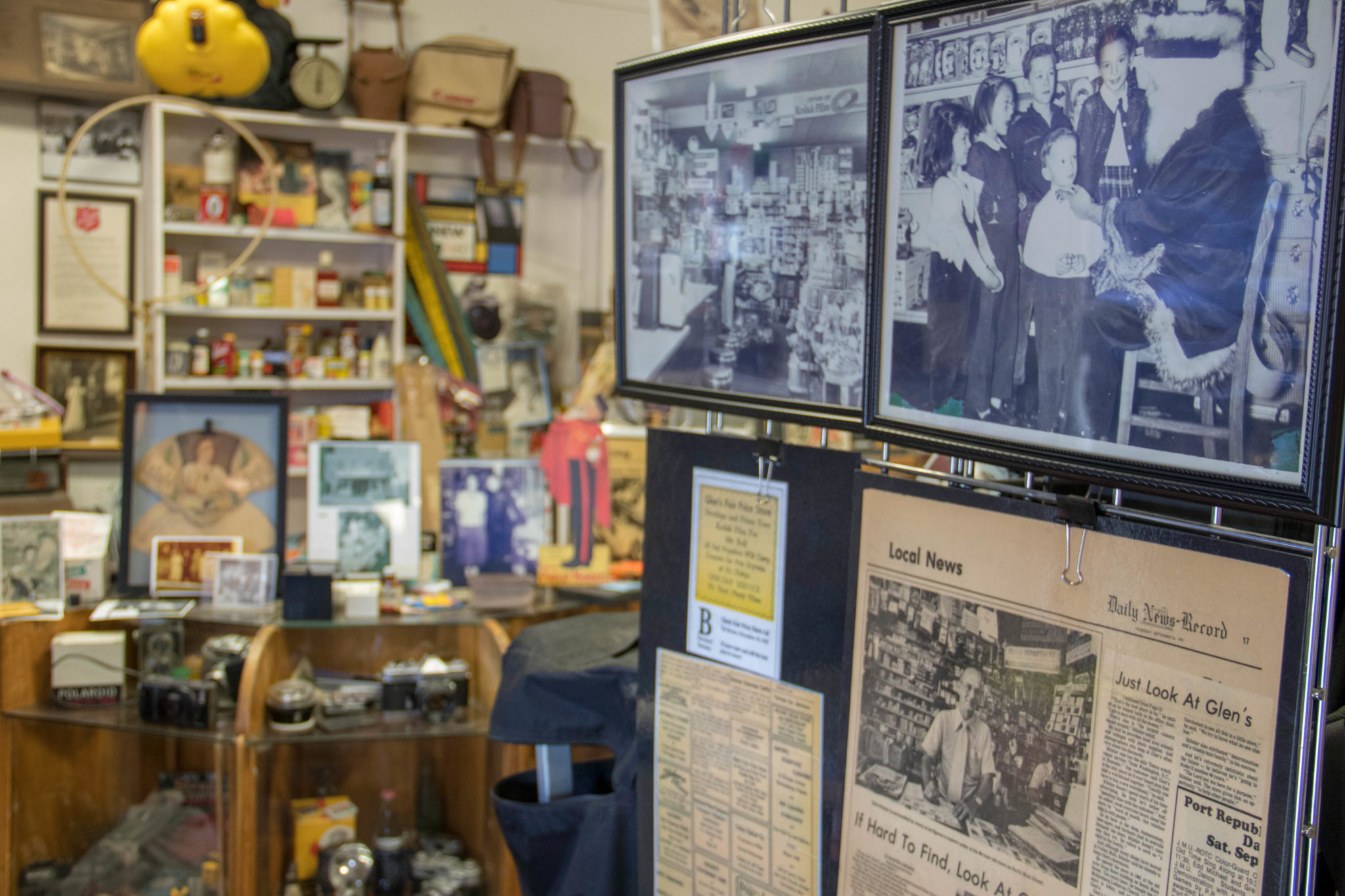 Newspaper clippings and photos detailing the history of Glen's Fair Price

Cameras, mannequins, party decorations, flags, professional theater makeup, and gifts ranging from miniature porcelain cats to vintage-inspired toys all fill the shelves and walls. Items range from the size of a thimble, to a larger-than-life-sized Elvis. This is a place where absolutely anything goes — sentimental, hilarious, odd — all of it mesmerizing and delightful to browse through. A ten-minute browse will not do; Glen's Fair Price is a journey to dedicate at least an entire lunch break, if not longer!
Nestled in the northern-most section of Harrisonburg's historic downtown district, near Kline's Dairy Bar, The Golden Pony, Bluetique, and El Paisano Bakery, the sustainability of this family business has involved many firsts and lasts — yet has always remained an instrumental part of our community.  "They are not our customers, they are our friends. Good customer service is really important to us… and we care about those we serve," Gary said. During the interview, he was noticeably excited about giving me a tour. His expression and energy reminded me of the first time my grandfather taught me how to ride a bike; there was apparent pride while he explained the significance of each item — each symbolized a story, a trip, or a phone call Gary and his family made or received. Most importantly, he gave credit to his father, Glen, for all the shop had become, and teaching him what real-world business encompassed.
Gary speaks of his father's dedication and achievements with fondness. Glen Stiteler was the first to hire a black employee (before the Civil Rights movement) from Zenda, VA. The Zenda community was a large component of the business' growth. "We hired a black man — that didn't happen in other cities," he said. "My father was trusted with the Zenda community's photo services because the business did what was right — not what everyone else was, or wasn't, doing."
HOW GLEN'S FAIR PRICE COSTUME RENTALS BEGAN
The camera business hit an evolution when digital cameras came along. Gary inquired about it and was told from experts in his field, "you don't need to worry about [the impact] in your lifetime." At first, the digital camera was considered a luxury, although cost effective for those who could afford it. Instead of resisting the change, Gary decided to research and carry digital cameras. His first digital camera, an Olympus, was sold to the Daily News-Record for $869, and was used primarily for car advertisements. Gary figured out how many rolls of film the newspaper was processing and convinced the paper that the digital route was more cost effective. However, the business needed to be multifaceted in order to meet changing customer demands.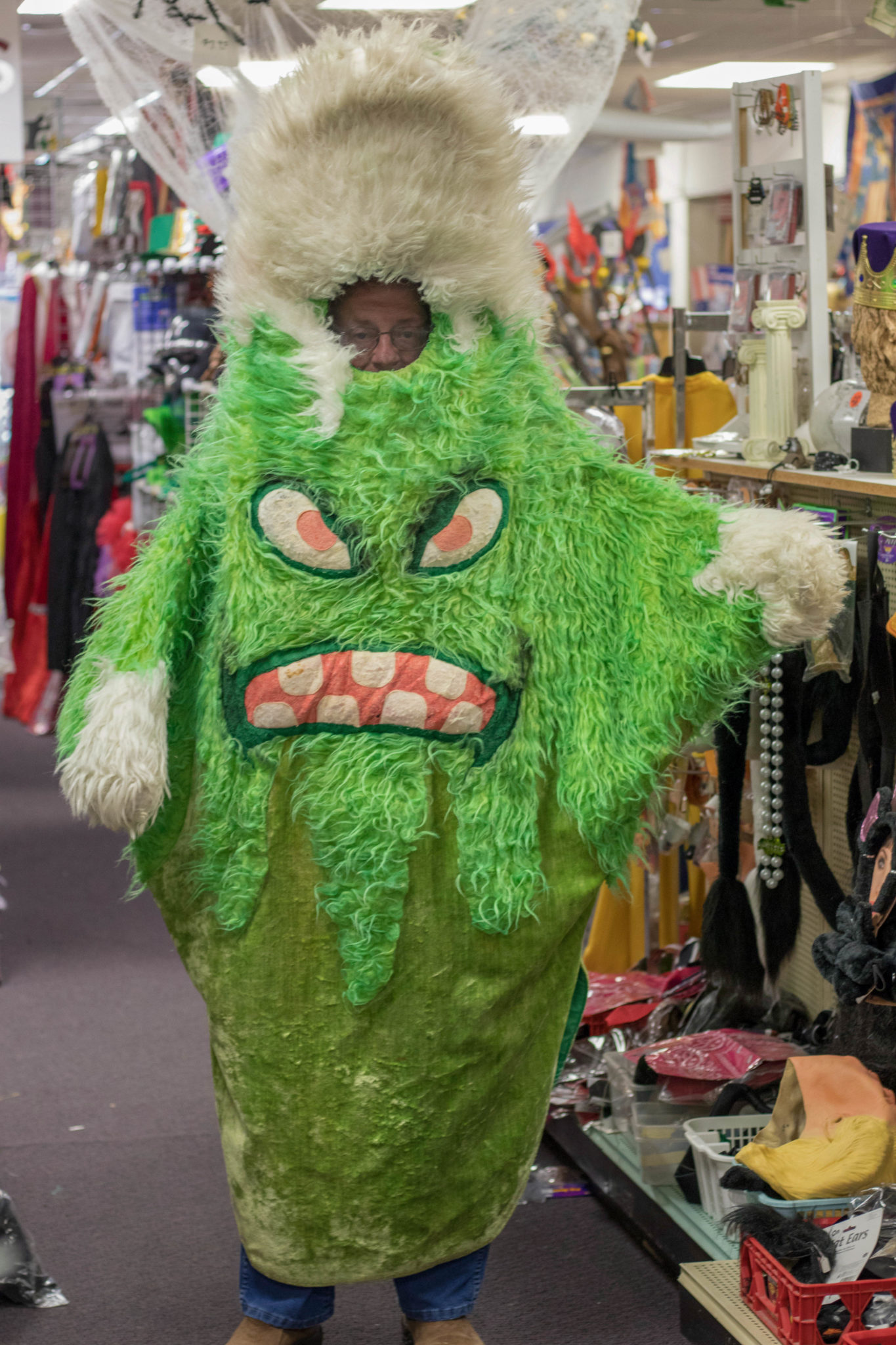 "A young woman from Ohio told us that, back home, costume rentals were big. We used to go to Daytona 500 every year. When we got there, I decided to look in the Yellow Pages and searched for costume rentals. My sister, Melinda, talked to them, and the business shared their contacts with us. They wanted to get out of it and sell inventory. We peeked in their windows. We drove two vans, and bought 125 costumes. We bought everything they had. Our own luggage was on the bottom of the pile. We never did get to our luggage once we made it to the hotel," Gary recalled with a smile.
"JMU plays a big part of our business. JMU game day is an important day for us. This community doesn't always realize what good all the students do in our community. They provide needed sales, but also internships," Gary said. The local schools and theaters purchase costumes and professional Ben Nye makeup for performances and special events. "We appreciate the relationships we've formed with the local students and schools."
"Have you heard of our costume, The Wave? It's our most popular costume for JMU game day," he asked, his face lighting up with excitement. Gary lead me to the stockroom, which was nothing short of a costume warehouse hidden behind a door in the back of the store. "Here it is," he said, holding an extremely large, furry costume. "THIS IS THE WAVE," he said with a beaming smile.
CAMERA REPAIR & EQUIPMENT SALES
Gary and Melinda carry on the lessons and traditions that their father began 91 years ago. The photo finishing business became the foundation of their lives from an early age. The business had three previous locations before moving to the current store location in 1951. During their childhoods, their family lived in the county, but their parents paid tuition for them to attend city schools, due to their father owning several businesses in downtown Harrisonburg. Downtown Harrisonburg was a way of life for the family, and still is to this day. "There was a time in the past that downtown Harrisonburg dried up. Harrisonburg Downtown Renaissance revived it," said Gary, who is also an HDR board member "This is a very giving community. People who come here can't believe how friendly people are."
Glen's loyal customers travel long distances for camera repairs and photo finishing — a lost art of the digital age. "There are only four camera shops left in Virginia. Camera shops make their business off of photo finishing," Gary explains. His customers tell him, "I'm buying this camera from you because I know you, you're local and I know you'll help if you need to."
Local business owner (The Golden Pony), photographer, and long-time Harrisonburg community member, Paul Somers, shares why he frequents Glen's Fair Price:
"I feel comfortable spending there. Sure, we have cell phone cameras readily available, but [as a photographer and event promoter] nothing compares to a high quality camera — and knowing how to use it. I like walking over to Gary and asking his opinion regarding equipment, or manual camera settings. He's a curator, historian, camera pro, and technician — he knows the history of photography and its technology. There's no reason not to shop there." Paul added that the personal interaction and service are priceless, and it simply cannot be found elsewhere. While proudly motioning to a large hanging camera bag, visibly filled with equipment, he said, "[a]ll of my camera equipment is from Glen's Fair Price. All of it."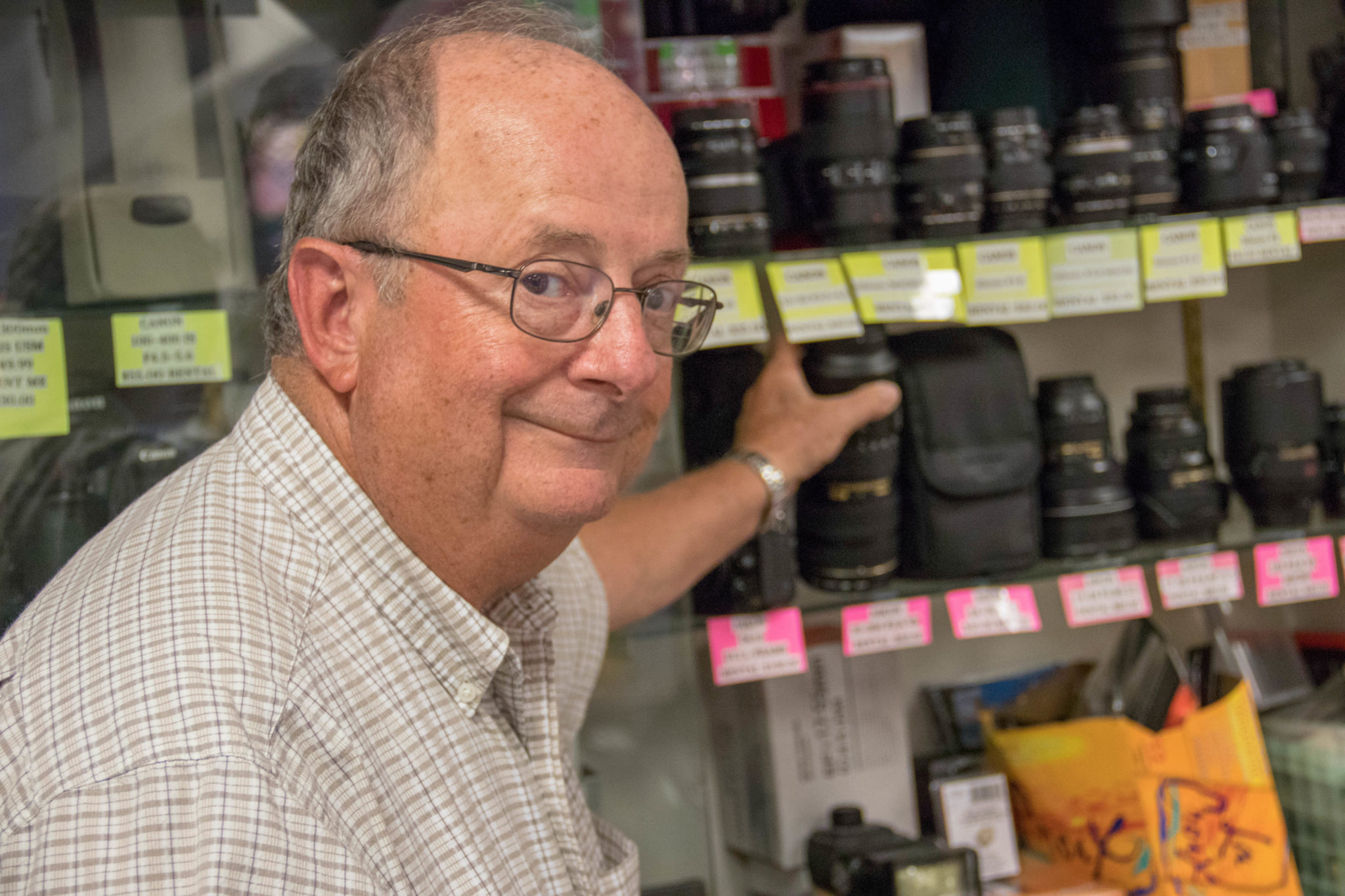 Gary reaching for one of the many camera lenses in stock at Glen's Fair Price
A COMMUNITY STAPLE
When we think of businesses, we often think of the goods they provide, but Glen's Fair Price is more of a memory-maker vs. a retailer. As Gary speaks about being a part of downtown Harrisonburg, it is with the same delight one of his customers might have while eyeing the crowded, unique items on his shop's shelves. These displays offer the excitement of nostalgia and joy of life on a daily basis. It's a place where families travel to find unique items they wouldn't otherwise encounter. "We look for unusual things. We receive phone calls from all over with people asking if we have particular items. Every year, a family visiting Massanutten comes to visit us and give us a tray of brownies."
For Andy Perrine, VP of Marketing and Communications at James Madison University, Harrisonburg Downtown Renaissance board president & long-time community member, Glen's Fair Price holds a special place in his memory :
"When my son and daughter were kids, we would walk downtown on Saturdays while their mom was teaching. Downtown was still coming back to life at that time. But two staples were alive and kicking: Jess' and Glen's. We'd eat lunch at the counter at Jess' and make faces at each other in our reflections in the chrome refrigerators behind the counter. It was tradition that I write their names on their fries using the squirt ketchup dispenser. Then we'd walk up the street and spend a few hours browsing Glen's Fair Price, which they renamed "Glen's Paradise" on account of how much they loved the place. This was in the old location where Bluetique is currently. The aisles were jammed and narrow and they had stock upstairs. To my kids it was a place of wonder, and they would get lost discovering all the curious items. My daughter still has a glass menagerie collection purchased completely at Glen's. Obviously, my memories of the days at Glen's with my kids are quite fond."
Just as Gary and Melinda search for and sell unusual items, they offer service that's rare in today's world. "To me, it's still important to help the little guy" — the little guy Gary speaks of is all involved in the prosperity of a small business. Times have changed, but Gary believes that the value of personal customer service will never diminish, no matter the years or location of any business.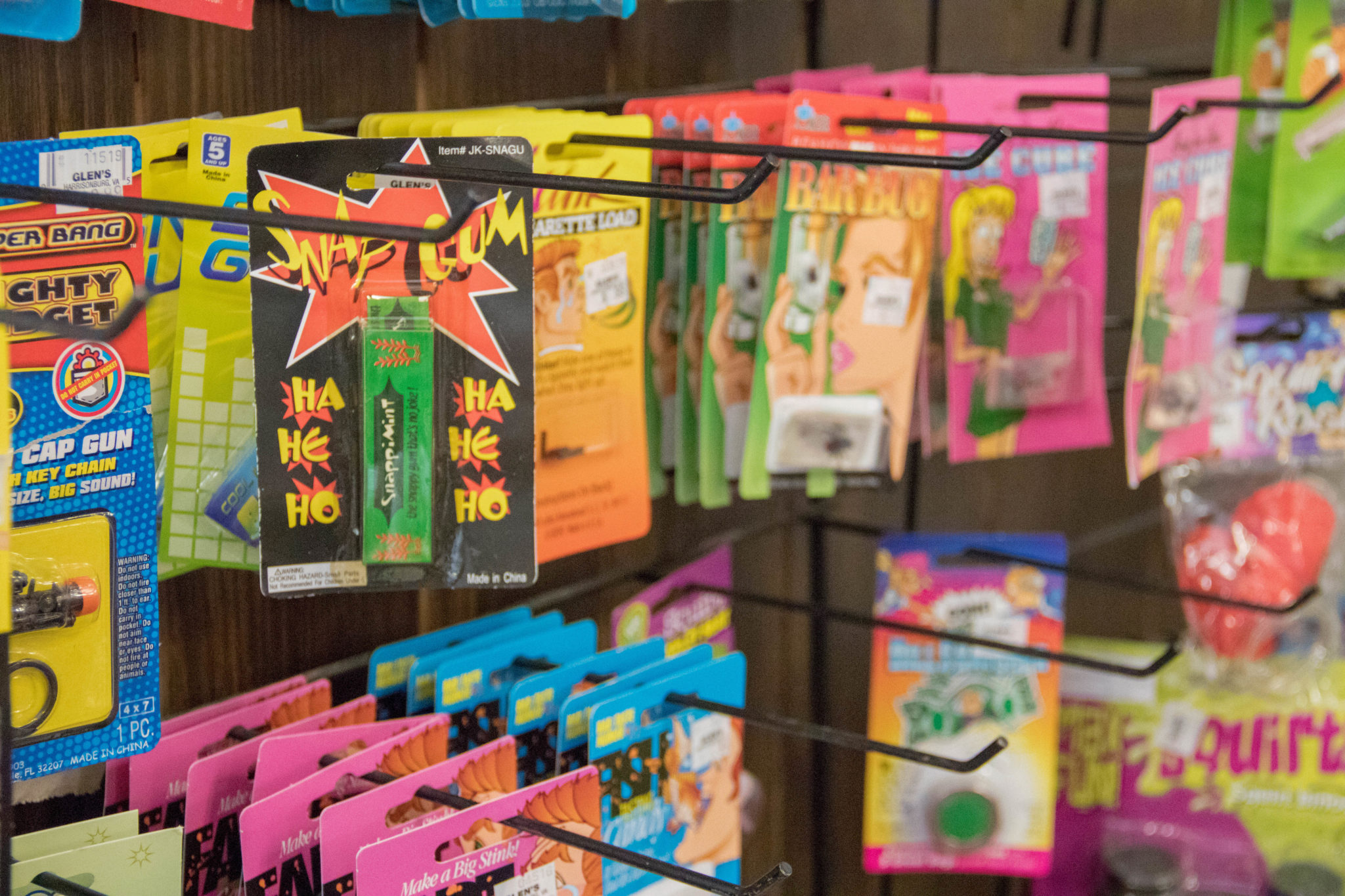 A selection of whimsical prank supplies
WHAT'S NEXT FOR GLEN'S
When I asked what the future holds for Glen's Fair price, Gary released a large breath before answering. He glanced around the shop, as though the memory of the years were all folded in his eyesight, and said, "I enjoy working. There's going to come a day when I can't. With my age and my sister's age, we are ready to consider selling all, or parts, of the business or renting all or parts of the current location building."
It was obviously not an easy decision for Gary, or his family, but evolution is inevitable — even the kind that hurts; it's what keeps a small business, and our downtown community, ever-changing and growing. Harrisonburg has many unique shops, but we challenge you to find one where you can rent a costume, buy a camera, eat a fresh chocolate Moon Pie and hear some of the best stories of your lifetime — it's all at Glen's Fair Price.
For more information, please contact Gary Stiteler, Gary Stiteler Jr. and Melinda Bare at glensfairprice@aol.com or (540) 434-8272. Glen's Fair Price is located at 227 North Main Street, Harrisonburg, VA 22802. Hours are Monday-Friday, 11 am-6 pm.
Written by Angela M Carter,  an author, poet, motivational speaker, spoken word performer, and visual artist. Her writing in her full-length poetry memoir, Memory Chose A Woman's Body, was nominated for a 2014 Pushcart Prize. Her poetry performances have been featured in a multitude of venues including The KGB Club in Manhattan and Busboys and Poets in DC. Angela is an advocate of the healing ability of the arts. She, her husband, two daughters and two dogs reside in Harrisonburg, VA after relocating, from Bath, England, approximately 10 years ago. The Carters are proud to be a part of Harrisonburg's growing and caring downtown community. Read some of her work here.
Photography by James Carter, Director and Owner at downtown Harrisonburg web design, digital marketing, SEO, and photography agency Digital Minerva. You can read more about James and his work in the community here.