By Kyle Kirby — Chris Howdyshell unlocked the door to the Agora Downtown Market with a smile and a fresh beverage from Broad Porch Coffee. Though Agora is closed on Mondays, the inside was still bustling with entrepreneurs; prepping and cleaning their shops for tomorrow's customers.
The most recent downtown project that Howdyshell has had a hand in, the Agora Market provides an open and changeable space for small business owners to share the goods they're passionate about. He and local business owner Allie Motyka have both put heart and soul into making this communal space, and with great results. Motyka is the owner-operator of Heartworn Vintage, one of the staple shops in the market. Located downtown, right on Main Street, there are few better locations for a hub such as Agora.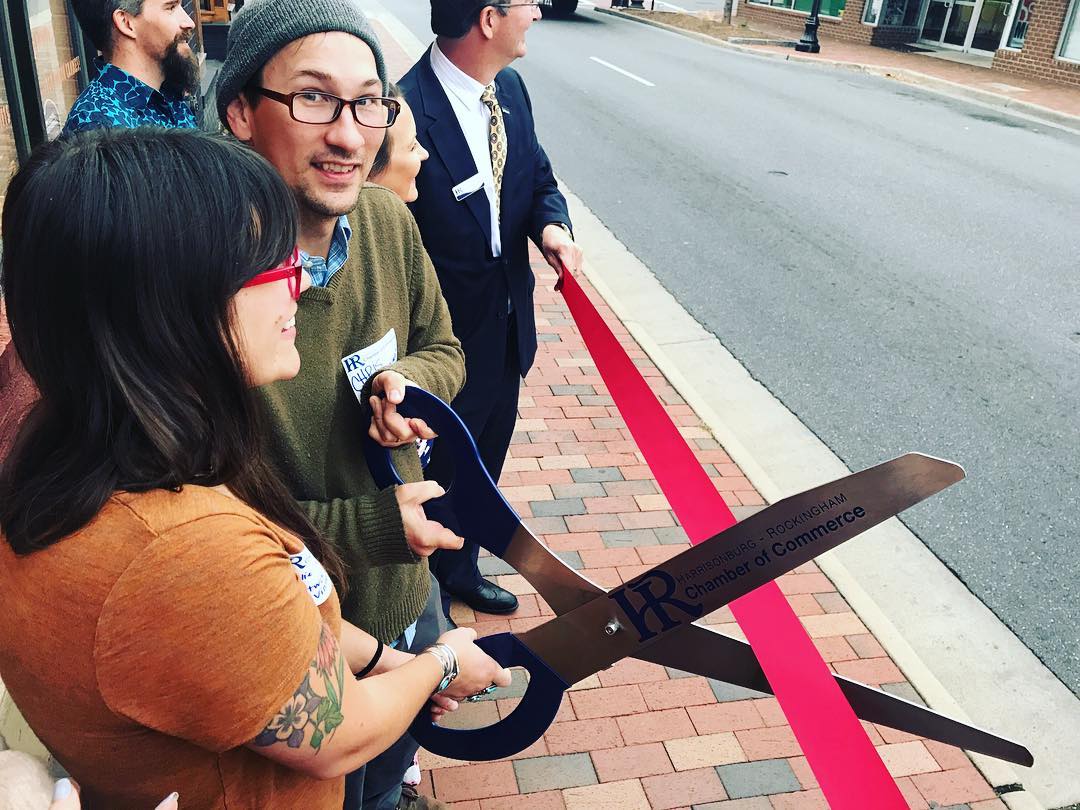 Chris Howdyshell and Allie Motyka cut the ribbon at Agora Downtown Market
During his many years in Harrisonburg, Howdyshell has also been the creative force behind Ruby's Arcade and the Little Grill Collective. He and a group of others purchased the Little Grill in 2003, and made it into the bustling and delicious restaurant it is today.
After over a decade of working at the Little Grill and the birth of his second child, Howdyshell decided it was time for a change. He moved on to work as the kitchen manager for the Thunderbird Cafe, owned by Clay Clark. After a stint there, he wanted out of, or at least break from, the restaurant industry. In hindsight, he laughs,
"I thought, 'Healthcare! That'll be what I do.'"
While he was in school to become a phlebotomist, Howdyshell was approached by Clark to refurbish some old duck pin bowling machines. He worked on the machines in an empty basement that is now known as Ruby's Arcade. Clark soon decided to purchase the Wine Bros building, and Howdyshell offered his help with putting the arcade together and also filling the apartments being built on the upper floors.
We have Howdyshell to thank for the video game machines in Ruby's Arcade, which was in no small way a gift to himself as well.         
"I always wanted a Ms. Pacman machine at the Little Grill!"
As is a recurring theme in Howdyshell's life, much of what would become Ruby's Arcade came to him through tips and help from community members, even taking a skee-ball machine that had been abandoned on the street and giving it fresh life.
Howdyshell still brings freshness and energy to the arcade every Tuesday at 7:30p.m., when he and his brother, Mike Howdyshell, host Bingo is Life together. The brothers' love of gameshows is what inspired them to begin "Bingo is Life," and they've brought in elements from many of their favorites, including The Price is Right and Let's Make a Deal.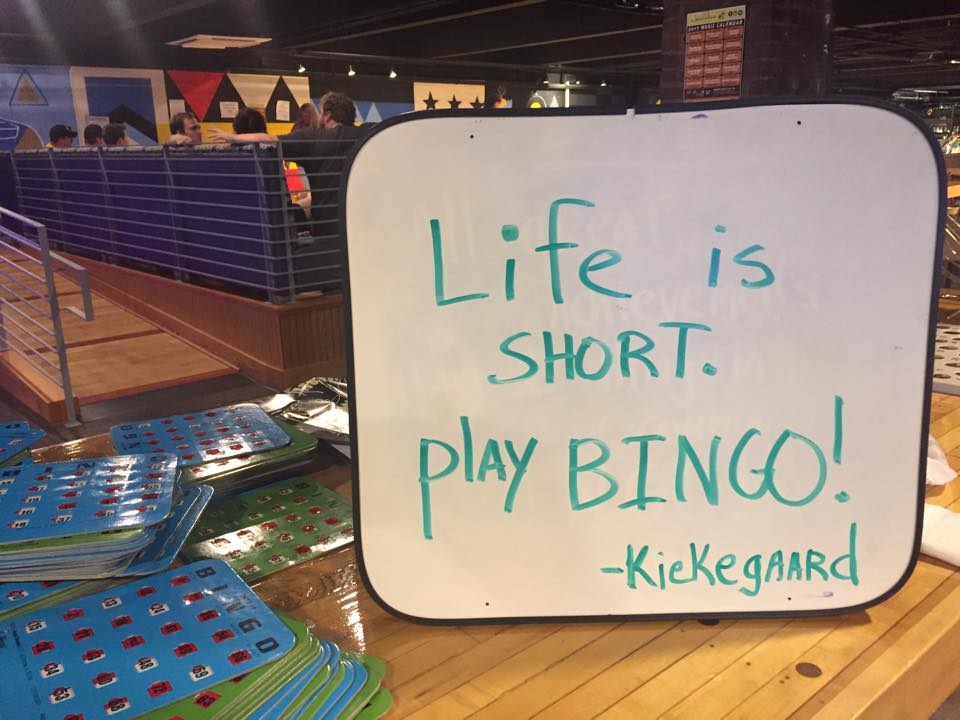 Bingo is Life at Ruby's Arcade
For Howdyshell, bingo is a part of his history, as he grew up playing it in the Briery Branch community. In tradition, Bingo is Life welcomes all ages, and the brothers are sure to keep the excitement high. His favorite crowds, Howdyshell says, are there just for the show.
"Sometimes you'll say, 'Okay if you get this number go, 'Woo!' and everyone goes, 'WOO!' And when you hear that in the arcade, it's so much fun." 
Back upstairs in Agora, Allie Motyka is getting ready to become a leader.  
Before her vintage store was in the Agora Market, she and her mom had just purchased a 1969 camper that they planned to gut and repurpose to be a mobile vintage store. But before they could begin, Clark asked her and Howdyshell to create a market in the Wine Bros building.
That was 2016, and the Agora Market has really spread its wings since then. Stores like Timeless Toys, The Isle Co., and New Creation have all found homes within Agora's welcoming space. The market offers smaller square footage options, which is great for businesses that are just starting out. There's only one space left, so if you're ready to launch a dream, give Agora Market a call! Both Howdyshell and Motyka agree that the most important part of Agora Market is the communal attitude.  
"We share in expenses, which is super helpful in the marketing category, we help each other out whenever we can, helping to cover when someone is sick or running late," says Motyka.  "We make decisions as a group and it really benefits us all."
Howdyshell will be moving on to a job in Augusta County soon, leaving Motyka at the helm of Agora. In terms of his departure, Howdyshell says the Harrisonburg community is what brought he and Motyka together to establish Agora Downtown Market, and it's that same community that will buoy her as she takes over solo command.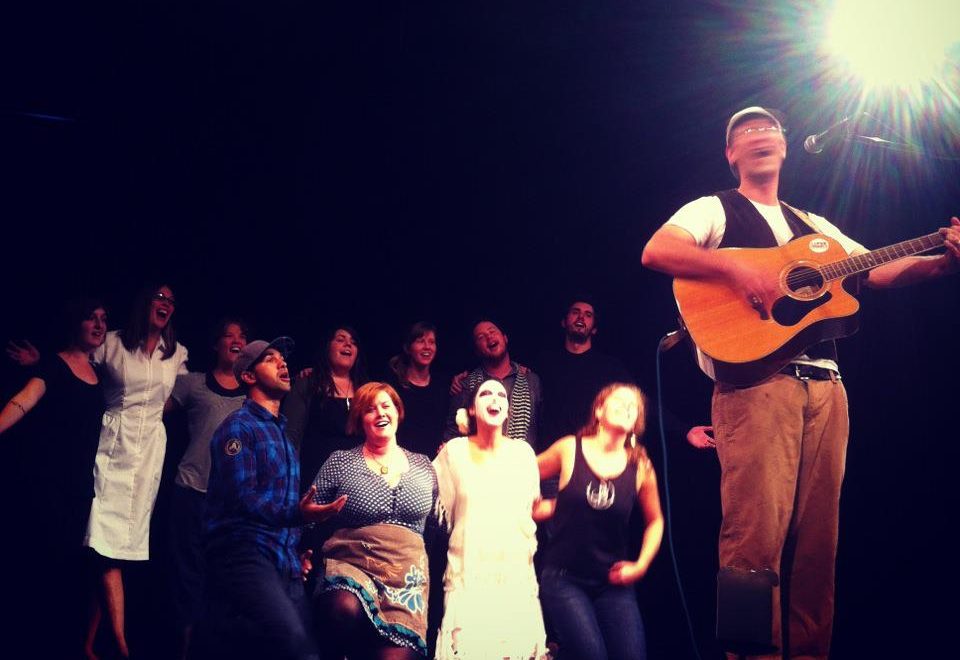 Chris Howdyshell performing on stage
Howdyshell's impact on downtown Harrisonburg doesn't end with his entrepreneurial pursuits — you can often catch his band, Dr. How and the Reasons to Live, bringing their fun and feel-good act to venues around downtown. He's also heavily involved with Harrisonburg Downtown Renaissance, most recently serving as MC along with his brother Mike at Friendly City Fourth. They kept the crowd entertained through the stormy weather with a mix of games and music, including an original song about Harrisonburg that Howdyshell wrote himself!
"Like everyone else, all of us at HDR love Chris. He is one of the most creative, friendliest, talented people out there. He can figure out how to do anything – from starting up a business to fixing duckpin bowling machinery," says Andrea Dono, executive director of HDR. "Any time we were giving a tour – for student groups to media writers – Agora and Ruby's Arcade were always on the tour. He really helped make those places special and told the story about the buildings and the businesses with such enthusiasm that no one ever wanted to leave."
Howdyshell has certainly left a legacy in Harrisonburg's downtown and although he's moving, he won't be far — and you'll still be able to catch him and his brother MC'ing Bingo is Life every Tuesday at 7:30 p.m at Ruby's Arcade.
On why he loves Bingo is Life, Howdyshell says: "We can all get together and laugh at each other — we just don't have enough excuses to do that!"
Kyle L. Kirby is a fervent writer and committed creative. He graduated with a bachelor's of science in Writing, Rhetoric, & Technical Communication from JMU in 2017. After a stint teaching English on the island of Mallorca, Spain, he has returned to Harrisonburg ready to jump back into its wonderful community. You can learn more about Kyle and his work at www.kyle-kirby.wixsite.com/four