Downtown Park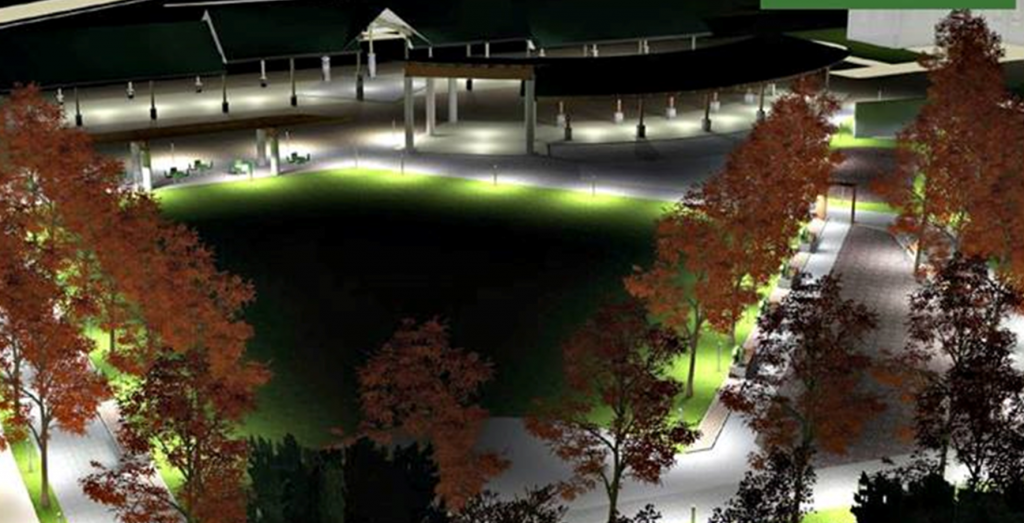 HDR serves on the Build Our Park board of directors to work with other community members to help realize the dream of a downtown park for recreation and events. We provide on-going leadership for the organization as well as make frequent donations and write grants to help fund the project.
This year, the HDR Design Committee volunteers redesigned the park concept for free to fit into a smaller footprint as requested by the city. This project was then submitted as an unsolicited proposal for the city's review and consideration. The city brought in outside analysts to assist with the review of the proposal and HDR provided background information and participated in a portion of the analysts' visit in the fall. We are now getting ready to draft an interim agreement to hopefully hit the ground running to make the park happen. In 2018, HDR contributed $5000 to Build Our Park from Friendly City Fortune funds during the Great Community Give and participated in the day of giving as a donor instead of as a recipient. We made a power hour donation which helped Build Our Park receive an extra $2000 at the end of the fund raising day. We plan to continue making donations to match private contributions.
To learn more about the project and to get updates, visit Build Our Park's website – http://www.buildourpark.org/.
Downtown Trailblazing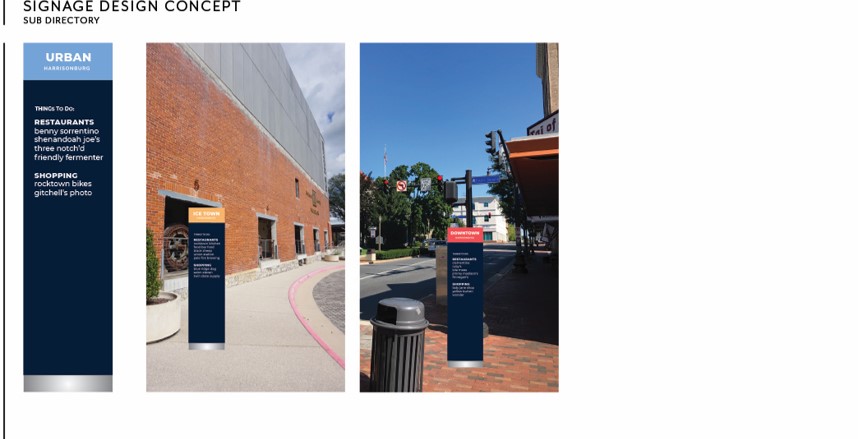 We used our Virginia Main Street free technical service in 2018 to participate in a workshop with a community design expert to figure out some ways that we can creatively encourage pedestrians to circulate throughout downtown instead of getting stuck at certain places. Design Committee members, Friendly City Merchants, city and HDR staff, and JMU environmental design students participated in the workshop. Great ideas were generated and the JMU students developed a few concepts for us to consider for visual improvements and signs. The Design Committee is discussing those concepts and we'll take the best ones to businesses so we can further develop our favorite ideas and develop final concepts. We plan to develop a great system together with our partners and will seek city approval so we can start looking for funds. We'll post more information and hopefully some of the drawings soon.
Holiday Decorations
As part of our hope to make downtown Harrisonburg THE shopping destination of the Shenandoah Valley, HDR has purchased brand new decorations to help illuminate downtown even more this holiday season. We lit up downtown with new, energy-efficient snowflakes and partnered with HEC to hang them before the holidays! We also decorate Court Square and the Spring House (for which we also bought new, easy to set up LED decorations).
Downtown Beautification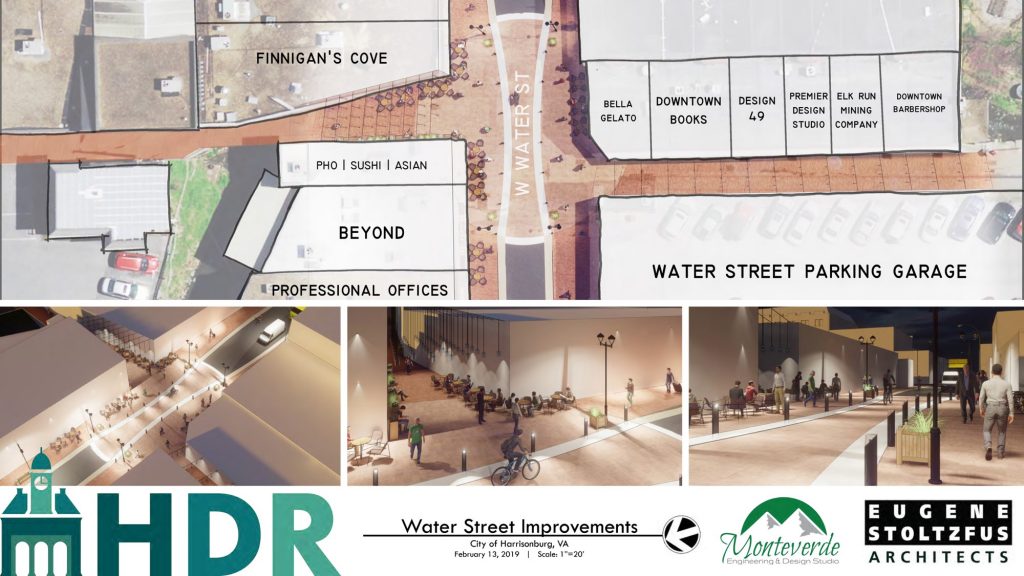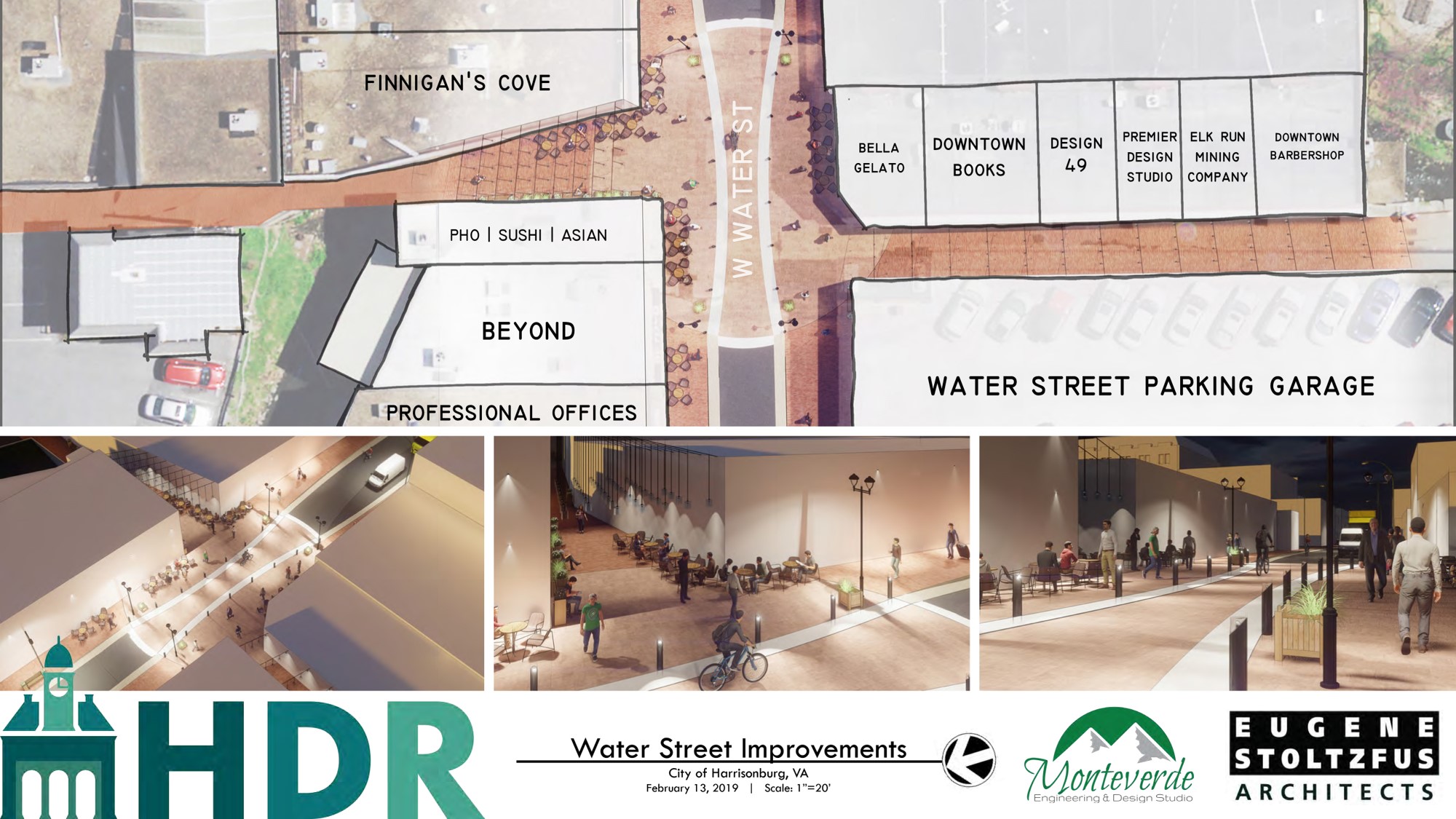 Our Community Engagement Committee helps us make the Friendly City Fortune mega raffle a success every year, but they also help us brainstorm projects that could make an impact in the community. This year, we decided to take a look at Water Street and the alleyway in between Finnegans and Beyond. All of our volunteers thought that the street is an important pedestrian pathway for people traveling to and from Court Square as well as for people who arrive downtown and park in garage. We thought it was time to take a look at the dirty sidewalks, lack of flowers, lack of art, and lack of personality or pizzazz. We've been talking with the business and property owners adjacent to the alley and will have a few improvements to announce around Thanksgiving. Then, we'll think of ways to keep sprucing up appearances for additional installations next year.
For Water Street, we hope to install an Art Bike rack next year as part of the Destination Downtown grant and are working with Design Committee members on new street furniture and planters. We'll be sharing those ideas with the business and property owners on this block for their feedback in addition to looking for volunteers to plant and keep new landscaping alive for the long haul!
There have been conversations among community members about bringing an art trail through downtown, which could include this stretch of downtown. We also really love the concept of musical instruments being placed along such a trail. We're talking about taking a big picture look at downtown and partnering with others to make a bigger, more extensive project happen. Perhaps with a really nice, big grant!
Parking
We have contributed time and funds towards a 2019 parking study together with the City. An RFP should be issued in April and we hope to hire a firm soon after to get new ideas for how we should plan for parking downtown to accommodate current needs as well as anticipated growth.
Downtown Master Plan
We have allocated funds and are ready to partner with the City on a downtown master planning process. We are excited to have a road map to the future of Harrisonburg's best asset. Master planning efforts always include robust community engagement, so we look forward to seeing you at some of the discussions to help shape downtown together.