Downtown Alley Beautification: From Start to Finish
If you walked down the alleyway between Beyond and Finnigan's Cove recently, hopefully you enjoyed the surprise you encountered! Clean sidewalks covered in a stenciled design, new wooden trash cans, new wooden planters with maple tree saplings, decorative lights on the branches, and a new trash system for Finnigan's. This was one of the most exciting projects HDR's staff and volunteers were able to work on and we wanted to tell you about some of the behind-the-scenes work that made this awesome beautification project happen.
When HDR launched our Friendly City Fortune Raffle in 2017, our dream was to raise funds to finance projects we had not previously been able to take on. Before we held the first raffle, we crossed our fingers for its success, and asked the public to help in dreaming up the types of projects that we could do with these funds. In 2016, we held an "Idea Pop-Up" and invited community members to share their vision for projects  that they'd like to see pop up around downtown. People asked for color, greenery, and brought photos of alleyways from around the nation and said, "wouldn't it be cool if we could do this, too?" We agreed. Luckily the Friendly City Fortune was a successful fundraiser and allowed us to get the ball rolling on a community-based project.
Our first step was trying to figure out if this project could even happen – so we approached the City of Harrisonburg Community Development Dept. to learn what we needed to know. They sent us a map identifying four different property owners, along with a copy of the city's easement for the site, and guidance on which city departments we should meet with (the Fire Department and Public Works). We started holding meetings with city staff, property owners, and business owners to get their feedback and support. Concurrently, our committee volunteers joined us in more fun conversations – what could this alley become? We came up with project goals and started planning.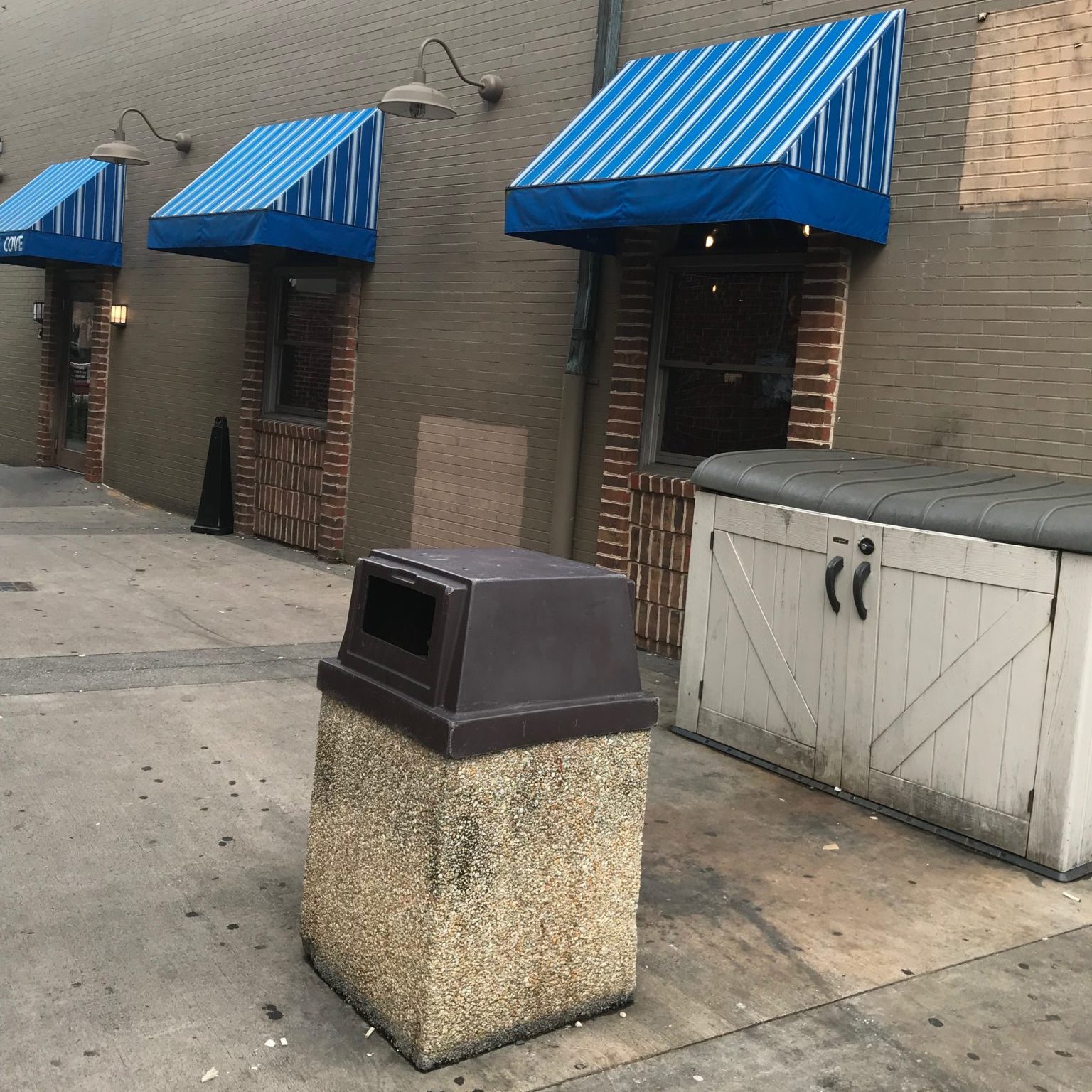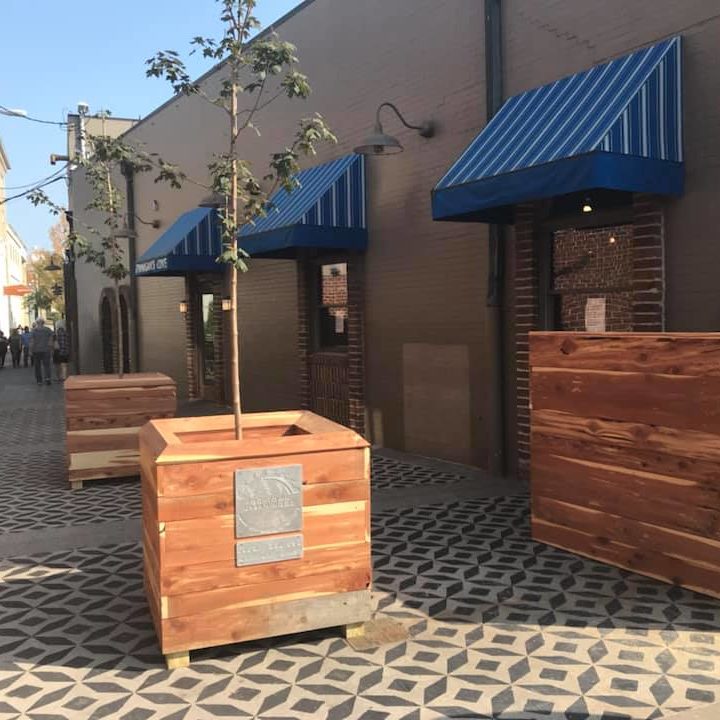 Phase 1: Brainstorming

This is always the fun part. The sky is the limit and creativity reigns. The first brainstorming ideas ranged from adding a vine covered pergola, a steel-framed structure, painted characters to discover under the Beyond, pendant lights from roof to roof and more. However, at the end of the day, reality sets in and other factors have to be considered. Once we had input from the city, property owners and business owners, the design took multiple shapes before ending on our final version. Below is one of the early renderings for the Alley and Water Street pedestrian crossing.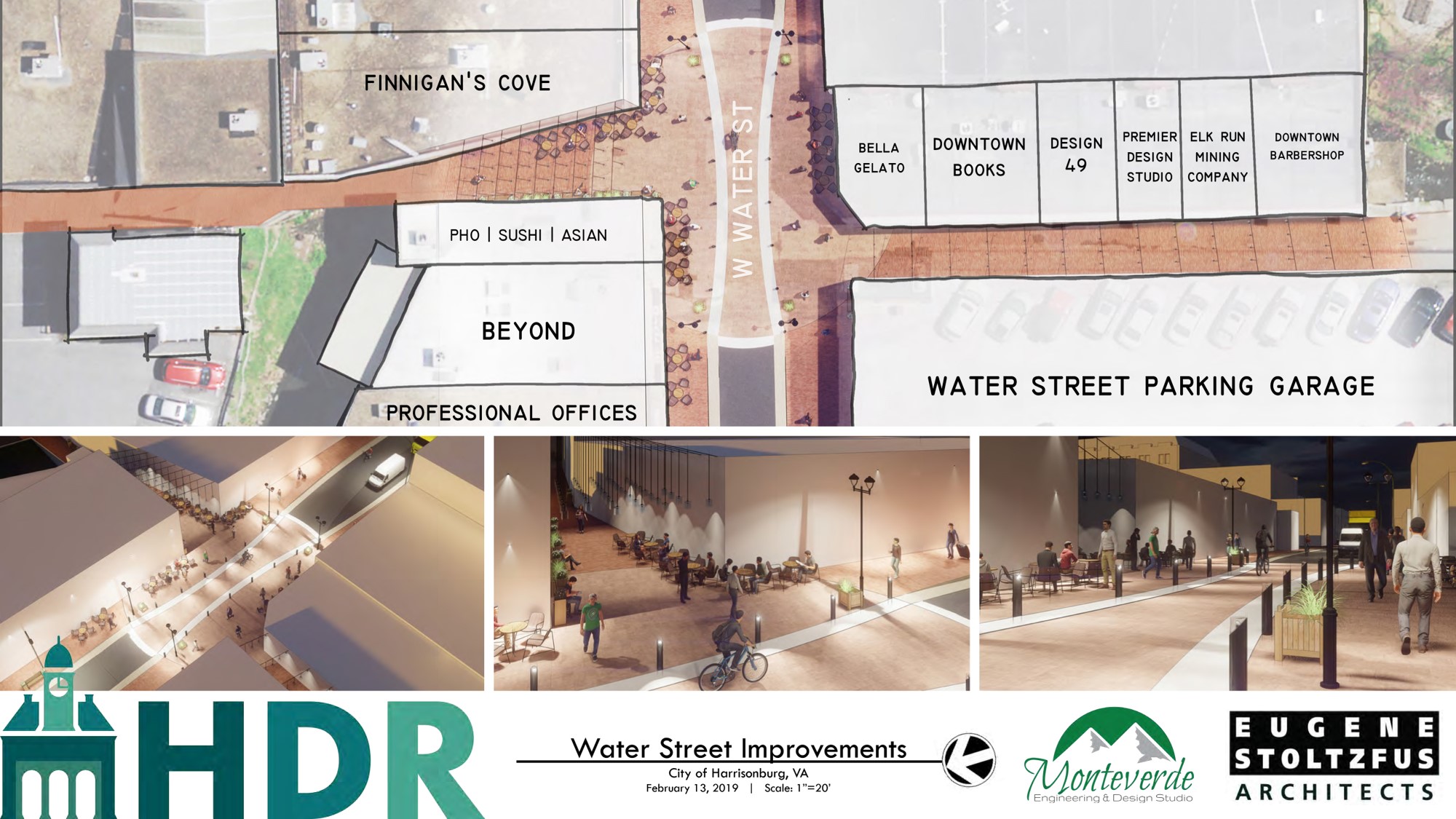 Phase 2: Design
In May of 2019, Lauren Huber, director of resources, became the project lead with a hopeful completion date of late August. Working with a group dedicated to completing the project on budget and on time (we came close), they began to hone down the ideas to a realistic design and set goals for the project. They agreed the project should ensure the alley would be accessible to all users and not block anyone's mobility, the pavement should be cleaned, there should be an enhanced trash collection and storage system, and art and color should be added.

The elements of the design project per goals:
Clean the pavement

Blue Ridge Exterior Cleaning was hired to power wash the alley to the best of their ability, while also minimizing any run-off into Blacks Run. This posed some creative challenges on their part, however they successfully blocked drains, used a bladder system to direct water away from the bridge, and extracted the majority of water they used with their washing system.

A new trash collection and storage system

In the dense downtown district, trash storage is a major problem for most businesses. Water Street does not have access to a communal dumpster, leaving the businesses to get creative with their collection and storage systems. The design includes the addition of a screen to hide rolling trash cans and help reduce the carrying of loose bags.
Replace the outdated stone trash cans and include additional, more prominent cigarette butt dispensers.

Add color and design elements

Stained concrete pattern

The pattern stained onto the pavement serves both a design and utilitarian purpose. The "area rugs" help add an interesting characteristic to the space while also helping to mask any residual staining on the pavement.
Concrete stain was used with the hope of reducing any chipping. Instead the pattern should fade over time.

Trees were added to break up the hardscape of the alley and add color.

Lights were added to the trees.

Local cedar-sided planters, trash can screen, and trash can surrounds

Continuing with the urban tree program and the planters on 33 W, we chose to keep that design element throughout this project.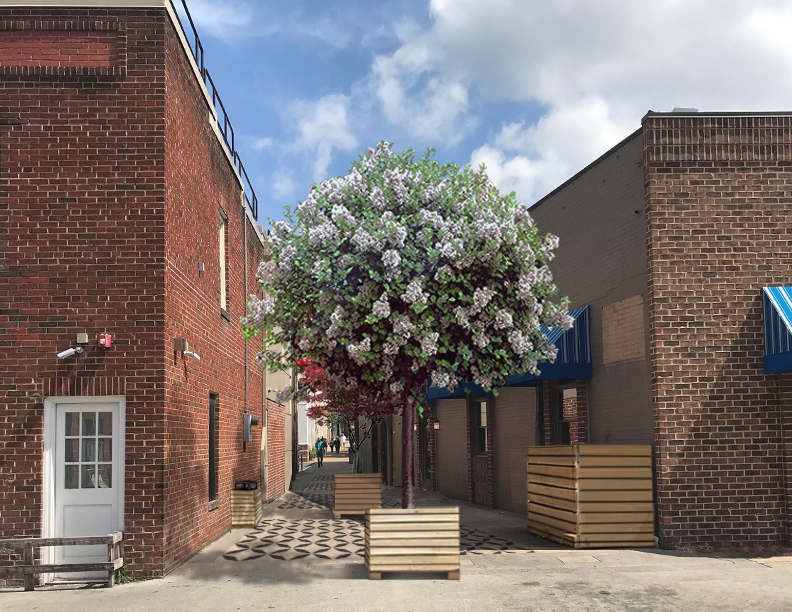 Phase 3: Budget
We started with a budget of $10,000, funded by proceeds from the Friendly City Fortune. Here's the final breakdown:
Power washing: $2970

Handmade cedar planters, trash can surrounds, and decorative screen to shield trash cans: $3650

8 industrial trash cans: $1000
Trees: $200
Paint & Supplies: $650
String Lights: $25
Volunteer Supplies – $90
Total: $8585
Phase 4: Partners
City of Harrisonburg

Public Works: Tom Hartman and his team advised us throughout the project, helping to ensure that all regulations were met and project components were allowed. They helped us understand DEQ and stormwater requirements.
Community Development: Thanh Dang helped make sure that we followed city ordinances. Rachel Drescher helped us protect Blacks Run throughout this project and helped us create a plan in case of flooding.
Parks and Recreation: Mike Hott and his colleagues not only advised on the appropriate trees for the planters, but they also planted them.
Harrisonburg Fire Department: Advised on needs they would have in case of a fire to ensure the design would not obstruct their access.

Property & Business Owners: The alley is privately owned and the city has an easement for public use. The project design was finalized using feedback from the property and business owners and we obtained their approval.
 Vendors:

Rocktown Urban Wood creates custom woodworking projects using locally sourced lumber. Thanks to Brad Wroblewski, Landon Heavener, Ned Gearing & Rhett Miles
Blue Ridge Exterior Cleaning were able to do an exceptional job cleaning the pavement while also protecting Blacks Run.
Modus Workshop created the etched metal signs on the front of the planters.

 Volunteers:

Design Committee: Randy Seitz, Eugene Stoltzfus, Adam Steineger, Jon Ernest
Community Engagement Committee: Jen Sodikoff, Matt Cuba, Ryan Sodikoff, Tyler Conley, James Carter
Concrete Staining Crew: Mindy Schwartz, Mira Khakimova, Dana Harshberger, Brad Wroblewski, Molly Whitmore, Michael Zook, Aaron Watson, Kyle Kirby, Carl Goetz, (plus HDR staff Erin Smith, Andrea Dono, Lauren Huber)
Special shout out to Adam Steineger and Brad Wroblewski who were a key part of the project team from start to finish.
Phase 5: Implementation
Day 1& 2: The City of Harrisonburg Public Works Department set up barricades to close the sidewalk and removed the old trash cans. This allowed Blue Ridge Exterior Cleaning to clean the space unimpeded. They covered all drains, used a bladder system to keep water from spilling into Blacks Run.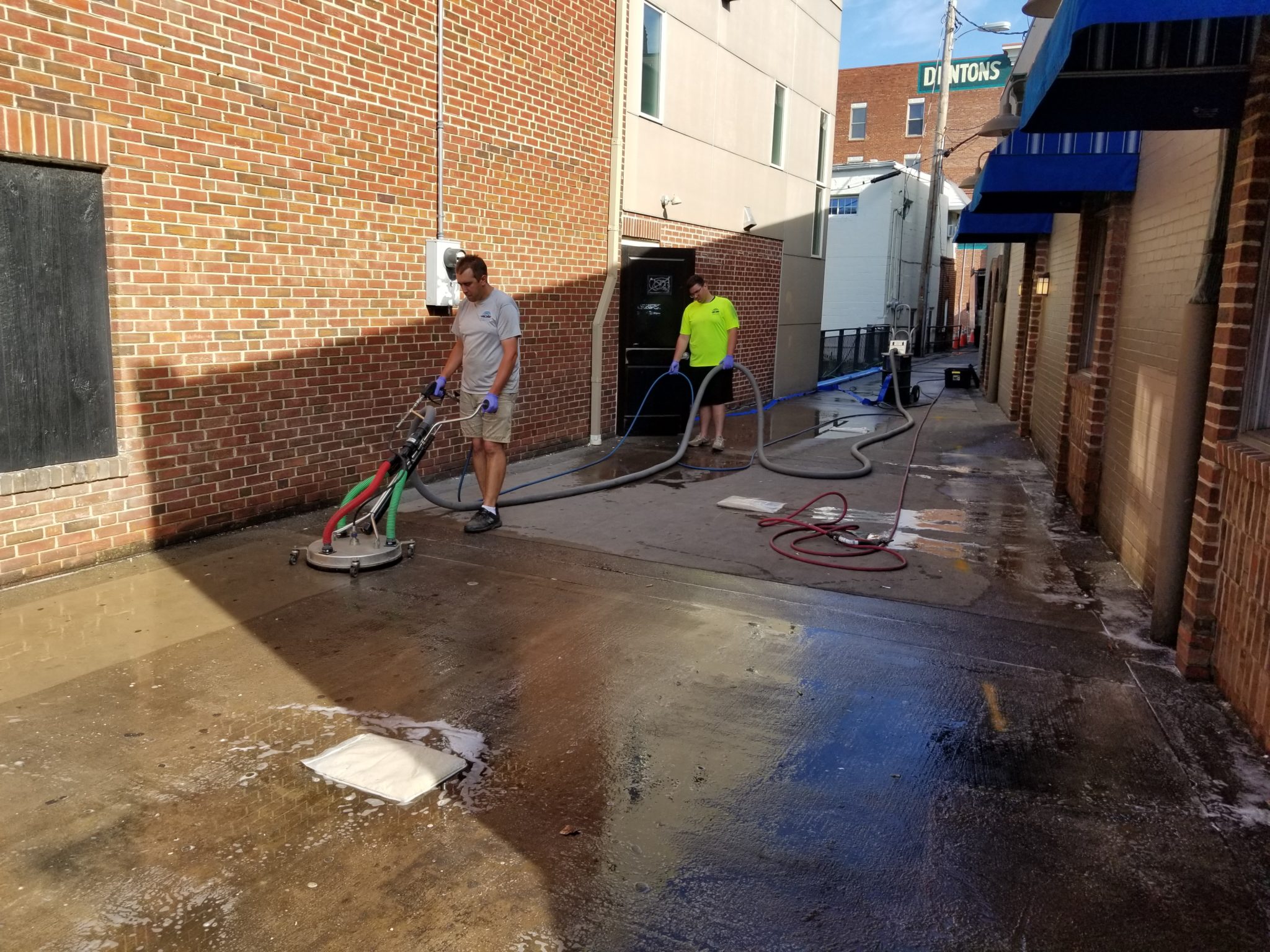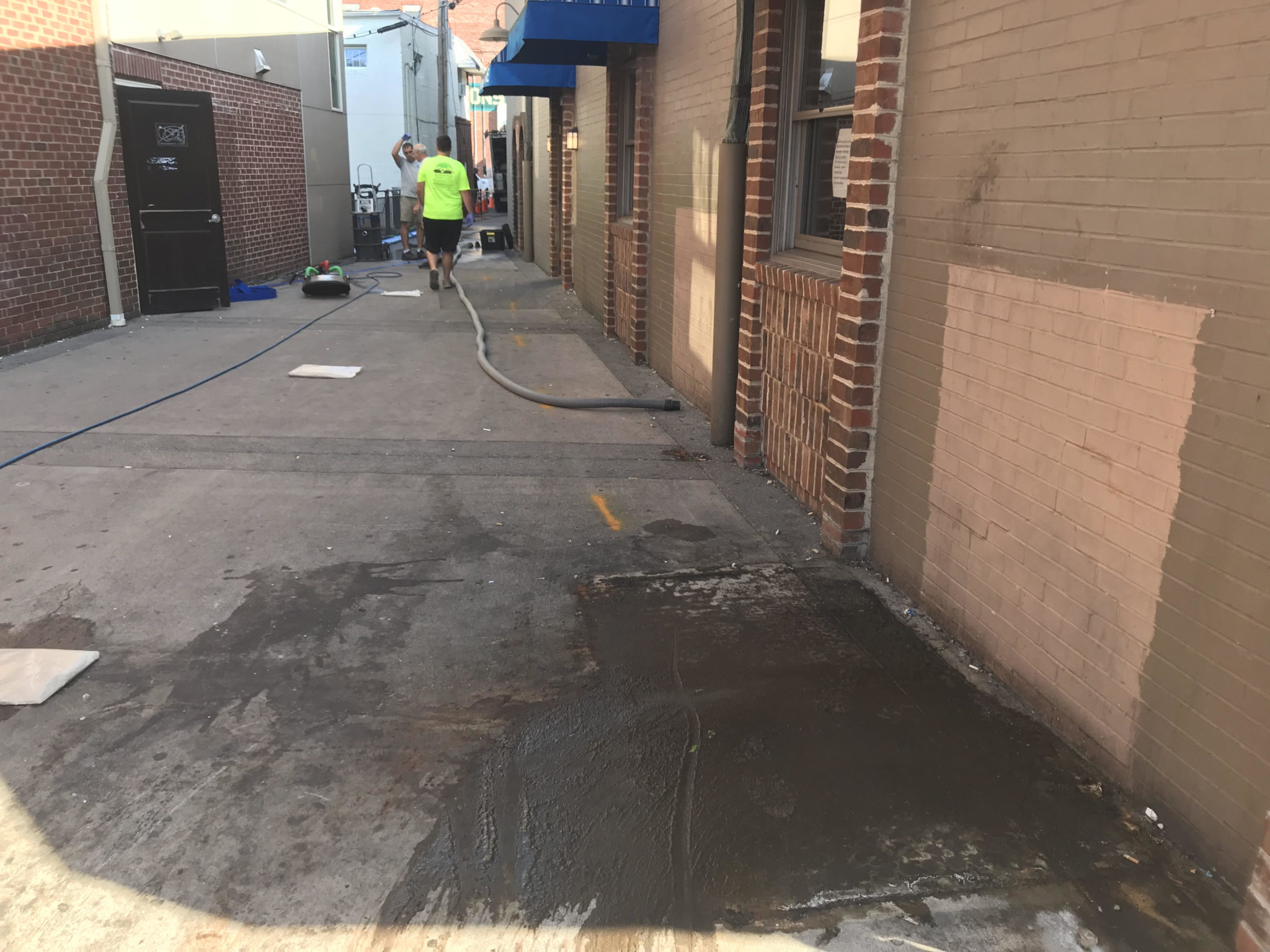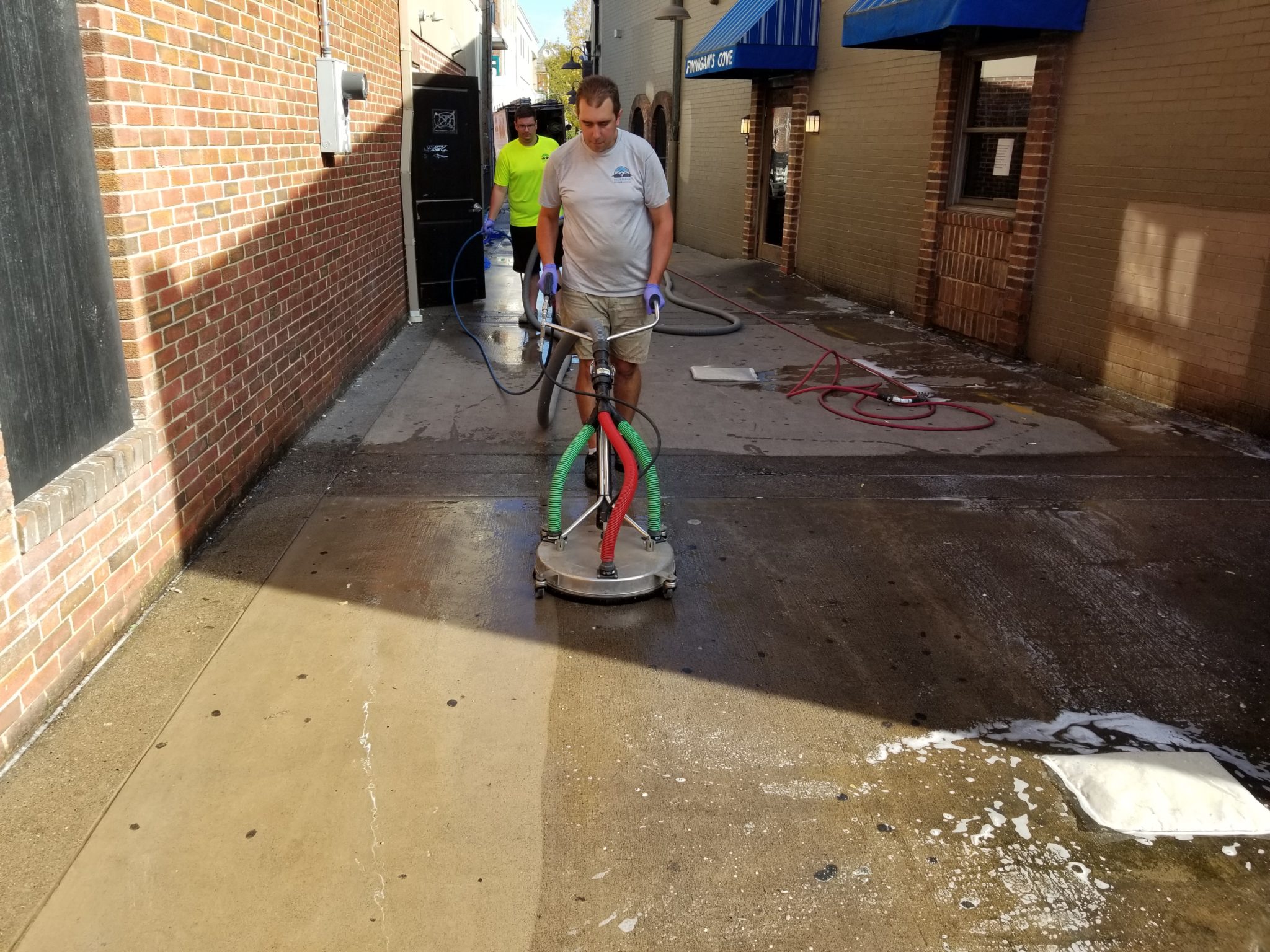 Day 3 & 4: With 12 volunteers throughout the day, it took 12 hours to stain the pattern on the concrete using 16×16 stencils.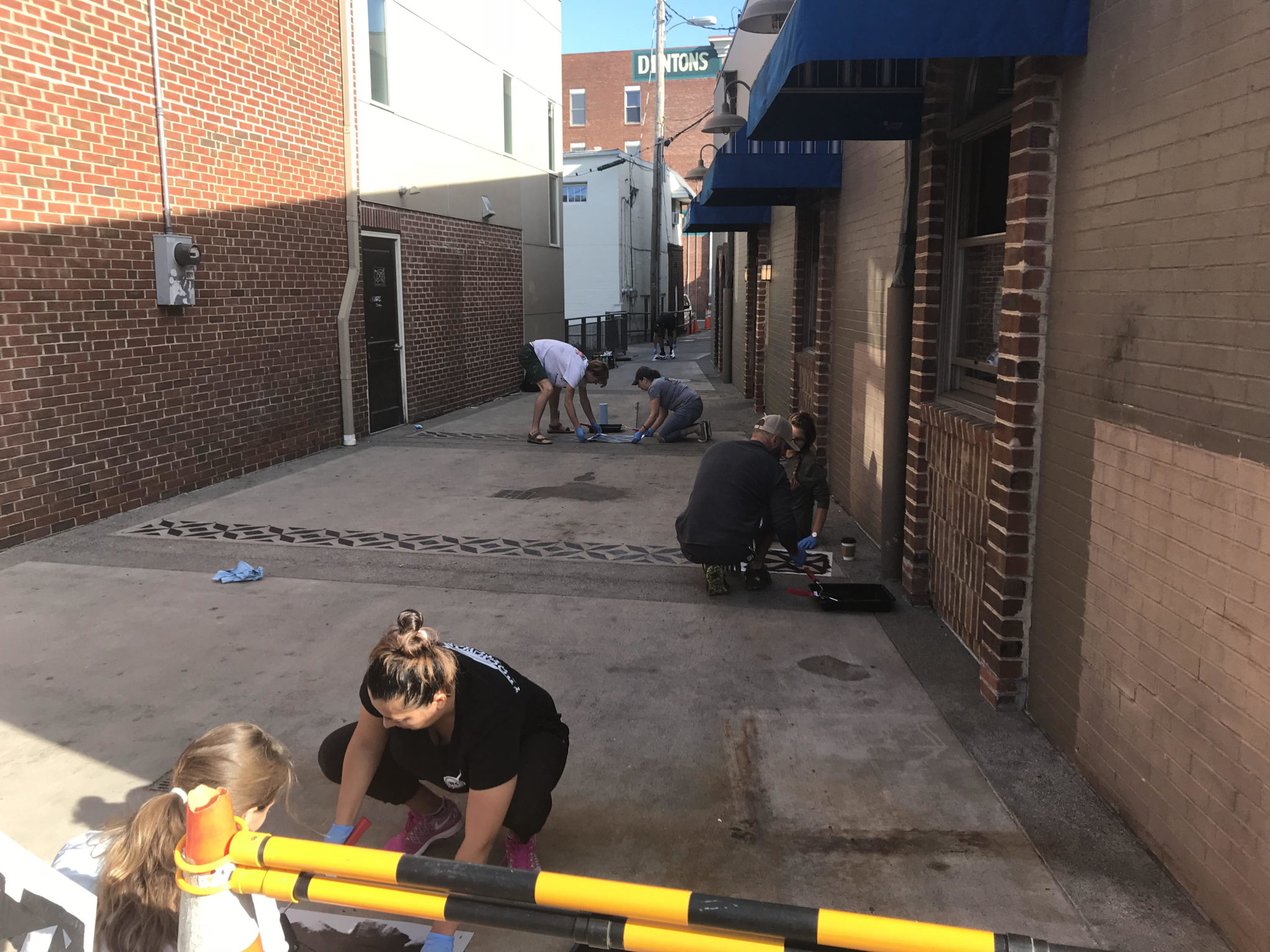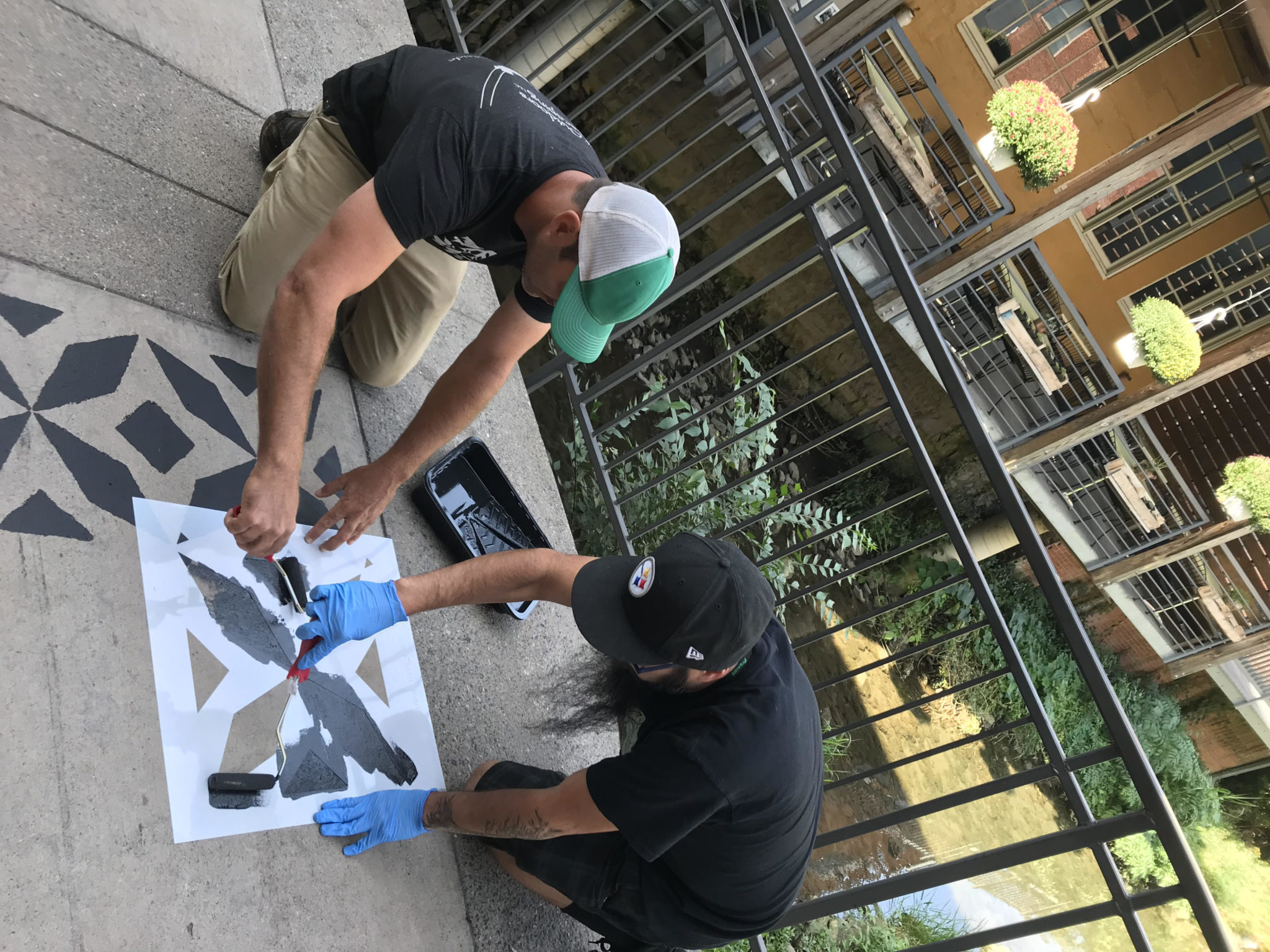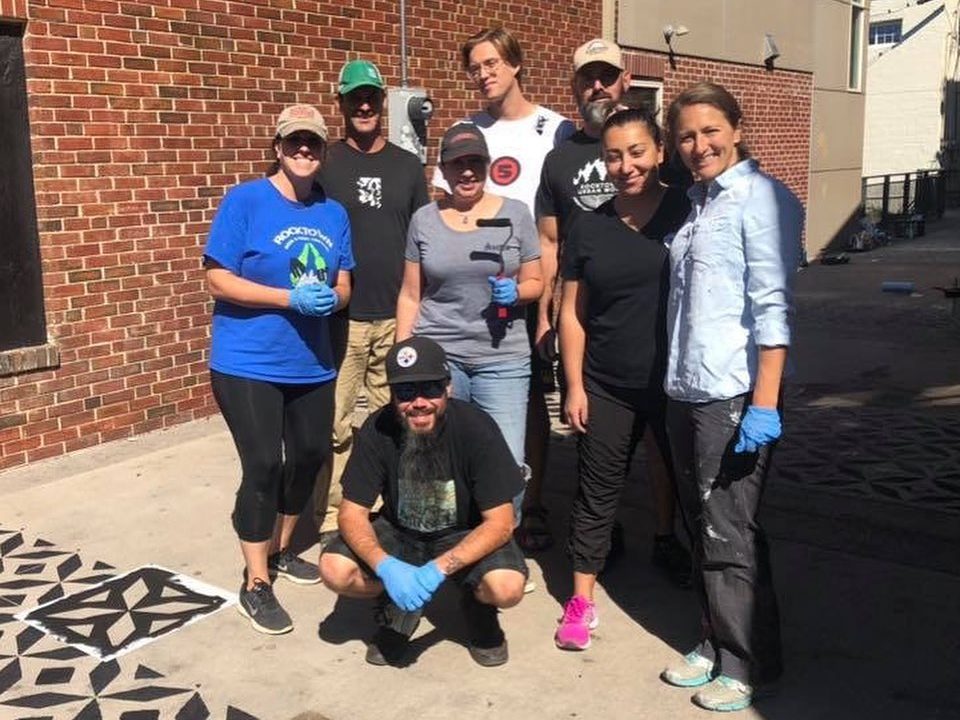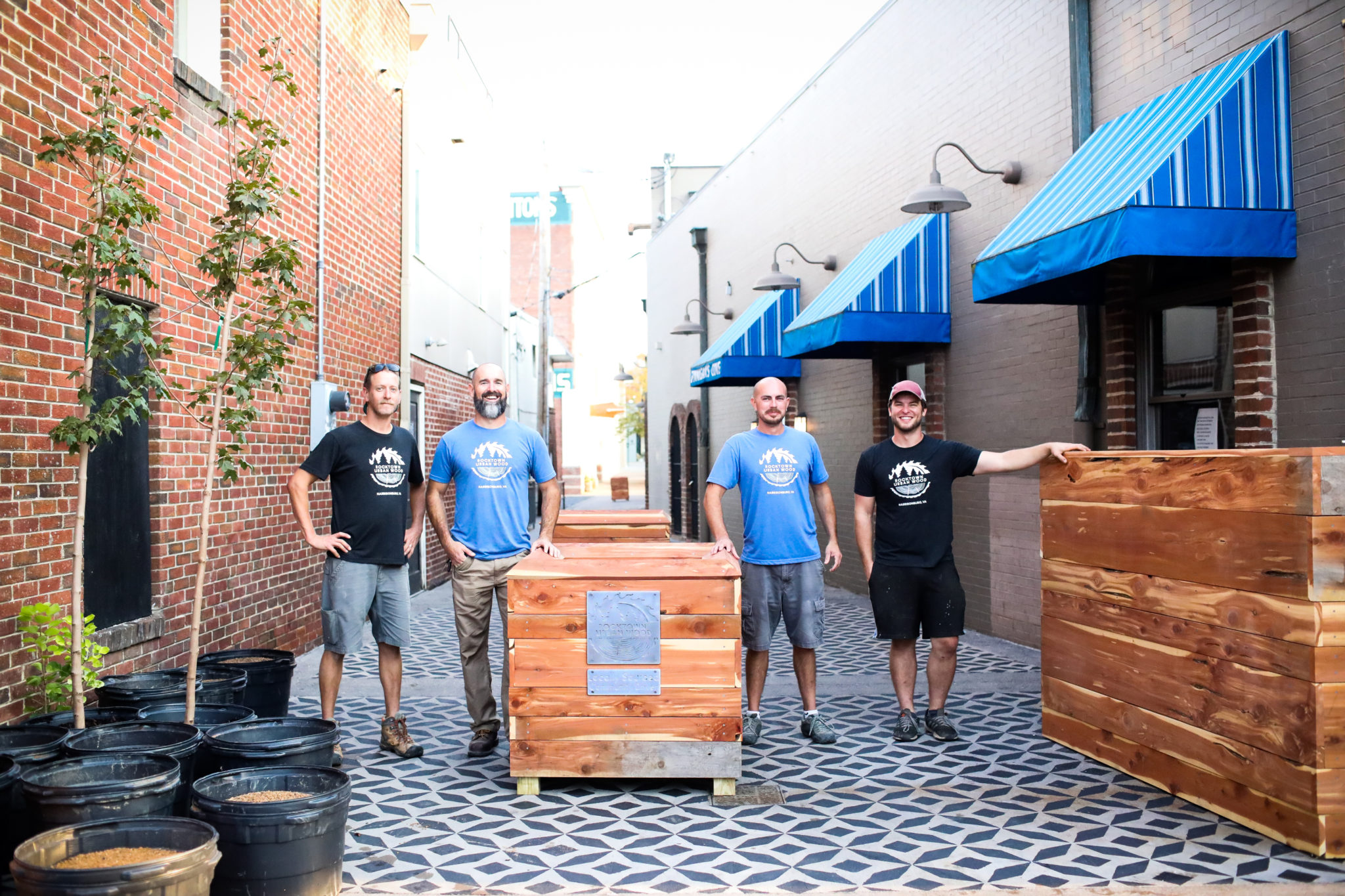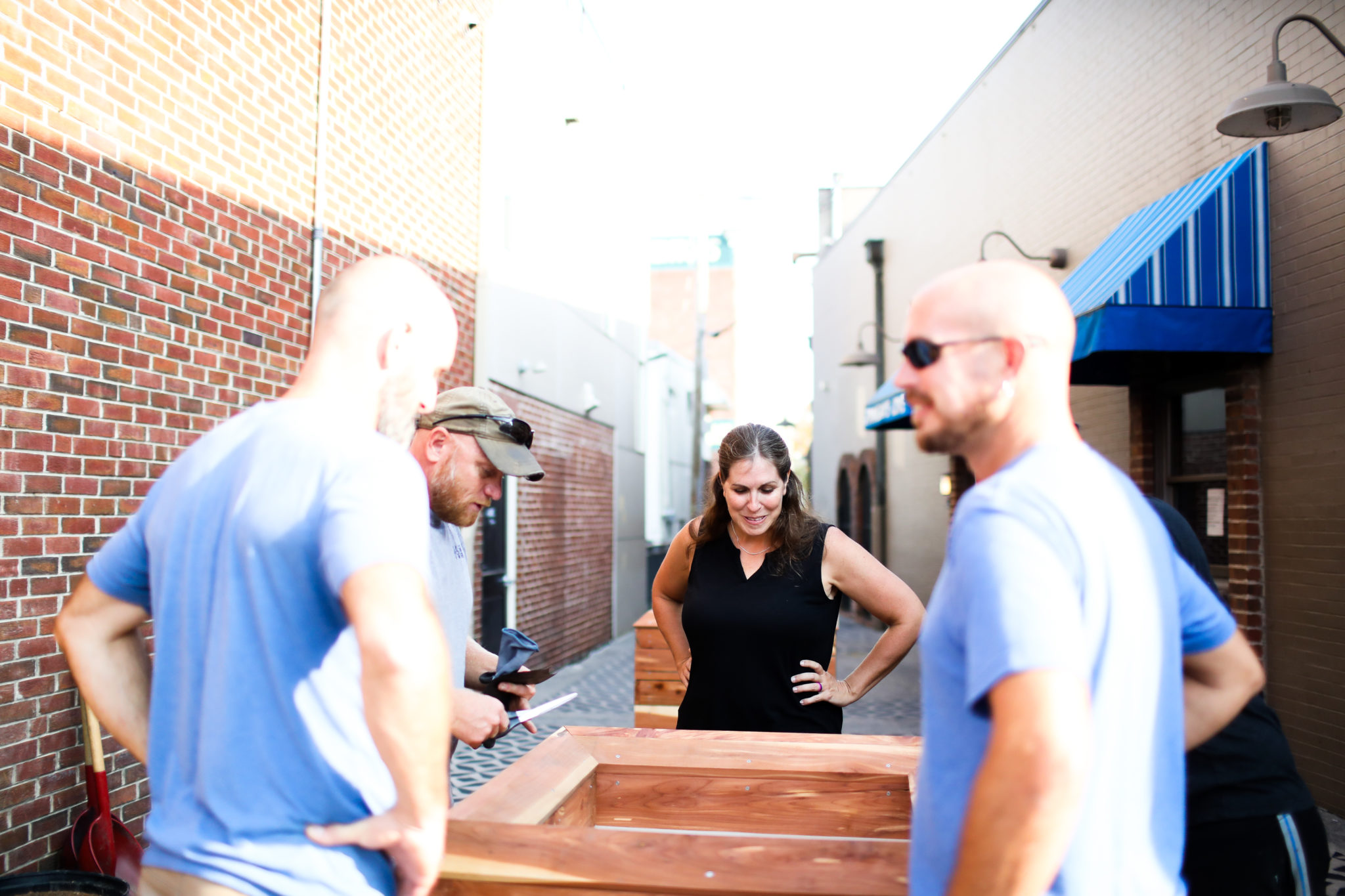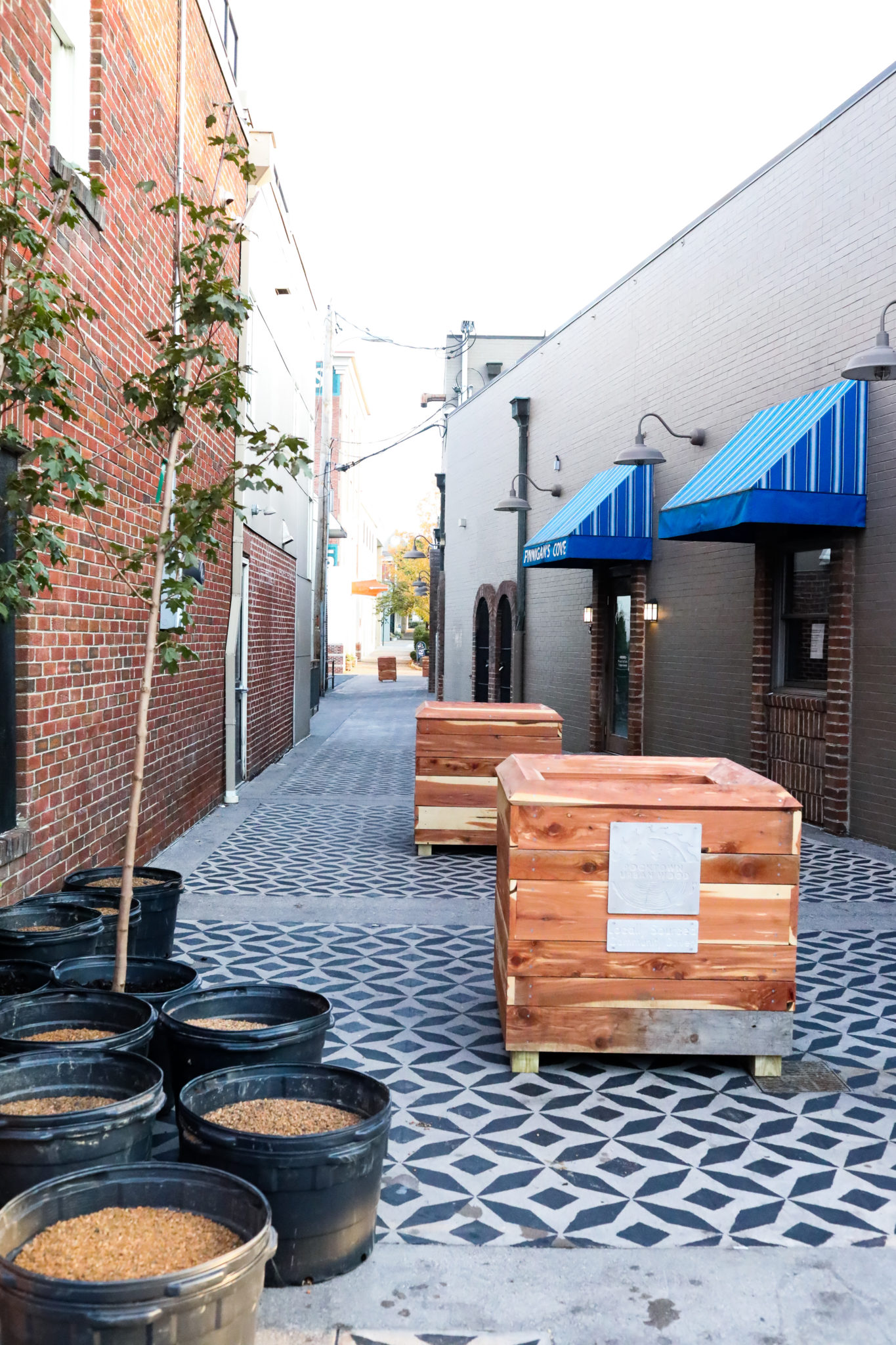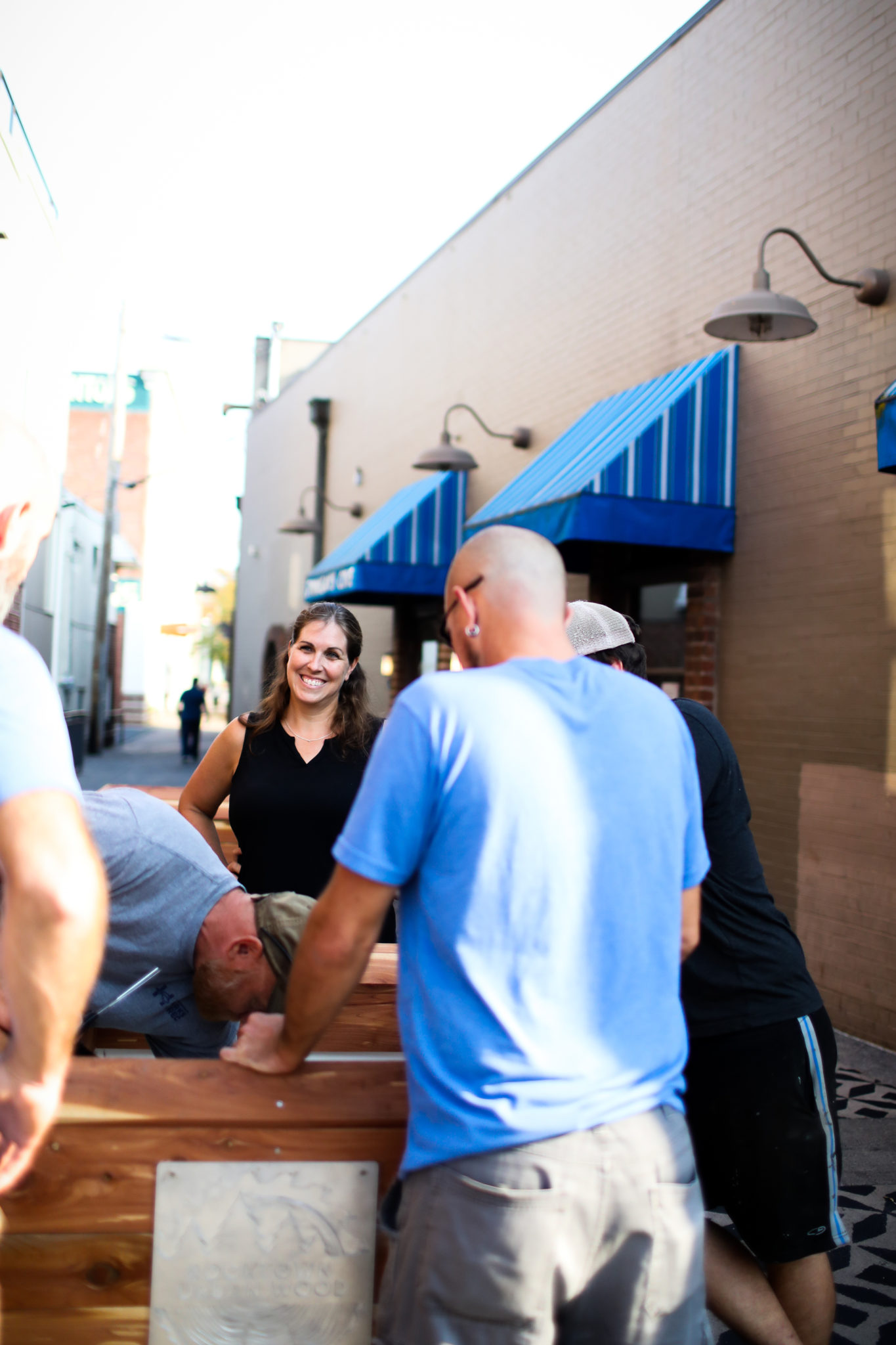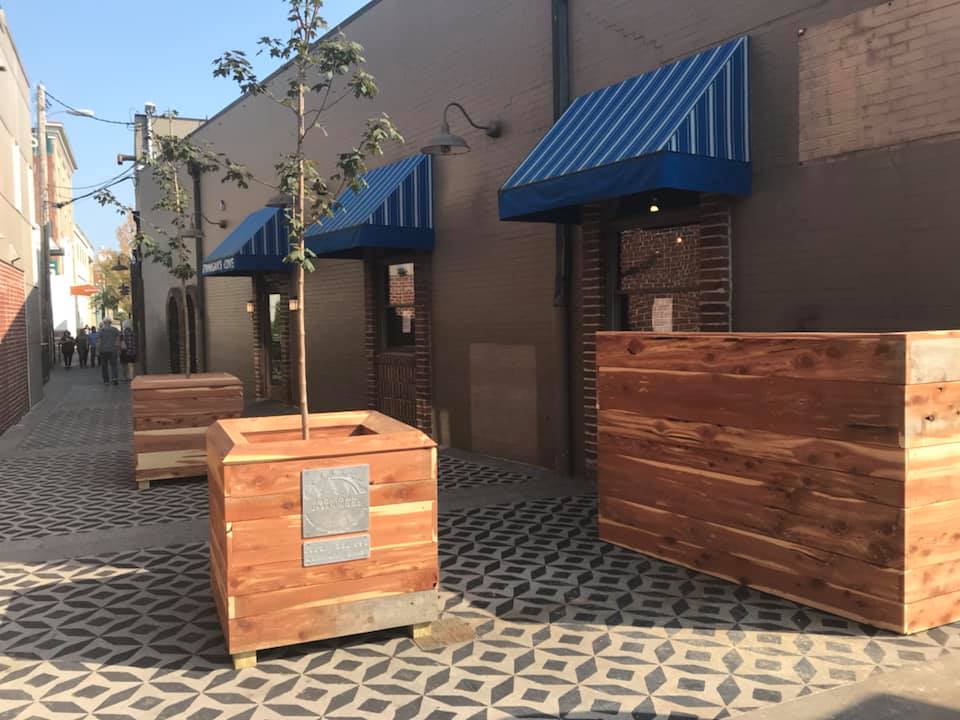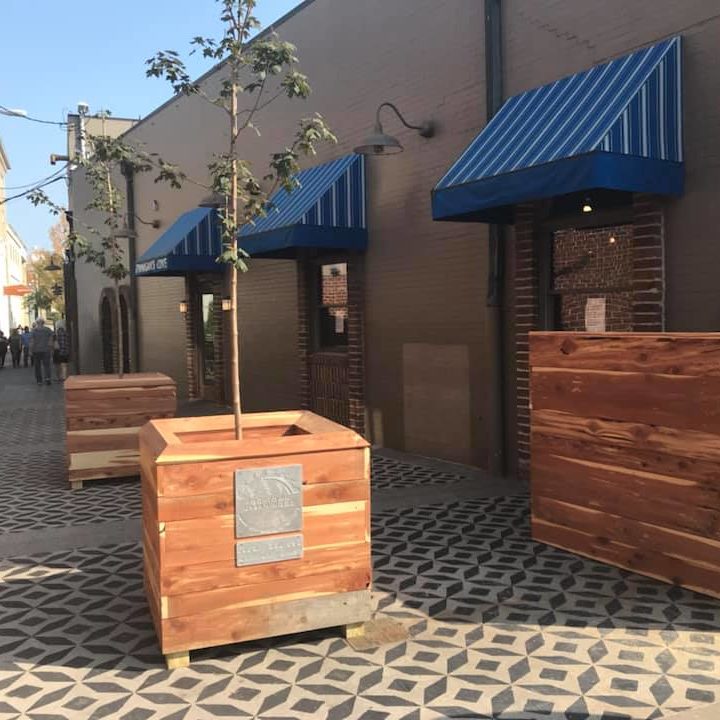 In the end, we are thrilled with the transformation of this heavily trafficked section of downtown. We are also thrilled with the number of people who wanted to be involved and their enthusiasm. In fact, Cy from Beyond already told us that they are talking with the city about some ideas they have to include more plants along the edge of Blacks Run to enhance this alley even more! We hope that we can add more elements into another phase of this project (perhaps murals, more plants and trees, bistro lights and maybe continue the sidewalk stenciling to the end of the alley). We are grateful for the patience of the business owners as well as all of the pedestrians who rely on this alley for a convenient short cut between Court Square and Water Street. We hope you agree this was worth it! Please share your ideas for future projects that we could work together on and please get your Friendly City Fortune raffle ticket next year so we can continue doing more project like these!