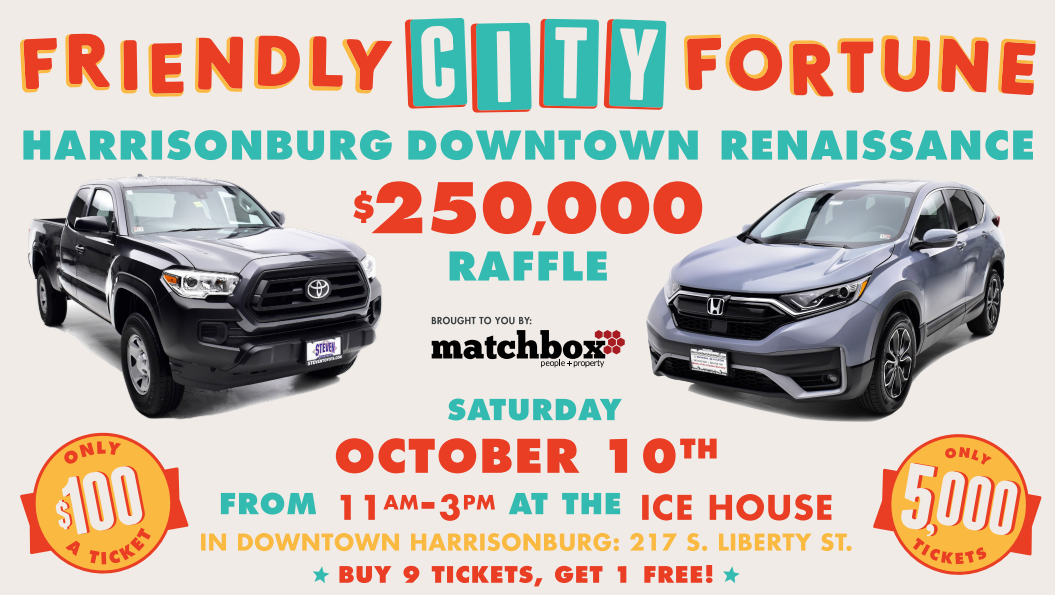 The biggest raffle in the Valley is back! $250,000 of raffle prizes, only $100 a ticket, AND only 5,000 tickets sold. Plus, all proceeds benefit Harrisonburg Downtown Renaissance's mission to build  downtown Harrisonburg as a destination where independent businesses thrive and people enjoy memorable experiences. It's a win-win!
The drawing will be Saturday October 10th from 11am-3pm at Pale Fire Brewing. A winner will be drawn every five minutes for four hours! The drawing will also be livestreamed online.
You do not have to be present to win. You must be 18+ to purchase a ticket. Winners will be contacted directly and announced online. Read full rules here.
Don't miss your chance to win bonus cash AND free tickets!
Buy your tickets early to be eligible for our Early Bird drawings. August 31st we'll be giving away $1000 and TEN free tickets, and September 28th someone will win $1000 and FIVE free tickets just in time for the big day. Buy your tickets before those dates to be automatically entered! Early Bird winners remain eligible for all other drawings.
August 10th Winner: Joseph K #0976 | August 31st Winner: Wanda D #2057

Want a Chance to Win a FREE Friendly City Fortune Raffle Ticket?
Enter WHSV's Fortune Ticket Scavenger Hunt every day through 10/8 and keep your ears tuned to Harrisonburg Radio Group and iHeartRadio stations through 10/2 for your chance to score a free ticket! We'll be giving away 90 tickets in total — your name could be on one of them!
Paper Tickets Are Now on Sale!
Visit the following locations to buy a ticket in person:
Steven Toyota Main Sales Office (CASH ONLY)
2970 S Main St – (540) 434-1400
Mon – Fri 9:30 AM – 7:00 PM
Sat 9:30 AM – 6:00 PM
Sun 12:00 PM – 5:00 PM
https://www.steventoyota.com/
Pendleton Community Bank (Cash, check, and credit card)
Downtown: 57 S Main Street – (540) 214-2070
33 West Branch: 41 Monte Vista Dr – (540) 434-4722
Lobby hours: Mon-Sat 10am-2pm
If you'd like to purchase a ticket outside of lobby hours but during business hours (Mon-Thurs 8:10am-5pm, Fri 8:30am-6pm, Sat 8:30am-12pm) please call ahead or let the drive-through teller know you are there to buy a ticket.
https://www.yourbank.bank/
Great odds for a great cause.
Purchasing a Friendly City Fortune ticket is a win-win!
Your purchase of a Friendly City Fortune raffle ticket supports HDR, a 501c3 nonprofit organization, and the projects and programs that achieve our mission to build downtown Harrisonburg as a destination where independent businesses thrive and people enjoy memorable experiences. Here are some of the ways we do this: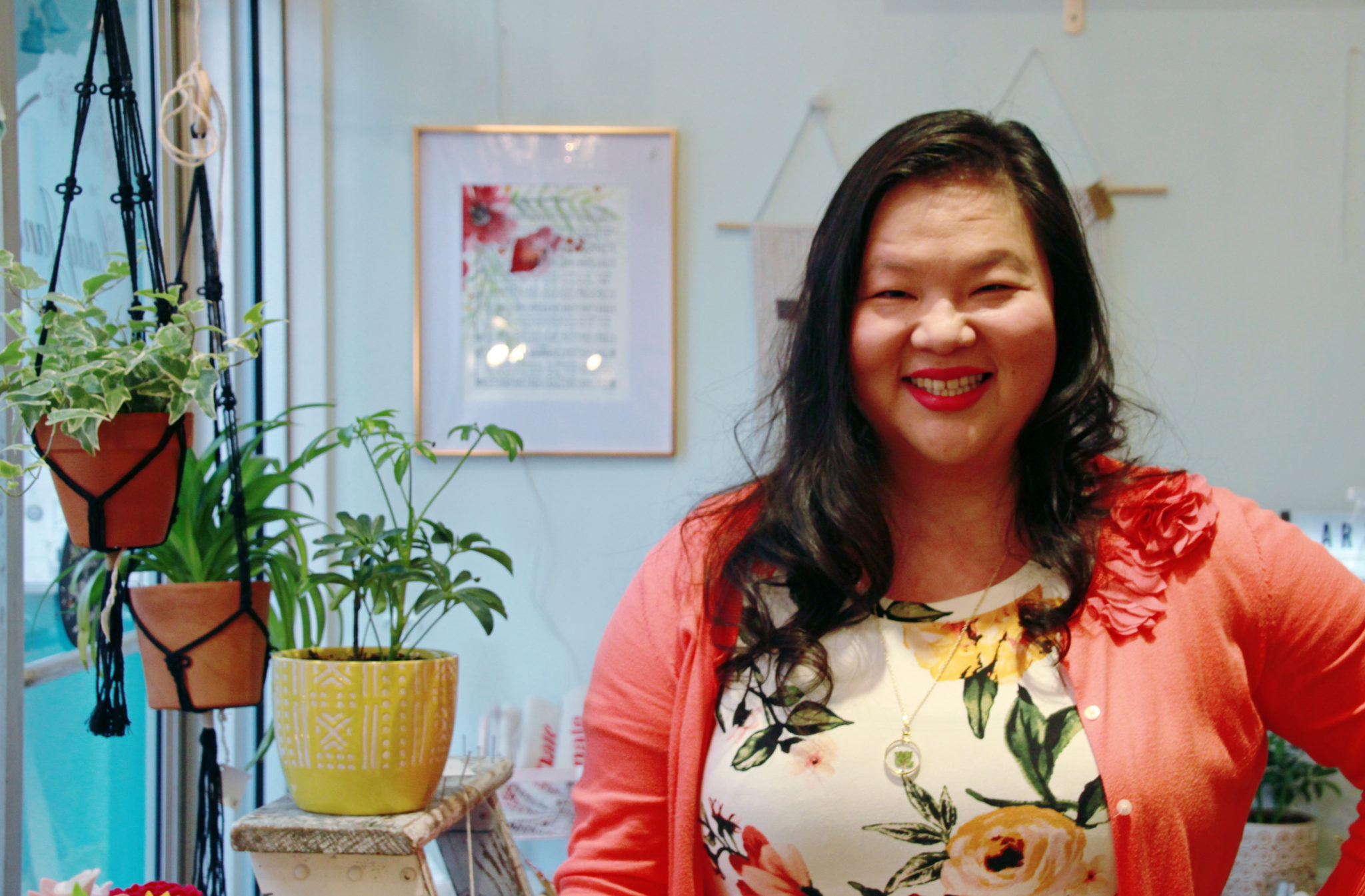 BUSINESS ASSISTANCE
We offered businesses "Bricks & Clicks" – customized expert assistance in marketing, e-commerce, web design, interior design and business plan adjustments along with grants to help them make adjustments to survive the pandemic.
DESTINATION BUILDING
Our Alley Beautification Project transformed the path that links Court Square and Water Street with handmade planters and trash receptacles made by local wood workers. We published a new downtown magazine for nearby hotels and tourist destinations to attract more visitors downtown. Coming soon – a new sculpture that will be installed near the LOVEworks Sculpture and an online public art tour & brochure. Photo by Molly Whitmore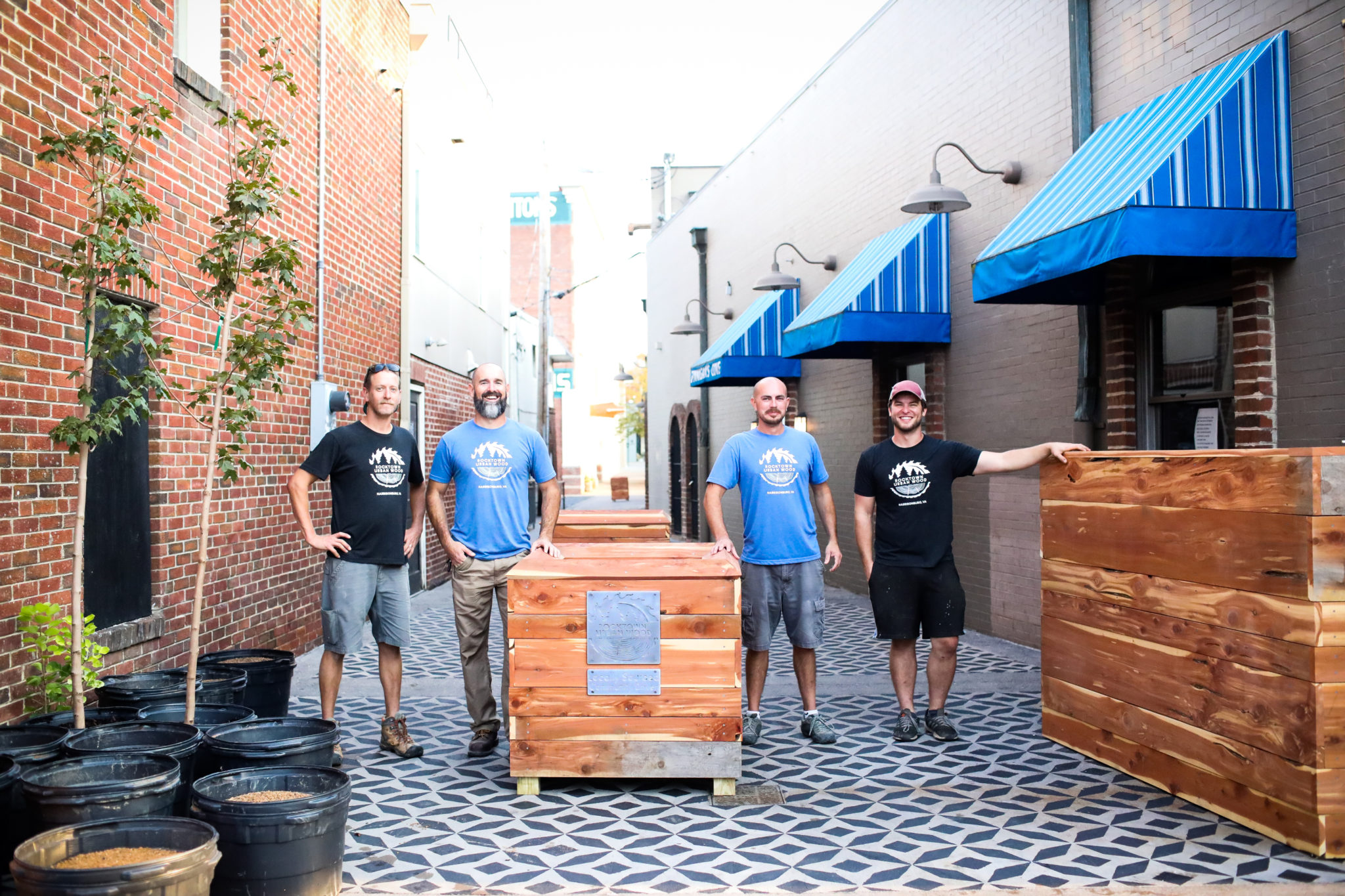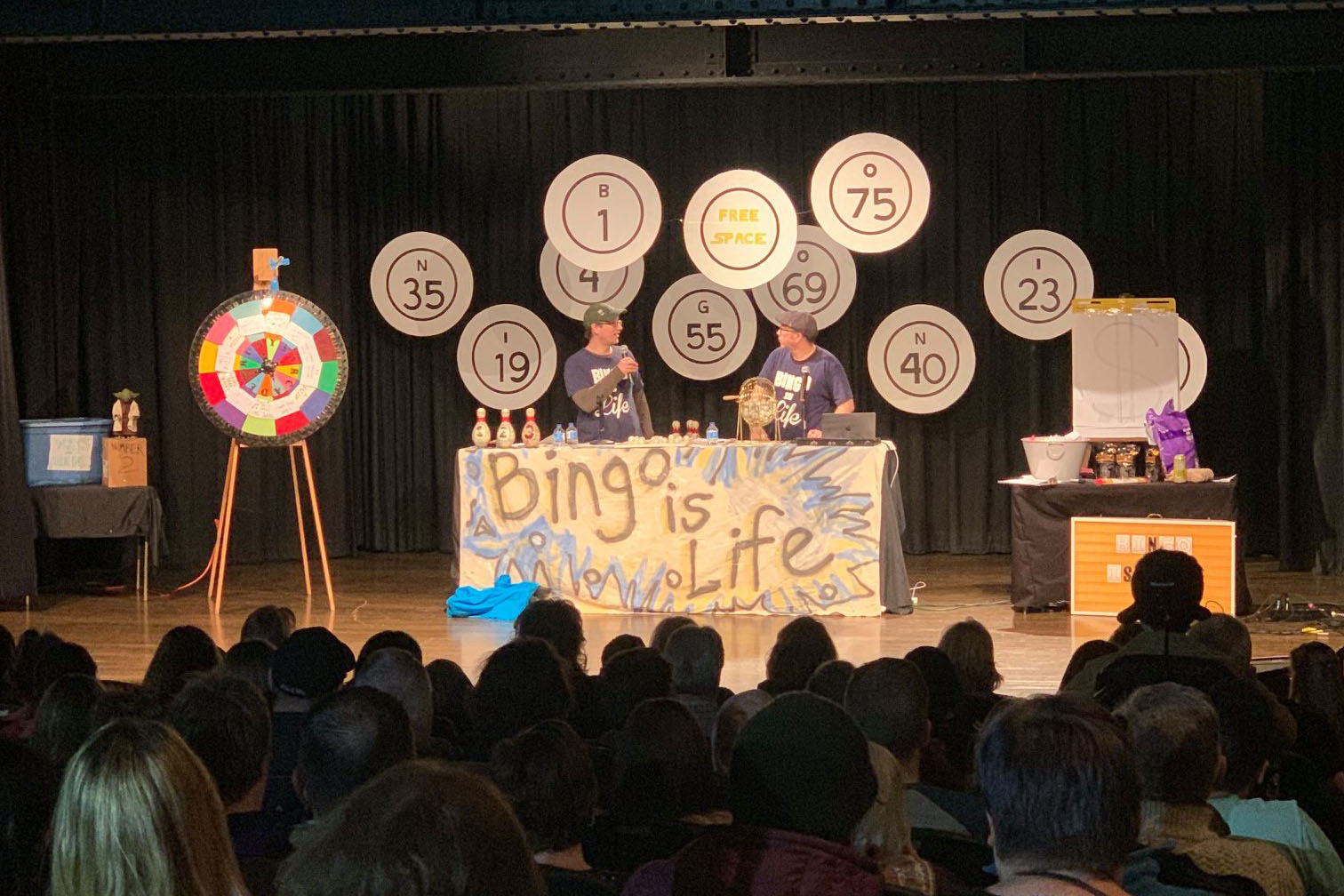 COMMUNITY EVENTS
We hosted "Bingo is Life," Harrisonburg's free family bingo gameshow event at Court Square Theater and have postponed downtown's annual fireworks display for later this year. We look forward to producing more annual events again when it is safe to do so!
COVID-19 RESPONSE
Since March, we have been helping downtown businesses survive the pandemic. We developed the $100,000+ Small Business Resilience Grant program with our partners; send weekly emails with grant opportunities, guidelines and other important resources; worked with the City to set up a few dozen Quick Pick Up Parking Spots; launched two Support Local campaigns – including #EverydayHVA where people could win $25 gift certificates; and launched an online concert series called Sofapalooza that helped fund the Resilience Grant as well as supported local musicians. Photo by Mike Miriello