New Downtown Brand
We worked with a local designer to launch a new brand to market downtown and will be developing "sub-brands" that highlight our key assets. Our first one rolled out during Taste of Downtown in March 2018. We created a culinary-themed "H" using veggies, a beer glass, and a chef's knife.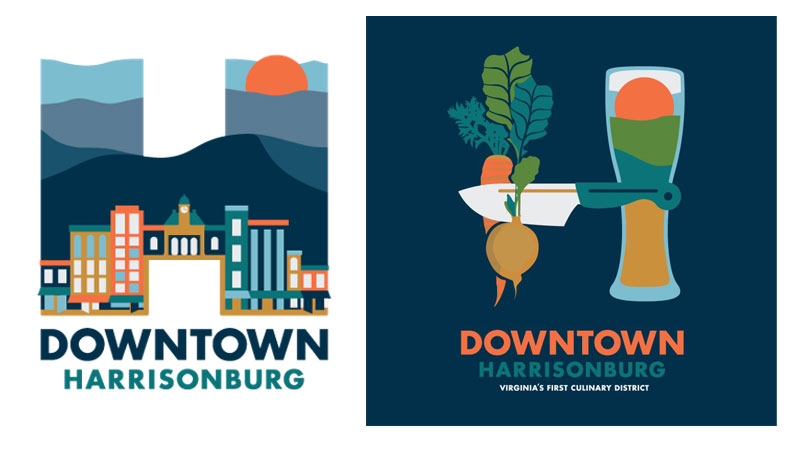 Holiday Shopping Campaign
Annually we remind customers during the holiday shopping season of the importance and joy that comes from buying local. We produce a holiday gift guide that we send to DNR readers and market digitally through social media. Gitchell's Photography donates professional images for the guide.

We also celebrate the significance of Small Business Saturday with a paid social media campaign, a blog post highlighting special events and offers downtown, and extensive local media outreach and partnerships driving awareness to shopping small downtown.
HDR and the Friendly City Merchants team up each year to produce Winter Wonderfest – a holiday event that features child care, photos with Santa, a holiday art & craft market, free yoga, face painting, carolers, photo opportunities with costumed characters, HDR's famous Cookie Tour, and more. Over a dozen handmade, crafting workshops are offered throughout the season so you can learn how to make gifts yourself & spend quality time connecting with others.
Downtown Magazine
In 2020, we published the third edition of Downtown Magazine. This 36-page magazine features information on all the shops, restaurants, and attractions that downtown has to offer to visitors, and is placed in all the rooms at Hotel Madison in addition to other local hotels, B&Bs, wineries, breweries, and tourist hubs. 2020 brought a new cover featuring a gorgeous painting of downtown by local artist Erin Murray as well as updated directories and information.
On-going Digital Marketing
We have a robust social media effort that we manage throughout the year via Facebook and Instagram. We complement our organic posts with boosted posts and ads to drive additional engagement and visibility. We use these tools to document cool things happening around town as well as to promote local businesses.
We strive to publish regular storytelling blogs highlighting the diverse stories and friendly faces of Downtown, and we use social media to constantly amplify events and activities, highlight cool merchandise and promotions, and give our audiences in-depth features of businesses and the people behind the scenes.
We also manage downtown's calendar of events to help bring more people here and to help businesses and organizations promote their events.
HDR also produces an e-newsletter that comes out every other week. We use this to announce new businesses, promote things happening downtown, talk about what we're working on, and share our blogs and other content. Sign up for our newsletter mailing list here.
Taste of Downtown
Each year, during the week of JMU's Spring Break, HDR produces and promotes a local culinary week event called Taste of Downtown. This special week sees downtown's culinary community get creative with special dishes, enticing promotions, interactive workshops, multi-course prix fixe dinners, wine/beer pairings, and more. We promote Taste of Downtown through printed posters and rack cards, a paid social media campaign, local media outreach, and radio campaigns featuring both ad spots and on-air giveaways.
See 2020's Taste of Downtown lineup
COVID-19 Response
HDR acted fast in response to COVID-19 to support our small business community and encourage people to shop and dine safely. We help boost promotion and awareness of downtown businesses and their shifts in hours, offerings, and operations through a COVID-19 Directory page and regular updates to our audiences via social media and email. Additionally, we encouraged fans of downtown to continue supporting their favorite businesses through a campaign and giveaway called #EverydayHVA, in which community members could submit receipts showing purchases from downtown businesses to be entered for a chance to win a $25 downtown gift card.