New Downtown Brand
We worked with a local designer to launch a new brand to market downtown and will be developing "sub-brands" that highlight our key assets. Our first one rolled out during Taste of Downtown in March. We created a culinary-themed "H" using veggies, a beer glass, and a chef's knife.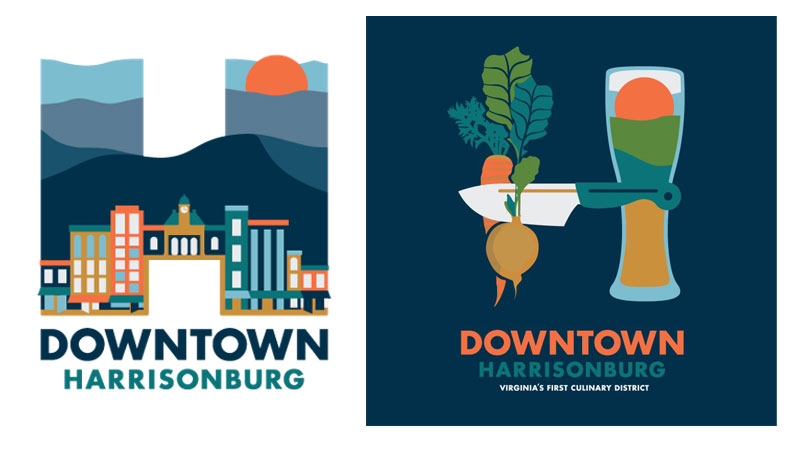 Holiday Shopping Campaign
Annually we remind customers during the holiday shopping season of the importance and joy that comes from buying local. We produce a holiday gift guide that we send to DNR readers and market digitally through social media. Gitchell's Photography donates professional images for the guide.

We also partner with Harrisonburg Radio Group to get the word out about shopping local. We do an on-air segment before Small Business Saturday and coordinate a dozen recordings with downtown businesses to talk about their shops and the value of supporting local (at no cost businesses).
HDR and the Friendly City Merchants team up each year to produce Winter Wonderfest – a holiday event that features child care, photos with Santa, a holiday art & craft market, free yoga, face painting, carolers, photo opportunities with costumed characters and more. Over a dozen handmade, crafting workshops are offered throughout the season so you can learn how to make gifts yourself & spend quality time connecting with others.
Downtown Magazine
In 2018, we used a grant to publish a magazine timed with the opening of Hotel Madison this summer. We updated the content and published a second addition of this in-room magazine that is focused 100% on downtown. We are getting a subscription to Issuu – an online tool that will give us a digital platform for this magazine so more people – not just guests of the hotel and Joshua Wilton – can read all about how much downtown offers and we can expand our reach. 
On-going Digital Marketing
We have a robust social media effort that we manage throughout the year via Facebook and Instagram. We complement our posts with boosted posts and ads, too. We use these tools to document cool things happening around town as well as to promote local businesses.
We strive to publish one blog a week and we do weekly round-ups of weekend activities, round ups of cool merchandise, up-coming promotions, and in-depth features of businesses and the people behind the scenes.
We also manage downtown's calendar of events to help bring more people here and to help businesses and organizations promote their events. This require daily updates and we work with a team of volunteers to keep it current.
HDR also produces an e-newsletter that comes out every other week. We use this to announce new businesses, promote things happening downtown, talk about what we're working on, and share our blogs and other content.
Downtown History Tours
We are working with a new volunteer, Megan Schoeman, to conduct research on downtown's history to uncover the engaging stories and people from our past. We've got quite a diverse cast of characters lined up already and look forward to using her research to create a new walking tour brochure and digital content. Another volunteer is lined up to write and edit the tour content this fall, too! Our plan is to create a walking tour that teaches locals and visitors about Harrisonburg but also gets people walking throughout downtown and checking out some businesses on their strolls.