Do you have an event taking place in downtown Harrisonburg? Submit an event to be featured on the Events Calendar, bi-weekly Downtown Insider Newsletter, and Downtown Harrisonburg's Facebook and Instagram.
All submitted events are subject to approval by Harrisonburg Downtown Renaissance.  See the instructions below for best practices to improve the likelihood of your event getting featured on all channels.
Please only submit events that fall within the following guidelines:
Events must be located within downtown Harrisonburg
Virtual events will be approved if they are directly related to a downtown business or organization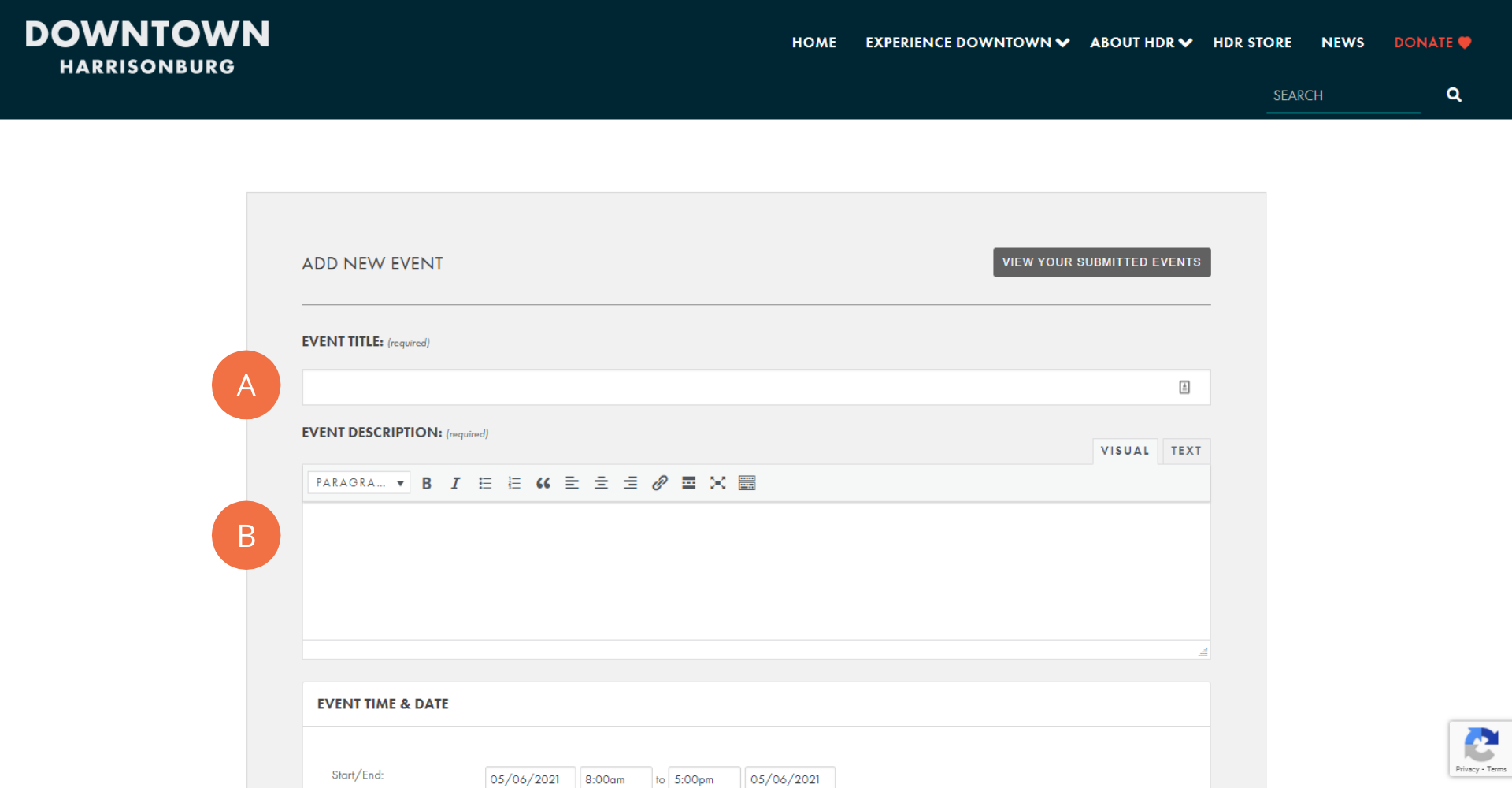 A – Event Title
Enter the name of the event in this box. Try to keep the event title short and clear but also eye-catching and engaging.
B – Event Description
Enter all the applicable information about the event here. It is a good idea not only to include what is happening at the event but include additional details that may entice a person to attend, such as special hosts, event sponsors, door prizes, etc.
Also, make sure to include important information that attendees will need to know, such as specific parking details, event schedule, etc. Adding in the date and location (with address) in this section will also ensure that people are able to easily access the most important information about the event in multiple places.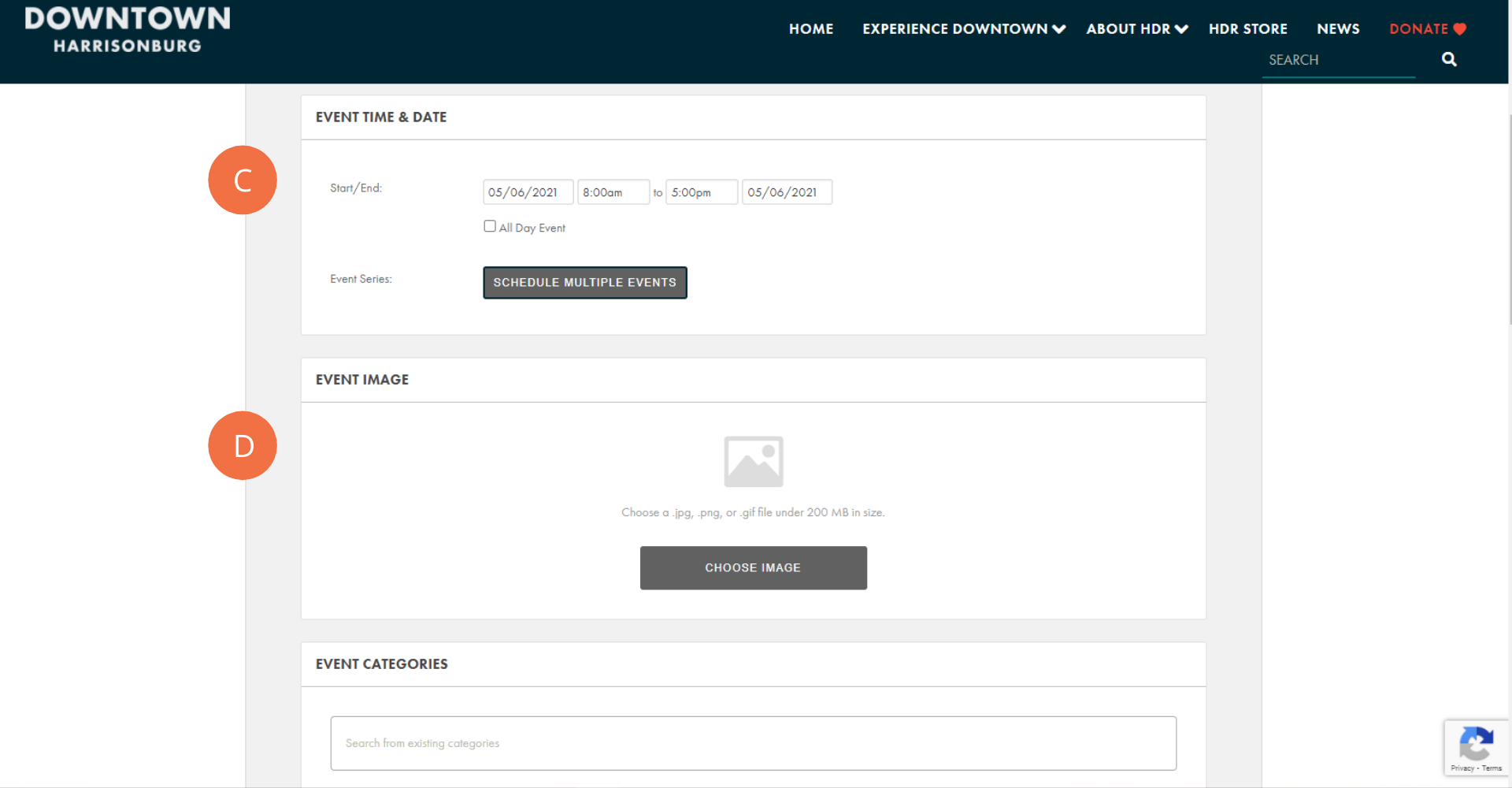 C – Event Time & Date
Add in the specific start and end date and time for the event in this section. If the event is all day, check the box next to "All Day Event." If the event is reoccurring or part of a series, click on the "Schedule Multiple Events" button to add in additional dates and times individually or set up a reoccurring pattern (daily, weekly, monthly, or yearly). Enter in excluded dates by clicking on the "Add Exclusion" button.
Note that all of the events in a reoccurring series will have the same title, description, etc., so if there are specific details that are only applicable to one event, or if there are different registration links for each event, it is best to enter in each event separately.
D – Event Image
Upload a cover image for the event in this is area. This image will show up in the event listing and as the event thumbnail, so make it eye-catching, but not too busy or the detail will become muddled. Images may be .jpg, .png, or .gif files, and must not exceed 200MB in file size.
To feature the event prominently in the Downtown Insider newsletter or on social media you MUST include a picture. Square images (1:1 ratio) look the best in the calendar and work well for posting to social media. If you have additional pictures to feature on social media or in the email newsletter, please email them to emily.winter@harrisonburgva.gov.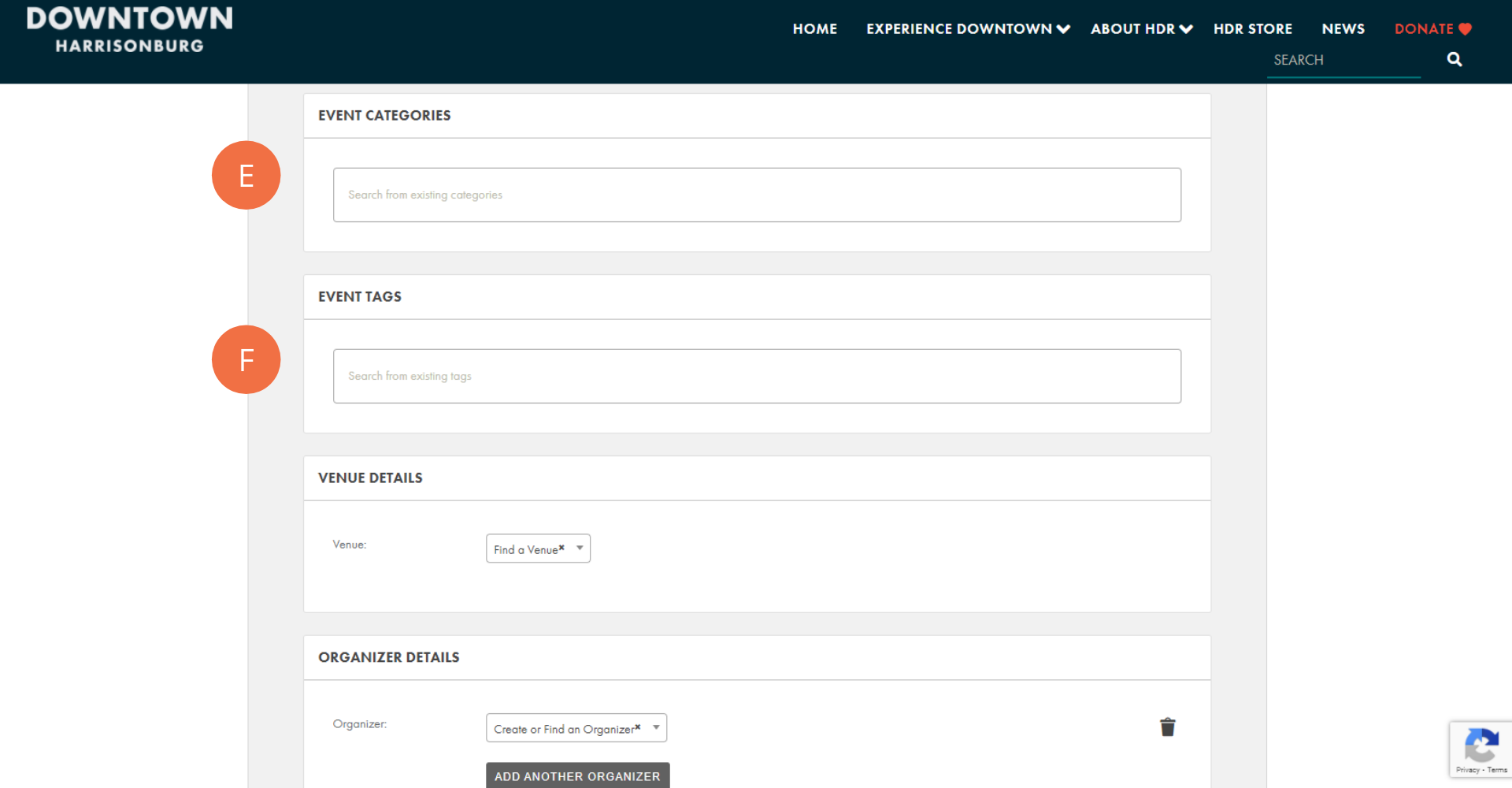 E – Event Categories
Event categories help people filter events based on their interests. We recommend selecting categories from the following list:
Things to Do 
Events
Concert
Workshops
Music
Kid-Friendly
Pet-Friendly
More Available Categories
Drink

Beer
Cider
Cocktails
Coffee
Kombucha
Tea
Wine

Eat

American
Bakeries + Cafes
Ethnic
Fine
Pizza
Sweets

Health + Wellness
Live
Places to Stay
F – Event Tags
Event categories help people find events through search engines like Google. While tags are less important than categories for filtering on the Events Calendar, they can help boost the likelihood of people finding the event through an online search. Search for available tags by typing in the text box.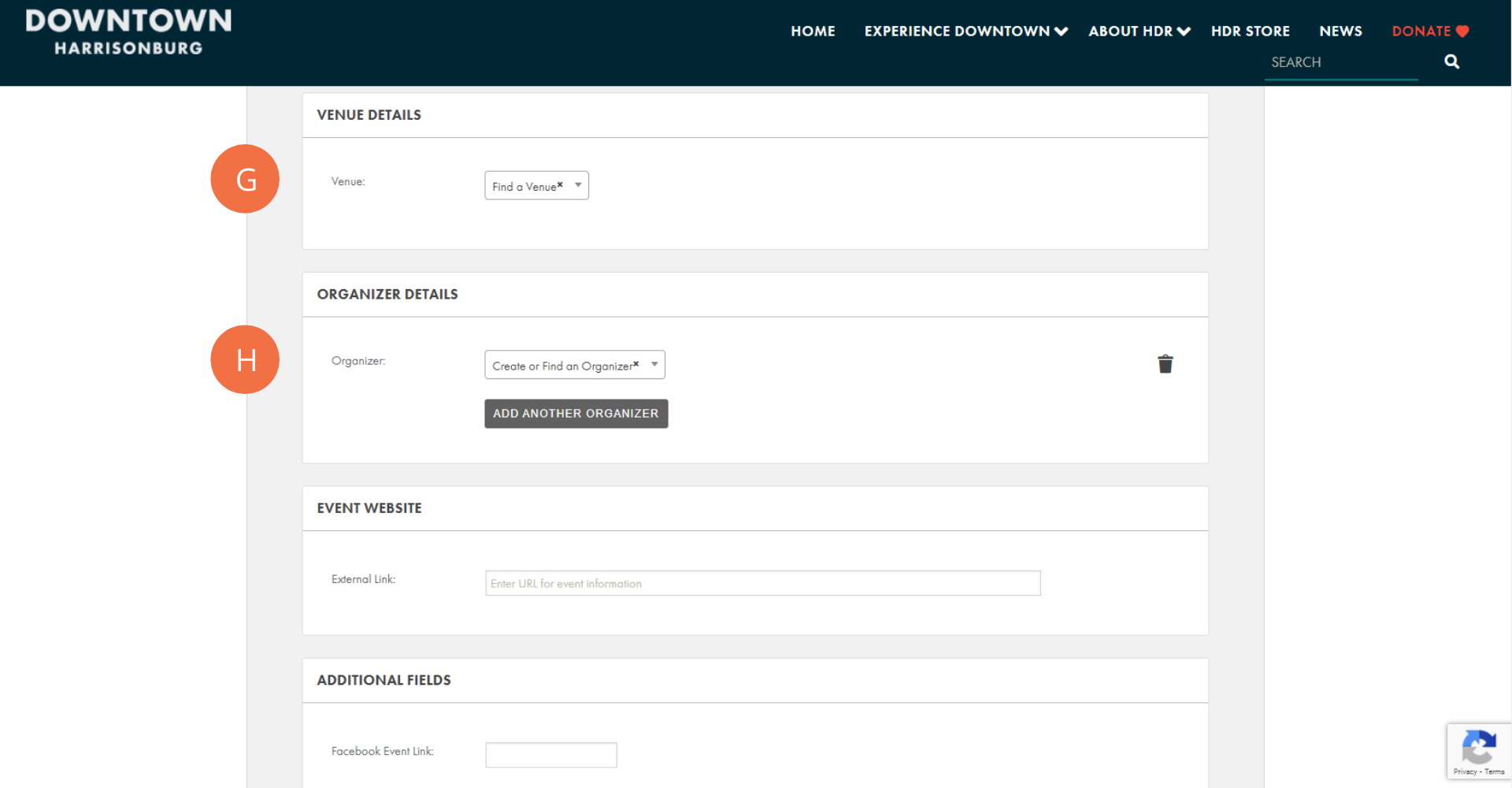 G – Venue Details
Choose a downtown venue from the dropdown options. If the event's venue is not listed, please make sure to include location information in the event description, and email emily.winter@harrisonburgva.gov to get the venue added to the list of available options.
H – Organizer Details
Use the dropdown menu to add Event Organizers to the event, or click on the "Add Another Organizer" button to manually add in organizer information (name, phone number, website, and email). Multiple organizers may be added to an event.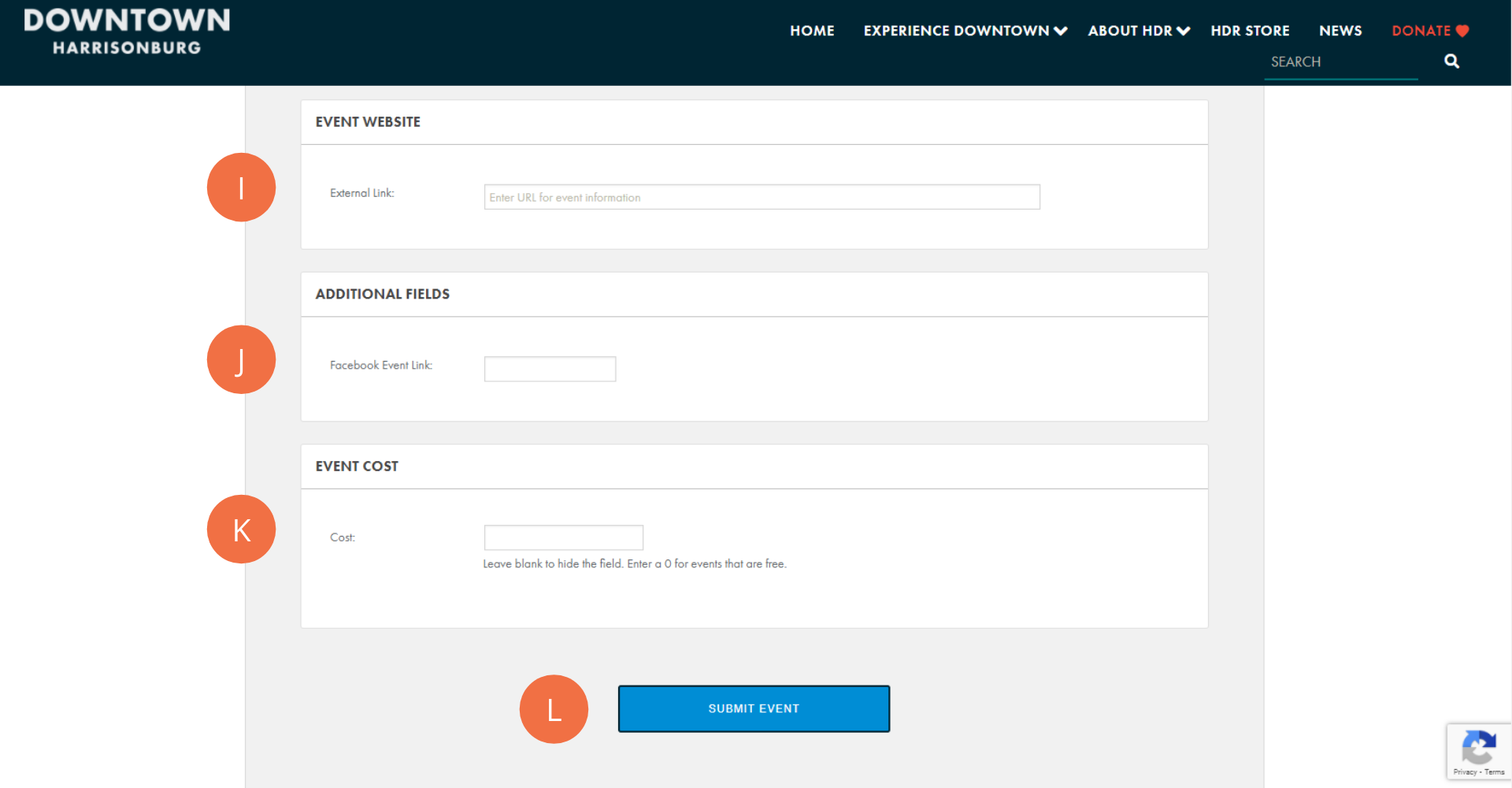 I – Event Website
If there is a webpage for the event, link to purchase tickets, or other similar links, please enter the URL here. If you have multiple URLs, they can go in the Event Description field. 
J – Additional Fields
If the event has a Facebook event page, please add that URL here. Adding a Facebook event helps us promote your event on social media and through the Downtown Insider newsletter.
K – Event Cost
Enter the cost of tickets/admission for the event here. If there is a cost associated with the event, please make sure to include where people can purchase tickets in the description (i.e. online, at the door, etc.). If the event has no cost, enter in 0 to mark the event as free. To hide the cost field in the listing, leave this field blank.
L – Submit Event
Once the event form is complete, click the "Submit Event" button to submit the event for review.  If your event is approved, it will be added to the Events Calendar. Please allow 1-2 business days for approval. Approved events may also be featured in the Downtown Insider newsletter and Downtown Harrisonburg's social media if you have questions or concerns about being featured in these channels, please email emily.winter@harrisonburgva.gov.