By Graham Schiltz — When Andy Perrine arrived in Harrisonburg in 1981 as a student at JMU, downtown was "on its way to dying." With the opening of Valley Mall a few years before, the restaurants, bars, and businesses that occupied downtown had moved in accordance with the trend of strip malls and shopping centers.
"The joke was you could fire a cannon down Main Street and not hurt anybody," Perrine said.
When Perrine moved back to the area in the early 2000's, however, he wanted to restore Harrisonburg's downtown to a point it hadn't been in decades. He was a founding member of Harrisonburg Downtown Renaissance (HDR) which began what would be a lengthy process of rejuvenating the area. It started with policy changes — changing zoning, getting accepted into the state's revitalization program, becoming a historic district — things that don't produce immediate results the public can see. In its first year of existence, the HDR was voted "worst use of taxpayer money."
Sixteen years later, the impact of HDR's efforts are impossible to miss. Significant housing has been created; successful independently-owned restaurants, breweries, and coffee shops are in abundance downtown; people can always be found wandering in and out with shopping bags and to-go boxes.
Though downtown has been thriving in the last several years, JMU students were still relatively disconnected from the area. Perrine joined JMU as Associate Vice President of Communications and Marketing and, after a run-in with a couple students who were disappointed they had never been downtown until they had almost graduated, wanted to leverage his position in two discrete realms to unite them. In 2005, HDR and JMU began an annual collaboration to take place on Saturday of every orientation week — Block Party.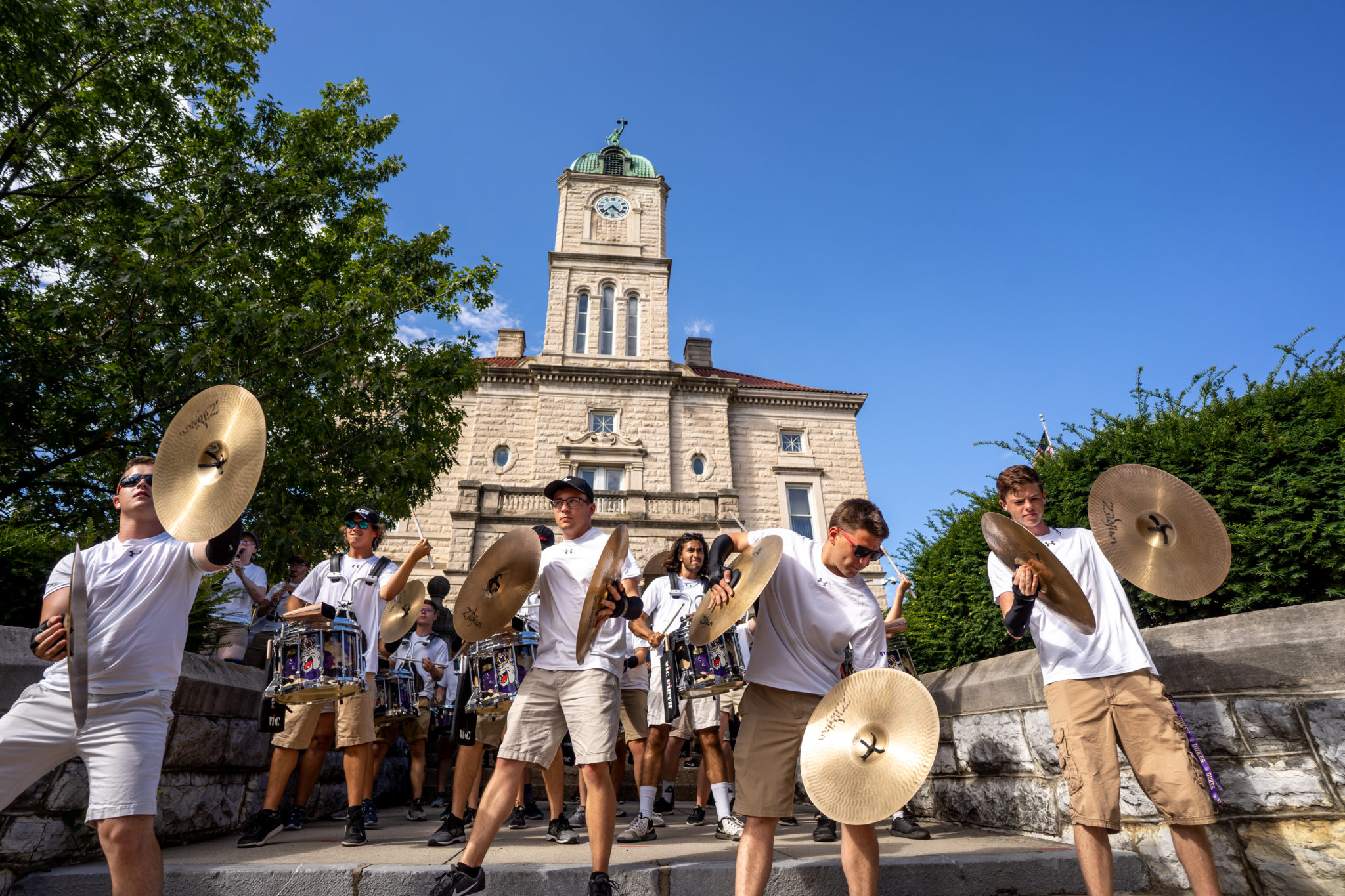 The JMU Marching Royal Dukes play in front of Court Square
"Block Party is great way to introduce students to downtown and start integrating them into the community from the get-go. After a long, jam-packed week of 1787 Orientation, Block Party is just pure, unadulterated fun & freedom to explore downtown," said Erin Smith, HDR's Events Manager.
Block Party involves almost all of downtown for an evening. Store owners and employees organize hands-on activities, freebies, coupons, and exhibitions while thousands of JMU freshmen march down Main Street, led by the Marching Royal Dukes.
One of these businesses is Larkin Arts, an art supply shop and studio owned by couple Scott Whitten and Valerie Smith. As JMU alumni, Block Party is one day in which they can heighten their involvement with students. Larkin works closely with JMU professors to provide school supplies for art students at a discounted rate and counts multiple JMU graduates in its staff, but today gives them a chance to reach out on a ground level. They offer free face painting outside and invite visitors in to check out their wares and current exhibits. Right now, it's the Art Lotto — an event in which artists are randomly assigned another artist to create a portrait of. 
Whitten recognizes the value of Block Party as a portal to the community downtown has created. "I knew people from my classes who had never been downtown. They'd been there four years and they had never gotten any further than B-Dubs on Main Street," he said. While he was hesitant to stay in Harrisonburg at first, the community makes it worth it to him.
"It feels like on a small scale, it's easier to make an impact," Whitten said. "There's more opportunities, there's more community, and people just kind of want to be here."
HDR and Block Party's success is more tangible than just community bonds, however. HDR went from voted the worst use of taxpayer money in its first year to being voted as the best. It's impossible to miss young people walking to class during the day and walking back from restaurants and bars at night. These establishments are filled with students, both patrons and employees. The number of students who stay in Harrisonburg after graduation has been steadily growing in the past decade, and if you're a student looking for a good time, there's always something to do.
"I wanted to change the question from, 'Is anything going on downtown tonight?' to 'What's going on downtown tonight?'" Perrine said. "And there's always something going on now."
HDR is thankful to the partnership we have with JMU. More than their generous financial support, JMU's presence just down the road has allowed for impactful collaborations between the professors, students, organizations and businesses. Throughout the years HDR has partnered with classes on research projects, marketing initiatives, downtown activations, and internships. Block Party is just one way that HDR and JMU works to create a strong connection between campus and the local community.
Graham Schiltz is a Writing, Rhetoric, and Technical Communication major at James Madison University and a copy editor, writer, and reporter for JMU's student newspaper The Breeze. You can read more of his work and contact him on his website here.