As Thanksgiving approaches tomorrow, shoppers everywhere are gearing up for one of the largest shopping weekends of the year. We know you can't help but browse the Black Friday deals, but we encourage you to shop on Small Business Saturday. This day is particularly important for downtown and you can feel good about your purchases knowing that you're making a difference by supporting the little guys. It's also about the experience! Don't settle for long lines and chaos at the big box stores. 
In 2018, small businesses account for 99.9% of all registered businesses in the U.S. The small business sector is huge and the economic impact they make is significant. Every time you spend at a local retailer or restaurant, your money multiplies. According to the Seattle Good Business Network, when you spend $100 at a local, independent business, most of your money will stay in the local economy, "paying for local services, supplies, staff, and sometimes inventory."  
If you're still unsure about the benefits of shopping small, we've shared a few examples of how small businesses in downtown Harrisonburg compare with big box retailers: 
Independent Clothing Boutiques vs. National Stores 
It's no secret that downtown Harrisonburg has unique clothing and accessory options that are different from the mass produced items you'll find elsewhere. The owners of shops like The Yellow Button, Bluetique, New Creation, Green Hummingbird, Heartworn Vintage, The Lady Jane, and more hand-pick the items in each of their stores, and continuously stay up-to-date on the hottest trends. And we can guarantee that your experience shopping for clothing and gifts downtown will be much different than at a national retail chain.  
The owners of these small boutiques offer their undivided attention when patrons ask for shopping advice. For example, Miranda Ebersold of The Yellow Button stylizes many of her customers personally, helping them select an outfit that makes the shopper look and feel good. Miranda builds personal relationships with each of her customers and will remember your name when you walk through the door. When you step into The Lady Jane, you'll feel like you've been the owner's friend forever. Sara Christensen is one of the friendliest people you'll meet (don't be surprised if you're hugging her by the second or third visit) and she'll help you select the perfect gift that will have meaning for the people on your list. Because you're not just buying a gift. You're purchasing an item that was handcrafted by a local artisan and often has a story of its own and you're purchasing it from a business owner with a dream of owning their own business. These downtown boutique owners are raising the bar for customer service and offering their customers personalized attention.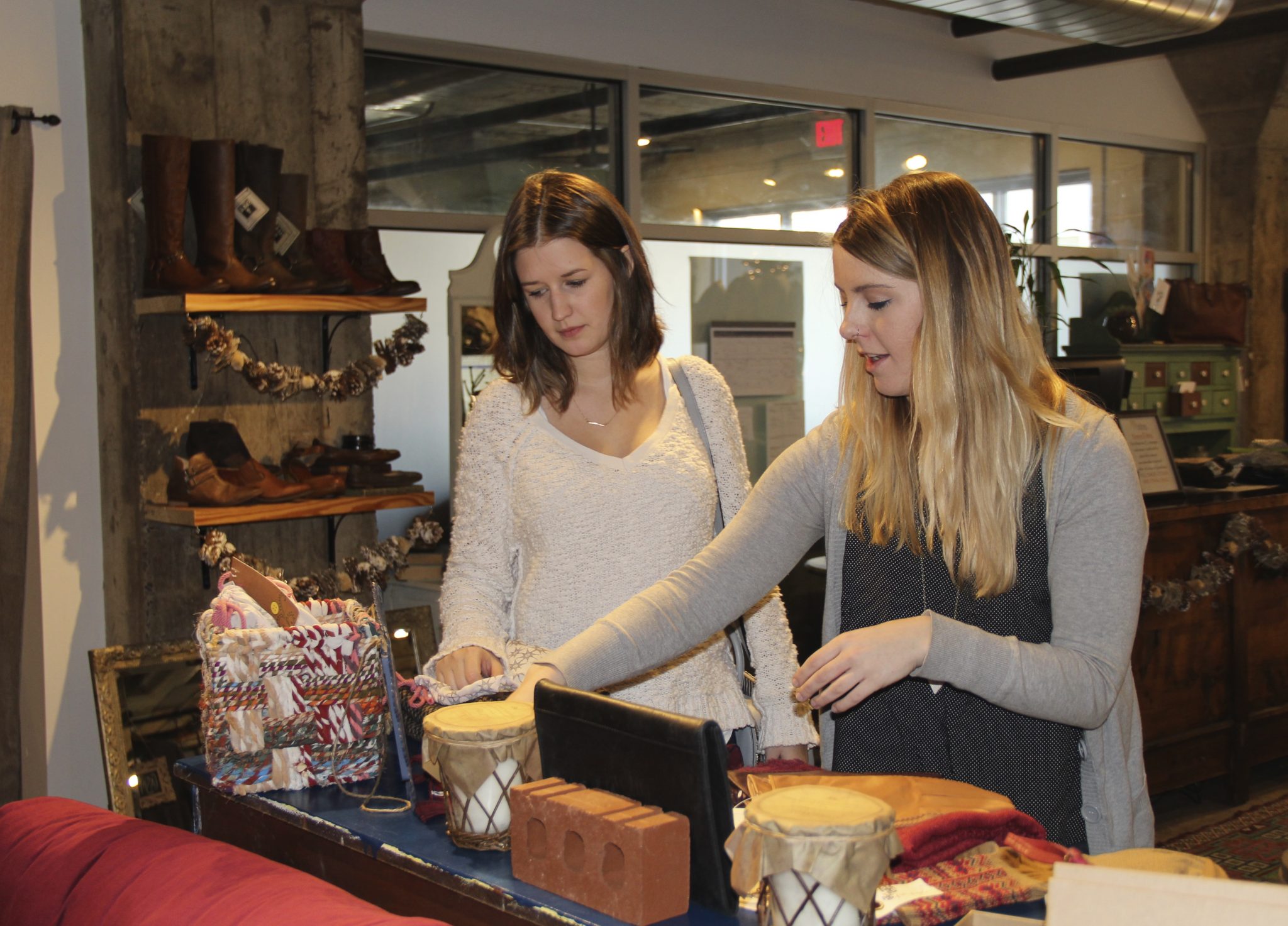 Small Art Stores vs. Big Box Arts & Crafts  
At stores like The Frame Factory & Gallery, Larkin Arts, OASIS Fine Art & Craft, and Trendy Glass & Beads, patrons can buy local art and shop for supplies  – painting and drawing supplies, coloring books, beads, frames etc. But they also offer a unique experience in that you get the chance to walk through a working art studio and will often see artists at work.  
For example, at Larkin Arts, shoppers are able to explore the various art studios to see what local artists are creating – both for their visual pleasure and inspiration as they seek to create art themselves. At the big box stores, there are of course art supplies, but never an opportunity to see artists working on recent projects or chances to purchase pieces of art made by local artists. Downtown Harrisonburg's arts stores and galleries offer so much more than your average chain store. 
Locally-owned Coffee Shops vs. Coffee Chain Stores  
College students, in particular, get excited to venture downtown for a locally-roasted cup of joe while also having the opportunity to bring their studies into a spacious, relaxing spot. Places like Black Sheep Coffee, Shenandoah Joe, Heritage Bakery & Café, and Broad Porch Coffee Co., offer a unique study space for students who need a change of scenery while offering their various roasts of coffee, espresso, tea, pastries, and other snacks.  
Even if you're not in college, it's fun to mix up the coffee shops you frequent. When you buy from a locally owned coffee shop, you can skip the lines, the same overpriced cup of coffee, and the parking. Parking is usually one of the biggest downsides of going to any chain store. You may be parking directly in front of the storefront, but how many steps are you really taking once you park in the gigantic parking lot and circle around the huge big box a few times to find what you need. It's deceiving! Fortunately, the coffee shops and downtown retail shops and restaurants are in close walking distance from any parking lot or on-street parking, allowing for customers to park easily and shop or dine. Did we mention, they also know their stuff? You may walk into a chain coffee shop and ask for a latte or mocha something, but do you really know what you're getting or does it just sound cool? At the downtown coffee shops, you'll find staff that are passionate about coffee and will take the time to talk with you about their products and how you can achieve the perfect cup at home too.
What to do on Small Business Saturday 
With more than 35+ independently owned retailers and 40+ restaurants and coffee shops downtown, you'll find what you need – and you'll enjoy the experience! Here's the Small Biz Saturday scoop on what's happening downtown. 
This weekend, Harrisonburg Downtown Renaissance welcomes you to shop and dine in our historic shopping and culinary district to kick off the holiday season. Don't forget to post a photo of your recently bought gift or meal, you and friends shopping downtown, or the friendly entrepreneurs and staff you'll meet on Facebook or Instagram. Tag @downtownharrisonburg and use the hashtags: #SmallBusinessSaturday2018, #SmallBizSat, #ShopSmall, and #ShopDowntownHarrisonburg so we can see how you're shopping small this holiday season!
Need some gift inspiration? 
 
Check out our holiday gift guide. It's just a small sample of the unique merchandise that you'll find downtown, but it will get you started and will make you want to shop small this holiday season for a one-of-a-kind, meaningful gift.