By Katie Mitchell / Photos by Philip Meador: Remember that Disney/Pixar movie Ratatouille, the one where a rat lives inside a chef's hat and shows the chef how to cook? The idea of rodents anywhere near my food is repulsive, but somehow I found myself loving those little scoundrels by the end of the film. The best part, of course, is when the food critic Anton Ego finally relaxes and reveals a covert truth: "In the grand scheme of things, the average piece of junk is probably more meaningful than our criticism designating it so." He admits, at last, what renowned chef Auguste Gusteau stated at the beginning of the film, that "anyone can cook." Those words are a distant shout to the ordinary guy who aspires to greatness, arriving only as a barely audible yet soul-stirring whisper: JUST TRY. So often a fear of failure or criticism keeps us from trying something new. But the creators of Harrisonburg's Making Space sincerely believe anyone can create, and they invite you and everyone you know to check your fears at the door and enjoy a couple of hours of free, low-stakes art-making.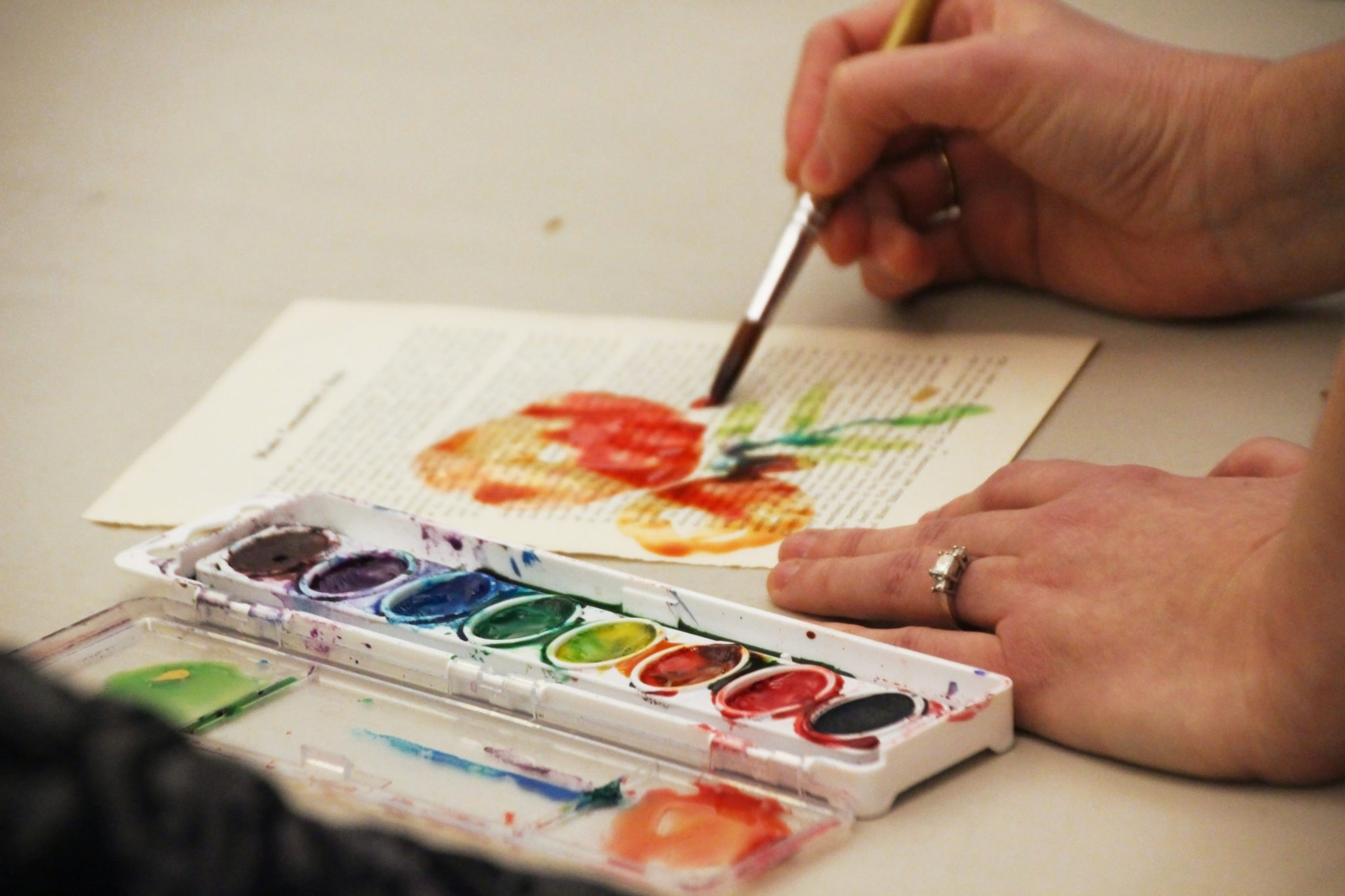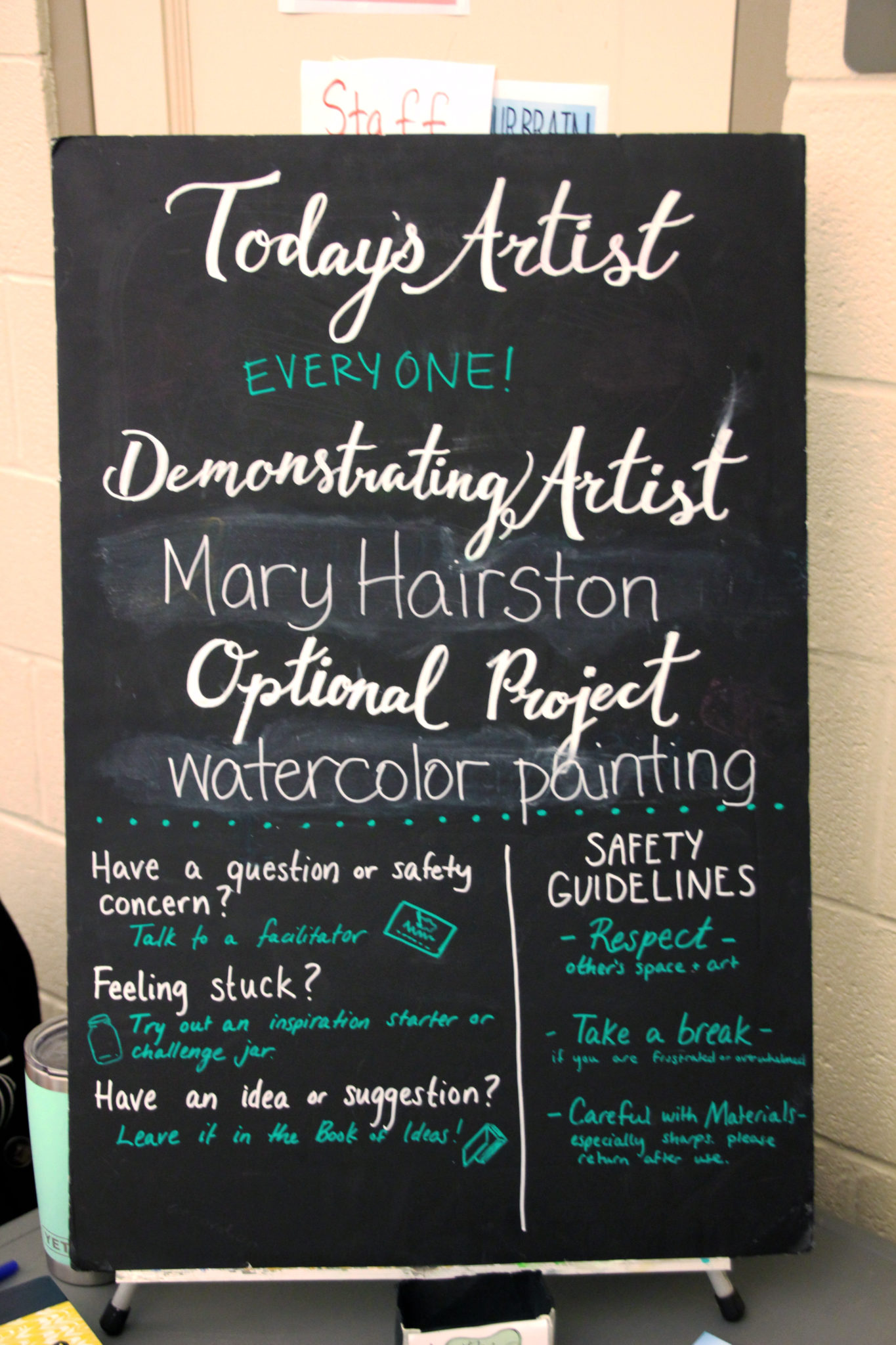 Founded in 2016 by two art therapists, an art teacher, and a counseling student, The Making Space offers monthly free open studio events where anyone can learn an art technique from a local artist. Guests can also choose to work on their own project and are welcome to use any supplies The Making Space has on hand. The events happen every 2nd Thursday of the month in the Lucy F. Simms Center. They also host some pop-up events on Saturdays at various locations around town. 
This month, the guest artist was Mary Hairston, who taught a packed house of 40 people how to paint floral designs on book pages or sheet music using watercolor paints or oil pastels. For watercolor, Mary advised using a big brush with lots of water and moving briskly; oil pastels, on the other hand, have to be applied in layers, with the understanding that the colors won't mix in the same way as watercolor paints. She even explained how to use both on one piece: applying a layer of watercolor, then a layer of oil pastel, allowing some drying time between layers. The last piece of advice she gave was not to "paint afraid or critical of yourself. Enjoy the process!", to which one participant exclaimed, "Yay!" After her instructions, people asked a few questions, and then everyone got up and got their supplies, which were FREE.
I was wowed by this entire experience. Here are a few things that really stood out to me.

1. This thing is free! Did I already say that? Thanks to a grant from the Arts Council of the Valley, a common barrier to art experiences — money — has been eliminated. One has only to find the event on Facebook, click "going" so The Making Space has a rough head count, and show up. Maria Paz Esguerra, who runs The Making Space events and works in nonprofit management and consultation, explained that people cannot always afford art classes or art supplies. Sometimes people will decide not to try something creative if they're going to get stuck with a bunch of expensive supplies they'll never use again. The Making Space provides a non-intimidating opportunity to get acquainted with art, no matter your skill level or experience.
2. The boldness with which participants attacked this project! Part of this, I'm sure, is because participants feel there's nothing to lose. It's a low-stakes, low-risk experience with no pressure or negative criticism in a friendly, supportive environment. Whatever the reason that day, everyone was throwing caution to the wind and just going for it! And the results were truly beautiful.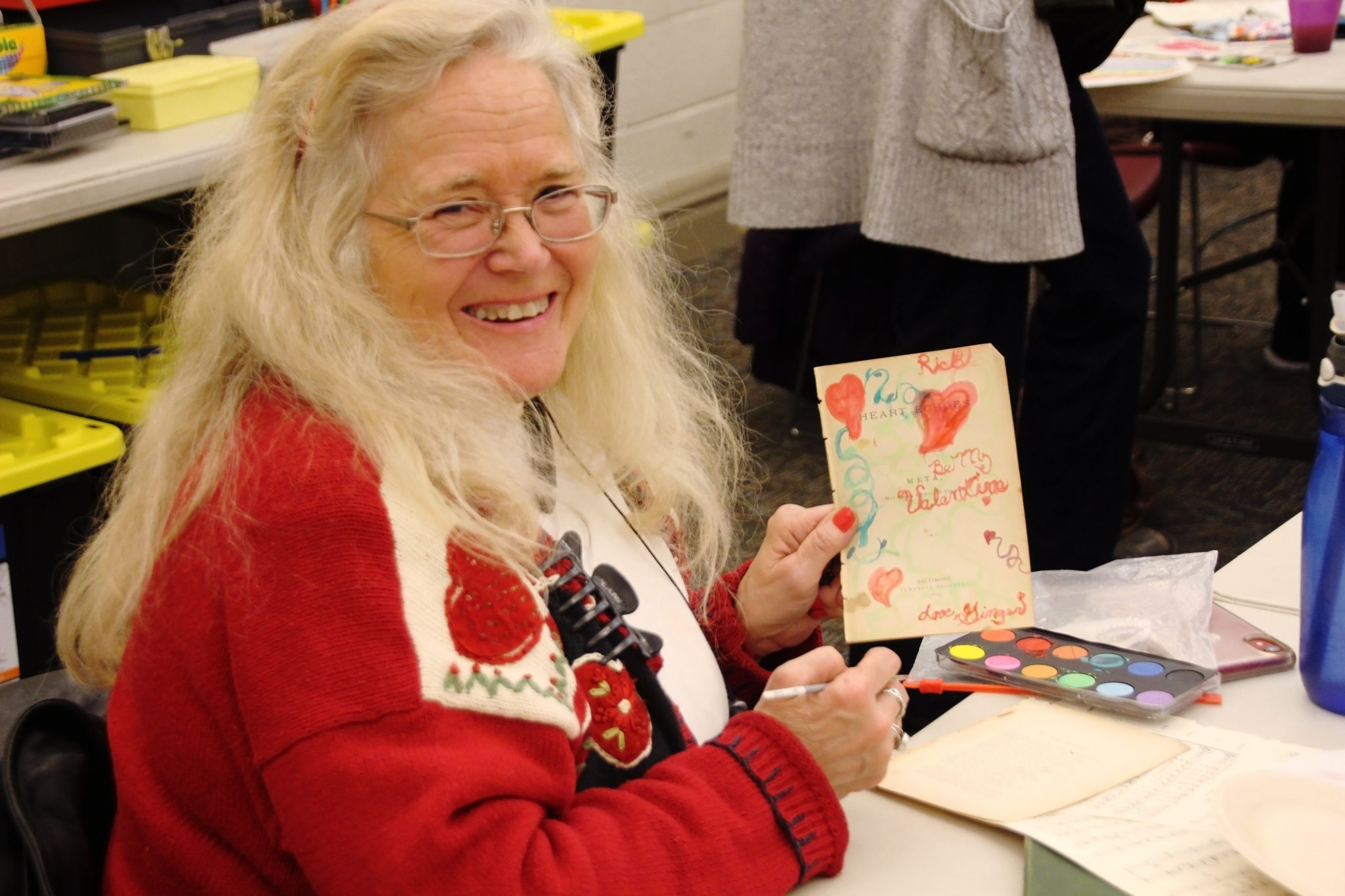 3. People are not just making art at The Making Space. They're making connections. Maria Paz sees The Making Space as a bridge to art, a way for participants to connect to art in ways they've not been able to before. They are not just looking at art or reading about it or watching a video of it… they are involved in the very act of creation, and it doesn't matter if it's their first time doing so. In this way, participants are also making meaning during their time at The Making Space. Creating art helps people to understand themselves, their world, and their relationships and to process life events. Lastly, people make friends at The Making Space. Some folks sat with people they knew, and others filled in empty seats next to total strangers. It wasn't long before people were getting to know one another, asking about each others' lives, laughing and complimenting each others' work.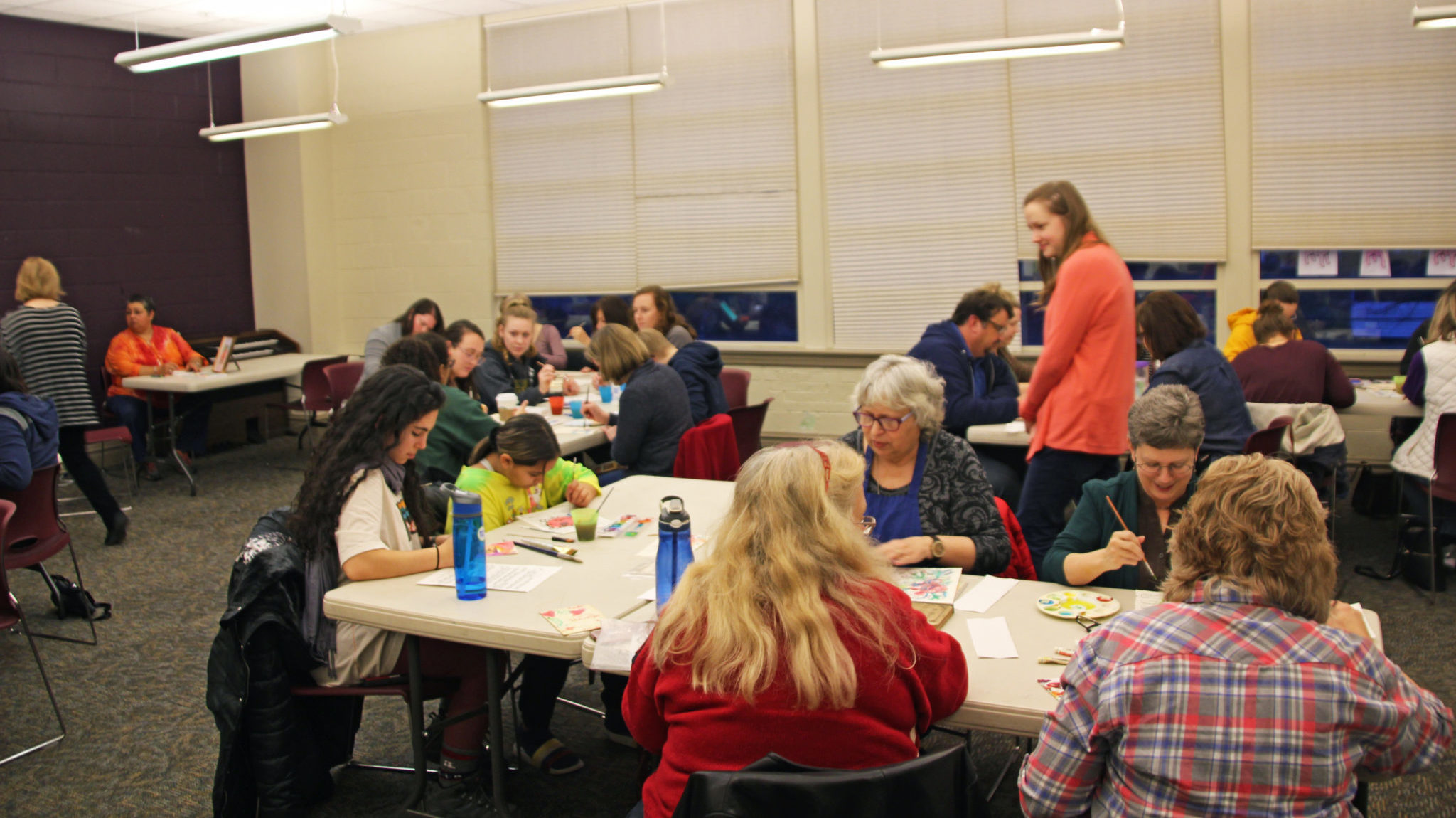 4. The legacy of the space. The Lucy F. Simms Center is an important part of Harrisonburg's and Newtown's history. Lucy Simms was a freed slave from Harrisonburg who attended Hampton Institute and then returned to Harrisonburg to work as a school teacher. Simms started teaching in 1877 in the Athens Colored School, then taught briefly in the basement of the Harrisonburg Catholic Church before landing at the Effinger Street School until 1934, the year she passed away. All told, Ms. Simms taught for 56 years. After the Effinger Street School closed in 1938, a new school was built and named for her. Today this building is known as the Lucy F. Simms Continuing Education Center. In addition to The Making Space, The Simms Center is also home to a Boys and Girls Club, a gym, a fitness room, a computer lab, four classrooms, and a conference room. Various civic groups reserve the space for events, classes, workshops, meetings, and seminars. A beautiful and informative exhibit about Lucy Simms is on permanent display at the Lucy F. Simms Center. Fifty-nine panels tell the story of Ms. Simms's life, her impact as an educator, and African American education in Harrisonburg and Rockingham County. 
Okay, so what can we do to support The Making Space? Several local businesses and organizations, like the Arts Council, Oasis Fine Art & Craft, and Brothers Craft Brewing, have gotten behind this little engine that can. If your business or organization wants to partner on a project, that's one way to support The Making Space. Maria Paz and her crew are always looking for volunteers, too, including guest artists. People can also make a financial donation or give the gift of supplies. If those are out of reach for you, please consider attending a Making Space event and spreading the word about this fantastic initiative. After all, in the words of Anton Ego, "Not everyone can become a great artist, but a great artist can come from anywhere." Even YOU.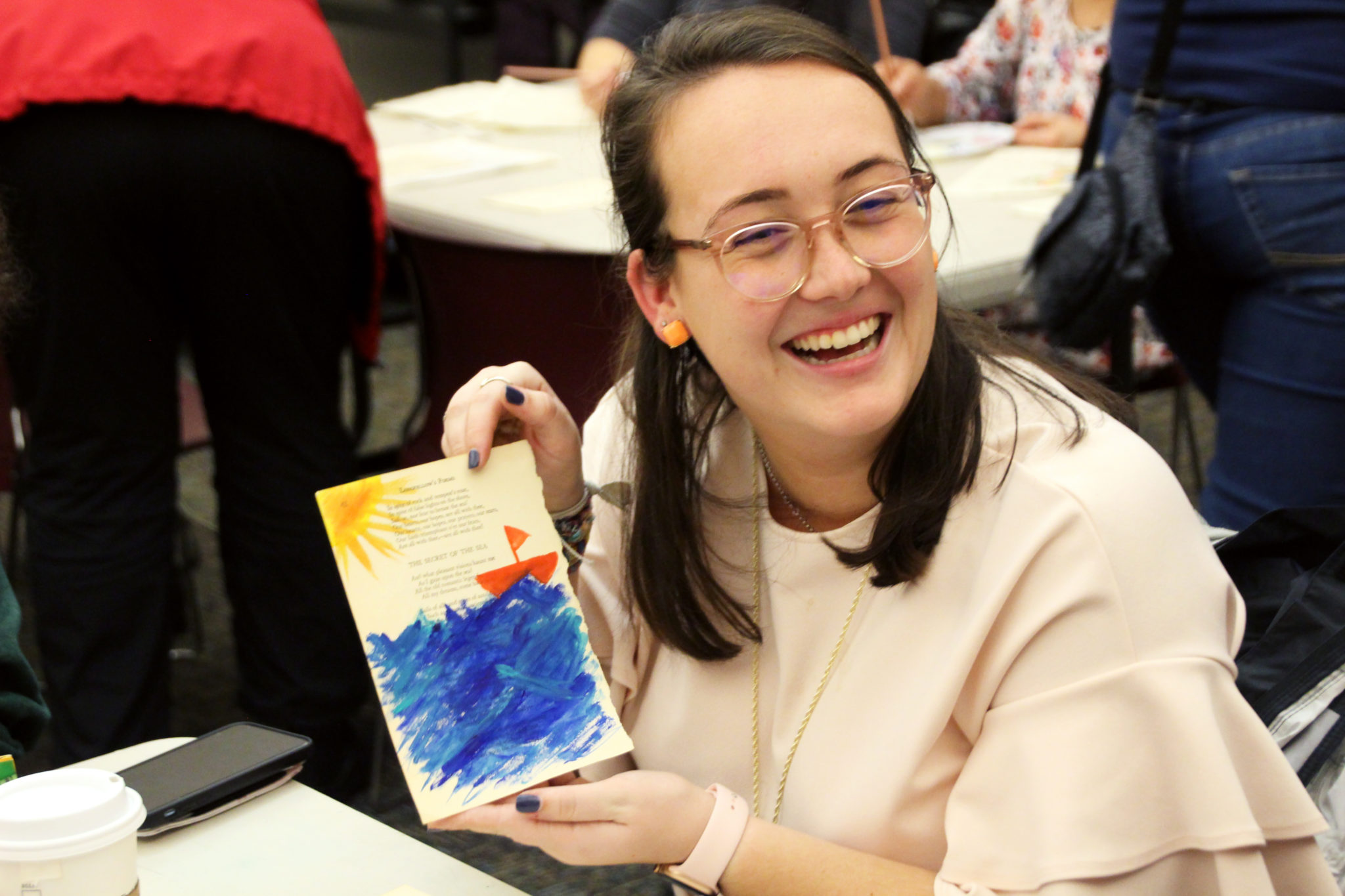 Coming up at The Making Space:
March 12 – make a "Giving Rock Garden" with Gil Lamieras
April 9 – create fabric banners with Marcia Weaver
May 14 – learn paper quilling with Deb Booth
And watch for a kite-making pop-up in conjunction with Harrisonburg Parks & Rec this July!
For more information about the history of the Lucy F. Simms Center, visit the National Register. To access the Celebrating Simms exhibit online, click here. And visit the Making Space Facebook page for events and updates!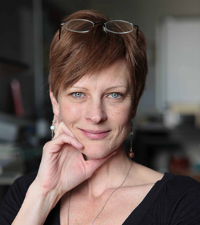 Katie Mitchell is a mom, educator, and writer who has called Harrisonburg her home since 1993. She loves books, beer, fire, sunsets, spicy things, trees, water, live music, and unexpected naps. She is the writer and founder of Harrisonburg's popular blog I Love My Burg and is currently working on her Masters Degree in Communication and Advocacy.