When you see Zaharia Ford-Byrd's painting, currently housed in the Arts Council of the Valley's Smith House Gallery, of a Stars and Stripes wrecking ball slamming into a bright, colorful, enlivened house, you might recall artist Hugo Gellert's image of a strapping, muscular man wielding a sledgehammer over the quaint town beneath him. Gellert's image, however, was used in a 1946 pamphlet titled "THIS IS IT," generated by Norfolk's Redevelopment and Housing Authority to promote the "creative destruction" involved in urban renewal initiatives. The simultaneous resemblance and contrast of these two images highlights an urge to conveniently blur the line between progress and violence. Hearing the voices of the urban residents on the receiving end of the wrecking ball lends the balance needed to understand the consequences of urban renewal and opens a space where it's possible for healing to begin. 
This is the idea behind Visionaries, a new exhibit at Smith House Gallery that looks honestly at Harrisonburg's midcentury urban renewal project, the decimation of Newtown, and the consequences that still persist today. To understand what you're looking at when you visit the exhibit, it's important to know the history behind it and how this show came together.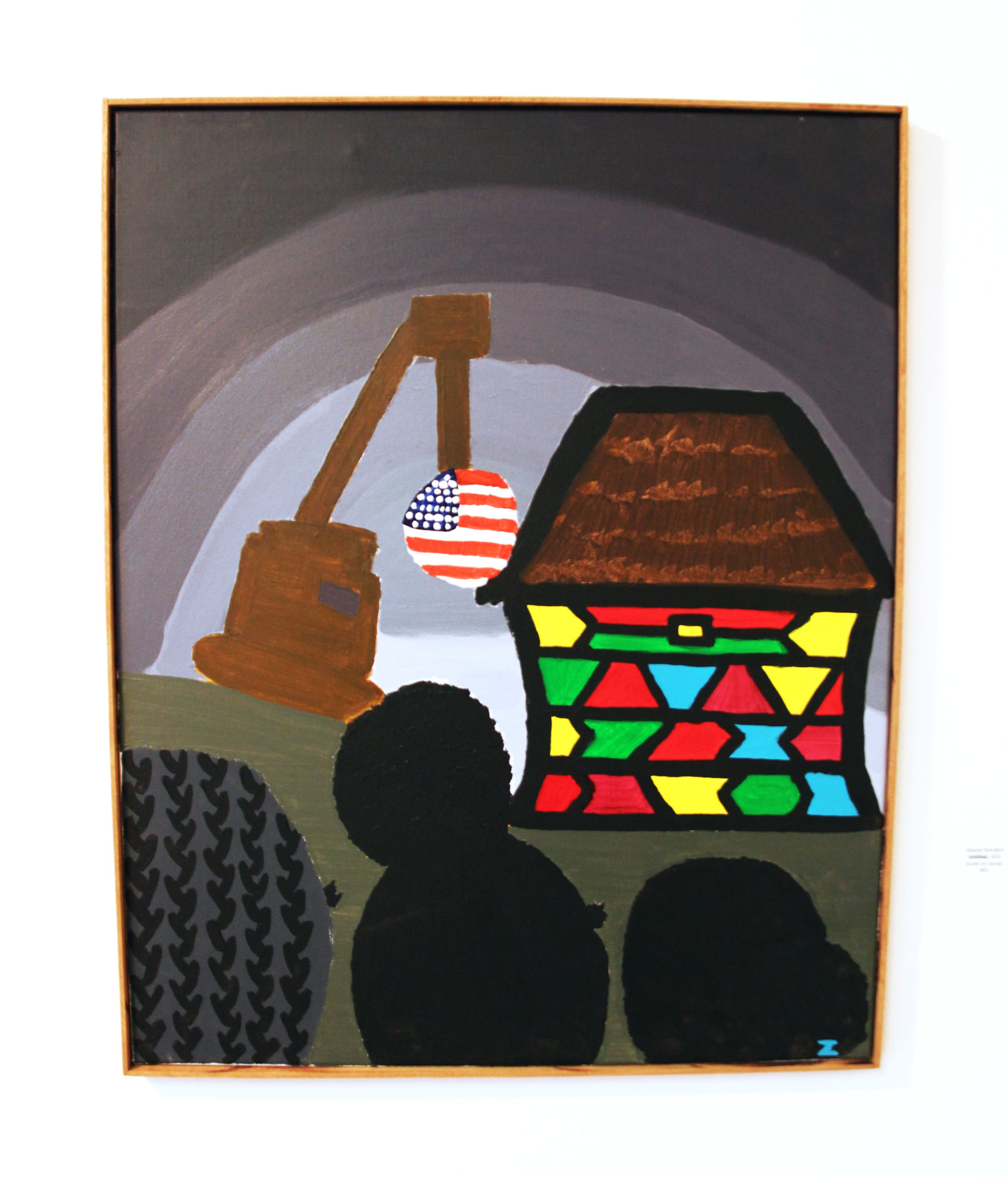 Zaharia Ford-Byrd's VISIONARIES painting on urban renewal (photo by Philip Meador)

How It All Came Together
Several forces conspired to bring the exhibit to this side of reality. Harrisonburg's Northeast Neighborhood Association (NENA) applied for and received a grant from Virginia Humanities, through the W. K. Kellogg Foundation, for a Changing the Narrative project. Changing the Narrative is a national Truth, Racial Healing, and Transformation initiative with the goal of fostering an inclusive narrative from which healing can begin. Project leader Susan Zurbrigg, painter and professor in the School of Art, Design & Art History at JMU, contributed time, expertise, and two paintings of her own specifically for the exhibit. In 2019, Professor Susan Zurbrigg facilitated a summer art workshop with local youth age 13 – 18 who created the powerful works of art currently hanging in the Smith House Gallery. Additionally, Zurbrigg's fall 2019 painting students engaged in performance activism to bring attention to Charlotte Harris, who in 1878 was lynched, before she could stand trial, by Rockingham County residents. Her killers were never charged. The art exhibit features several paintings about the demolition of Harrisonburg's predominantly African American Northeast Neighborhood, resulting in the displacement of some 100 black families, the loss of several black-owned businesses, and cultural trauma that continues today. In the performance about Charlotte Harris, participants wore dark hoodies and moved around a female silhouette lit by candlelight to signify the erasure of Ms. Harris' life and death by white history.
The Vision Behind
Visionaries
The purpose of Visionaries is to celebrate and emphasize the untold — or undertold — stories of African Americans in the Shenandoah Valley. Many people don't realize that because of America's legacy of racism, the voices of slaves and their descendants have been diminished, ignored, or erased by the careful curation of history by white folks. These voices can move to the forefront through stories, paintings, photographs, poetry, performances, and other narrative devices. The goal of this project, then, is to use art as a first step toward racial healing. The exhibit creates an opportunity for everyone to listen to the shared histories and lived experiences of African Americans and to continue a conversation that brings understanding and, ultimately, healing and celebration.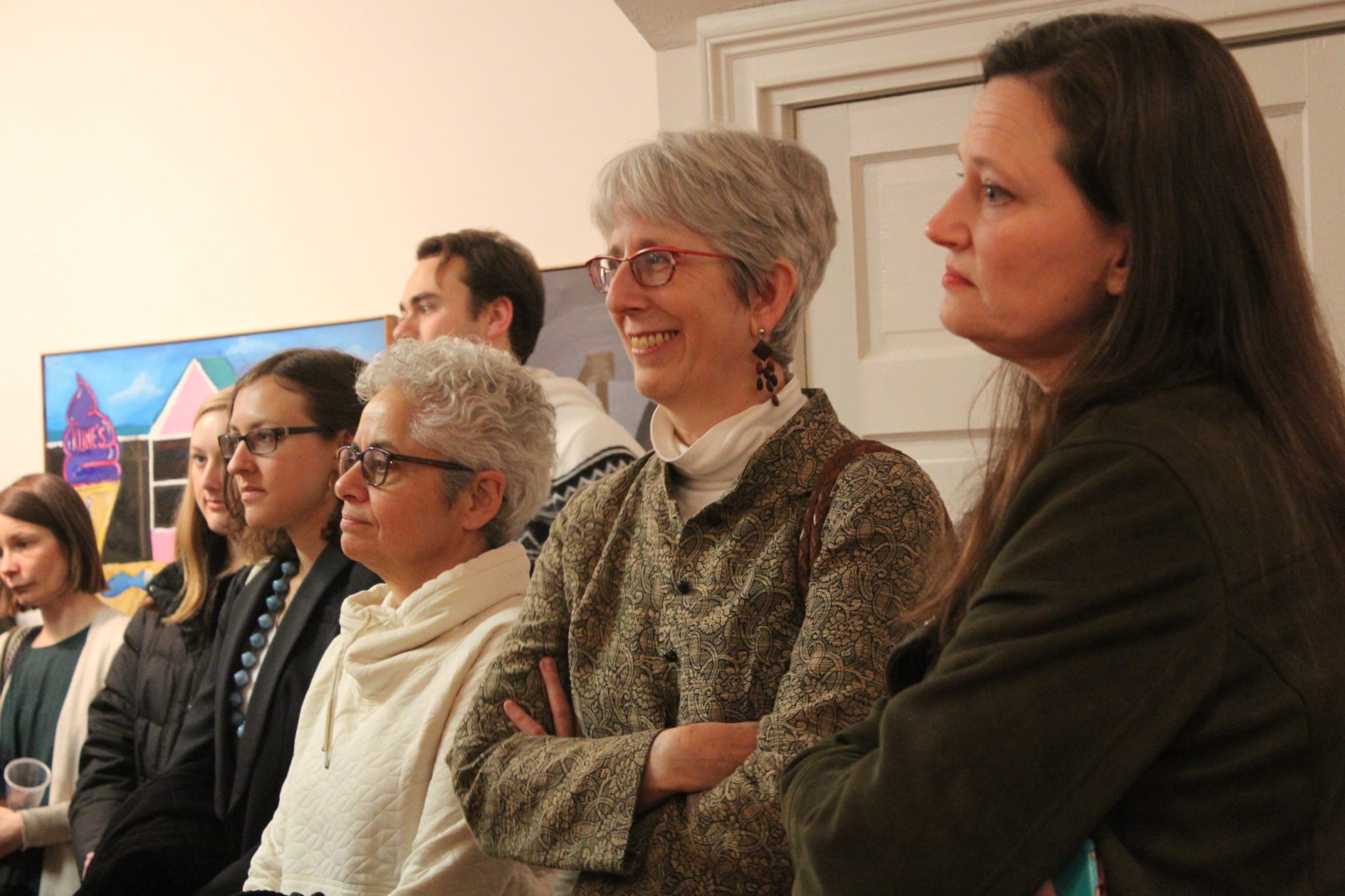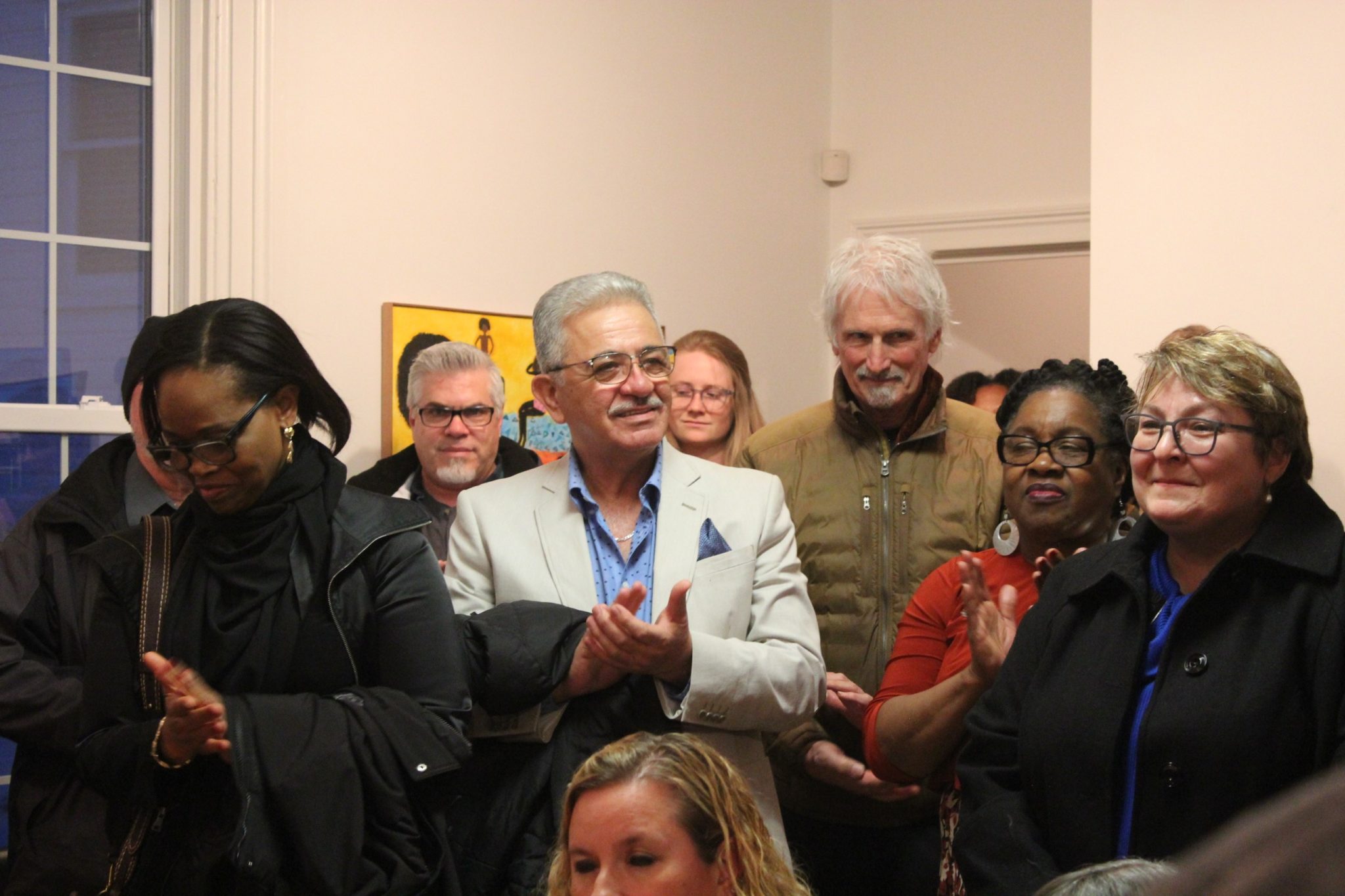 Nearly 200 Harrisonburg community members visited the Smith House Galleries for the opening reception of VISIONARIES on First Friday February 7th (photos by Mary Rouse)

Understanding Urban Renewal
After WWII, federal funds became available to cities that wanted to embark on urban renewal projects. On the surface, urban renewal was an attempt to move low-income folks into better housing. What often happened instead, and what happened in Harrisonburg, was the eviction and displacement of families so their property could instead be used for commercial interests. The process was simple: a city needed only to declare it had slums or blighted areas, receive the federal funds, force people to sell their property below value, bulldoze the properties (in Harrisonburg, it was the homes and businesses of Newtown), and sell the bulldozed land to commercial developers. In Harrisonburg, the area where Kline's Ice Cream, Auto Zone, Gamer Oasis, Roses, the North Mason Street Post Office, and the Rockingham County Offices on East Gay currently sit used to be the location of dozens of homes, including that of Edna and Elon Rhodes, built by Elon's grandfather, and Henry and Savilla Vickers' home on Wolfe St. The Toliver family home on Mason Street was only 20 years old when it was razed — it was not at all blighted, but it stood in the way of the city's plan. All told, nearly 150 homes were demolished during urban renewal. Additionally, several black-owned businesses were destroyed, including multi-use buildings The Colonnade and The Hut, home to dance halls, restaurants, pool rooms, a barber shop, a beauty parlor, and a record store, and Stevens Taxicab, which ultimately re-opened in Waynesboro. Harrisonburg also lost its oldest African American church — First Baptist — and a Jewish temple. Later on, the Northeast Neighborhood lost its community center and pool. A new one opened at Westover Park, but it was a considerable distance from the Northeast Neighborhood.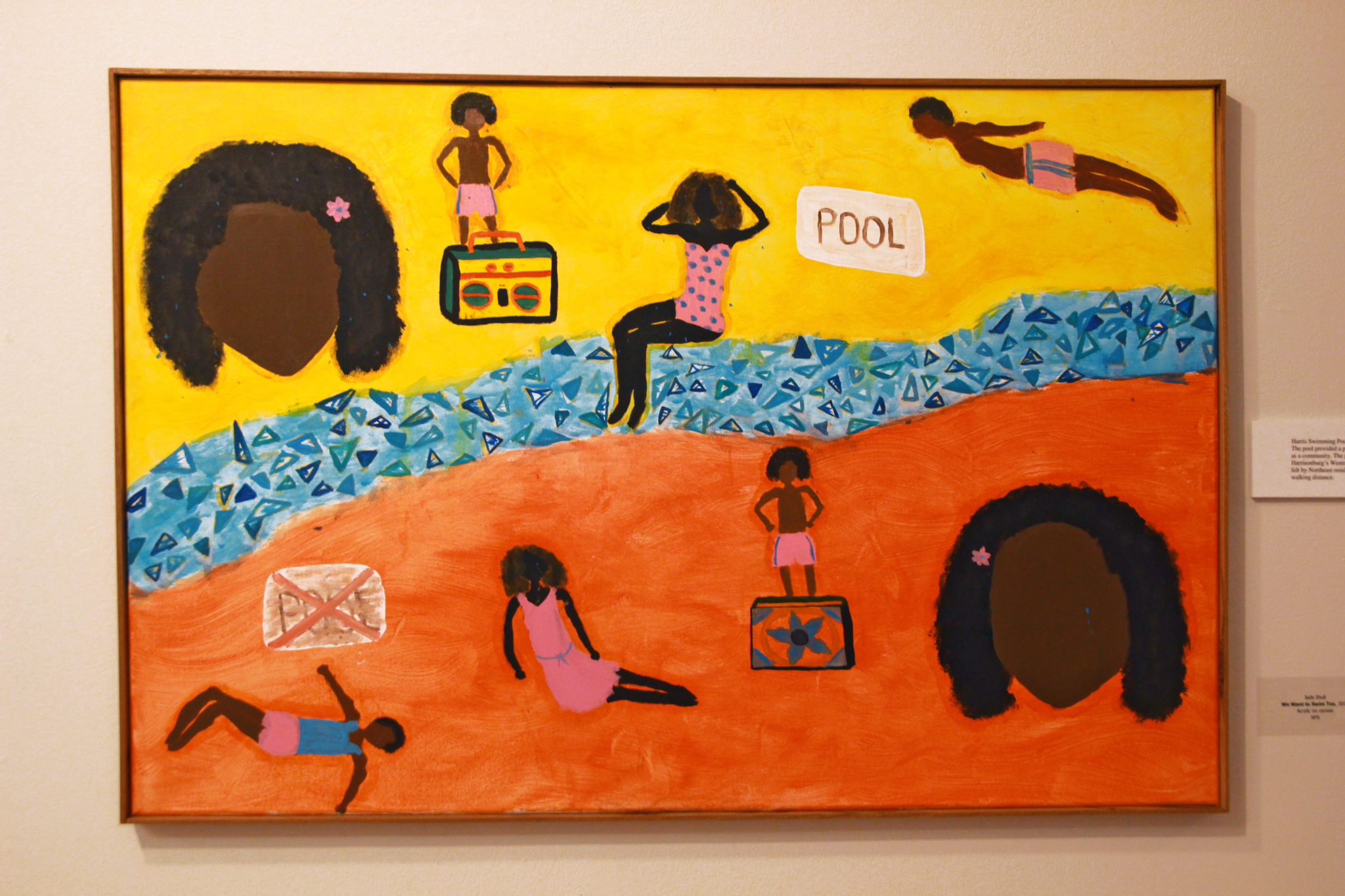 Jade Shull's piece on the Harris swimming pool, "We Want to Swim Too" (photo by Philip Meador)
The Exhibit at Smith House Gallery
When you visit the gallery, you'll see a video explaining the art intervention performance piece and the summer art workshop. Still photos of the performance and a summary of the Charlotte Harris story hang in the front gallery. The rear gallery holds the paintings by summer workshop students. Along with Zaharia Ford-Byrd's wrecking ball painting, there are works by nine additional artists. The subject of each painting ranges from tributes to buildings or businesses lost during urban renewal; ongoing consequences of systemic racism, such as limited access to education and xenophobia experienced by Harrisonburg's newcomer population; celebrations of African American influence in Harrisonburg, like Lucy Simms, Ambrose and Reuben Dallard, and George Newman; and highly emotional paintings that speak to the chaos and confusion of displacement and erasure. What you see in this article is a mere fraction of what's waiting for you at the Arts Council. And, really, the hard work and passion of these students is most apparent when you're gazing upon their art in person. This powerful exhibit will be available through February 27. You can also read more about the artists, the paintings, and the art intervention at Harrisonburg's Changing the Narrative website
Author note:
I would like to acknowledge the following sources used in the creation of this article. 
The

Change the Narrative

Harrisonburg web site

, containing stories, information, and images of the

Visionaries

project.

The Northeast Neighborhood Association website, which explains their mission and ongoing projects and summarizes the history of Harrisonburg's urban renewal.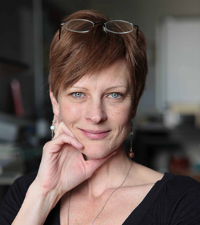 Katie Mitchell is a mom, educator, and writer who has called Harrisonburg her home since 1993. She loves books, beer, fire, sunsets, spicy things, trees, water, live music, and unexpected naps. She is the writer and founder of Harrisonburg's popular blog I Love My Burg and is currently working on her Masters Degree in Communication and Advocacy.