Don't let the pandemic put a damper on your Mother's Day plans! Downtown Harrisonburg is here for you and ready to safely supply gifts, flowers, and dinner for the special mothers in your life.
Jewelry from Hugo Kohl
Send mom a piece of hand-crafted fine jewelry from Hugo Kohl at an incredible price! Hugo Kohl is offering 50% off their entire collection through May 10th. Use code MOTHER at checkout! Shop online or give them a call at 540-564-2755.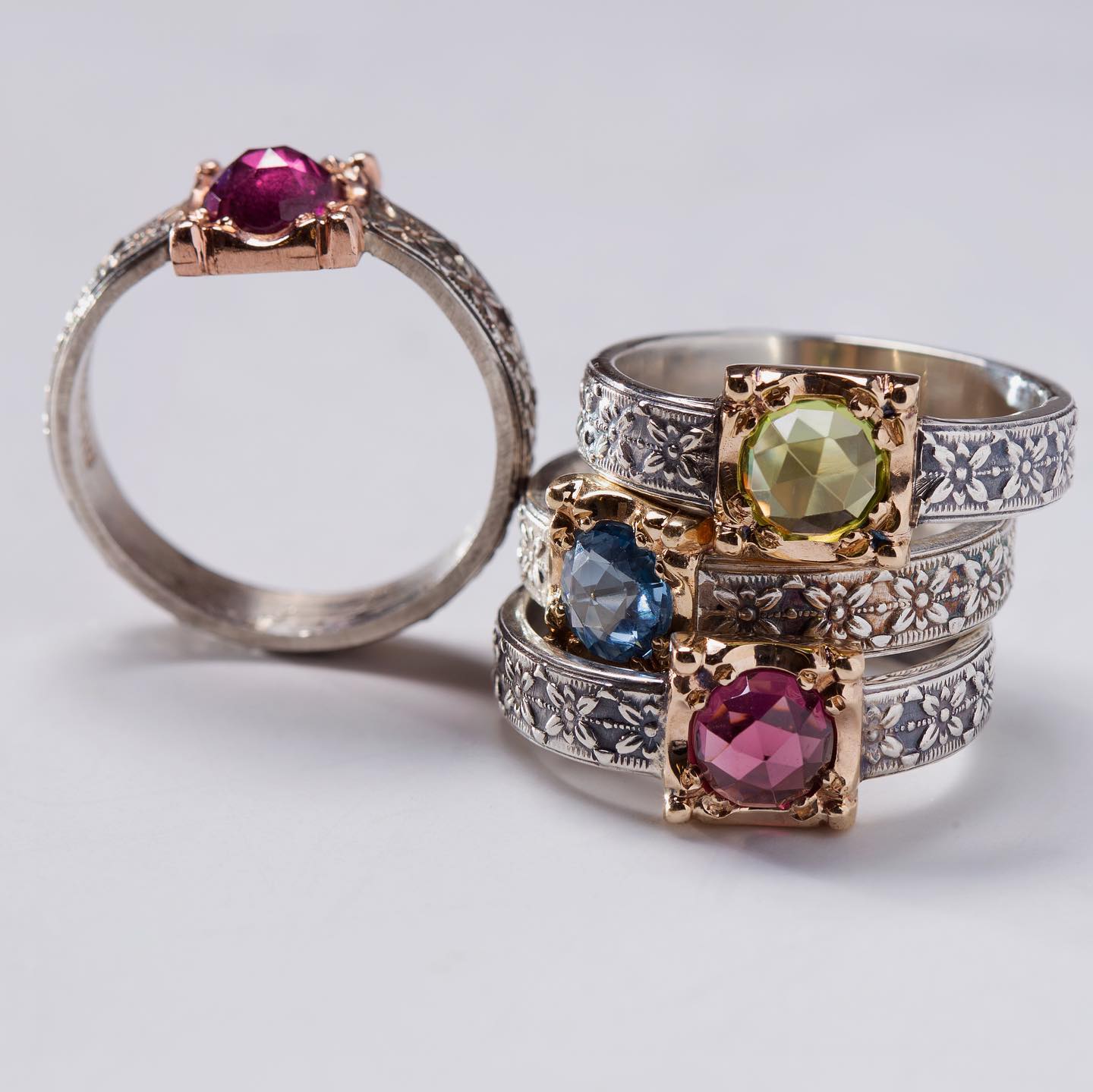 Dinner from Rocktown Kitchen
Spoil mom and let Rocktown Kitchen do the cooking! Call them at 540-217-2425 or visit their website to place your curbside pickup order by 2pm Thursday, May 7th. Add wine, dessert, a Floral Bundle from withSimplicity, and Sparrow's Flowers to get everything you need in one stop!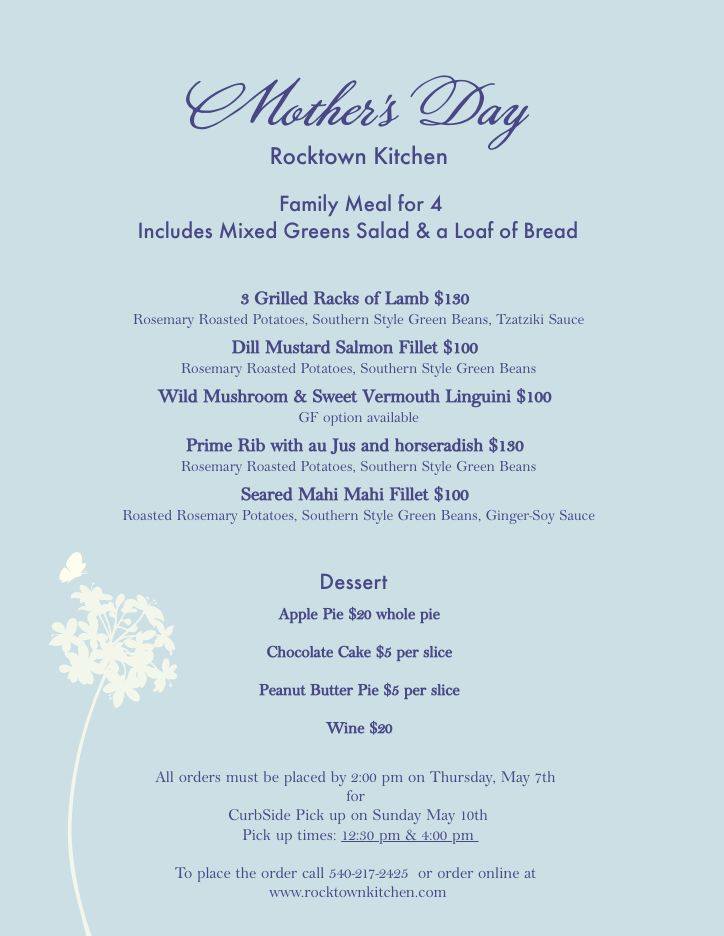 A Floral Bundle from withSimplicity
The modern twist on "Flowers for Mom" – Give your mom the gift of natural skincare and body care infused with floral and botanical extracts! Shop the bundle here.
Pick up your Floral Bundle at the same time as your curbside dinner order from Rocktown Kitchen! Place your order for their Mother's Day Floral Bundle before Saturday, May 9th and select "Pickup at Rocktown Kitchen" as your Shipping Option
Blind Box Surprises from Ten Thousand Villages
Send mom a fair-trade surprise with a blind box from Ten Thousand Villages!  The Blind Boxes range from $25-$100 and include a themed assortment of products from Ten Thousand Villages. For each box, they will also donate a percentage of sales to the Blue Ridge Food Bank!
While they are not able to promise the exact items in each box, the total value will be greater than the cost of the box. Based on your form answers, Ten Thousand Villages will do their best to create the best-themed mix for your special lady. Items will take 3-5 days to be packaged and mailed after payment is received, and standard shipping is free!
Handcrafted Jewelry from Walkabout Outfitter
Give mom a handcrafted piece of the Shenandoah Valley with stunning jewlery made exclusively for Walkabout Outfitter by mother-daughter artist team, Sylvan Spirit! Shop online or give them a call at (540) 434-9900.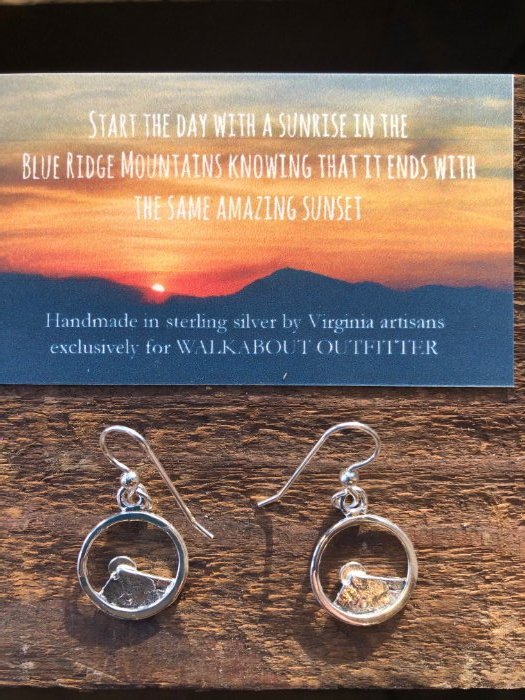 Mother's Day Family Meals from Montpelier
Enjoy dinner for 4 or 6 from Montpelier Restaurant at Hotel Madison for curbside pickup! Build your own gourmet feast and treat the whole family for mom's special day. Give Montpelier a call at 540-214-2280 to place your order by 9pm May 8th!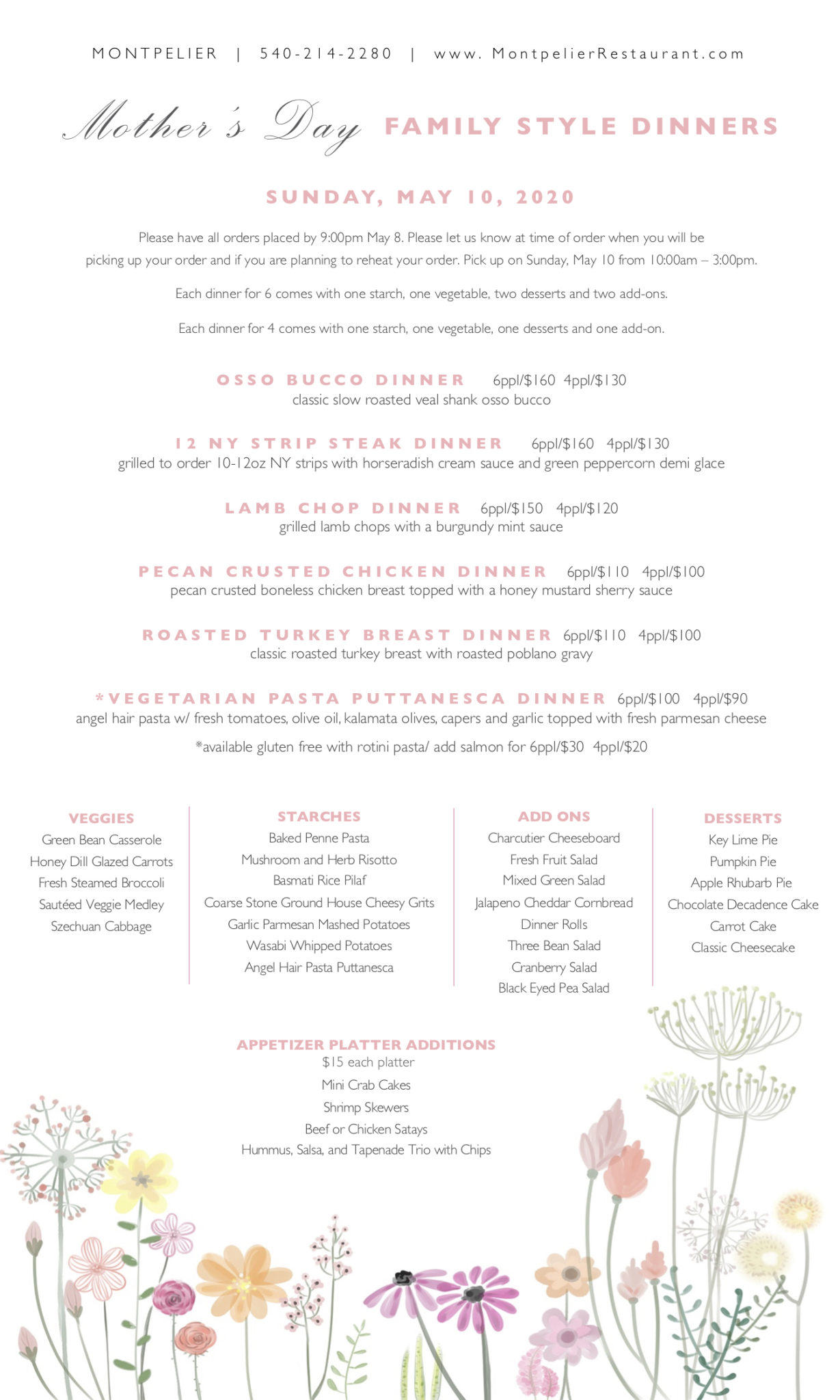 Sweet Treats from El Paisano Bakery
Give El Paisano Bakery a call at 540-209-8892 to order one of their famous tres leches cakes or flan! There's no better sweet treat to top off mom's big day.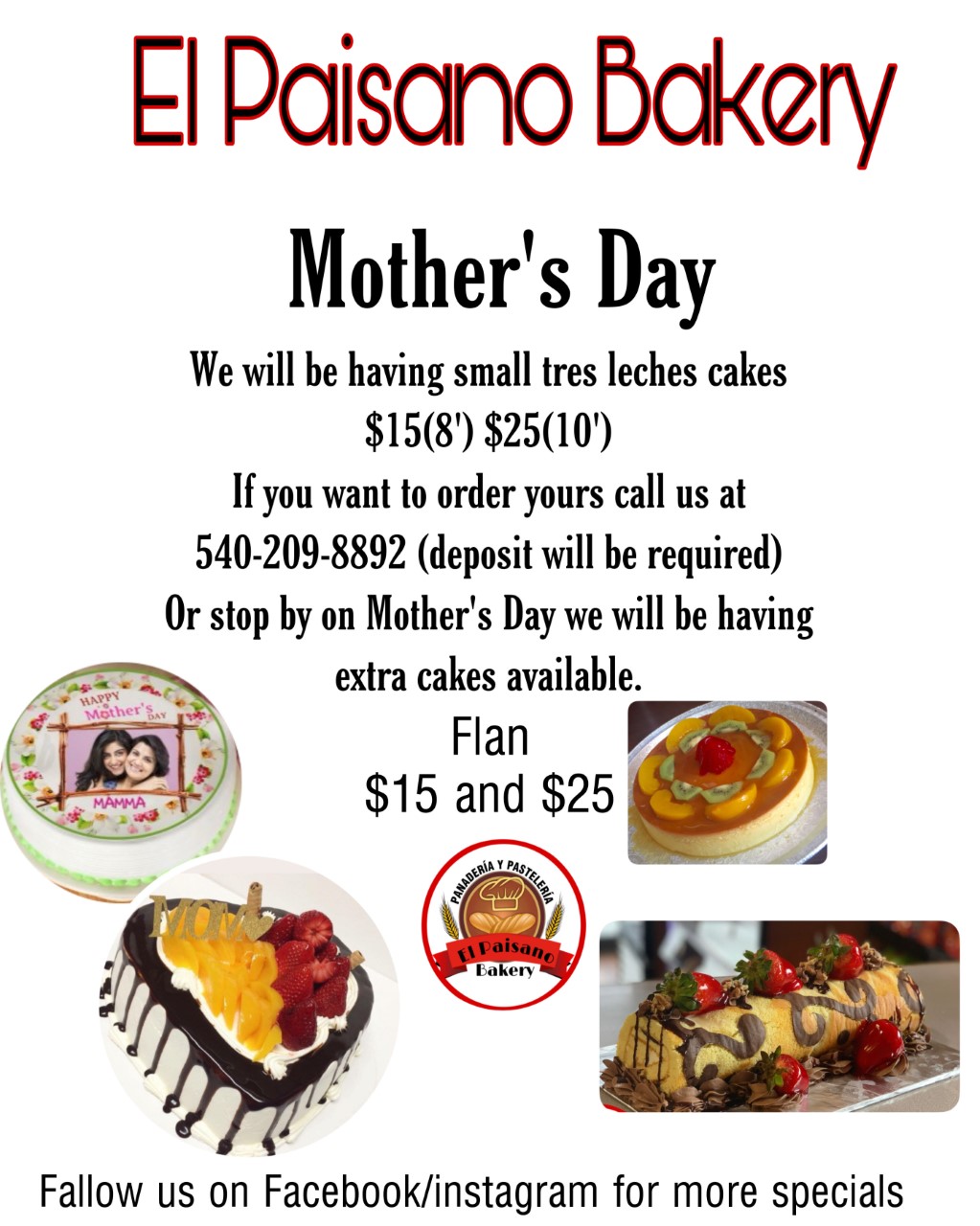 Card-making Supplies from Larkin Arts
Not able to get out and buy a card? Want to do something extra-special for mom this year? Larkin Arts has added watercolor and mixed media card packs, paint brushes, pen sets, watercolor pencils, sketching pencils, and more to their website that you can order online and have delivered right to their door. All orders placed before noon every Thursday deliver that Friday!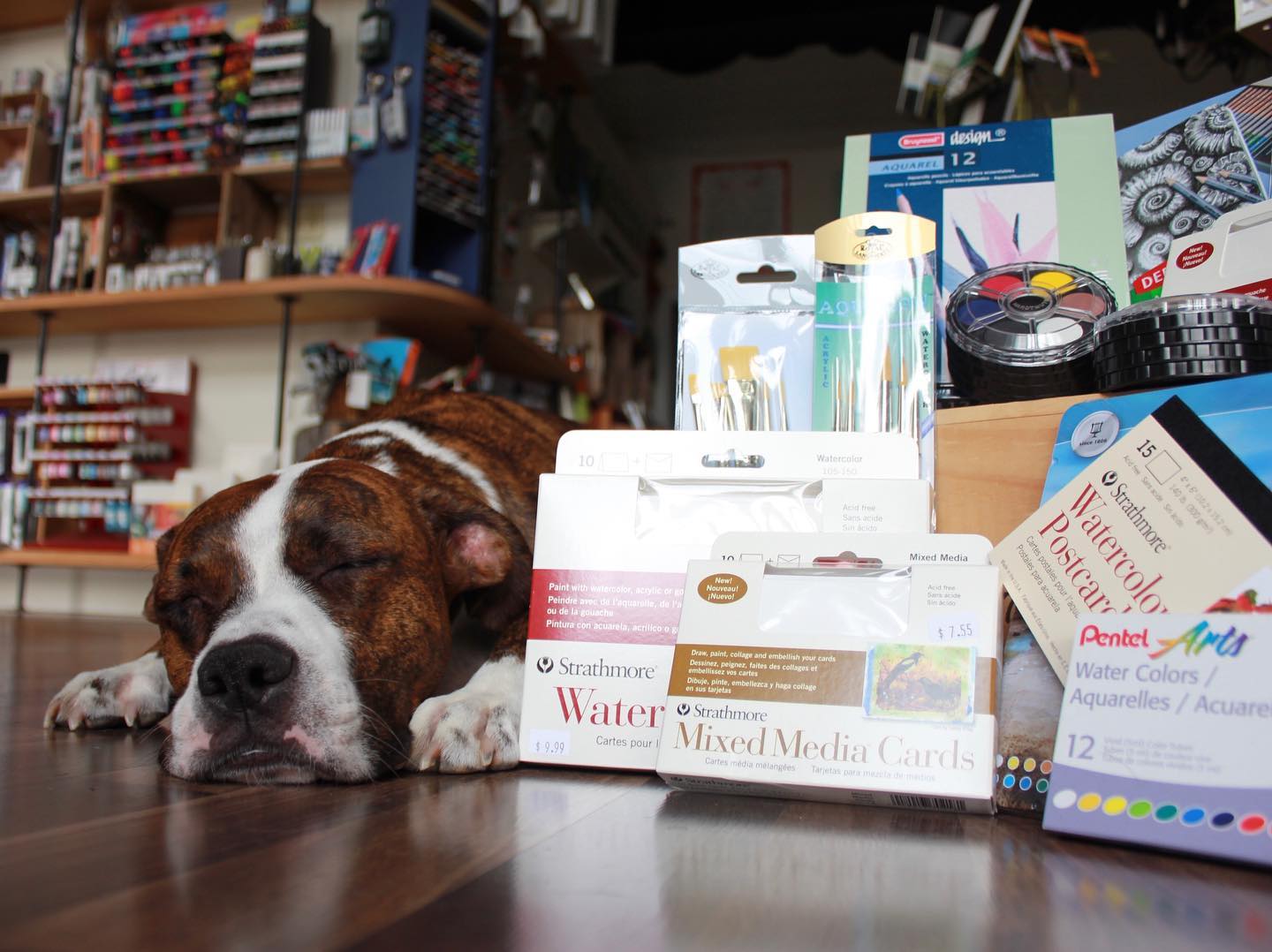 Flowers from Sparrow's Flowers
Sparrow's Flowers is now taking pre-orders for Mother's Day! You can order online and specify what date you would like it, and whether you want delivery or pickup. You can also order plants from Plant Life Indoors and a variety of artisan, earthy gifts on their website as well. Sparrow's is also partnering with Rocktown Kitchen for their special Mother's Day menu – you can add a wrapped bouquet of flowers to your order and pick both up at the restaurant when you get your meal!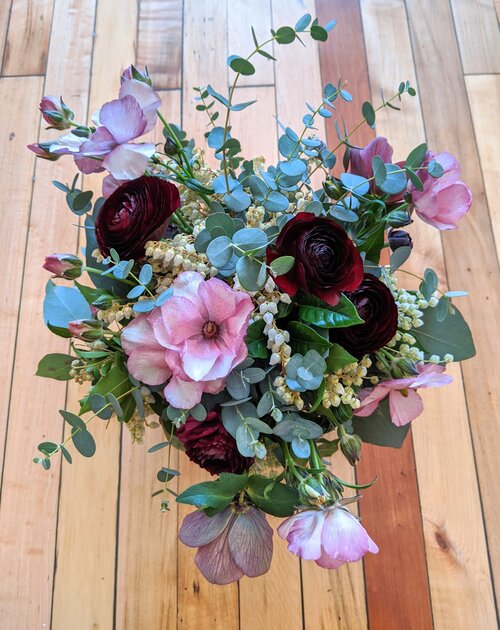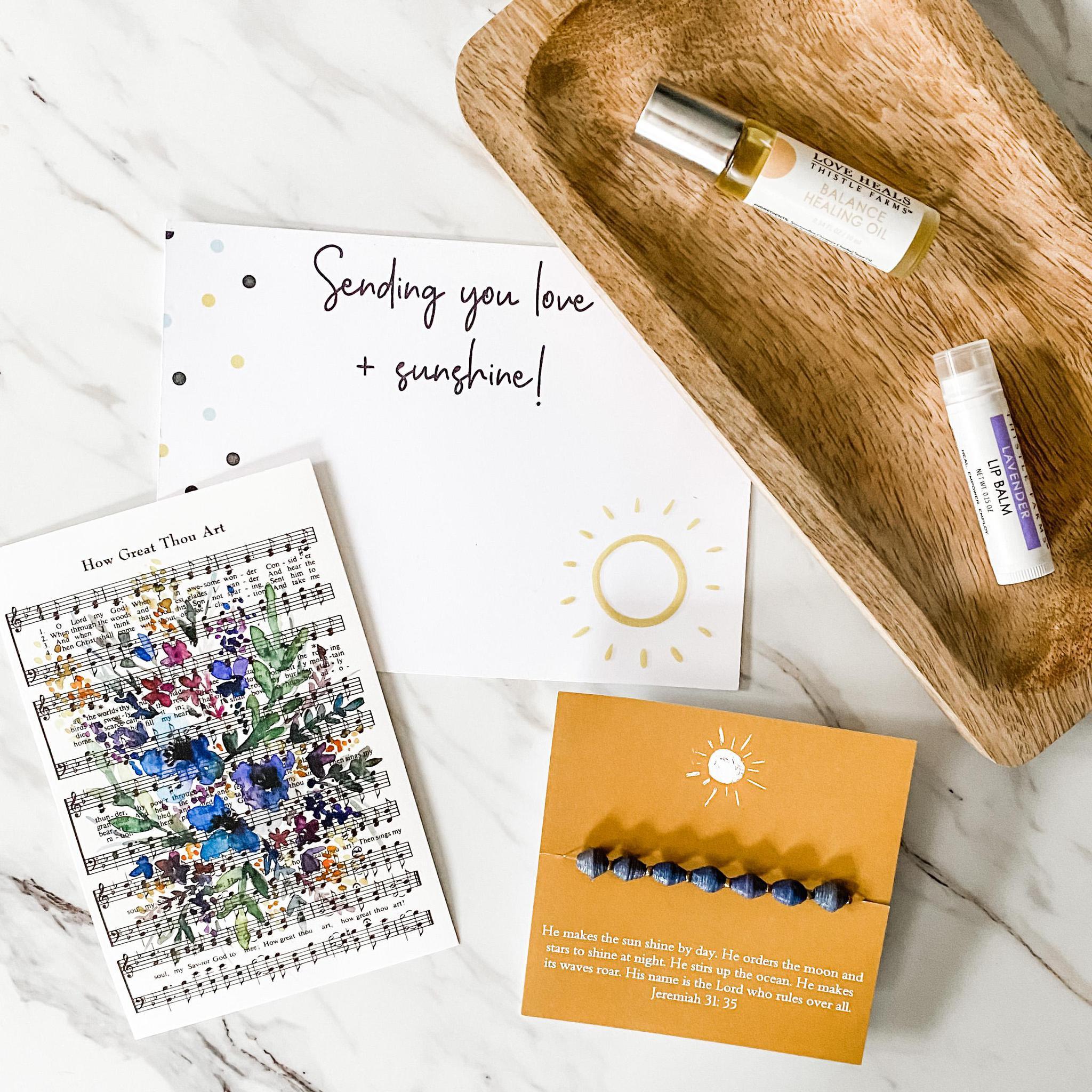 Plants and Flowers from The Friendly City Food Co-op
The Friendly City Food Co-op is featuring plants and flowers for Mother's Day, including all kinds of native plants from Natural Garden and vegetable and herb plants from Radical Roots. They also have LOVELY flowers, hanging baskets, and succulents for sale! If your mom has a green thumb, there's no better treat than some lush garden goodies.
13" Hanging Baskets – $29.99
11" Hanging Baskets – $24.99
8" Hanging Baskets – $14.99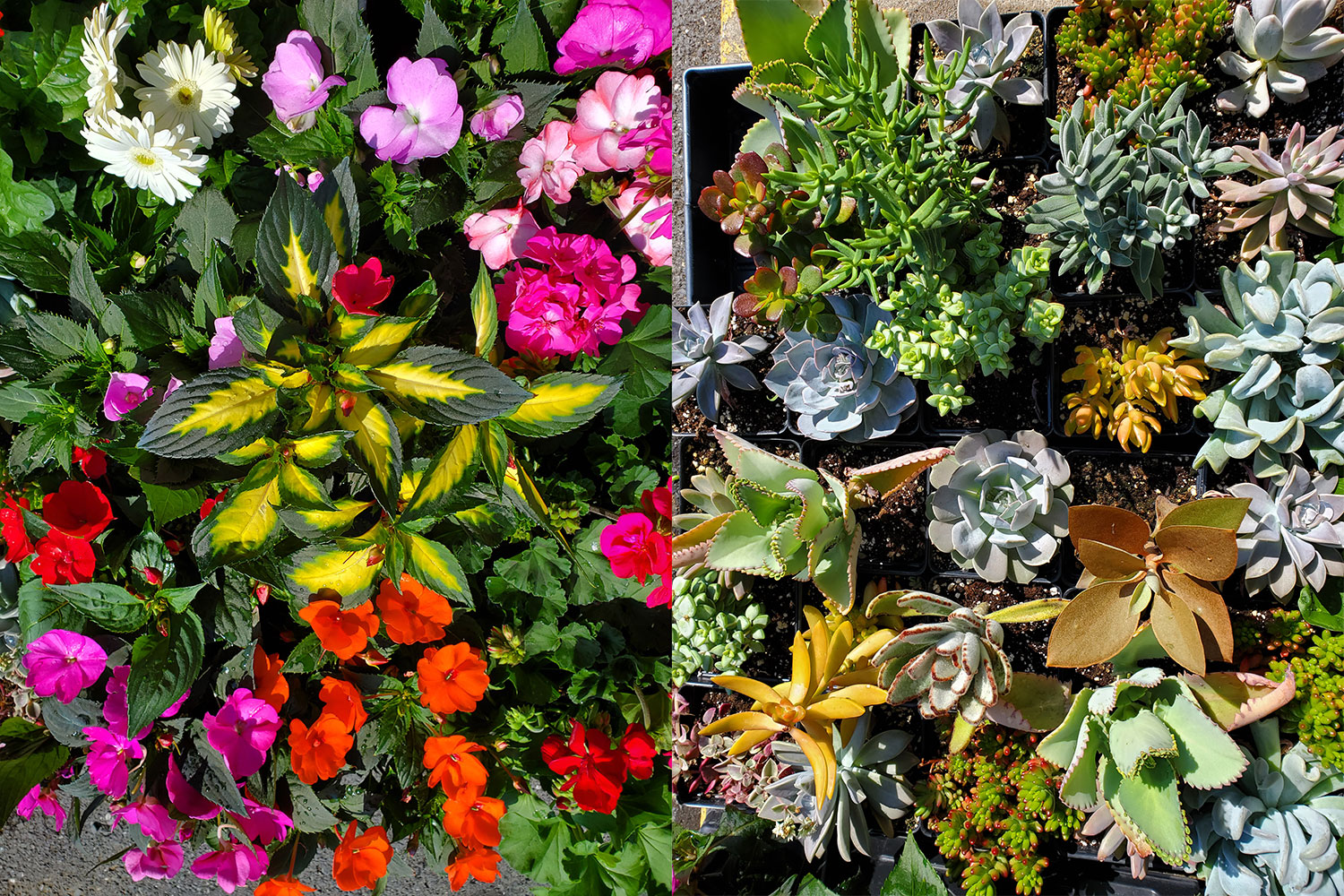 Mother's Day Bundle Boxes from Charlee Rose Boutique
Treat yo mama for Mothers Day by shopping with Charlee Rose Boutique! Grab a Mother's Day Bundle Box and so much more through their online store today.  BONUS: Enjoy FREE shipping on order of $50+ until 4/30!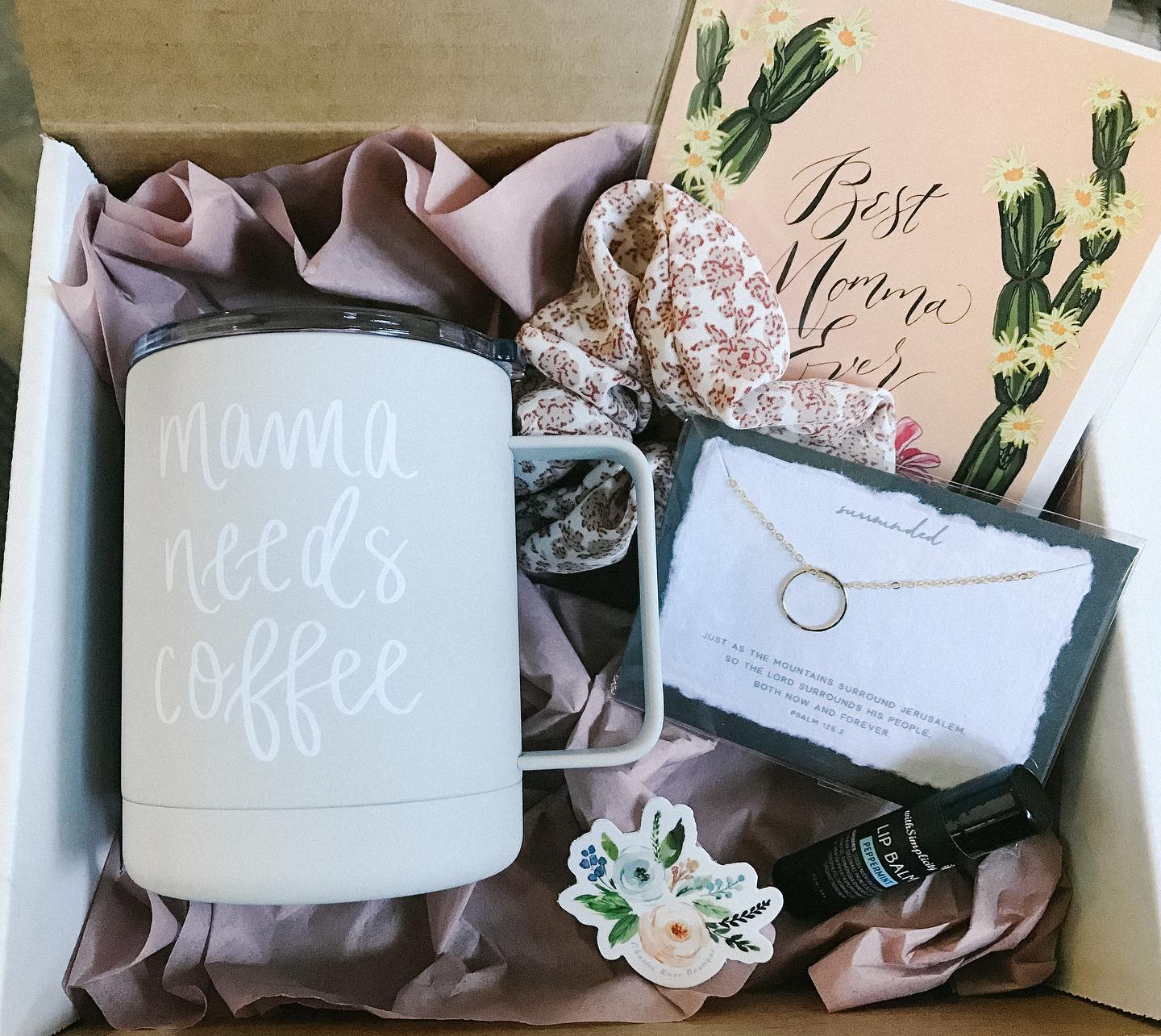 Mother's Day Gift Sets from The Lady Jane
Shop cute and curated gift sets from The Lady Jane, complete with complementary gift wrap! Many sets are customizable, allowing you and Sara to team up to create the perfect gift for Mom, Granma, and all the special women in your life. Shop online for curbside pickup or delivery at theladyjaneva.com!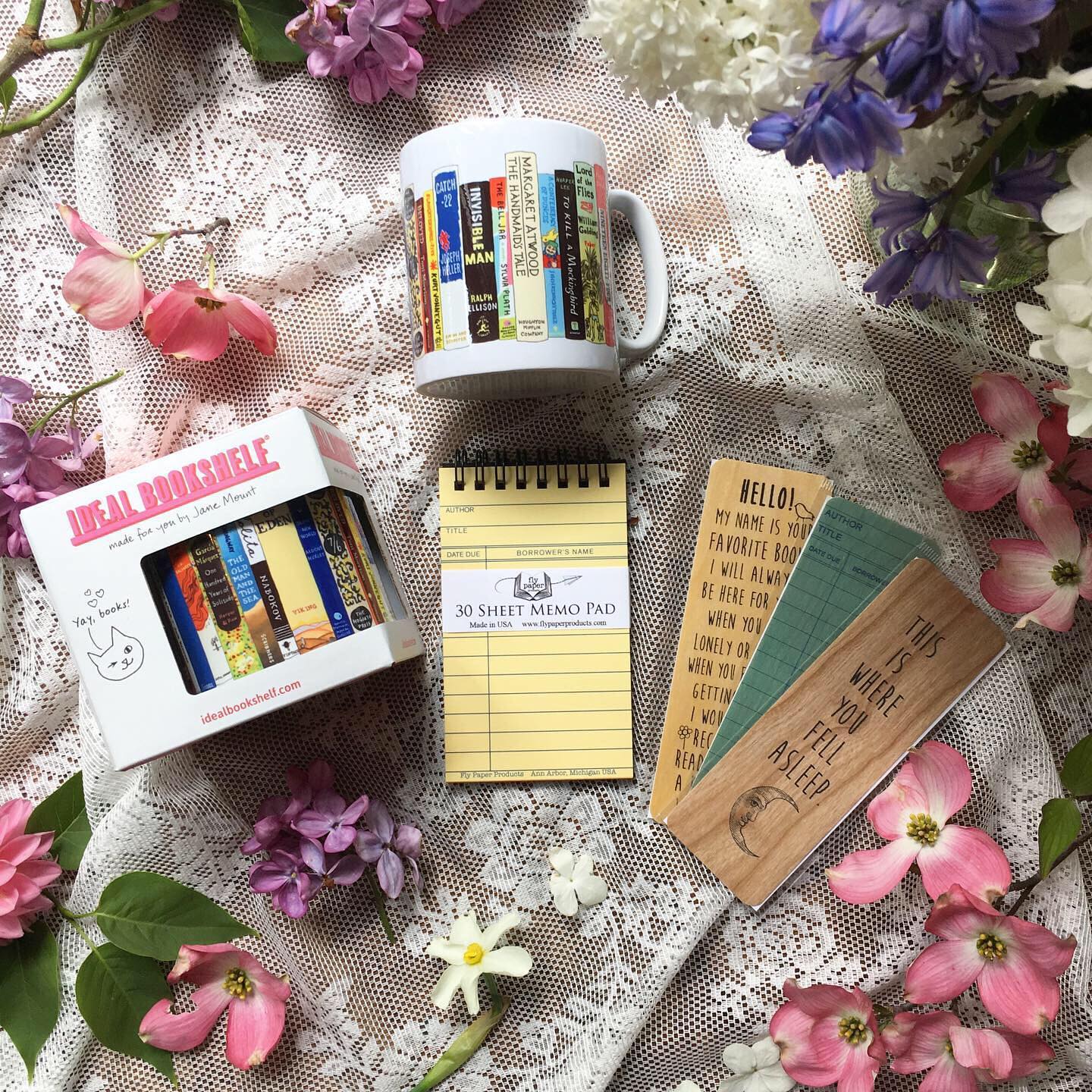 Gifts and Bundles from Lineage Goods
From Lineage's famous waxed canvas bags and hand-crafted candles, artisan-made home goods, local ceramics, craft cocktail accessories, and more — Lineage is a one-stop shop for great gifts!
Cutoff Dates for Online Orders:
May 5 for orders that require shipping
May 7 for free in-store pickup (orders can be picked up on May 8 and 9)
Specials:
10% off all orders through Mother's Day – no code needed!
Free shipping on orders over $40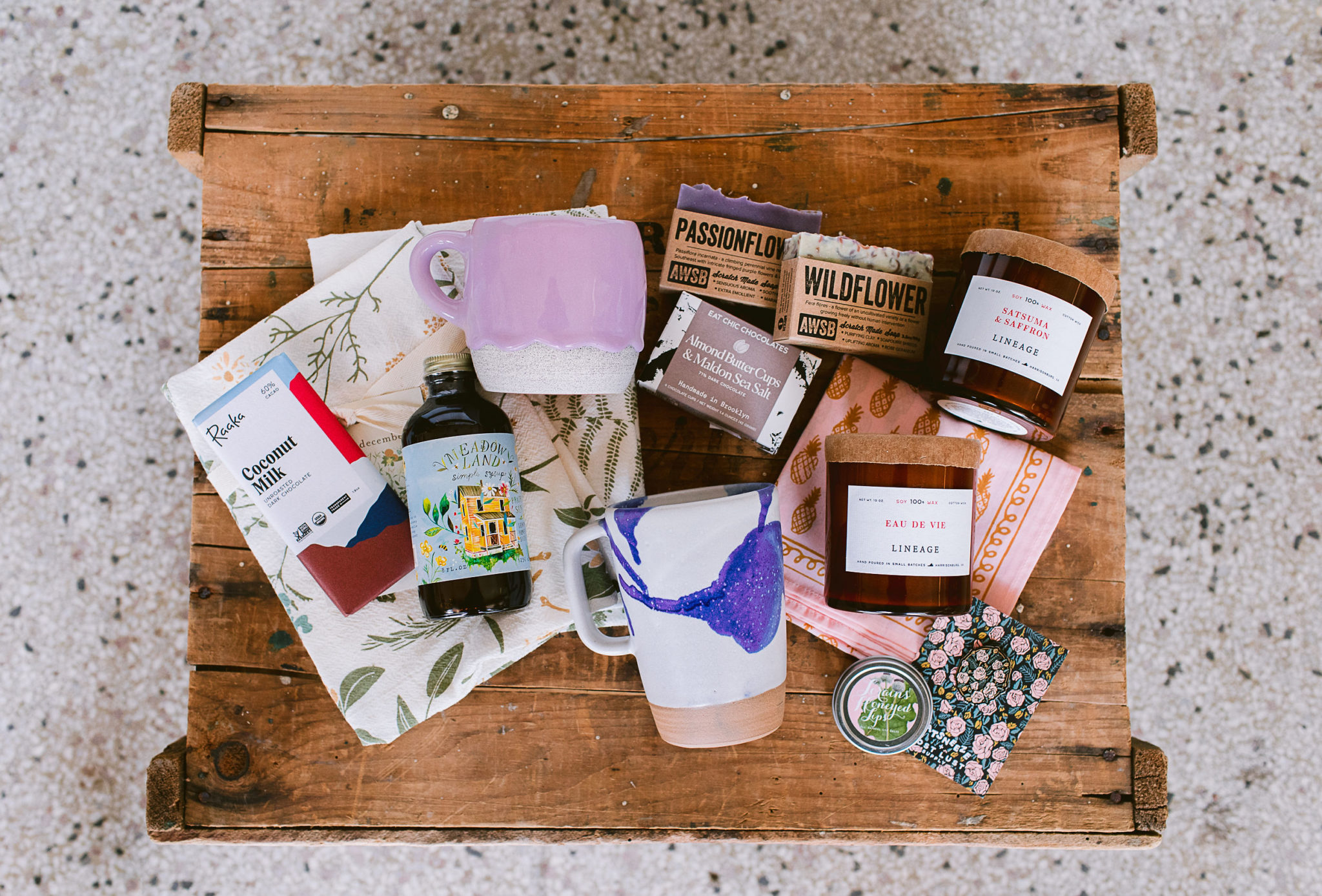 Mother's Day Gift Bags from OASIS Fine Art & Craft
Available in all price ranges, get mom the gift of local art with these curated bundles! Add a handmade card by Eve Watters for only $6.25. Curbside pickup and shipping are both available. Shop online here and view a video exploring more of the Mother's Day bundles on the OASIS Facebook!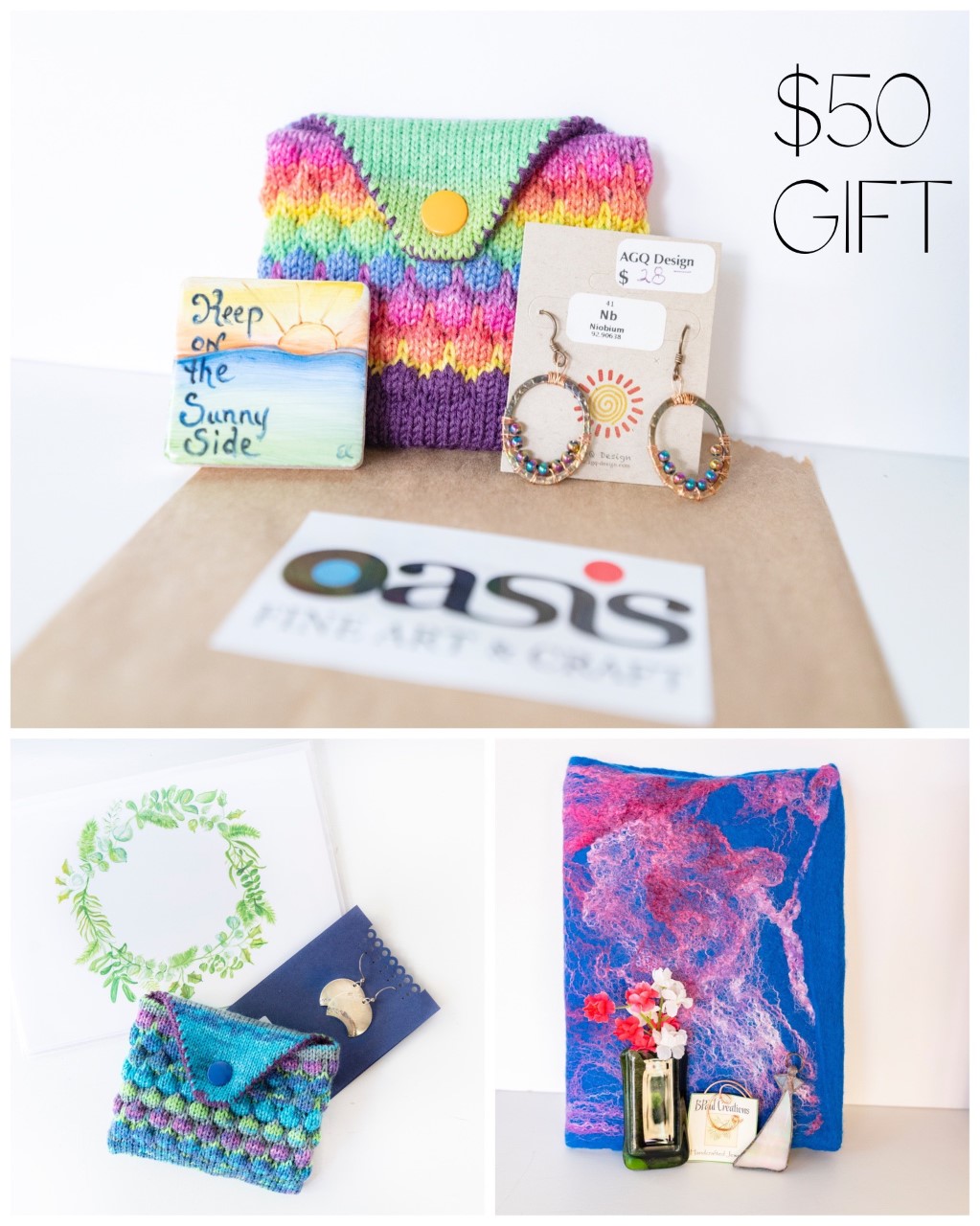 Brunch To-Go!
Many of your favorite downtown brunch spots are still offering brunch favorites for curbside pickup or delivery! Pick up breakfast cheesesteaks, pork roll sandwiches, french toast, and "Philly Cristos" at Urgie's Cheesesteaks , chicken and waffles, biscuits & gravy, breakfast nachos, and mimosas from Billy Jack's, sweet and savory baked treats and quiche by Bittersweet Bakery , quiche, coffee cake, cinnamon rolls, and other brunch favorites from Joshua Wilton House, and fresh-made pastries and bakery goodies from Heritage Bakery & Cafe!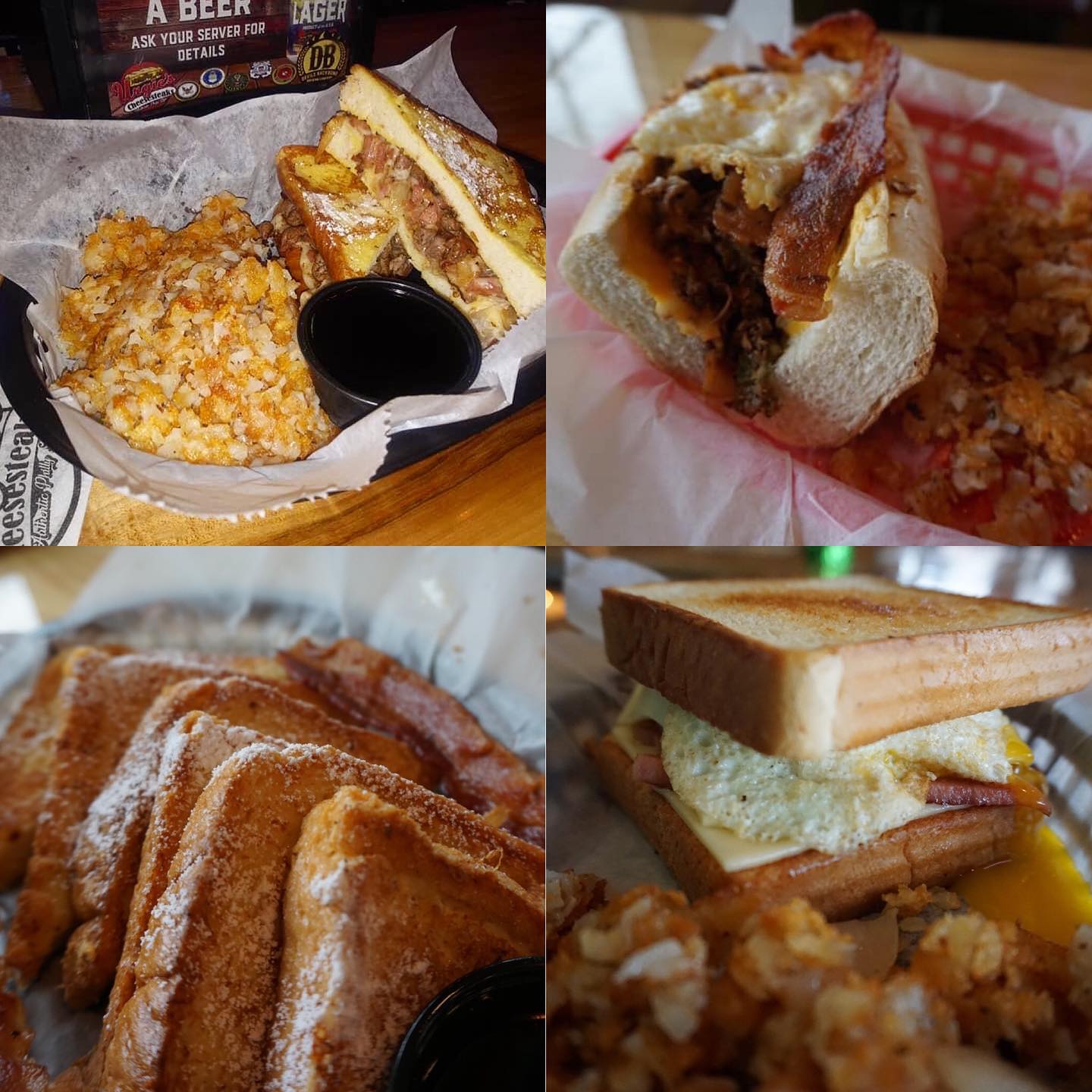 A Popcorn Surprise from Shirley's and Magpie
Show mom some love with a half gallon tin of her favorite flavor. Better yet, a half gallon tin of Shirley's May Flavor of the Month, Dark Salted Vanilla!  Go to www.magpiediner.com to place your order.  Order by 3:00 on Tuesday to pick up Thursday and then try to hide your surprise until Sunday!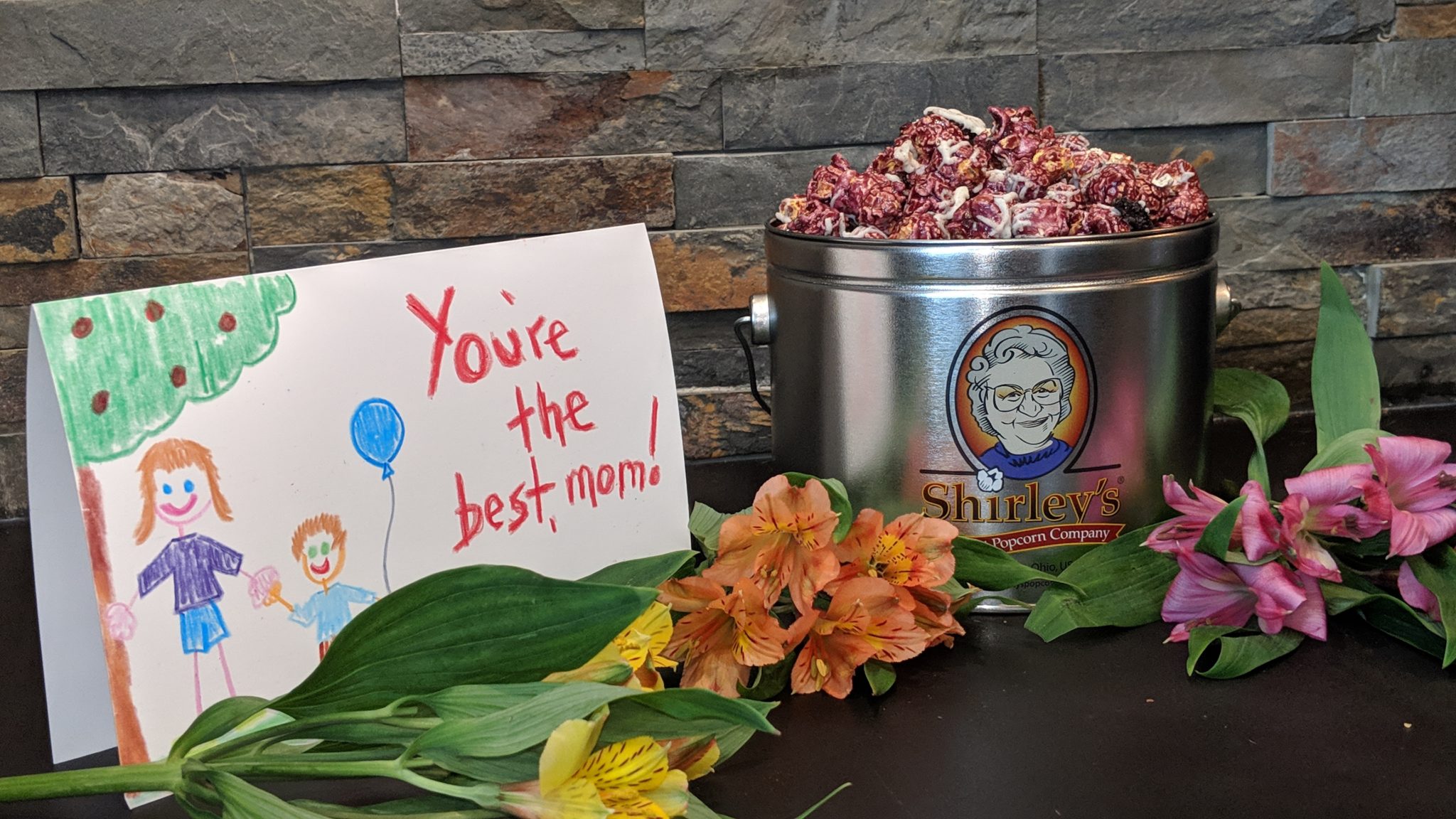 Downtown Harrisonburg is still here for you!
Most of your favorite downtown spots are still open and ready to serve up all of mom's favorites for pickup or delivery. And if you were dreaming of a day downtown, you can order gift cards now for you and mom to use later! Visit our COVID directory at https://downtownharrisonburg.org/covid19/ to see at a glance who's open, where to order online, and how to buy gift cards.