Let me introduce you to your friend, Carl. You might not know him yet, but he's your friend. He frequently announces his motto to anyone within earshot: "You have no idea how much I love you." And he means it. He loves everyone, no exceptions. People as loving as he are few and far between. So I'm really happy, and honored, to tell you more about this long-time Friendly City resident, confirmed extrovert, river junkie, cyclist, art enthusiast, music dabbler, supporter of all things local, and devoted friend, Carl Goetz.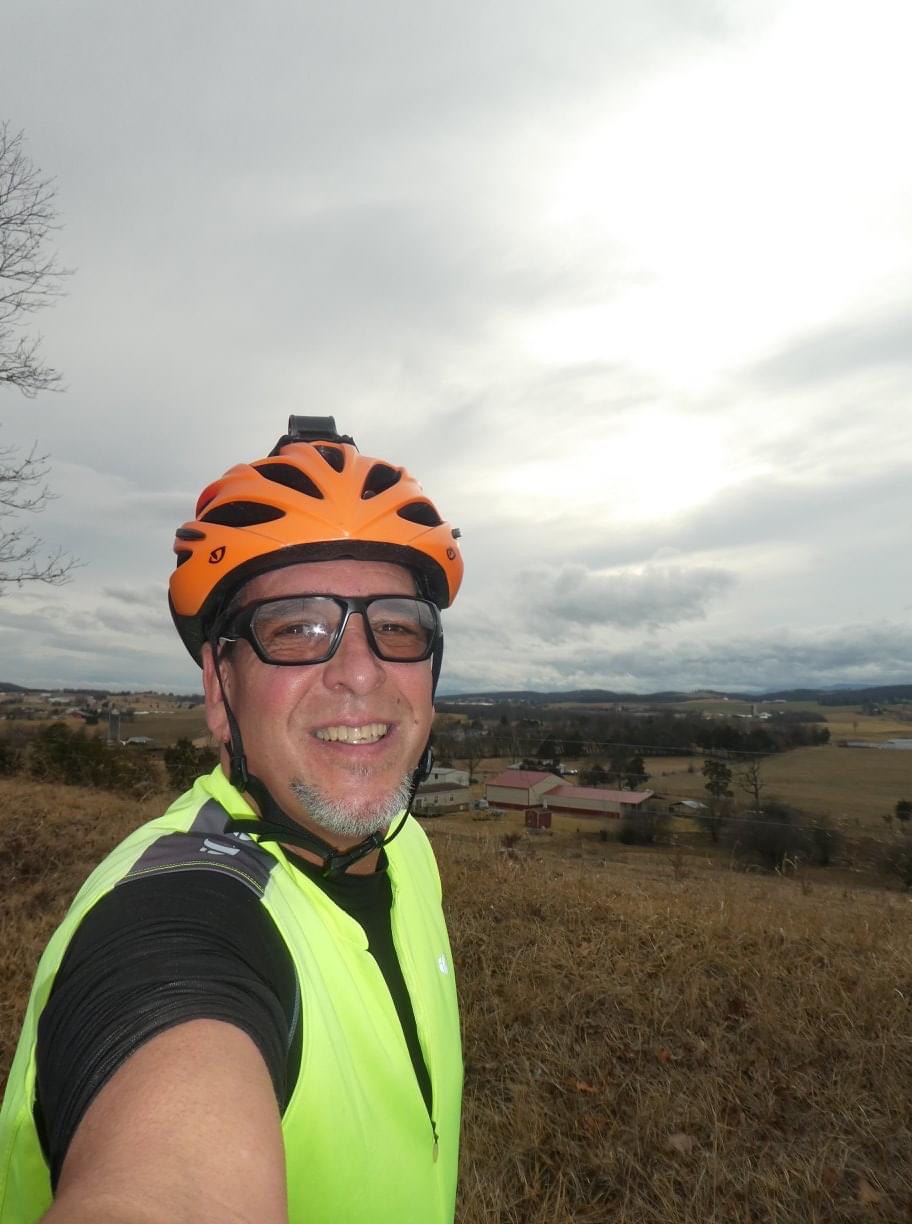 Photo courtesy of Carl Goetz
Born in Takoma Park, Maryland, Carl arrived in Harrisonburg in 1984. Before that, he had worked in the ink industry in Northern Virginia for a short while and then moved to Chicago at age 21 to work as the plant manager for The Ink Company. He was so successful in Chicago that he was asked to move to Grand Prairie, Texas, to convert an ink distribution facility into a manufacturing plant. After he accomplished that, he moved to Harrisonburg to help open Capital Printing Ink, which later became Flint Group. Carl worked there up until spring of 2019. 
He remembers downtown Harrisonburg in 1984. This was before the demolition that occurred to build the jail, and before the 1991 expansion of Valley Mall. There were bike shops, pool halls, and other businesses in that area between Union Station and the Water Street parking deck. Carl's memories of Harrisonburg over the last 36 years could fill volumes, but a handful of places remain rooted in his heart. He shared a story about the Mystic Den: 
"It was a music venue. They only had Budweiser and Michelob — those were their low end and high end beers, and the place was carpeted. The carpet was so sticky because of all the beer that was spilled that you literally had to wear lace-on shoes because the floor would pull the shoes right off your feet. They had live music and college students went there… it was a lively place and a really great hole in the wall."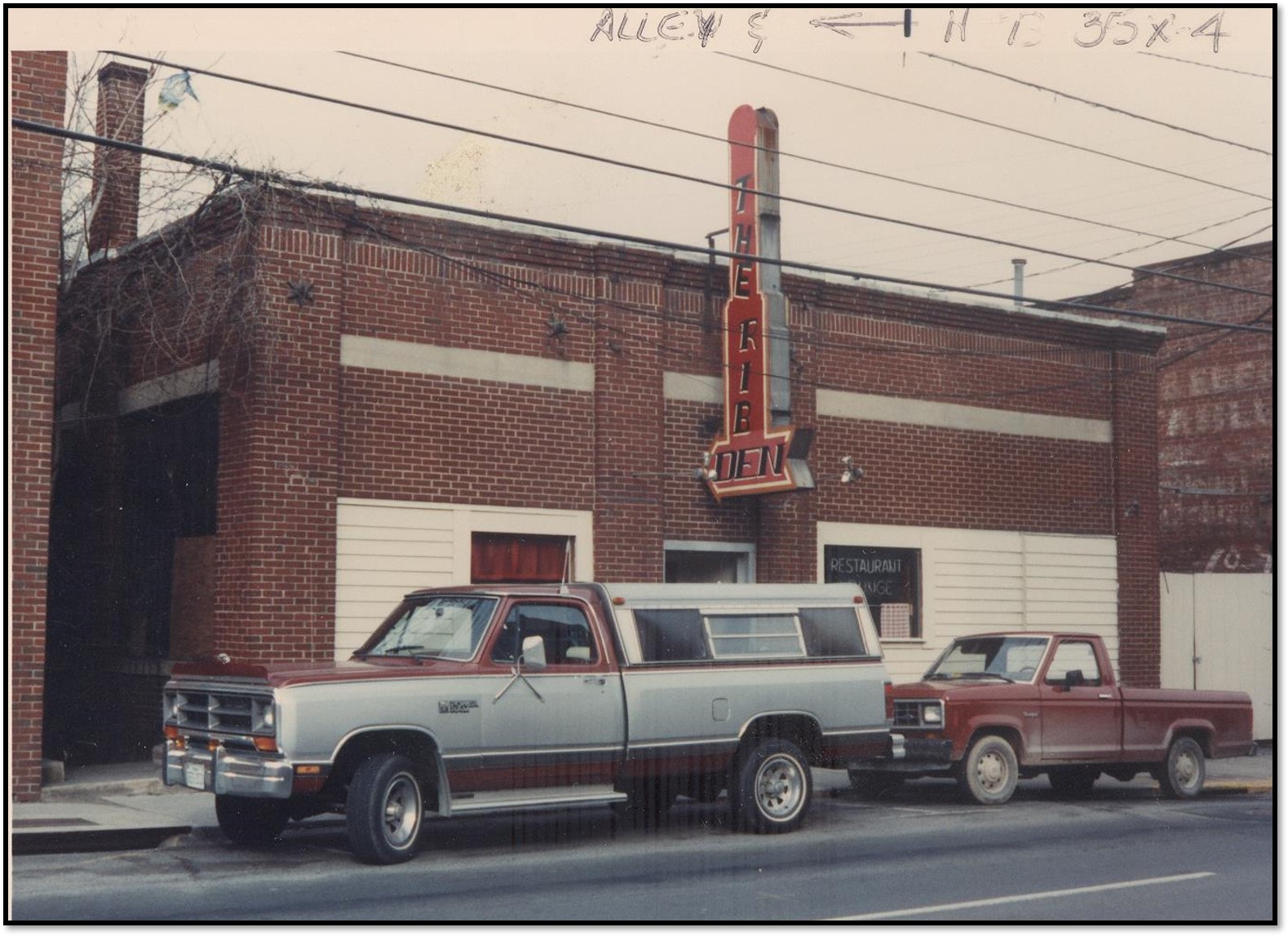 Location of Mystic Den. Photo courtesy of Massanutten Chapter, Archeological Society of Virginia, 1991
Jokers was another popular music venue in the 80s. Jokers was located where the Blue Nile operated for several years, now The Golden Pony. Carl remembers seeing Dave Matthews there for $3 or $4. His eyes flashed when he recalled Woolworth's, located on Court Square where Capital Ale House is today: "Clothing, sewing supplies, records, arts and crafts supplies. You could go in and get a foot-long hot dog, fries, and a soda for a pittance. Sit at the food counter and eat it. It was truly Americana."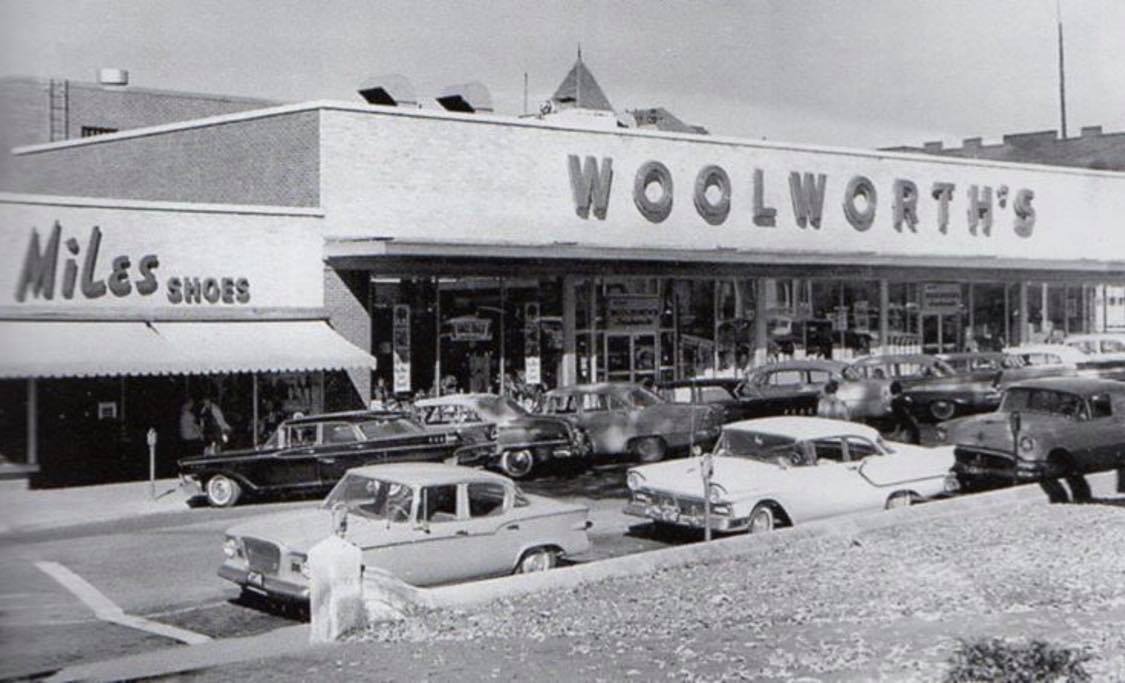 Woolworths and Miles. Photo courtesy of William Hunter
After that, Carl and I went down a very lively Little Grill Collective memory lane. So many connections. Bob Driver, John Eckman, Chris Boyer. Nachos, live music, and a bucket of Rolling Rocks. We can't wait for Mexi Nite to return to Little Grill, or to stand in a line of thirty people waiting to get in for Sunday brunch.

Carl has watched downtown ebb and flow over the years, and today he remains an ardant supporter of revitalization efforts, local businesses, and people in general. I always run into Carl during First Friday. He loves to view new art exhibits; his admiration of artists and talent is obvious in the way he studies each piece and compliments the creativity and hard work behind it. The 6x6x30 Show, presented by Rockingham Fine Arts Association (formerly Spitzer Art Center) and usually housed at VMRC, is one of his favorites, and over the years he has collected a number of those small beauties for his own home gallery. He also frequents the Friendly Fermenter, and on nights when JMUke is there, you'll find him strumming and singing along with wild abandon. But mostly, he just loves to be among the people — to talk to people, to listen, to feel like he's helping others, and to cultivate true connections with other souls. Before the pandemic, he hosted weekly music nights at his house and attended regular croquet tournaments with friends. I can't begin to count the number of times he has helped me (and my kids). He's gone far out of his way to pick up someone from a sports practice and make dinner while I was in a grad class until 9pm. He is largely responsible for the patio in my yard, overlooking Brock's Gap, which I use every chance I get. When his friend injured himself in a cycling accident, Carl helped him and his wife with mowing and other household chores. It happened that the couple's dog had been sick for a while and would likely die soon, so Carl helped them dig a grave for their beloved pet. While I'm sure they were grateful for his help, Carl himself felt "moved that I was asked to do that." He feels blessed by helping others. Just let that sink in for a minute. 
After his time at Flint Group ended, Carl took up Ubering. When I heard this, I thought, "Holy cow, I bet he is the BEST Uber driver in Harrisonburg." It wasn't long before he started writing about his Uber experiences on social media. They are so incredibly endearing that I'm hoping he'll collect them all in some sort of book. If a person can be this genuinely kind to random strangers he picks up in his car, then just think what an amazing gift he is to those he knows and loves. Here's an excerpt from his Uber diaries:
"Tonight I had a container of Lifesaver candies to offer the riders, tissues, and wet wipes.
Also last night, I noticed that a lot of the college students travel with no jackets, and some aren't dressed warmly. They worry about losing their jackets or having them taken by someone inadvertently, or worse, on purpose. So I took several fleece lap blankets I have and set them on the shelf behind the rear seats so if someone needed them, they were there. A few folks enjoyed them.
The rider reactions made me feel like a rockstar.
My tips and ratings reflected that.
I just like taking care of folks. Their comfort IS what my job is." 
Ubering has given Carl the chance to brag about some of his current favorite places and put his local expertise to good use. During parents' weekend, 
"I've had multiple trips with JMU student parents. A few of the same folks multiple times. They are so appreciative of our little town. I try to be an ambassador of our town. Tell them about our local businesses, the history of our town. Everyone has a story. Even folks who think they don't. Just ask them. Ask 'what is the most interesting thing that happened to you in the last twenty four hours?' The floodgates open."
I asked Carl what his favorite Harrisonburg businesses were. In addition to the Friendly Fermenter, whose beers Carl absolutely loves, he mentioned Jacktown. He loves the energy in Billy Jack's and Jack Brown's, and the food is hard to beat, as the thick crowds every single night will attest to. He also loves Ruby's Arcade, explaining that its duckpin bowling, pool tables, and arcade games filled a gap left by the destruction of the old pool halls that used to be downtown. And Laughing Dog. It's not just a tee shirt printing shop. It's that, plus an art gallery, and a really cool gift shop where you'll find unique greeting cards for all tastes and occasions, journals, incense, and an ever-changing inventory of artisan jewelry and accessories. 
When I asked him what downtown still needs, we both agreed that any additional spaces for live music would be great. Places like The Jefferson and the Sprint Pavilion in Charlottesville can hold lots of spectators for live music events; it would be cool to see more live music at Court Square Theater and our Turner Pavilion. The music venues Harrisonburg already has are fantastic, and the fact that they draw capacity crowds is a testament to the amount of talented musicians in and around Harrisonburg.

Our conversation was drawing to a close, and, having not seen Carl in person in many weeks, I asked him how he was doing with all this. How was he handling the isolation? It's no surprise that pandemic life has been challenging for this social, affectionate person. With not a lot to do in the house but try to keep news consumption to a minimum, Carl finds that "some days I just can't get up off the couch." He describes a level of inactivity that has settled in and is hard to shake. He's sleeping more, moving less, and struggling with being alone: "I miss physical connection. You don't get that by sitting at home. I can't imagine going this way forever because I haven't had a hug in a long time, since mid March. It's soul crushing." At home he does find comfort in reading, watching feel-good movies and shows, and caring for his elderly feline buddy, Shorty. And despite new and strange emotions that anchor him to the sofa, he is still doing what he can to support local businesses and people. A few times a week, he tries to order local food and use Giddyup Courier to have local food delivered. He's working his way through various restaurants to give them support because he wants them all to be here after all this is over. He encourages others to continue to patronize local businesses to any degree possible and contribute to initiatives that support laid off service industry workers. To that end, he recently placed a food collection barrel in his yard for donations toward Pale Fire Helps, a pop-up food pantry for out-of-work restaurant personnel. These small acts of generosity help lift his spirits.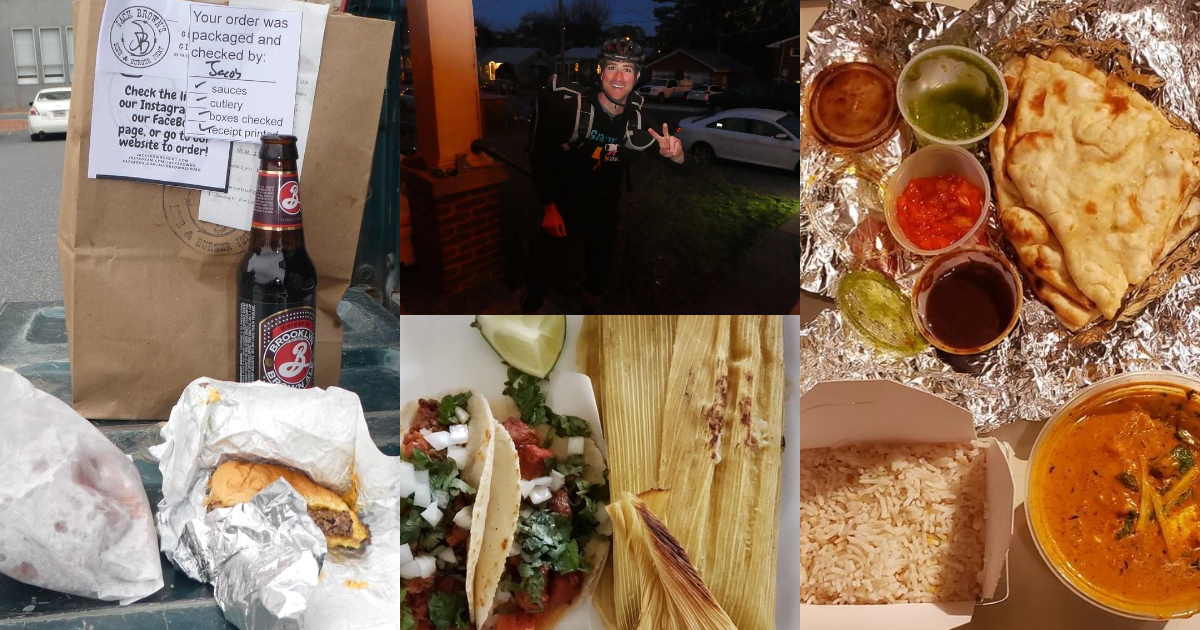 A few of Carl's favorite things — Jack Brown's, GiddyUp Courier, La Morena, and Taj of India. Photos courtesy of Carl Goetz
Something else that preserves Carl's sanity is riding his bike, walking in the woods, or canoeing. With so many outdoor recreational areas in or near Harrisonburg, he's able to get outside pretty frequently. This has helped alleviate the displacement he feels as a result of his gym temporarily closing. You might not know this about Carl, but he was the first male aerobics instructor in Harrisonburg. He's been a member and/or instructor at local gyms for 36 years, and he's grown attached to his gym routine. Those of you who work out on a regular basis can relate to what Carl's feeling right now: "I miss my gym family and I can't wait to get back to that. There is a synergy created by doing exercise in a group or social atmosphere." As an extrovert, Carl seeks this synergy frequently, but even those of us who don't are missing opportunities for that very special communion that happens when we gather with likeminded folks. We feel anchored. We feel normal. The absence (and now prolonged absence) of the group is a wild, uncharted territory that disrupts us on a seemingly cellular level. We just aren't who we know ourselves to be right now.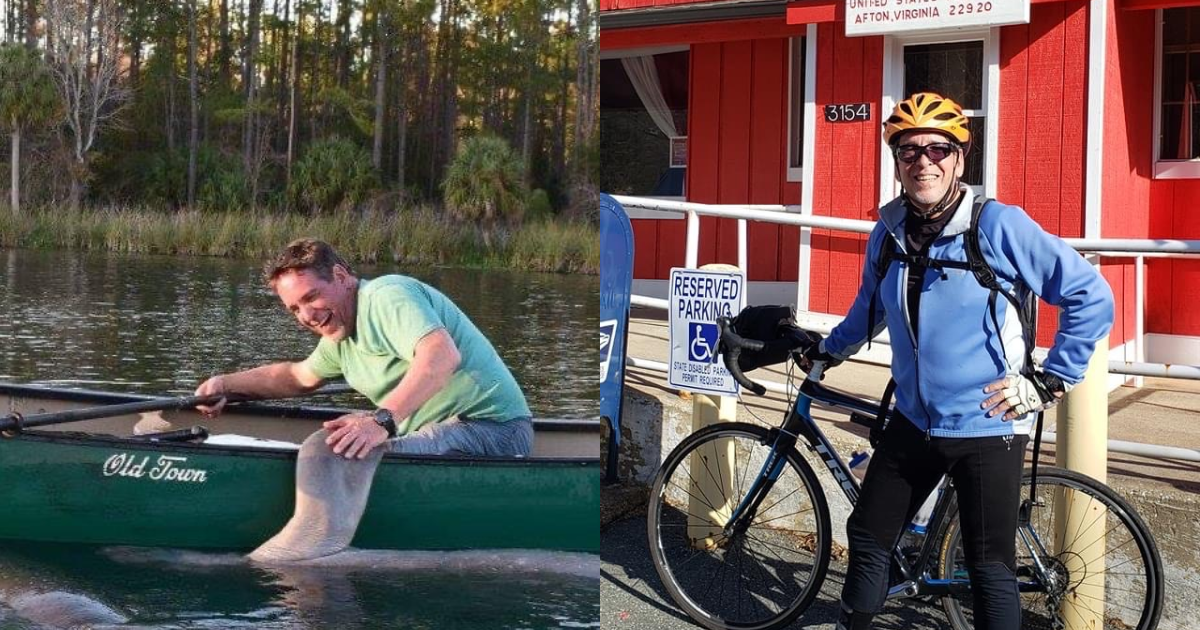 Photos courtesy of Carl Goetz
As I think about how to close this article about my friend, all I can do is raise a glass to him and his kindness, to wish him health and sanity, to remind him and myself that things won't always be like this, and to thank him for being a reliable lifeline, a constant source of help and encouragement, and a generous and positive person during a time of worry, to me and to us all, friends and strangers alike. Thanks, friend.
Join Carl in giving back to our community by supporting the Arts Council of the Valley and the Harrisonburg service industry workers.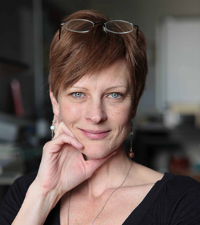 Katie Mitchell is a mom, educator, and writer who has called Harrisonburg her home since 1993. She loves books, beer, fire, sunsets, spicy things, trees, water, live music, and unexpected naps. She is the writer and founder of Harrisonburg's popular blog I Love My Burg and is currently working on her Masters Degree in Communication and Advocacy.