By Kaitlin Valenti — Any successful business has successful people standing behind it. Ask Matthew Clancey, executive chef and general manager of Clementine. Clancey takes deep pride in the restaurant's employees and believes that the staff, a strong menu selection, interesting drinks, live music and a great atmosphere make Clementine unique and set it apart from other restaurants in Harrisonburg. And he should know.
Clancey and his siblings grew up in Harrisonburg, Virginia, in the 1970s. At a young age, Clancey traveled often to the Caribbean, Mexico and Ireland. These formative trips prompted his interest in food and restaurants. His life revolved around family, and Clancey was introduced to cooking at a young age by his mother.
"She was a stay-at-home mom when I was a little kid, so she did a lot of baking and cooking around the house," Clancey said.  "I always liked to eat, so I got involved with the cooking."
In high school and at the beginning of community college attendance, Clancey never knew what he wanted to do when he grew up, until he found his passion for food.
"I was working at restaurants at the time and found an affinity for [cooking]. So instead of going for the four years bachelor's degree, I went to culinary school," Clancey said.
Clancey decided to attend the Culinary Institute of Charleston in South Carolina and got his first job at Red Sky Grill in Seabrook Island, South Carolina, after graduation. For the first time in a soon-to-be litany of interesting experiences, Clancey worked in a professional kitchen.
After a few years, he then moved on to become executive chef of the Cheat River Inn in Elkins, West Virginia; baker and caterer at Cook Hands Catering in Harrisonburg and executive chef at Jordan Hollow Farm Inn in Stanley, Virginia. Each job built off the other and Clancey learned by cooking basic American style to cooking French cuisine.
Clancey then made another big switch to be owner of South Atlantic Grill in New Smyrna Beach, Florida. This new chapter was Clancey's first time as owner of a business. He learned that in the restaurant industry, the owner, like the captain of a ship, is the last man standing. Staff members would work until their shift ended, but Clancy had to tend to problems and find solutions before the next day's opening.
After many adventures and experiences, Clancey was drawn back home to Harrisonburg and became opening chef of James Madison University's then new East Campus Dining Hall in 2009. At JMU, he learned the norms of running a business, training, staffing and corporate procedures.
Over the years, Clancey's varied opportunities have enabled him to learn valuable cooking skills and to develop lifelong relationships in his profession. With his extensive résumé and an array of jobs and titles, Clancey's background stands solid in his ability to work anywhere. He realizes now that Harrisonburg will forever be his home, as life boomeranged him back to the valley and its people.
In 2014, Clancey accepted a job at Clementine and has been working at the café since then. Clementine's customers receive the same quality services since it opened February 2008: a wide array of food choices, open bar, live music and entertainment for patrons of all ages. Even better, everything is offered at very reasonable prices.
"Clementine's menu has always been eclectic, which gives me a lot of latitude with what [I am] able to do," Clancey said. "Mostly, we have been working with Southern food and Pacific rim (Japanese, Korean, Vietnamese and Thai), and we sprinkle in a little French, Italian and Spanish."
In addition to its great food and drink selections, Clementine also offers live entertainment. Weekly trivia, open mic and live jazz shows entertain customers who can enjoy food and drinks in a friendly community atmosphere. Singers perform varying genres and play every few weeks. Attendees can relax at their tables or get up and dance in front of the stage.
"There's really nothing like it in all of Harrisonburg and such a unique experience [differentiates it] from larger venues," Clancey said. "We cater small and large parties; host live music, talk shows, [guest] DJs and, of course, offer food and drinks, both inside with a view of the many artworks we've collected or out on the garden-like patio."
Clancey's many duties as manager of the restaurant take him away from his passion for cooking as there are a lot of other responsibilities to running a restaurant. Clancey often finds himself doing paperwork and making calls, regretfully not spending as much time in the kitchen as he would like.
When I first got here, I created the menu and babysat it for a while to make minor changes," Clancey said. "After that, it was back to the office for more business-related work."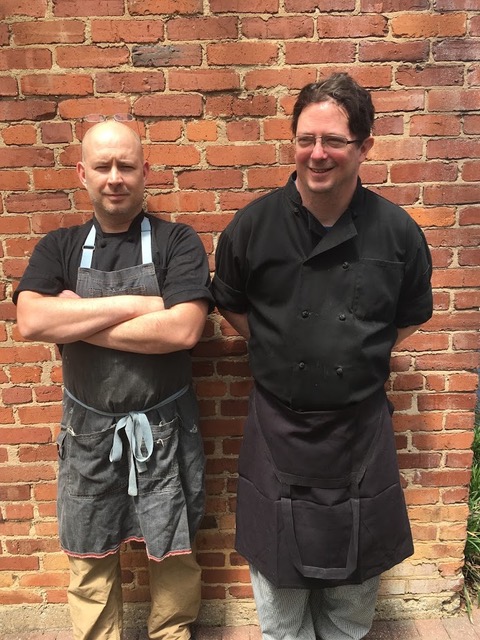 Executive Chef and General Manager Matthew Clancey (left) and his Sous Chef Bill Bleecker take a break outside Clementine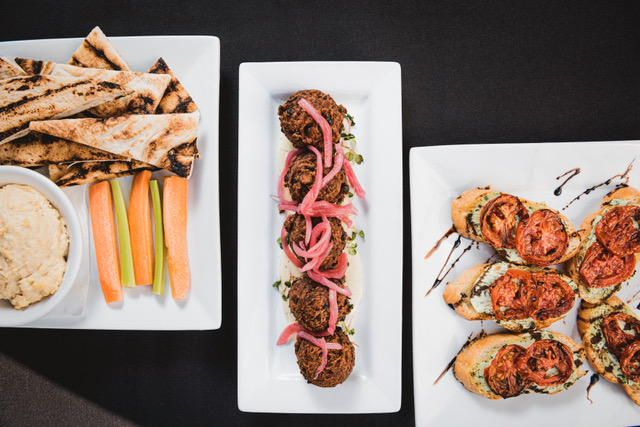 Clancey's appetizer creations of hummus with pita bread (left), falafel (middle) and bruschetta (right), are popular items on the menu
Photo by Brandon Payne (Scrandom Media)

The restaurant business is about time management and keeping good relations with staff and with each customer that comes along. The customers are the reason why Clementine is so successful and why Clancey thoroughly enjoys his work. It took years of practice and experimenting to show Clancey that his home is at Clementine, as stone's throw from where he grew up.
"Clementine staff is treated as one big family and the [staff] in turn treats our customers like family," Clancey said. "We always guarantee a great meal and hospitality. It was easy to come into an already greatly run and established business where staff and customers showed their constant support."
Currently, because of the COVID-19 pandemic, Clementine is open for takeout and delivery orders only. The kitchen offers a "limited" menu, which can be viewed on the restaurant's website at https://clementinecafe.com/temporary-menu/. Despite the "limited" title, Clementine's many menu options remain favorites with loyal customers who can enjoy the foods they know and love.
"We've had to lay off a lot of our staff because of the virus and the financial burden it has cost the restaurant," Clancey said. "Our staff [members] know if they need food to eat, they can come and get food off the menu. If they're short on money for bills, we can help them out with that. If they're short on cash to get necessary prescription medicine, we pay for it. It's just kind of a thing we do."
Clancey is confident that Clementine will reopen as soon as allowed. The restaurant can sustain social isolation for the next couple of months. Clementine will "deal with it as it comes." Clancey hopes to re-hire all previous staff members as he can't imagine Clementine without every single one of them.
This restaurant acts as a family, helping its members through thick and thin. Through the years, Clementine has been through life's ups and downs. But as the experienced leader he is, Clancey is confident in getting Clementine back to providing delicious food and great entertainment for patrons as soon as possible.
The restaurant has become somewhat of a rather large family; a community, where "we take care of our Clementine family as best we can," Clancey said.
"I know it's a long road ahead, but I believe there's nothing we can't handle," he said.
About Clementine:
Clementine is a restaurant located in the Culinary District of downtown Harrisonburg. The multi-purpose restaurant, which also serves as a bar and live-music venue, is a 20-minute walk from JMU's campus. Clementine offers weekly musical experiences of varying genres; a sit-down bar and a very extensive menu. Customers of all ages are welcome to enjoy food, drinks and entertainment. For more information about the restaurant, visit http://clementinecafe.com/.
About Kaitlin Valenti:
Originally from Long Island, New York, Kaitlin currently attends James Madison University as a Communications Studies major with a concentration in Public relations and a Writing, Rhetoric and Technical Communication and Honors Intrinsic Studies double minor. Kaitlin will graduate in the spring of 2022. Her interests include sports and health. Kaitlin was inspired to write this piece after visiting Clementine a few times. As her favorite restaurant in Harrisonburg, Kaitlin wanted to learn more about the restaurant and work with its employees. You can see more of her work at https://kaitlinvalenti.weebly.com/