By Katie Mitchell / Photos Courtesy of Maressa Cortes: Y'all. What a long, strange few weeks we've had. I went from a life of being surrounded by noisy, spirited middle schoolers and taxi-ing kids to soccer practice to a life where walking to the mailbox constitutes "going out." Where just the thought of going to the grocery store induces fear. Where I worry my face will freeze in an unattractive expression during a Zoom meeting with my colleagues. 
Some of you are still reporting to work during all this. Some of you are working from home with children climbing all over you. Some of you have been laid off and are legitimately concerned about food and shelter. Some of you feel crushed by the burden of isolation. It's an emotionally challenging time, an unnerving open-ended situation landing us in a very uncomfortable waiting place.

What a mood elevator it was to discover, on my daily journey to the mailbox, issue #10 of Las Traumadas Zine waiting for me, wrapped like a gift in a brightly colored envelope. The cover, in shades of pink, was obviously hand painted; the pages, hand stitched, held timely research and wisdom about Seasonal Affective Disorder (SAD), cycles, and light.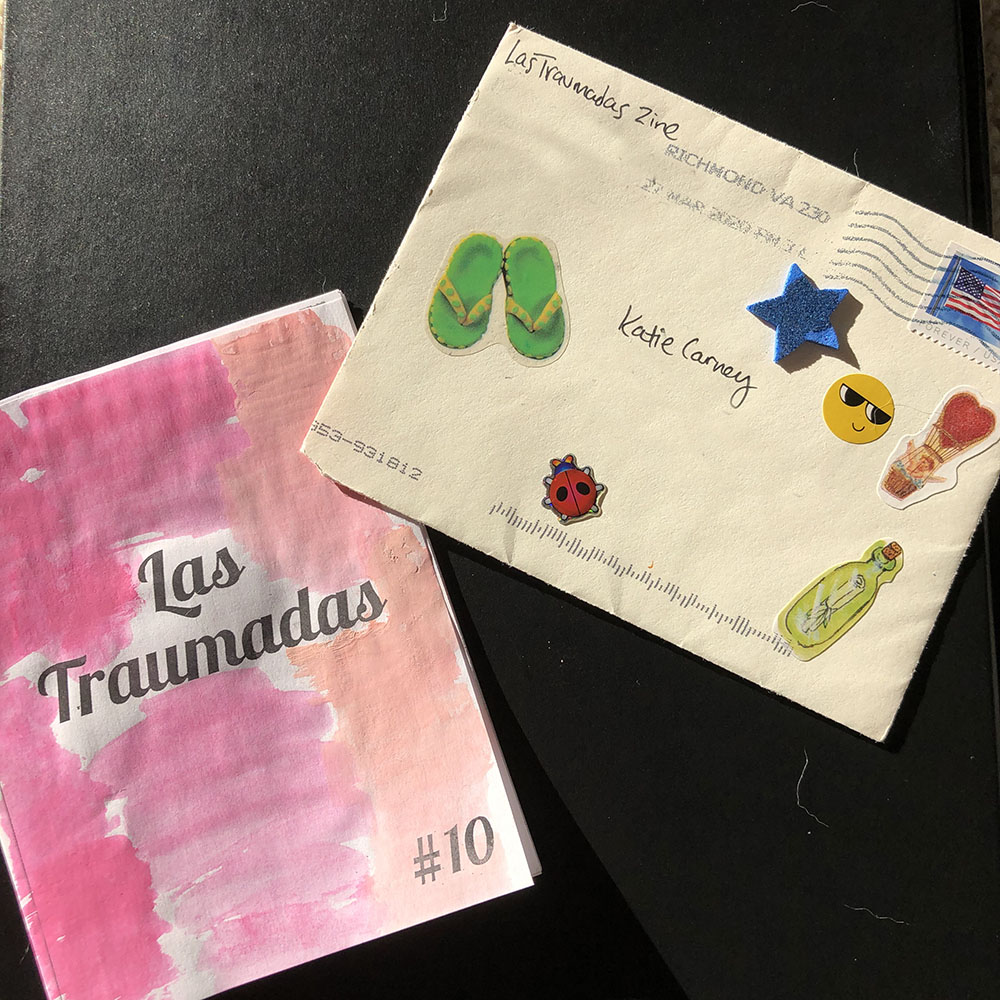 Katie's lovingly hand-assembled, decorated, and mailed edition of Las Traumadas (photo by Katie Mitchell)
Since 2018, co-founders Maressa Cortes and Brenda Diaz-Castro have been producing this thoughtful and articulate bi-monthly zine, along with staff members Mackenzie Jenkins, Jessica Infanzon, and Rehana Franklin, plus guest writers and artists, and distributing it via local businesses. Each copy of each issue is individually assembled, stitched, and painted and contains highly personal, emotional content. Holding and reading the zine, which has obviously been handled by people, people who believe in their message and in everyone's ability to heal, is an intimate experience unlike other media experiences. It's raw material, in every sense. 
For the foreseeable future, Maressa and Brenda plan to mail the zines to anyone who requests one.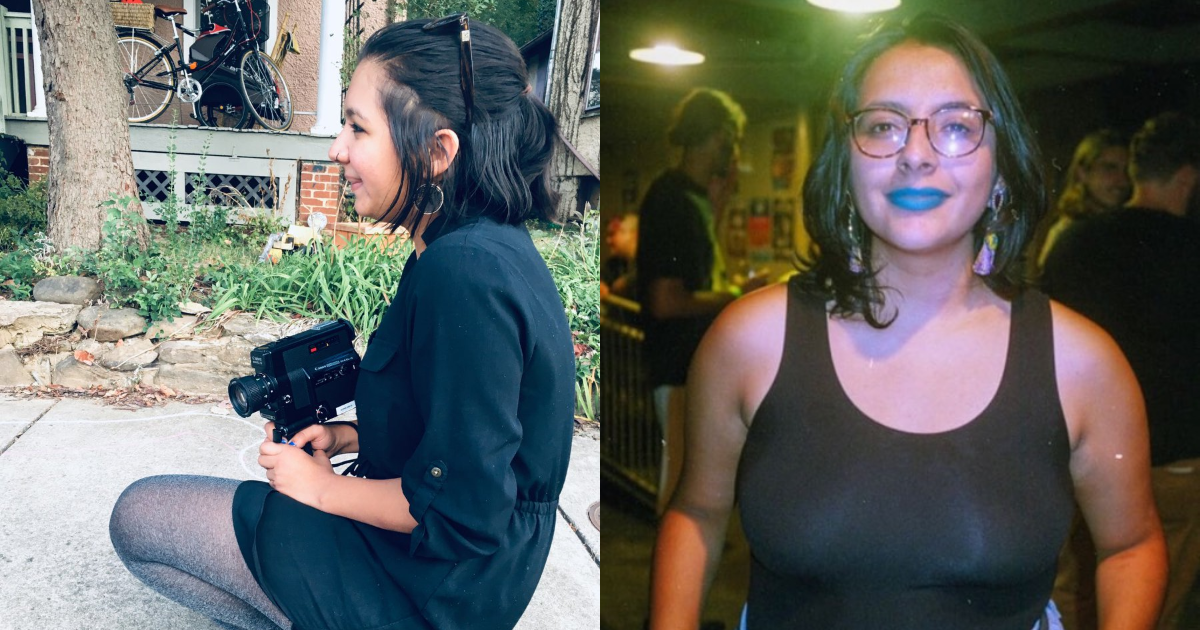 Maressa Cortes (left) and Brenda Diaz-Castro
The idea for resurrecting this dying art form came from realizations both founders were experiencing about themselves and the world around them. People seemed unhappy, and social systems often didn't work as they should. How were these two phenomena connected? The answer: relationship. As Maressa explained, "When relationship is damaged, you can't make systems that work." Brenda and Maressa set to work developing "very basic emotional tools" for individual healing that would lead to better relationships and a more just world. 
Issues 1 – 8 explore the concept of emotional intelligence and offer four steps for making peace with "old pain" and the residual effects of it:
Listen

and pay attention to when you feel pain. 

Identify

the painful feeling. Is it fear? Sadness? What's causing it?

Validate

the feeling. You are allowed to feel. 

Let it go.
Issues 9, 10, and future editions apply these steps to other topics of emotional intelligence, like patterns of behavior, the effect of light and darkness on our emotions, shame, and conflict. You can access all the issues at their website.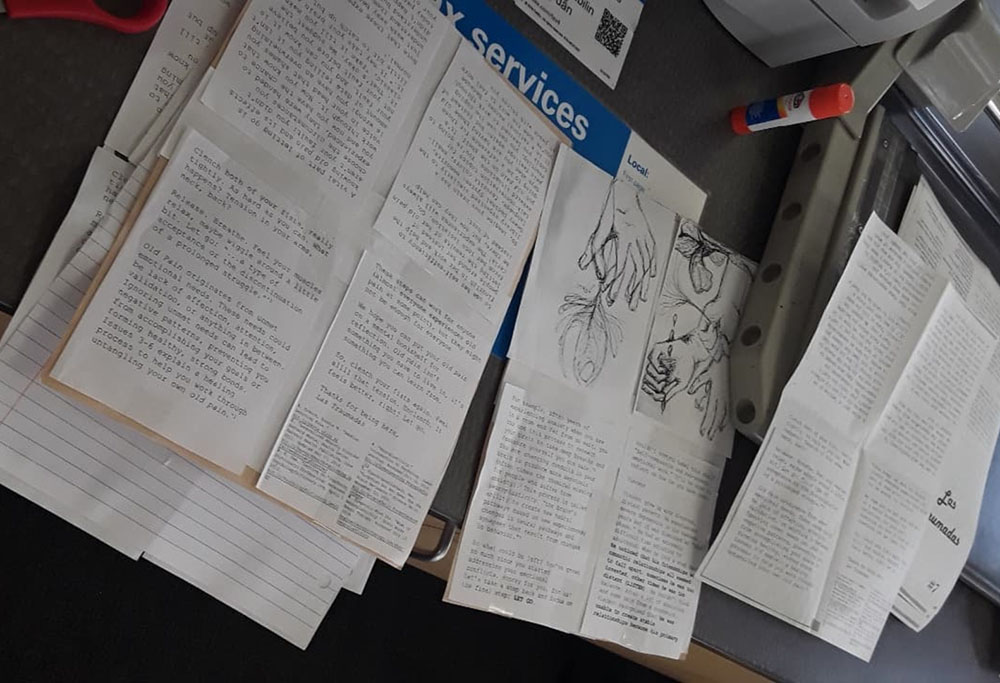 Zines in the process of being assembled
As I read my issue #10 about time, cycles, seasons, and light, the author's words (Liz Chenevey) resonated in a novel way. This pandemic has disrupted our personal and social cycles in ways big and small. Spring has arrived, so maybe our Seasonal Affective Disorder is receding, but a new version of SAD could be taking its place: Social Absence Disorder, perhaps, or Sleeping At-weird-times Disorder, or Sentence-formation Atrophy Disorder. One thing we can all still do safely, though, is to step outside periodically for a mood-boosting dose of serotonin, which is created when sunlight hits your skin. Cheveney also writes about "a healthy embrace of the darkness." While the planet wakes up from winter, temperatures rise, and days become longer, the isolation caused by this pandemic makes me feel like I'm still hibernating, resulting in a bit of emotional darkness. Until we emerge from this "extended winter," Cheveney suggests there is "value in rest and stillness, and perhaps by leaning in and slowing down, we can grow and thrive beyond our expectations." Brenda and Maressa echoed this idea, saying, "This is a time of reflection to see how we are all connected and depend on each other. Our systems don't always reflect that, and some people suffer a lot more than others."
Another piece of Maressa and Brenda's work that comforts me is step 3: validation. I am experiencing emotions I didn't know existed. They're sort of hybrid emotions, bizarre mixtures of fear and worry, unexplained exhaustion, sadness and hope, inspiration and despair, and just a feeling of being lost — what is time, what is my job, what is my purpose, am I being a good parent/friend/daughter/sister/girlfriend, and why am I still wandering around the kitchen?? Las Traumadas reminds me that all those feelings, whether I understand them or not, are real and valid. As Maressa explained, "Validate how you feel. Validate the people around you. Everyone is expressing fear but in different ways. Some people bought all the toilet paper; some people chose to isolate, and maybe the people downplaying [the situation] are not able to face the possiblilty that maybe their whole reality is about to change. [We have to] validate how everyone is approaching their fear and help each other through it." Maybe our pre-pandemic emotional frameworks don't fit this current situation. Maybe we are all building new ones, and that's why we feel so weird. Whatever it is, we are all managing this the best way we know how.
Brenda and Maressa look forward to a return to normalcy, to returning to their students at the Montessori School, to distributing their zine in person downtown, and to host zine painting and assembly events at places like The Making Space. In the meantime, you might enjoy checking out some other local zines, such as Scabies Zine, Nail Polish Zine, Heart of Glass, In the News, and Magical Foam.

Las Traumadas is a not-for-profit organization that relies on donations to cover printing, production, and website costs. You can donate through their Venmo account @Las_Traumadas, and be on the lookout for tee shirts designed by Torie Topor in the future! 
You can join Las Traumadas in giving back to Harrisonburg causes and nonprofits that are close to their hearts at:
The Making Space
Skyline Literacy
Fuego Coalition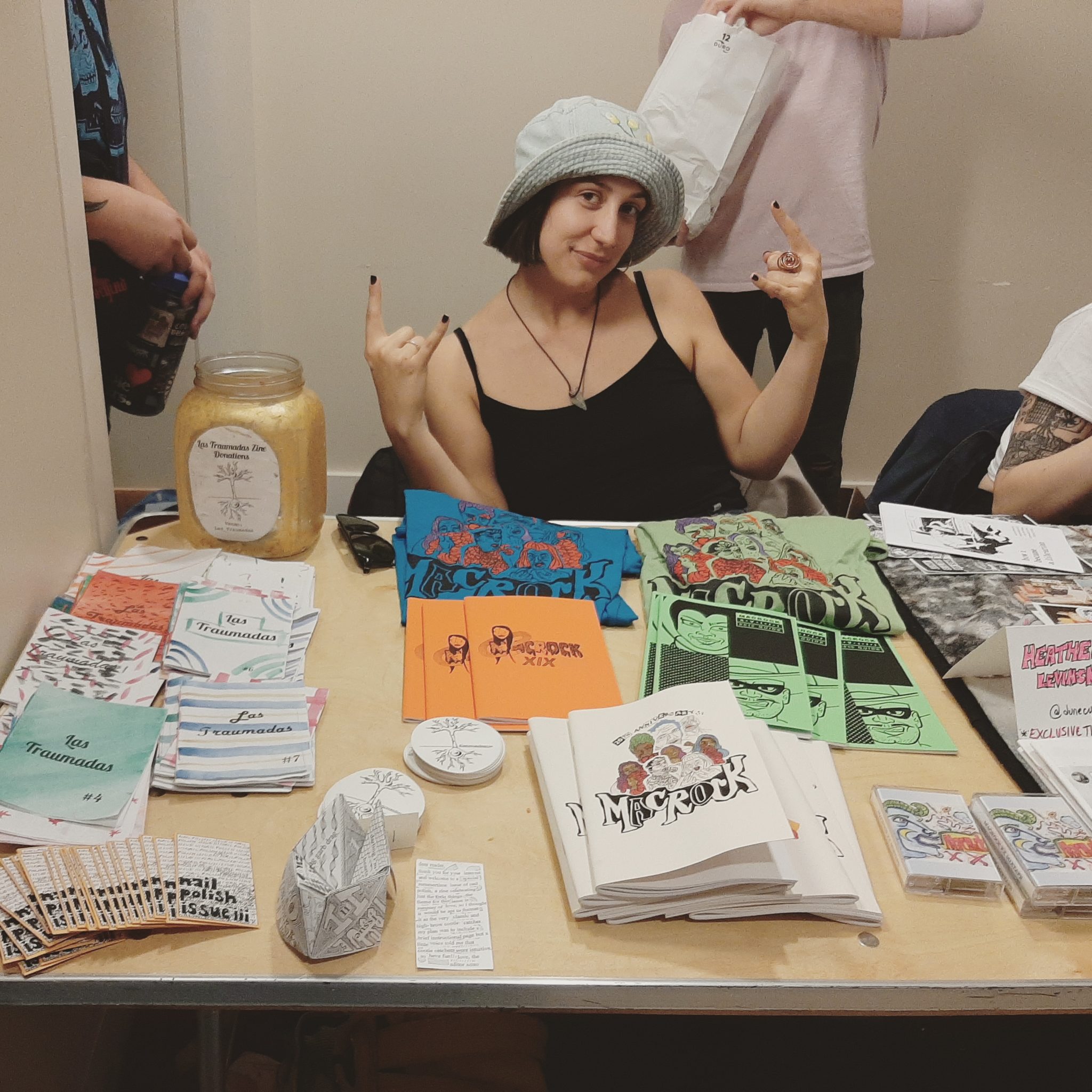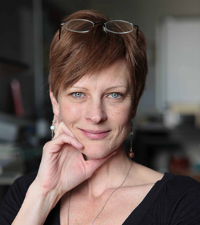 Katie Mitchell is a mom, educator, and writer who has called Harrisonburg her home since 1993. She loves books, beer, fire, sunsets, spicy things, trees, water, live music, and unexpected naps. She is the writer and founder of Harrisonburg's popular blog I Love My Burg and is currently working on her Masters Degree in Communication and Advocacy.