By Katie Mitchell — As you're well aware, downtown Harrisonburg's response to the COVID-19 has been swift, thorough, and multifaceted. People of all backgrounds and businesses of all kinds are putting their heads and hearts together to innovate ways to keep local businesses afloat and Harrisonburg residents healthy and supported. As one business after another announced changes to their regular hours, curbside service, or closures, HDR threw together a directory to organize all that information. Businesses have begun offering their space for COVID-related  community needs, and ordinary people have organized grassroots initiatives to promote local business and advocate for residents who are struggling to make ends meet. During a time when we are physically isolated from one another, the heartache of this collective struggle vibrates in a way that brings us closer together.
I had the opportunity to speak with two members of the Harrisonburg business community who are putting their knowledge, resources, and passion toward new purposes. Jeff Guinn, owner of The Mark-It, and Chris Rooker, team co-owner and realtor at the Harrisonburg Homes Team, have assumed new roles that directly benefit the people of Harrisonburg.
Jeff's story starts with one phone call. A client of his who has a 3D printer had gotten involved with Prusa's open source face shield project. He could 3D print the halo part of the face shield; he wondered if Jeff could laser cut the clear plastic part. Jeff quickly agreed, and the two of them set to work printing halos and cutting shields that they would send to an assembly hub down in South Carolina. Needing more materials, Jeff reached out locally for contributions. People contributed, but more than that, they replied that they, too, had 3D printers and wanted to help manufacture the masks. As with most things, buying in bulk saves money, and Jeff was able to buy a lot of the plastic for the shields at lower cost, but he'd need more people to help cut the shields and print the accompanying halo. Those people stepped up, and the whole team decided to cut and print the face shields and halos and, instead of sending them to an assembly hub, just assemble them here and deliver them to Sentara RMH. Before long, Jeff was getting so many offers for help and contributions that it warranted a Slack channel to organize it all. Jeff, having a staff of just five people and three kids age six and under at home, could see that the project was getting too big to manage on his own, so James Madison University is now using all the 3D printers on campus plus laser cutting studio space to increase production, and Sentara RMH is handling the donation side of things. Their current goal is to make 1200 masks for Sentara RMH, and then continue production to serve other local needs such as first responders, nursing homes, grocery stores, and dentist offices. These connections Jeff has facilitated not only demonstrate the power of a couple of people and their creative thinking, but also give our community a shot at catching the curve and saving lives.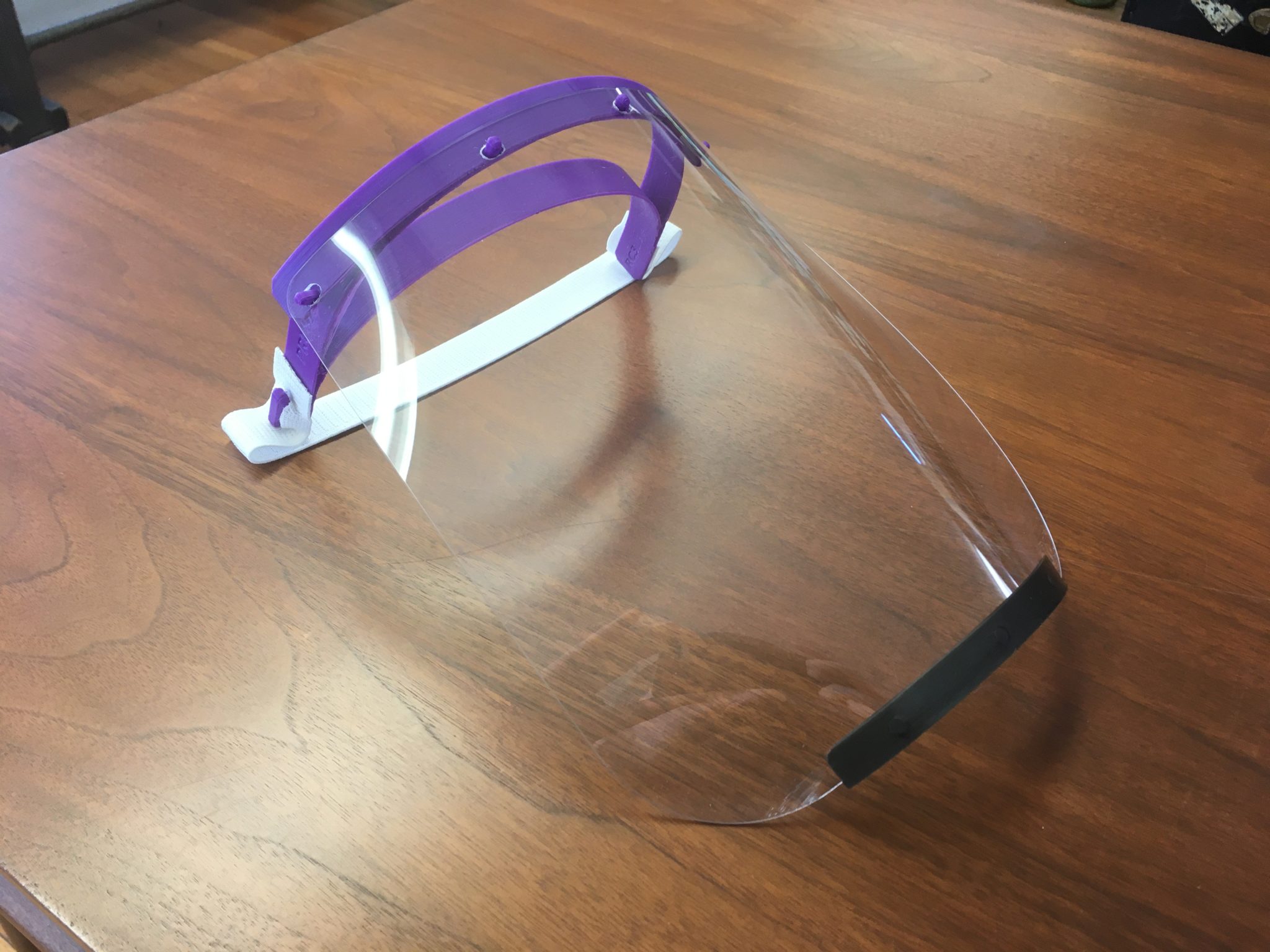 One of the Prusa face shields produced with the help of Jeff Guinn
To contribute financially to this project, visit this link and mention "Shields" in the "Additional Information" box.
If you're interested in getting involved with face shield manufacture, please complete the Intake Survey for the group "Hburg Makers Help."
Likewise, Chris Rooker has created a system to protect his neighbors in the Belmont Estates neighborhood. Belmont Estates, established in the 1960s, is the largest neighborhood on the west side of Harrisonburg and home to some 450 families. A few weeks ago, when COVID-19 was gaining more prominence in the news, Chris became concerned for his parents, who are in their 70s and live way down in Hampton Roads. How would they avoid exposure to COVID-19? Who were the helpers in their neighborhood? Out of these concerns emerged the Belmont Coronavirus Care Network. Chris divided the neighborhood into 17 sections and then set to work recruiting one person from each section to be the point of communication for any needs that might arise as COVID-19 begins to affect Harrisonburg more seriously. The initiative's focus is keeping the vulnerable healthy, so if older or immunocompromised people don't want to leave their homes, residents in their section can mobilize to deliver groceries, medications, or other needs for them. This would also apply to a household in which someone does get the virus and the entire family must quarantine. Chris' goal is to have this system fully up and running when the virus hits Hburg hard. "I hope it's not necessary at all, but it's good to prepare now, rather than scramble once the virus hits." I asked Chris what advice he would give to other neighborhoods hoping to establish a system like this, and he welcomes anyone to reach out to him with questions. He also emphasized that this is not a perfect system; there is no guarantee that helping one's neighbor is absolutely safe. It's not. There is a risk of spreading the infection through contact with other people, period. But it's about lessening the danger for those who are at greater risk, while keeping everyone functioning and connected.
You can reach out to Chris at (540) 421-3179.
Whether delivering two bags of groceries to a neighbor's doorstep, or delivering 1200 face shields to a hospital, Jeff and Chris agree that there's no such thing as too careful right now. We all need to stay home as much as possible, and when we go out, use caution. Be mindful of what you are bringing into a space and taking out of a space. Assume everyone has the virus, including yourself, and deliberately behave as if trying to avoid passing it or catching it. The more we abide by these precautions, the sooner we will emerge from this, welcome each other back into our homes, meet each other in person for a locally brewed beer and a locally cooked meal, dance with each other to a local band, and begin rebuilding as neighbors.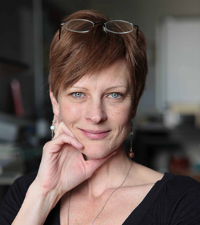 Katie Mitchell is a mom, educator, and writer who has called Harrisonburg her home since 1993. She loves books, beer, fire, sunsets, spicy things, trees, water, live music, and unexpected naps. She is the writer and founder of Harrisonburg's popular blog I Love My Burg and is currently working on her Masters Degree in Communication and Advocacy.