By Katie Mitchell / Photos by Philip Meador: Like other subjects of this series, I've "known" Luke Watson for years. He is the man running around Clementine doing everything, the guy who waves a friendly hello when I see him at local concerts, the dude who owns that dumpling truck. And although we occupy the same space fairly frequently, I couldn't really tell you who Luke is. Now I feel a bit more informed. 
I sat with Luke in a booth at The Golden Pony on a quiet afternoon and, staring across the table, maybe we both realized we're pretty much strangers to each other who have at least one thing in common: a love of Harrisonburg. I had my usual questions ready to go, should the conversation run dry; instead we dove headlong into several topics, planned and unplanned. Many times we derailed from whatever question I had asked and just talked like concerned residents of Earth: about education, child rearing, family, why we work so much, what we're currently reading, goals, passions, and generally what is awesome about life.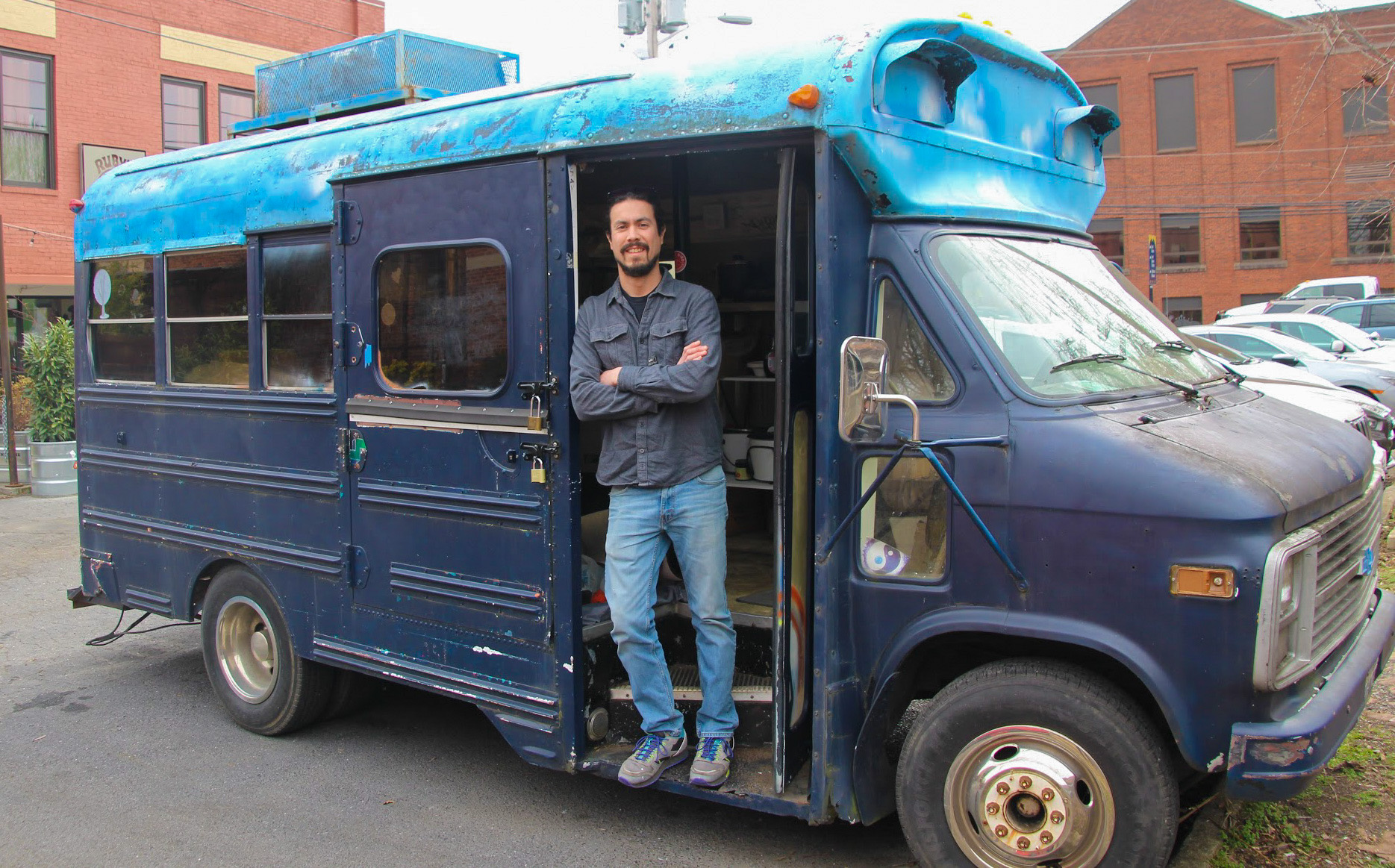 Let's start at the beginning. Luke was born in Japan (his mother is Japanese) and later lived with his parents and brother in northern New Jersey. During that time, Luke described his family as poor, adding that they moved nine times before he turned 8 years old. When he was 8, his parents divorced, and he, his brother, and his dad moved in with his grandmother outside of Richmond. Grandmother, wanting to provide more structure and stability to their chaotic lives, and displeased with public school at that time, sent the boys to Fork Union Military School for middle and high school. Honestly, Luke never really warmed to the Fork Union environment and rebelled by getting into trouble from time to time. He longed for the "normal" high school experience he saw other youngsters having, but he never really got that until he came to JMU. 
Luke had also considered Virginia Tech for college, but once in Harrisonburg, the light and the landscape of the Shenandoah Valley enchanted him, and he enrolled in classes as a Geology major. Experiencing freedom like he'd never known before was an understandable challenge. Early classes every day + daily quizzes + having come from an all male environment + a new system he didn't feel prepared for = a 0.35 GPA after the first semester. I had to think a minute about the math that would yield that result. Anyway, after a semester in Geology, he switched to Graphic Design, which appealed to his creativity, but felt pulled toward other passions, like existentialism, the history of jazz, and African literature. Those classes nourished his soul and raised his GPA but didn't contribute to his major. And so, as it turns out, Luke was and still is a dedicated student of the world, and that's okay. At this point our conversation turned to America's education system and how it just doesn't fit most people and needs a major overhaul.
 Luke's kids, ages 4 and 7, are unschooled, which is a type of homeschooling. His 7 year old attends a weekly homeschool elective focused on nature connection called Shenandoah Forest Discovery, the brainchild of their mom Kristen, Luke's partner. She opened the nature-based homeschool program back in August after years of planning and research guided by her degrees from JMU in education, anthropology, and environmental studies. The staff transports 12 students from Harrisonburg to national parks, forests, and farms in the area one or two days a week. The inquiry-based, exploratory model lets students age 6 – 15 learn through play and curiosity. Much of what the students learn is dictated by their own interests, and the goal of Shenandoah Forest Discovery is to "teach people how to live sustainably using the resources naturally available in our region while developing a healing relationship with the natural world and all who reside in it." So much of it is about being present, doing the right thing, and being a good steward of the planet. I mean, what else is there, really?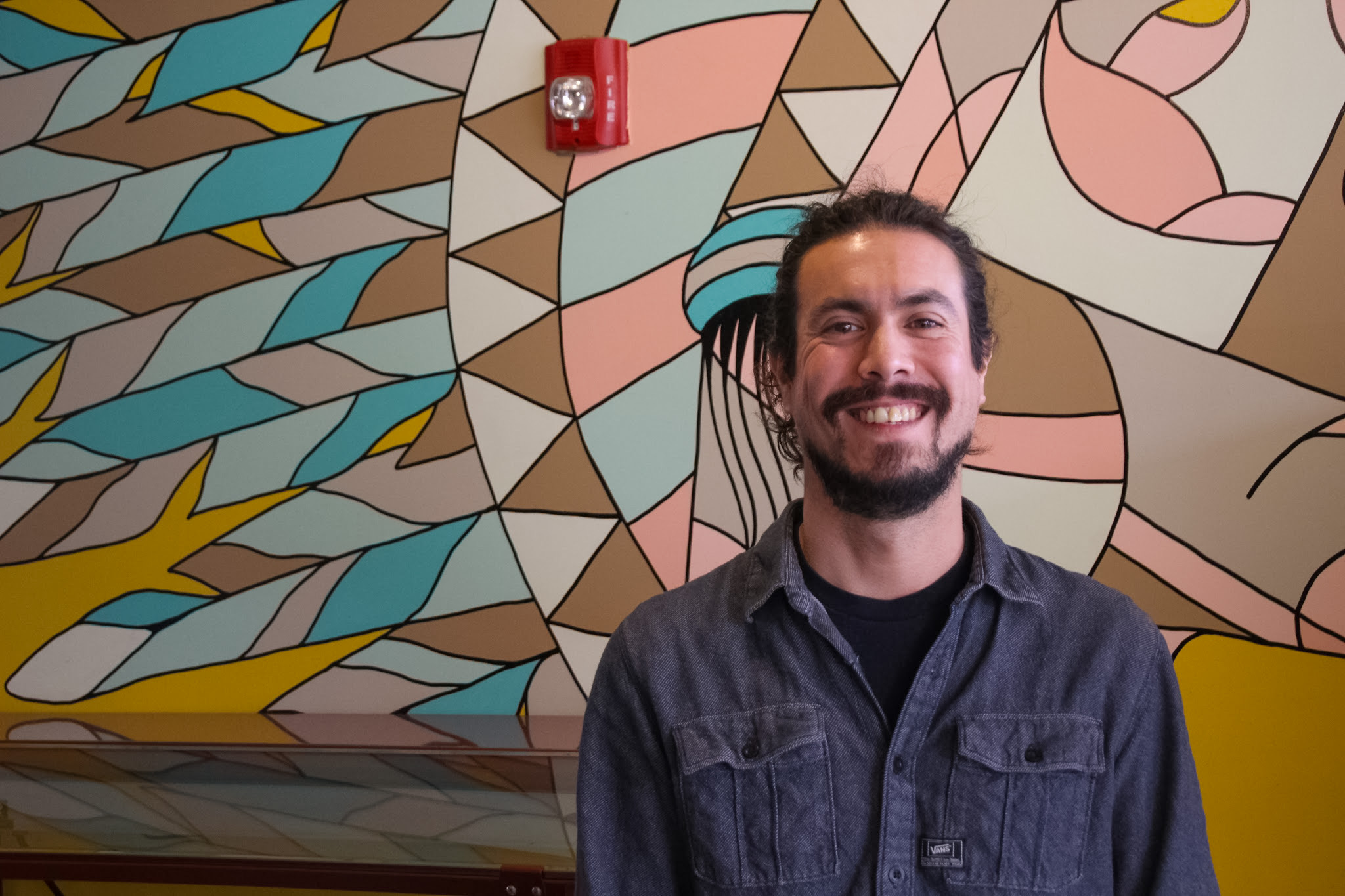 Returning to the story of Luke's college experience, he started to feel like he was "living in a bubble" of academic and campus life, so he ventured downtown more, slowly transitioning from transient to townie. He worked at Luigi's Downtown first, then joined the kitchen staff at Clementine in 2009, where he currently works as a manager and bartender. He's actually worked in the restaurant industry since the age of 14, and his love of it is what keeps him in what can be a highly stressful profession. His favorite part, he says, is the "crisis control" he must engage in constantly. Juggling the concerns of the staff and the customers. Resolving a wide range of issues. Being flexible in a line of work rife with change, challenges, and surprises. It is this kind of crisis parkour that keeps him, in his words, nimble. Mentally nimble, emotionally nimble, and physically nimble. Perhaps focusing on everyone else's problems for hours on end every day is a form of escapism from his own, but he finds joy in it, and he gets something, too. That "something" comes in the form of spontaneous late night "hang sessions" with friends and clientele alike. Epiphanies, cathartic moments, newfangled ideas, much needed embraces, laughs, relationship struggles, bold realizations… all pouring out of people who have just finished a long and taxing day, who have a minute to sit and unload what's been on their hearts and minds. Luke's Instagram is full of scenes from this time of night, the hollow, quiet space between last call and dawn, when he heads home. His photos show the lamplit corners and little known spaces and angles of Harrisonburg not noticeable during the bustle of the day, and perhaps only visible to one who's just had enlightening conversations with creative lovers of the world, overflowing with ideas of change and growth. And upon bidding goodnight to these folks, Luke hopes for each of them that they'll feel inspired the next morning to grow in new ways. 
So what does this nimble man like to do when not working, in the rare quiet slivers of life not requiring his rapt attention? Aside from playing with his outdoorsy, unkempt, screen-free daughters, he likes to be still. Reading is what gets him there. Recent reads include Ask Again, Yes, by Mary Beth Keane, about family, love, and mental health; Ted Chiang's Stories of Your Life and Others, a fascinating collection of tales about philosophy, science, religion, and even communicating with aliens; and The Beautiful Ones, a memoir by Prince that he started writing prior to his death. This one stood out as particularly poignant, as the structure of the book itself mirrors the sudden death of its author, a person who as Luke said "was influential while doing his own thing," an anomaly who had still managed to find his place in the world. Nimble, I guess you'd say.
It's no wonder, with this many years under his belt, that Luke is opening his own business soon. He's taken everything he loves and hates about restaurants to inform choices about his new space, aptly named Nimble. It'll be a noshery of sorts including a bar, a live music venue, a space for music lessons and games, a lounge, a place for private parties, a home for all who want to commune in these ways. He'll serve food from his truck menu — noodles, dumplings, and rice — plus much more, along with coffee, beer, wine, and charcuterie-type offerings. Nimble will be intimate and inviting. The L shape lends itself to multiple uses, and patrons seated at the bar can watch the kitchen staff preparing food as well as the band. It's not open yet, but a lot has been renovated so far, and freshly primed walls await a stunning mural to be painted by Mike Arellano and Torie Topor. In the meantime, don't panic: Tangi still exists and will be here to nourish us post-pandemic. Luke is nimbly managing it all.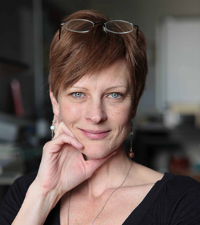 Katie Mitchell is a mom, educator, and writer who has called Harrisonburg her home since 1993. She loves books, beer, fire, sunsets, spicy things, trees, water, live music, and unexpected naps. She is the writer and founder of Harrisonburg's popular blog I Love My Burg and is currently working on her Masters Degree in Communication and Advocacy.
Photography courtesy of Philip Meador.