They say laughter is the best medicine, and Dawn Davis Womack is healing the Friendly City. 
Davis Womack is the founder of X2 Comedy, the host of the Virginia is for Laughers podcast and an iconic face of local stand-up comedy. Having lived in the Valley for 17 years, Davis Womack said her goal has always been to unite the community while spreading laughter.
X2 Comedy was born at Restless Moons Brewing in 2018 when owner Jeff Moon reached out to Davis Womack about doing a stand-up show. Since then, X2 Comedy has expanded to numerous venues downtown and beyond. 
Court Square Theater, Davis Womack said, is unmatched. It's the biggest venue X2 Comedy performs at, and it brings the best of nationally touring, regional and local comedians. Davis Womack also teaches comedy classes, and once students have completed three weeks of comic education, each one shows off the skills they learned by showcasing their own 5-minute set at Court Square Theater in a graduation showcase. 
Davis Womack and her husband will also emcee the Friendly City Fortune Raffle Fundraiser livestream on July 29th. If you haven't bought your raffle ticket, you can buy them here. She was also the star of our raffle commercial, which you can view below!
"Davis Womack didn't always want to be a comedian. Growing up, she wanted to be an actress.
But just three days before she left to start her freshman year as an acting major at West Virginia University, her father accidentally fell 22 feet off their high deck and went into a coma.
[My father] is why I actually go by Dawn Davis Womack…because Davis was my maiden name, so every time I say it, it's like he's a part of the show."
Davis Womack reluctantly decided to leave for WVU to pursue her acting dreams, but with her father's situation, she said she felt like she was living in a nightmare and that she "really was not quite there" mentally. 
Her father was in a coma for eight and a half months until he passed away in April of her freshman year. She said she tried to use her time on stage as an escape, but the weight of his passing matched with being the oldest of seven grieving siblings made that nearly impossible. 
Still, her primary acting coach at WVU had no sympathy for her situation. It was a cut program, which meant that students could be removed from the acting program after their final performance and forced to pursue a different major. Davis Womack said her acting coach had a philosophy that "it didn't matter what was going on in your life, you had to pack it up in a suitcase and leave it outside." It wasn't until her final acting showcase at WVU – a huge determinant in whether or not students would be cut – in front of a panel of judges that she was able to give it her all.
"In the moment I was walking out to do my performance, I was like, 'You know what? I might as well just let it all go, and let her rip because whether I get in or not, this is all I've got.'"
Her comedic monologue got a standing ovation.
Davis Womack anxiously waited to see whether or not she got into the program. When the list of actors was finally posted, she waited until no one would be around and scanned over the names. 
Her name wasn't on the list. 
The chair of the acting department pulled Davis Womack into her office and explained that everyone who watched her final performance had voted for her to continue forward with the program — that is, everyone except her primary acting coach, who had a departmental right to override the votes and decline anyone's admission. Despite a hard fight from the rest of the department, Davis Womack's primary acting coach didn't budge. 
The acting department chair explained that she'd accepted a job at the University of Florida, so although she couldn't do anything to change the policy at WVU, she could improve the policy for other students at her new job. She wanted Davis Womack to join her and continue pursuing her acting dreams at the University of Florida. Davis Womack applied and got accepted, but ultimately decided to stay at WVU so she could be close to her family, who was still grieving the loss of her father.
Upon being cut from the acting program, Davis Womack was forced to change her major. She decided to pursue a degree in exercise science since she was a "gym rat," and it was the only thing that brought her a similar joy that acting did. She got her undergraduate and graduate degrees and ended up working various positions in the health and fitness industry over a 20 year period. 
During this time, she met her husband, Chris Womack. The couple moved to Harrisonburg in the early 2000s after he got a job as a kinesiology professor at James Madison University, where he still works today.
Davis Womack became a mentor in the Duke Center at JMU and met a student who wanted to pursue acting. Davis Womack shared her own story with the student, and at their next meeting together, the student had a question:
She looked at me and said, 'You seem to be all about people chasing their dreams, except the only problem is that you stopped chasing yours.' And then there was much crying."
Davis Womack was in her 40s and said she felt like she was "starting over," but that student had inspired her to chase her acting dreams once more. Her husband encouraged her to audition for a community theater play, and she ended up getting a speaking part with three lines. 
"It was an obscure and bizarre comedy," Davis Womack said. "I think one of my lines was, 'Will there be washers and dryers on the flying saucers?!'"
This play was enough to reignite Davis Womack's passion for acting. She did more community theater and eventually landed background character roles — including one on the hit show "House of Cards." She starred in student films at JMU and started getting paid for various speaking roles. She recently auditioned for a role in a rom-com starring Lindsay Lohan. 
"I was starting to get really disappointed that I hadn't heard anything back from them because I really thought I nailed that audition," Davis Womack said with a laugh. "But then I saw a TMZ article that said Lindsay Lohan is pregnant! So I guess they're going to have to push that project back a bit."
While rediscovering her passion for acting, Davis Womack realized how much she loved comedy. 
I kept thinking, 'What can I do to challenge myself that scares me the most, but would make me be the best comedic person that I can be?' And hands down, the thing that scared me the most was stand-up comedy."
Davis Womack decided she wanted to begin taking comedy classes, but realized there were none in Harrisonburg or even relatively close by. So she drove to Silver Spring, Maryland, once every week for a class. Once she completed each one, they had a graduation showcase for all the students to perform at.
She performed, and immediately after, someone from the audience came up to her and told her that she was hilarious and that he wanted to hire her for his comedy show — and that show in 2017 was Davis Womack's first paid gig as a stand-up comedian. 
That show reaffirmed her love for comedy. Since then, she's learned to pull content from her everyday life.
"Something will crack me up, and I'm like, 'Oh! Let me write that down!'"
She makes a quick note in a folder on her iPhone, then fleshes it out in a notebook and finally transfers the joke to a word document. When building her set, she comes up with a title for each joke and puts them in the order that flows best. She soon came up with a unique strategy to memorize her set:
"I look at my notecard or my set list, then I drive from my house, go around Court Square, all the way down Port Republic Road, and I'm saying the set list over and over and over again."
Finally, she heads down to her basement and runs her set for her husband, from start to finish.
Restless Moons Brewing opened its doors in 2018, and it wasn't long after that owner Jeff Moon reached out to Davis Womack about hosting a comedy show at the brewery. 
Davis Womack agreed, despite only having about ten minutes worth of content at the time. She reached out to JMU's New and Improv'd comedy club, and in the end she performed her ten minute set followed by 45 minutes worth of improv by New and Improv'd.
Davis Womack realized that they had a full show, and on that day in March 2018 at Restless Moons Brewing, X2 Comedy was born.
I started [X2 Comedy] to give comics an opportunity to perform — because we need them, comics are always looking for gigs — and to bring comedy here because we really didn't have that in our community."
X2 Comedy had humble beginnings: they did one show a month at Restless Moons for 19 months, and then the COVID-19 pandemic struck. They produced one Zoom comedy show, which Davis Womack said was worth it in the end, but it was an overwhelming and stressful experience as a "non-tech nerd." She took the rest of isolation to figure out how to pivot X2 Comedy and grow the program into a staple of the Shenandoah Valley.
"I thought, 'At some point, we're going to be on the other side of this. So what does life look like after the pandemic and how does comedy fit into that picture?'"
She ended up doing a few live, socially distanced shows, which she loved. 
"The pandemic has really had an impact on how X2 Comedy has evolved," Davis Womack said. "Because we see it as something that can not only bring joy and laughter to our residents here, but can be a reason for visitors to come [to downtown Harrisonburg]."
Since the pandemic, X2 Comedy has grown tremendously. Davis Womack now offers comedy classes on the craft of standup through X2 Comedy, where they take a hopeful comedian through the process of building their set. She helps them identify how they look at the world and what they find funny, and from there, helps them develop their premises, understand set-ups and punchlines and write their own jokes. By the end of the class, they have a tight five minute set that they perform at a graduation .
I think the point of X2 Comedy is that comedy is for everyone, and can be everywhere. We're laughing on vacation and in coffee shops and out on the street with friends — Laughter doesn't have to be confined to a comedy club."
From the Basement to the Stage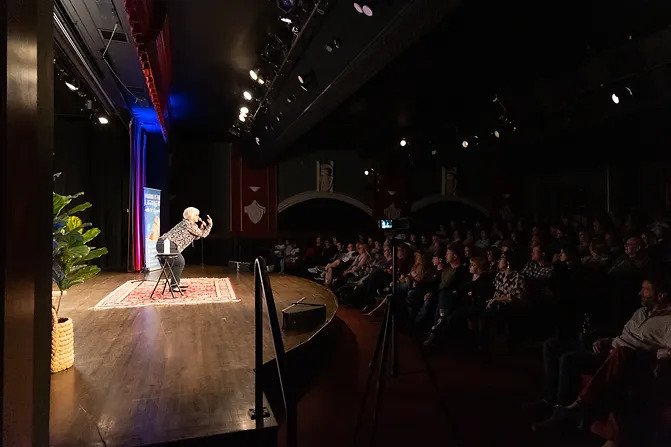 Graduates of X2 Comedy classes are invited to join the Basement Comics, a group that meets at the Womacks' house. They go down into the basement and each perform a five minute set in a "no judgment zone" where they can have their notes and anything they need. After their set, each person provides feedback to help the comedian improve.  
Davis Womack said the idea of Basement Comics was inspired by the comedy club boom in the '80s and '90s when comedians would support one another and give open feedback once they completed their set.
"That was kind of lost for a while. This was kind of a way to bring that supportive environment back to help each other grow."
Virginia is for Laughers: A Podcast for All Things Non-Hiking in the Shenandoah Valley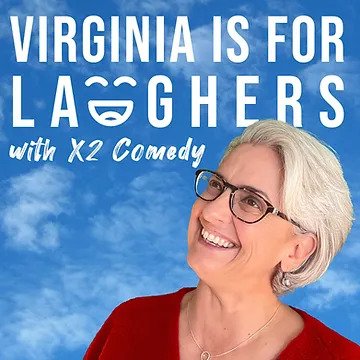 During the COVID-19 pandemic when Davis Womack was working to pivot the path of X2 Comedy, she decided to start a podcast. She wanted it to be original, and she kept coming back to the question she said that people always ask her: "What is there to do around here?"
"I thought, 'There's a million comedy podcasts out there. So how about we spin this around and think about what would be a valued add to our community and bring joy to people?'" Davis Womack said. "I knew that as long as it's a relationship between those two, it doesn't have to be another kind of show."
Davis Womack said she wanted to share ideas for things to do in the Valley besides hiking, but she also wanted to share the stories of people in the community. Since starting the Virginia is for Laughers podcast in April 2021, Davis Womack has gained over 7,000 listeners and interviewed guests from all walks of life — from the HDR team to Mr. and Mrs. Claus. 
"Between the [comedy] shows and my podcast, we're helping people get more out of their Shenandoah Valley experience and filling it with joy and laughter."
Davis Womack never stopped thinking of creative ways to integrate comedy into the Shenandoah Valley experience. Perhaps her most notable one is Cave Comedy Fest, which is exactly as it sounds: a stand-up comedy show inside a cave. 
Davis Womack said the idea came to her when her husband showed her a video clip of comedian Lachlan Patterson. She said he was hilarious and had her and her husband cracking up, even on their second watch-through. Through their laughs, Davis Womack joked that his "whole vibe reminded me of a caveman." And then, the idea hit her — why not have a stand-up comedy show inside a cave?
Last year's Cave Comedy Fest was a hit, and Patterson ended up headlining the show. This Saturday, July 15, is the second annual Cave Comedy Fest, headlined by Winston Hodges in Melrose Caverns. There will be four shows inside the cave on Saturday and two shows on Sunday, with cave tourism in between showtimes. Outside the caves, Davis Womack has arranged axe throwing, cornhole and other lawn games, with a food and beverage garden featuring Ott Street Eats and Restless Moons Brewing. 
You can find tickets to Cave Comedy Fest here.
Davis Womack says her claim to fame is having a son who made it to the NFL (go Saints!), but she's also paved the way for local comics and entrepreneurs. 
Today, she's continuing to build a comedy scene in Harrisonburg that she hopes will one day lure the biggest names in comedy to perform here.
I feel like I had to figure it out on my own because of the lack of the immediate comedy community around here when I started — we're building one now, but it was non-existent when I started."
She's even inspired her husband to do stand-up comedy on the side. He had his first set two years ago, and now he has a guest spot in X2 Comedy shows. 
Davis Womack continues to grow her projects, but she's still the humble, smiley woman she's always been. She's hilarious on and off the stage, and her warmth and laughter are contagious. Davis Womack said this is only the beginning for her, and she can't wait to see what the future holds. 
"These opportunities for comedy just keep coming. It's incredible."