What if we could always carry the eagerness and imagination we did as a child through adulthood? What if we could make a living out of that same inquisitiveness and creativity which is known to disappear as we age? It's not often that we find the magic of a child's determination in an adult; however, Elk Run Mining Co.'s owner, Stuart Mercer founded a business which was created on precisely that—a shop originating from a heart-shaped box Stuart Mercer's father gave his mother as a Valentine's Day gift. When the chocolates disappeared, young Stuart filled them with rocks he'd found along the waterfront in his hometown, Cape Cod, Massachusetts. This collection would be shared at his school's show and tell and would become the start of a lifelong appreciation and dedication to geology, metalsmithing and lapidary.
lap·i·dar·y (/ˈlapəˌderē/)
relating to stone and gems and the work involved in engraving, cutting, or polishing.
a person who cuts, polishes, or engraves gems.
Mercer recalls the pride he had when sharing his collection with schoolmates, "These are my rocks." As shiny as the variations of gemstones throughout Elk Run Mining Co., is the apparent glow in Stuart's eyes; their size increases, filling with the same excitement the school children most likely witnessed on that very day of show and tell. Since the age of five, Mercer knew what he wanted to be, and do. "This is my first love. It's something I've got to do."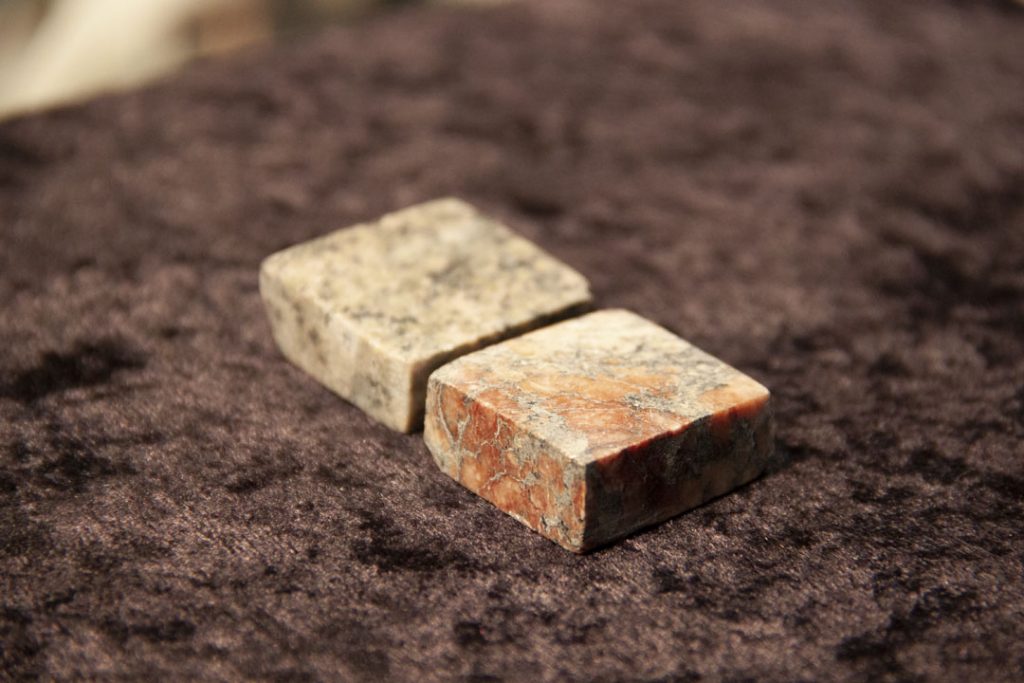 His interest didn't diminish with age. As a 5th grader, Mercer's mother gifted him a Sears and Roebuck rock grinder. When he needed more robust equipment, he took on a paper route to save money. When the rock collection grew, bookcases were filled; in time, the brimmed bookshelves would evolve into Mercer later obtaining a Geology degree. He became a contractor for 22 years, all the while keeping an interest in his childhood aspiration. For 12 years, he participated in craft shows and became a member of Oasis Gallery; he began offering demonstrations in one of their upstairs spaces. Mercer thoroughly enjoyed the connection, but the time came in which he, and his growing collection, needed additional room to grow. After meeting with James McHone regarding his Whetzel building property, he [McHone] mentioned a property at 49-West Water Street.
"James McHone and his team are tops. When I got this space, it was a great day. I'm thrilled with my [shop] neighbors. We text one another throughout the day. I meet a lot of people. Saying "hi" on the street is a thrill."
Located along downtown Harrisonburg's Water Street Parking Deck, Elk Run Mining Co.'s colorful, shimmering displays of silver jewelry, pendants, and gemstones, along with his loyal Shih Tzu shop assistant, Leah, are enough to draw in individuals from all walks of life. "She [Leah] draws in as many people as the jewelry does," he said. Leah was a Christmas gift, from Mercer's wife, over 7 years ago. He doesn't go anywhere without her. Anywhere.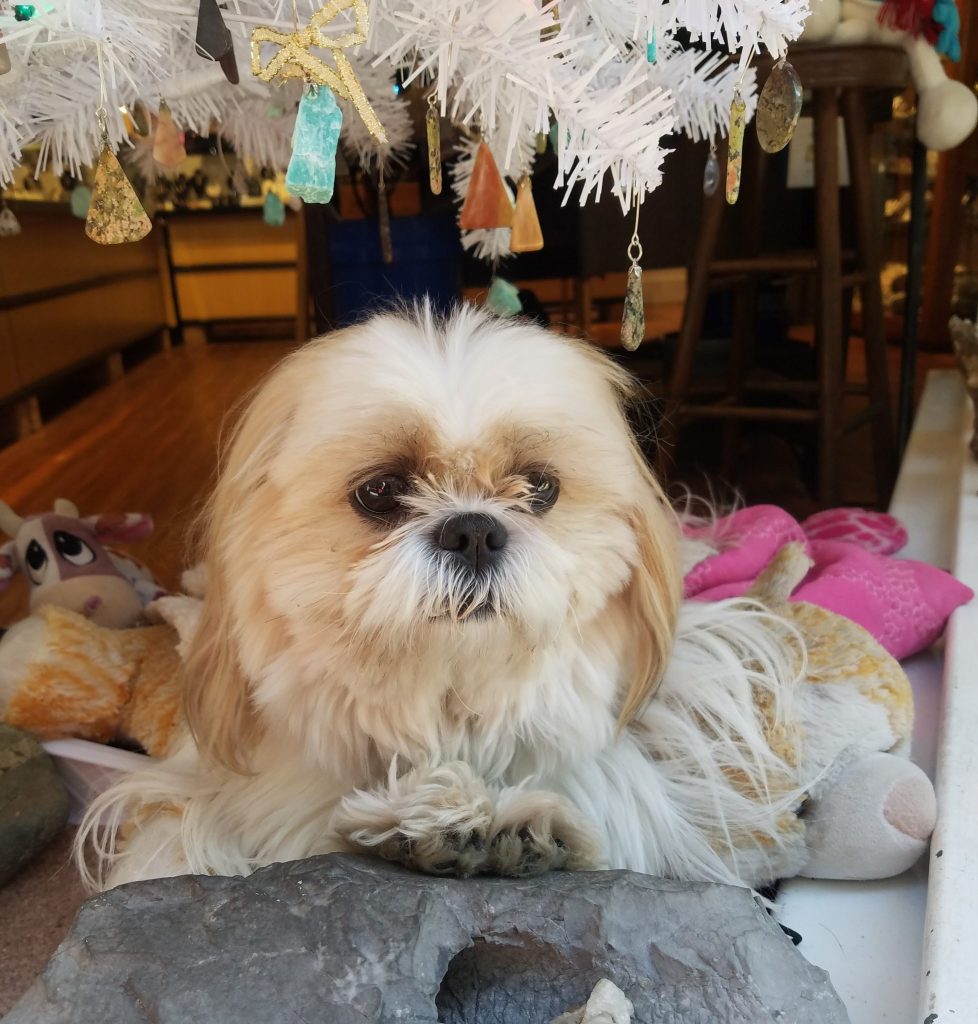 Stuart Mercer's pride for his, and his neighbors', storefronts is obvious. I arrived 15 minutes earlier than scheduled to interview him. While walking from the Harrisonburg Farmer's Market to Elk Run Mining Co., I witnessed Mercer lead Leah to her favorite spot near the store's window. I heard the fast, side-swiping back-and-forth motion of a broom; most days he sweeps from Bella Gelato's corner, past Downtown Books, in front of his own shop, past Downtown Barber Shop, and carries on all the way to the walkway bridge which leads to the back entrances of Clementine and Shenandoah Bicycle Company. "I care a lot about this block," he says. "A lot."
Elk Run Mining Co. is a studio, and storefront, born from a little boy's love of rocks, and having an "encourager" of a mother. Self-taught, and for over 50 years of developing his own style, Mercer says he's "always learning how to offer the best product." As a self-proclaimed "perfectionist," anyone who purchases a product can buy so knowing that Stuart Mercer has been a part of the rock's life, from being pulled out of the Blue Ridge's soil, all the way to what customers view in-store.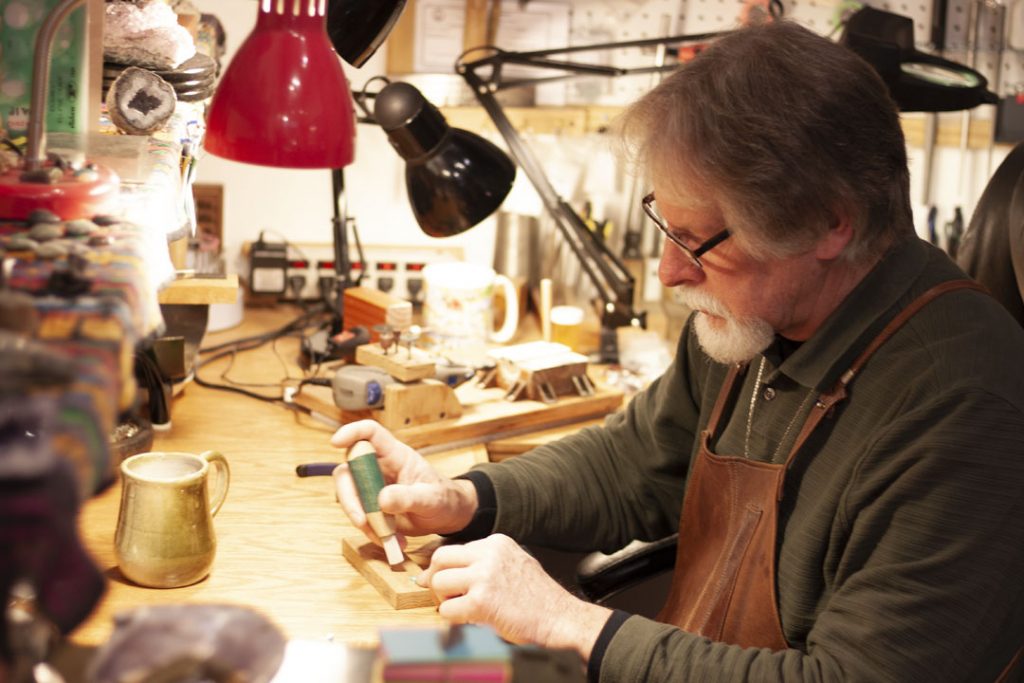 One can't help but notice Mercer's particular nature; every tool, piece of equipment and stock organized meticulously. It might seem to be associated to a type of perfectionism, but this is not the shop of a man opposed to change or imperfection—in fact, the diversity and varying personalities (even the "irregularities") of each rock is what he's most passionate about.
"Every rock has a story, unique chemistry—each has a history, a different life. I'm seeing the two billion years of history. Each rock is different. When I look at a piece of jewelry, I see the geology."

Stuart Mercer
With obvious enthusiasm, he spoke of Geochemistry, erosion, reflections of light, the effects of temperature, fractures, gas bubbles, void spots, and molecule interactions. He smiled before adding, "[t]here's so much that goes on that we don't see." I couldn't help but think of how the world would be a better place if we all viewed people the way that Mercer described his rocks; how he admired each of their paths, beauty, and imperfections, precisely as they were, and thought of the various tools he used as a way to bring out their natural uniqueness and charm.
Open since 2013, Elk Run Mining Co.'s surroundings are the very evidence of the curious, and mesmerized, young Stuart Mercer who filled a heart-shaped box full of something he loved from as young as five years of age. Downtown Harrisonburg offers opportunities for artists and dreamers, alike, to tell a larger story. Our shops are not "stores"; they are stories. We, as customers, are looking into the large glass window of Elk Run Mining Co., and receiving a glimpse of the humanity in retail and importance of the local arts.
Mercer describes his products as "100% hand crafted, 100% Virginia, and 100% created with love". Like the heart-shaped box Mercer's father gave his mother, you never know the importance of a gift and how it may inspire others—all with the possibility of supporting a family's dreams. Mercer, a skilled, thoughtful tradesman, and an artist is an individual who embodies the dream all artists have—that what we feel connected, or called to, is also something the public sees the beauty and worth in it.
As for the shop's distant future, you might hear about Elk Run Lapidary School. Until that time, Mercer has offered talks (and is open to more) regarding his vast array of equipment (much of it in plain view in his shop). With each stone having a story to tell, we hope that a teaching school will be a part of downtown's future. As for now, Elk Run Mining Co., is a full-service studio and shop with a wealth of knowledge, techniques, and stories which Mercer is enthusiastic about sharing with the world through everyday conversations in his shop. You can visit Stuart and his furry assistant, Leah, from 10am-6pm Wednesday, Thursday and Friday, and 10am-4pm on Saturdays.
Valentine's Day is a celebratory, special day for many; however, I, for one, will never look at a heart-shaped chocolate box the same way again. I've always liked them, for obvious reasons,  but there's something extra special about them now that I've visited Elk Run Mining Co.
---
Written by Angela M Carter,  an author, poet, motivational speaker, spoken word performer, and visual artist. Her writing in her full-length poetry memoir, Memory Chose A Woman's Body, was nominated for a 2014 Pushcart Prize. Her poetry performances have been featured in a multitude of venues including The KGB Club in Manhattan and Busboys and Poets in DC. Angela is an advocate of the healing ability of the arts. She, her husband, two daughters and two dogs reside in Harrisonburg, VA after relocating, from Bath, England, approximately 10 years ago. The Carters are proud to be a part of Harrisonburg's growing and caring downtown community. Read some of her work here.