At our annual Celebration & Reception event that we host for our donors & supporters, we recognized some community members and businesses that stood out in 2018 with their innovation, dedication, and continuing support of our downtown.
2019 Volunteer of the Year – Stacey Burzumato
Stacey Burzumato is in the middle of her second term serving on our board as treasurer. Stacey – who works for Brown Edwards – has an incredible eye for detail, a way with numbers, and offers thoughtful advice as a member of our executive committee. Through her leadership, she contributes to the sustainability of our organization. She leads our financial committee, develops our financial policies and systems, and answers all of our questions about taxes and accounting that seem never-ending.
"HDR is so lucky that she generously chose to give us her time and expertise," says Andrea Dono, HDR's executive director. "Stacey goes the extra mile in applying best practices in nonprofit financial management to what we do. This makes all the difference in our ability to be a strong, well-run organization."
Best Business Destination – Agora Downtown Market
A place is truly special when you can purchase a latte, vintage lamp, and gardening tools all under the same roof. A place like that is hard to find. Even harder to find are businesses that meet a double or a triple bottom-line, and Agora has those, too. Agora presents a hip atmosphere that makes shopping fun for customers. For the businesses, it boosts foot traffic and increases their exposure to shoppers.
"Agora is the type of business that leaders of other Virginia Main Street communities tell me they wish they could have," says Andrea. "Harrisonburg is fortunate to have a place like this that is completely home-grown. The concept was a great idea but it took the creativity and tenacity of Agora's managers to make it a reality." Just two years ago, building owner Clay Clark told Chris Howdyshell and Allie Motyka to make it happen. They built something from scratch, recruited great retailers, and hosted events early on to bring exposure to the space. Together with the talented Agora entrepreneurs, they have created a true retail destination.
Partner of the Year – Pendleton Community Bank
Pendleton Community Bank is more than just HDR's bank, they are a significant partner that supports downtown businesses. They became our Downtown Dollars sales location, helping us provide excellent customer service which increased sales by offering regular hours to the public. They also participate in many community events. You'll see the staff in costume during our annual Skeleton Festival handing out candy. Not only do they donate their time, but they have been dedicated sponsors for our many events. They even make a donation to HDR for every Friend of Downtown that opens an account with them; these are just some of the reasons that Pendleton Community Bank embodies a true, year-round partnership with our organization.
Dan Withers, Area Executive at Pendleton Community Bank, says this award validates part of their mission statement aiming to stimulate economic growth.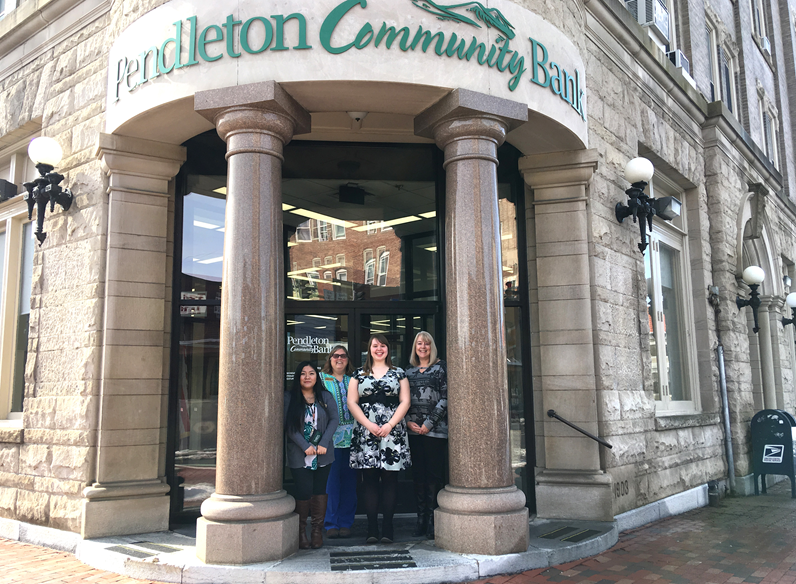 Best Building Rehabilitation – Keith May/Lofts on 83 S. Main
Built in the 1880s, 83 S. Main has a lot of vintage charm. But years of neglect and a fire had one of our design committee members wondering how the building was still standing prior to its rehabilitation. The floors were consequently sloped, windows were detached, the plumbing and HVAC were disastrous, and structural issues kept popping up once construction began. Upon completion, however, these urban lofts and micro units added a new type of housing to downtown's repertoire. They have modern amenities while also retaining the antique look and feel of historic Harrisonburg.
This was a labor of love for the owner, Keith May. "I believes the reuse of existing historical structures supports sustainability and helps maintain our diverse and thriving downtown community," he says. Keith credits the initial vision for the project to the Harrisonburg Homes Team and credits the skill of The Gaines Group Architects and Nesselrodt Construction for bringing this building back to life. "HDR appreciates the vision and ability of all involved and credits them for not giving up on a historic building that needed extra attention to deliver the exciting rewards presented by the final project in the heart of downtown," says Andrea.
Best Adaptive Reuse – Matchbox/The Keezell Building
For a long time, the Keezell Building looked like a diamond in the rough instead of the historic gem that is today. The renovation of this prominent building has transformed the corner of Main and Newman, and showcases compelling architecture that is a nod to our community's past. "Too often locals rightfully lament the loss of historic buildings, which makes the reuse of buildings like the Keezell so special," says Andrea. "But while the building itself is spectacular, the great mix of businesses and an outdoor café space contribute to downtown's vitality."
On the inside, you'll find gorgeous apartments with cool kitchens and floor plans that maximize the use of small spaces, restored architectural details, and beautiful fixtures. The best part? The names of the businesses that once occupied the offices are stenciled on the doors. On the outside, the ambient lighting at night spotlights this impressive historic treasure. "For our team, seeing a property with deferred maintenance does not go unnoticed. We ask ourselves 'what if that didn't get torn down; what could it become?'" says Mary Messerley, Matchbox's portfolio manager. "We are honored to be recognized for creating points of interest and repurposing the cityscape, but also we are grateful to be part of this special community." Congratulations to the Matchbox team for once again providing a modern twist for a beautiful, old building.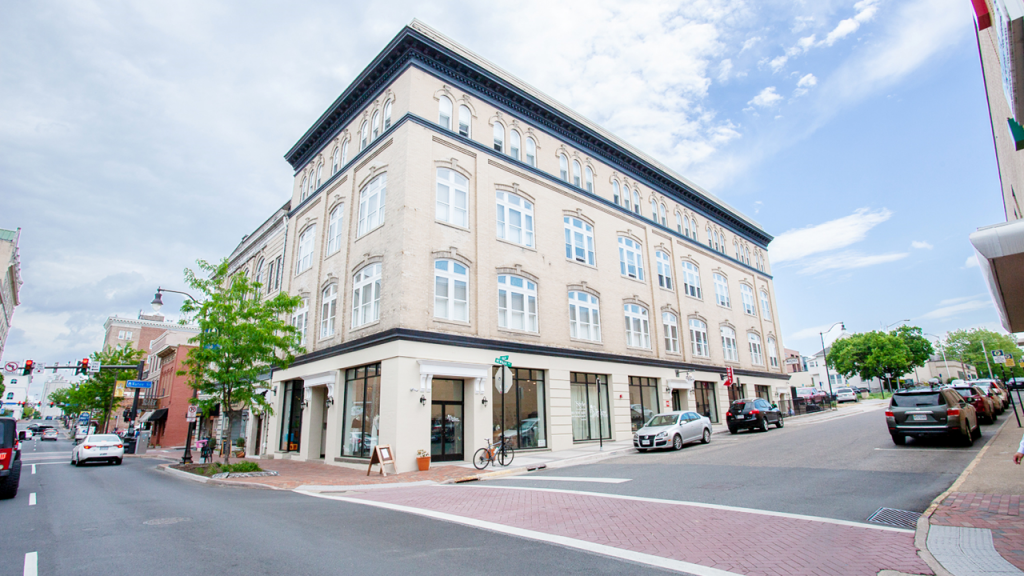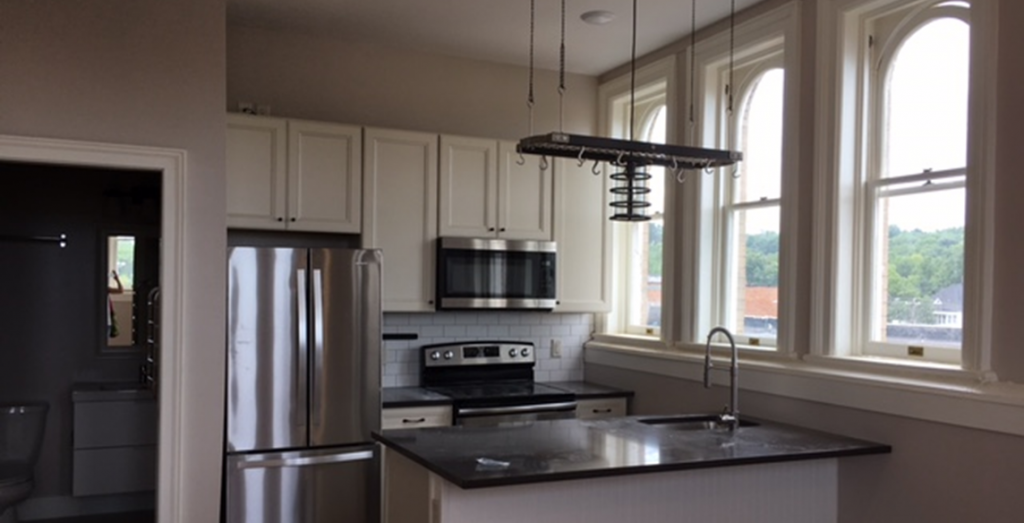 Best Placemaking –Shenandoah Bicycle Company/Outdoor Patio
In 2000, Thomas Jenkins and Tim Richardson set out to build a bike shop as well as build community. Part of their vision had been to create a pocket park. In 2017, they approached HDR to inquire about applying for a David F. Denman Façade Enhancement Grant to amplify their back yard by building an inviting space that everyone – not just their customers – could enjoy.
"The Design Committee volunteers loved the idea from the start," says Andrea. "They have long-wished for something to beautify that space, especially since it is a key entry point for visitors who park in the deck and begin their walk downtown. Improvements like this send a strong signal that this place is special and worth coming to." The space has been enhanced with decorative lights, a new patio, handmade planter boxes, landscaping, a bike washing station, and tables & chairs. These first-phase improvements complement the landscaping and outdoor space of Ruby's Arcade and Clementine's next door. "SBC is thankful to have partnered with HDR on the first phase of our pocket park make-over. We hope it will showcase Blacks Run and the green space in an inviting manner that all of town can enjoy," says Tim Richardson of SBC.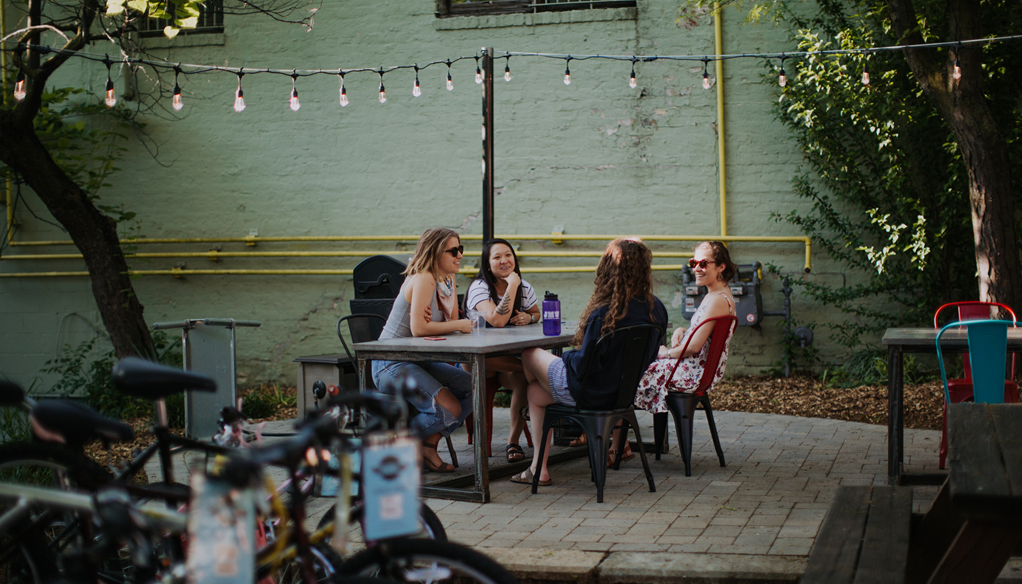 Best Facade Enhancement – Gitchell's Photography/Historic Neon Sign Restoration
Years ago, neon signs were common along many Main Streets throughout the U.S., but today it is a rarity. The restoration of the historic sign anchoring Gitchell's Photography is meaningful because a piece of history has been preserved. Many people call this sign an icon; for the community, it's meaningful because it has served as a beacon welcoming people downtown for 110 years. For Christa Gitchell, the owner of this business and building, the sign symbolizes her family's legacy and the strength of a small business that now has a 4th generation family member continuing the Gitchell's tradition. She took advantage of our David F. Denman Façade Enhancement Grant to tackle this project, and hired Eddie Edwards Signs to make it come together.
"Christa's family business means the world to her and this sign is like a piece of her," says Andrea. "Her business is thriving and by sprucing up the sign, it signals that downtown is thriving, too. This was a very important design enhancement project." The restored sign truly lights up a very visible corner downtown. We are excited to know that there is more to come to this corridor with some new streetscape improvements and a new building across the street for the Harrisonburg-Rockingham Daycare. There's more to come for E Market Street!
Past

Present
Best Business Promotions – Brothers Craft Brewing
Brothers Craft Brewing started downtown six years ago, and they've hit the ground running. Their team is raising the bar pertaining to business promotions; no matter when you click on their event calendar you'll surely find it full of beer release parties, live music, weekly game nights, trivia nights, toy and food drives, collaborations, and fund-raisers. Whether it is a monthly Cask for a Cause where area nonprofits get to brew & tap their own beer, or the annual ChalkFest that benefits United Way, it is clear community is at the heart of their business model.
"We very much enjoy the creative aspect of inventing events and visions, Run, Sweat and Beers, and our Resolute Weekend. These events and those like it are critical for our business identity of collaboration and community," says Josh Harold, Brothers' taproom manager. "We want to expose the amazing crafts of those in this community and be a part of the culture of collaboration to grow the power and value of downtown as a destination." Resolute weekend in November is one of their flagship events that attracts people from all over the East Coast to enjoy their Bourbon Barrel-Aged Russian Imperial Stout. "They could've stopped at just planning a really cool beer release, but that isn't their way," says Andrea. "They instead wanted to bring the excitement and foot traffic to other downtown businesses to share in their success." It takes a lot of planning, creativity, partnerships, and collaborations to achieve this level of business promotions – congratulations to the whole team!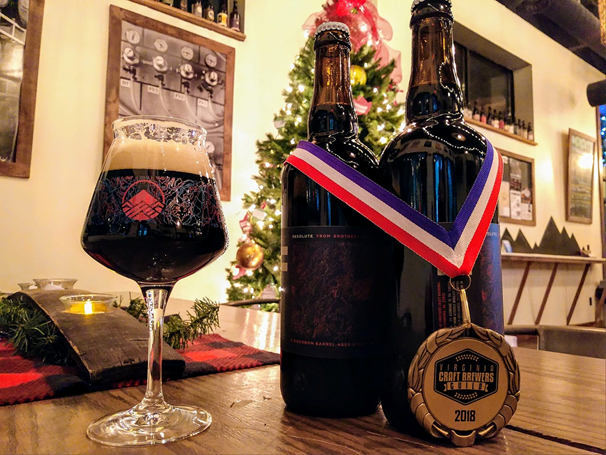 Community Builder of the Year – VA Momentum
Each year, Kevin and Alan, along with the support of their wives and dedicated volunteers, produce events like the Rocktown Turkey Trot and Valley Fourth Run, which build and reinforce Harrisonburg's sense of community. They like to say that VA Momentum is a hobby that spiraled out of control, but they are entrepreneurs to the core who took a leap of faith and built a business a few short years ago around fun, good health, and the people.
Their events from the Glow Run to Run/Sweat/Beers at Brothers share common values; they reinforce community, bring people of all ages and abilities together, present the best of Harrisonburg to visitors, and support local businesses. They also meet a double bottom line and have donated more than $110,000 to 25 local nonprofits. "VA Momentum only exists because of the community's positive response to our mission," says Kevin. "We give credit to a special community that was ready and willing to embrace active events that supported local businesses and charities."
Who else would hand out Dixie cups of pumpkin pie at the water stations or have Uncle Sam pelt runners with water balloons during the Valley Fourth Run? Kevin and Alan share this award with their families who have been involved in the success of their business, as well as the business leaders who have worked with them over the years to host hundreds of events with thousands of participants. Thank you, Kevin and Alan and all their supporters for strengthening the amazing community we have in Harrisonburg.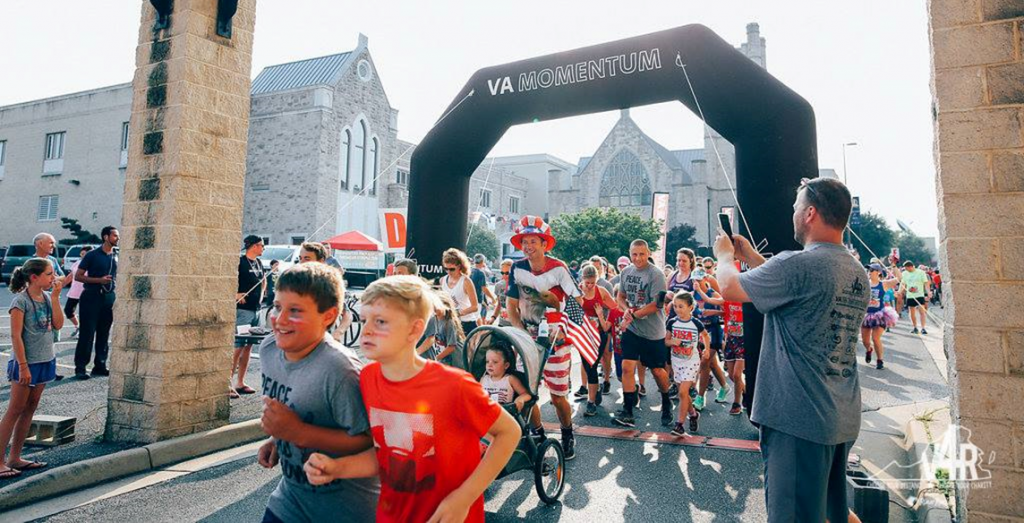 Downtown Hero Award – Citizens for Downtown
The Downtown Hero award was created in 2016 to celebrate long-term, high-impact, and significant contributions to the success of downtown Harrisonburg. The only Downtown Hero Award that has been given was to Eddie Bumbaugh, the first and founding executive director of HDR.
Established in 1990, a group of locals dedicated themselves to restoring the vibrancy of our historic city center. Best known for Fridays on the Square, which had its last hurrah last summer, Citizens for Downtown led many other grassroots efforts. They organized clean-ups and art walks, gave awards that recognized the contributions of business owners, and planned other initiatives to bring attention and people to downtown.
"This award is for the dozens of volunteers over the years who contributed countless hours and attracted numerous people to the heart of our city," says Andrea. "They are deserving of recognition for their leadership, volunteerism, and sparking the revitalization that we all continue to enjoy." Many of their volunteers generously gave their time and resources, and are true downtown heroes. "After three decades of involvement in restoring vitality and community to our city center, it's wonderful to have our grassroots organization recognized by HDR, the torch bearer for the vision and hope our members held for a rebirth of our beloved historic downtown," says Kathleen Kraft, past president of the group. "This 'Downtown Hero' award is dedicated to all of those who volunteered their time to CFD, gave their financial support, and spent their Friday nights with us downtown."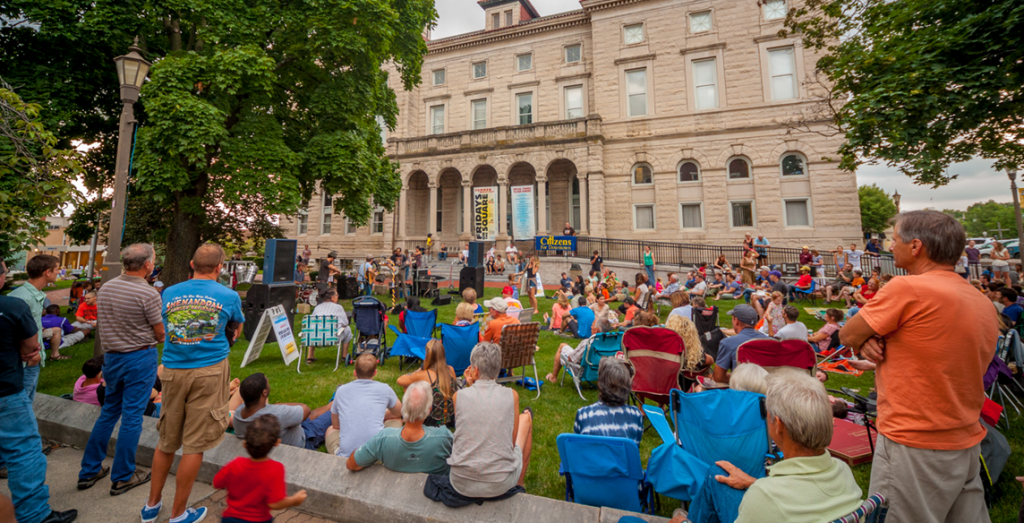 HDR sincerely thanks all of our sponsors who made this Celebration & Reception possible. We would be unable to adequately recognize the hard work of the downtown community without the immense support of Blue Ridge Bank, Carter Bank and Trust, DuPont Community Credit Union, First Bank and Trust Company, F&M Bank, Pendleton Community Bank, Harrisonburg Radio Group, Wells Fargo, Summit Community Bank, and WHSV 3. Thank you, all!