By Graham Schiltz — When Blue Nile closed in October 2014, downtown Harrisonburg lost more than the only Ethiopian dining option in a 50-mile radius. The restaurant's basement hosted local music of every genre, from experimental noise to hip-hip to death metal. It was one of Harrisonburg's only music venues, and it gave musicians a chance to perform and connect with each other.
As bar manager there for a year and a half, Paul Somers knew the void that would be left by the Nile. Owning a restaurant was a pipe dream, but less than a year later, he opened The Golden Pony in the same building Blue Nile once occupied.
"What we do here is consistent, at least like culturally consistent, with what the Nile was doing,"  Somers said. "There's no way we could do what we've done had the Nile not come before us."
He couldn't have done it without a little help from his friends, either. Larkin Arts owner Valerie Smith helped with the business plan, local chef Colin Auckerman created a menu, and Wonder Records owner Elliott Downs and local artist and designer Lynda Bostrom handled the graphic design.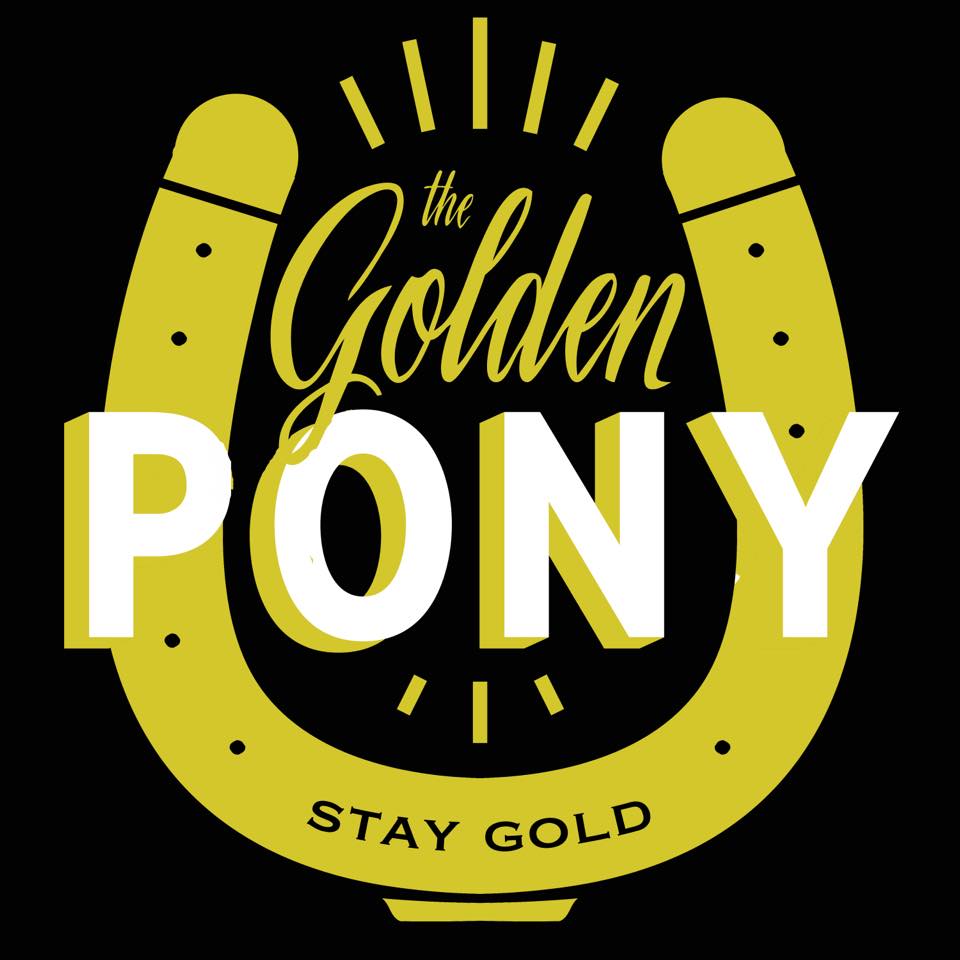 It wasn't just his friends, however, that kick-started the restaurant. Smith helped Somers create an online fundraising page that collected $10,000 in 24 hours. By time the fundraiser ended a month later, that number had tripled. After securing the lease and navigating the arduous process of obtaining an ABC license, The Golden Pony opened six months later on April 3, 2015.
The menu and layout of the restaurant changed, but Somers made sure the community Blue Nile created did not. "When the Nile closed, everyone was super bummed and felt like they weren't gonna be able to see the kinds of shows they had seen before," Somers said. "[The shows] had become a part of their cultural identity here."
In his effort to preserve the ethos of Blue Nile, he chose to keep some of the restaurant's most iconic features. The cherubs painted downstairs are in the same style that can be found on the ceilings of churches throughout Ethiopia, the country with the longest Christian tradition. Another Blue Nile feature Somers insisted on keeping is the blue stone exposed downstairs. Blue Nile's owner, Werk Arefaine, chiseled plaster off the wall with help from a friend to show the wall that Somers calls "one of the most stunning features in the building." The Ethiopian-themed murals remain untouched; he even commissioned a mural of famous Ethiopians on the wall of the downstairs patio.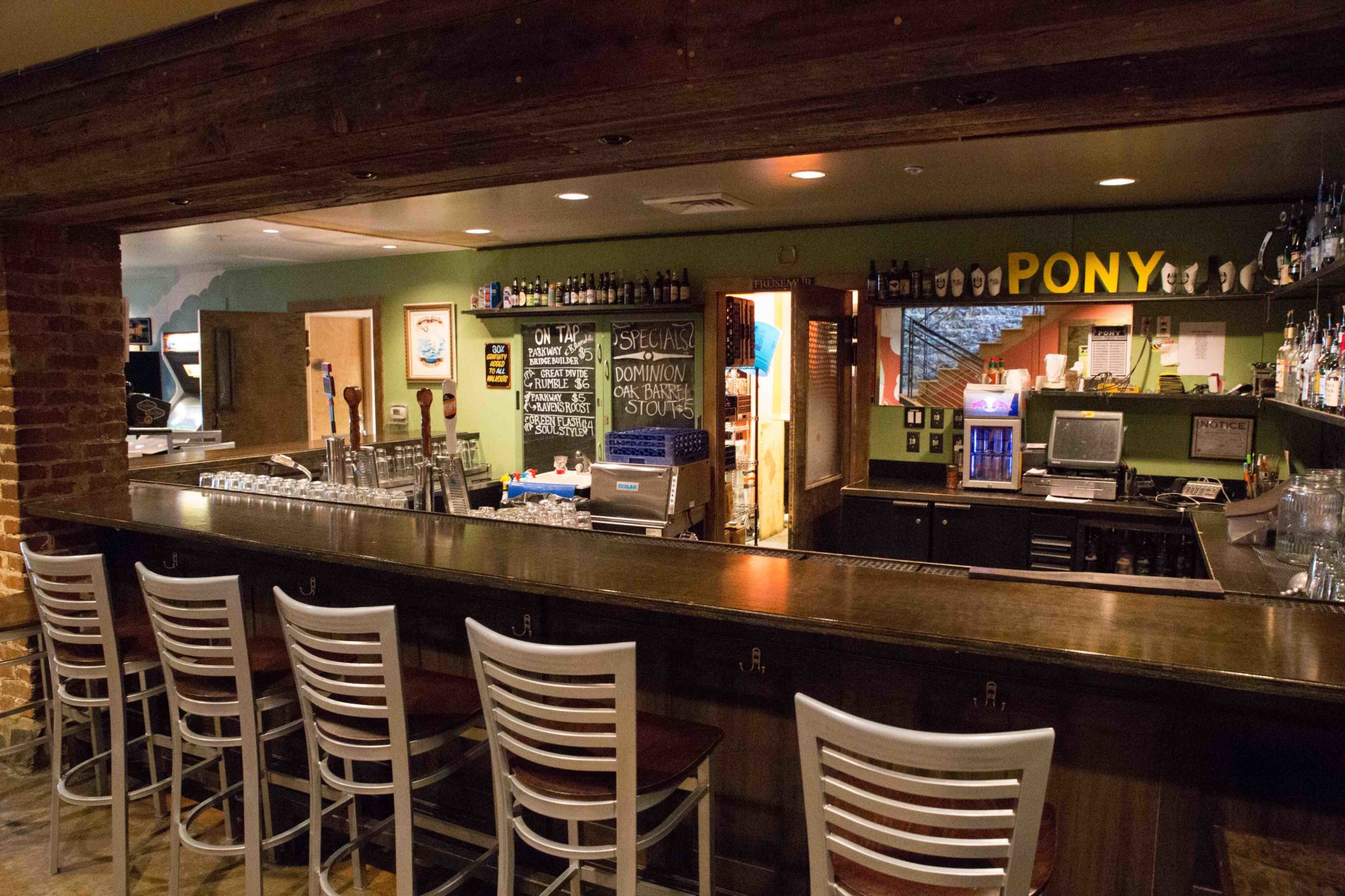 A view of the downstairs bar area

Somers wanted to create a space where live music was paramount. He built on what Blue Nile had started by soundproofing the basement, improving the sound system, and adding a mixing board in hopes of securing more high-profile touring bands. It paid off — he's booked dream bands of his, like H.R. from legendary punk band Bad Brains and death metal torchbearers Obituary, but also acts like Drake Bell and Riff Raff.
"The difference between us and other places that have music is that we go further," Somers said. "We started this to be a music venue, and we've been a music venue every single day since we started."
Money isn't the draw for Somers. Incorporating live music into a restaurant's business plan is risky; there are times when they'll lose money by putting on shows. "It's come at no small expense," he said. "But it's… that's our commitment."
Somers saved the community created by Blue Nile, but he was integral in the formation of another: Harrisonburg's burgeoning hip-hop scene. He began booking shows six months after The Golden Pony opened with limited experience, and he used the opportunity to book more hip-hop acts despite warnings from the police. Nowhere else downtown offered live hip-hop, giving local rappers and fans a space to perform, meet, and hear new music.
"I grew up listening to hip-hop," Somers said. "It's been cool to see the scene grow."
Somers' impact on the downtown Harrisonburg community extends beyond just The Golden Pony. He's curated galleries and instructed classes for Larkin Arts, played in local bands, and even founded the film festival Super Gr8, a competition in which filmmakers are required to shoot their movie with one roll of film on an 8-millimeter camera. It's harder than it looks — everything must be filmed sequentially, and since there's no microphone on the camera, any audio has to be submitted separately with no guarantee it will match up with the visuals. The movies are debuted at Court Square Theater, where audience members vote for categories like best visual, best audio, and best overall.
His impact extends beyond the arts community as well. In 2016, Somers ran for Harrisonburg City Council as a democrat, and while he ultimately lost, he still left his mark. The democratic caucus for city council brought a record number of people to town hall — over 200 in total.
This tight-knit arts community in downtown Harrisonburg is the reason The Golden Pony exists at all. Without the network Somers built in his time here, he never could have secured the lease. He was so afraid of failing to open the restaurant that the only people he told about his plan were his small circle of collaborators. Luckily, the pieces fell into place.
"The more steps I took, the more ways I realized in which it could be done if everything worked out just perfectly," Somers said. "I had this whole beautiful thing only because I had some really great friends that were good at what they did and were willing to help. They were down for the cause."