If you've lived in the Valley for any length of time, you've probably heard of Blue Ridge Architects. And if the name isn't familiar, you've definitely experienced their work. A long-time Downtown Harrisonburg resident, Blue Ridge Architects — recently rebranded as "Blueline" — was founded 15 years ago and has had a hand in designing and building such prominent Downtown fixtures as Turner Pavilion, the Friendly City Food Co-Op, and the JMU wing of the Ice House building. I recently sat down with founder and owner Randy Seitz to talk their newly announced rebranding, their 15-year anniversary, and how the values and culture of Harrisonburg make them successful even as they expand into the national market.
Like many of us who find ourselves putting roots down in Harrisonburg, Randy is originally from the area. He attended college at Virginia Tech, and ended up working in DC and later Indiana after graduation. While those years were fruitful for his career, he eventually found himself wanting to move back to the East Coast. When his wife received an incredible job opportunity with Eastern Mennonite University, the decision was made to return to his hometown.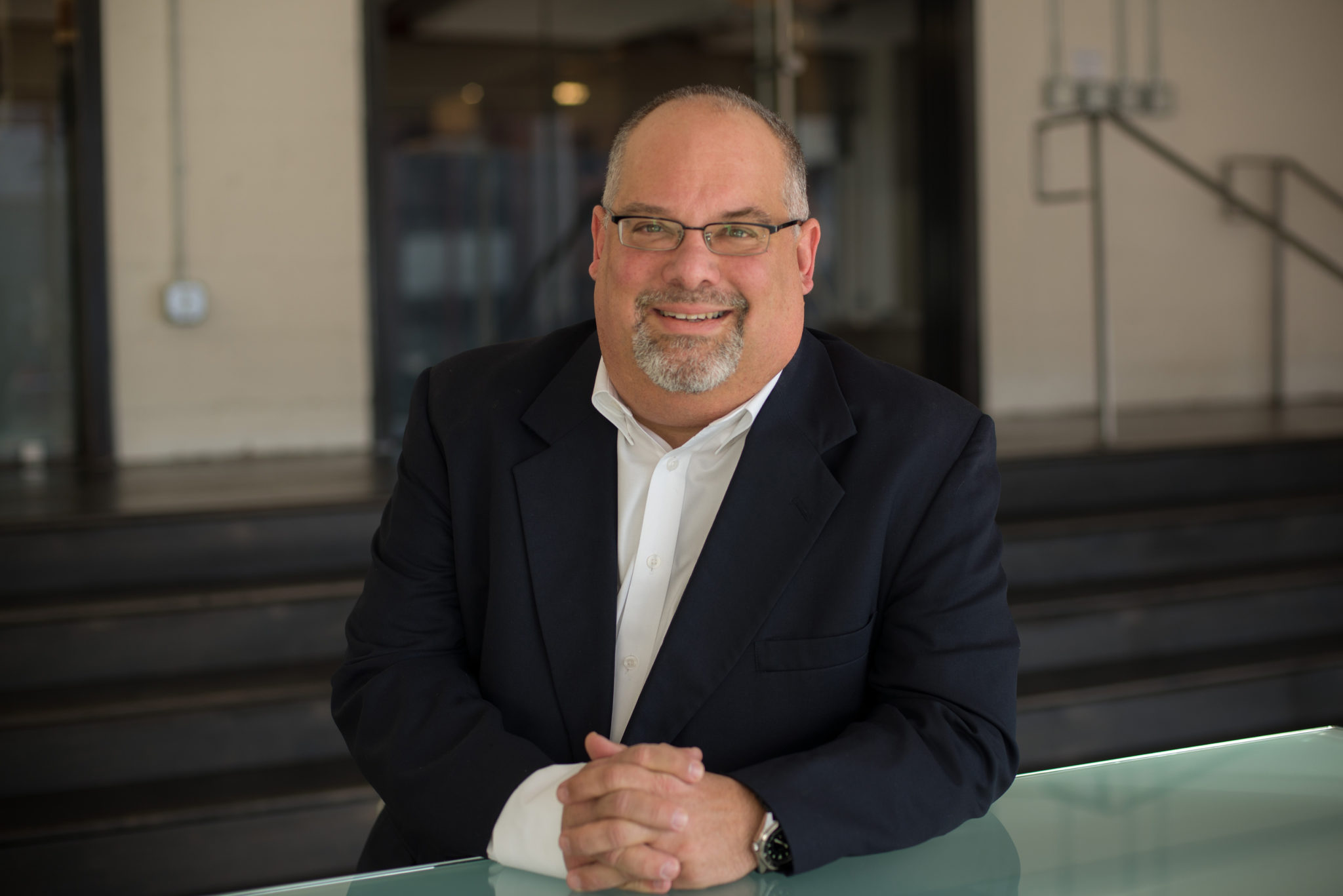 Upon moving back to Harrisonburg, Randy felt that he wasn't finding a good fit with any of the existing architecture firms in the area, so he decided to start his own — and Blue Ridge Architects was born. Downtown since day one, Blue Ridge Architects originally operated on Main Street, where BidWrangler is now. They moved to their current office space on Bruce Street, across from the Ice House, in 2013.
So after all these years, why the new name? As Blue Ridge Architects has grown over the past 15 years, they've expanded both out of the Shenandoah Valley market and also out of the limits of the title "architects." As business continues to expand up and down the East Coast — including Ohio, Pennsylvania, Georgia, and Alabama — Randy found that the "Blue Ridge" name made these out-of-state clients assume they were a strictly regional company.
"I want to build national expertise and a national reputation," Randy told me.
In addition, Blueline's offering has grown to encompass so much more than can be defined simply by "architect." Five years ago, Randy started a second company named Blueline Building Solutions to serve as contractors and builders for projects that Blue Ridge Architects designed. Under the Blueline rebranding, these two companies will be merged into one entity who can provide the expertise needed from start to finish — from strategic planning to architectural design, as well as overseeing builders and connecting clients with contractors.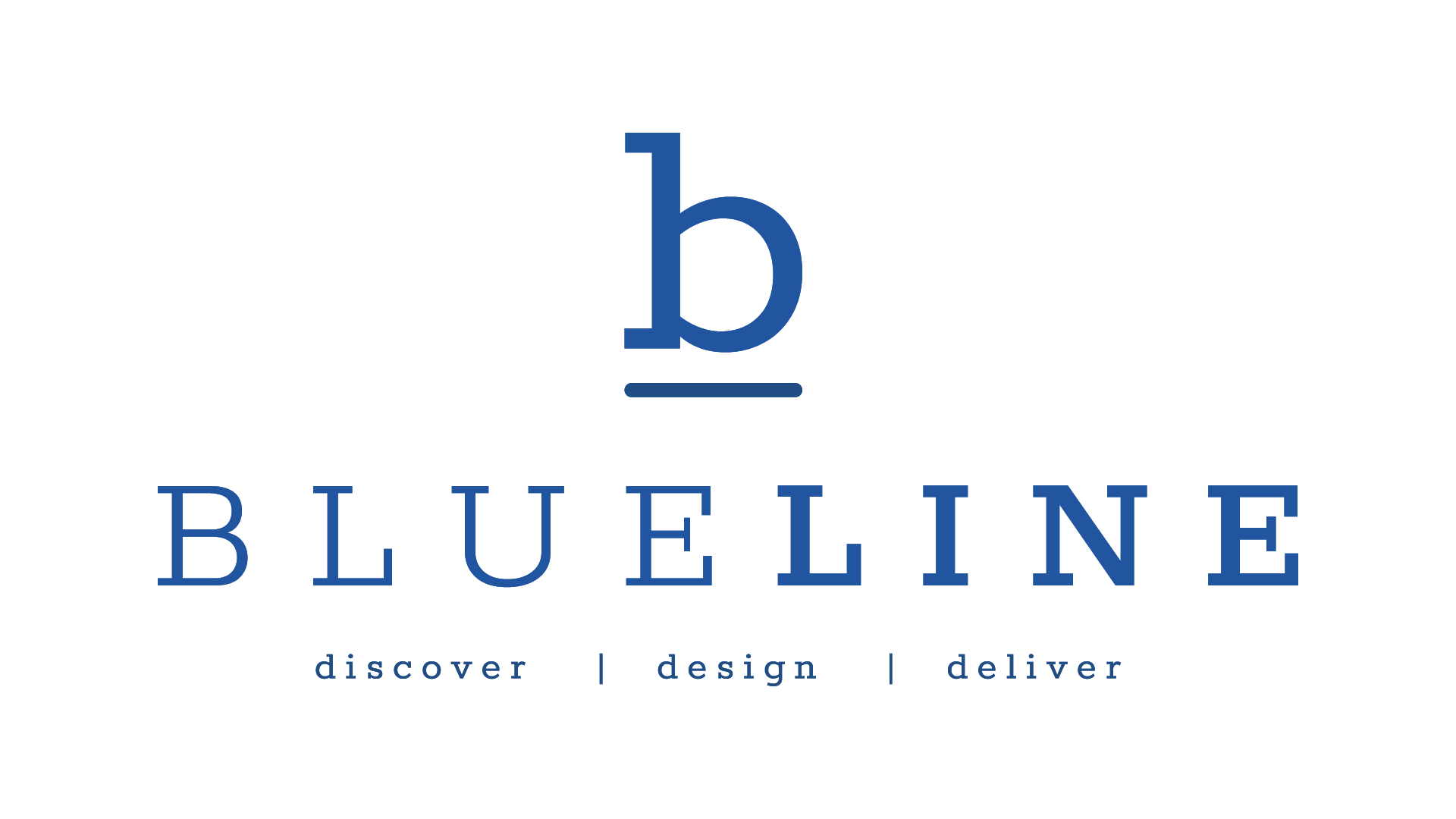 "People are looking for guidance through the whole process from soup to nuts, and they don't think architects are the right people to do that," Randy said, on his decision to drop the "architect."
But a departure from the "Blue Ridge" name doesn't mean Blueline is leaving behind its Harrisonburg roots.
"What has made us successful is the way we serve our clients and the attitude in which we go about our work. That is very deeply rooted in Harrisonburg," Randy said.
"People appreciate that we do what we say we're going to do… [the] down to Earth quality in the way we got about our business, that's because we, as a firm and as people, grew up in Harrisonburg. The values and the culture of Harrisonburg are what make us successful as we expand to a bigger geographic area."
Randy's connection to the Harrisonburg community is also evident in the work that he does both professionally and personally. His architectural work in the Harrisonburg community is primarily focused on church design, which was his area of specialization in Indiana. Moving to the smaller market of Harrisonburg initially caused him to become more of a generalist, but he's worked his way back to focusing on churches over the years — to the extent that they now account for 70% of Blueline's revenue. Other than simply being where the depth of his team's knowledge is, Randy finds churches and mission-focused organizations to be rewarding work as an architect, as the physical building space is such a vital part of being able to serve their community and carry out their mission.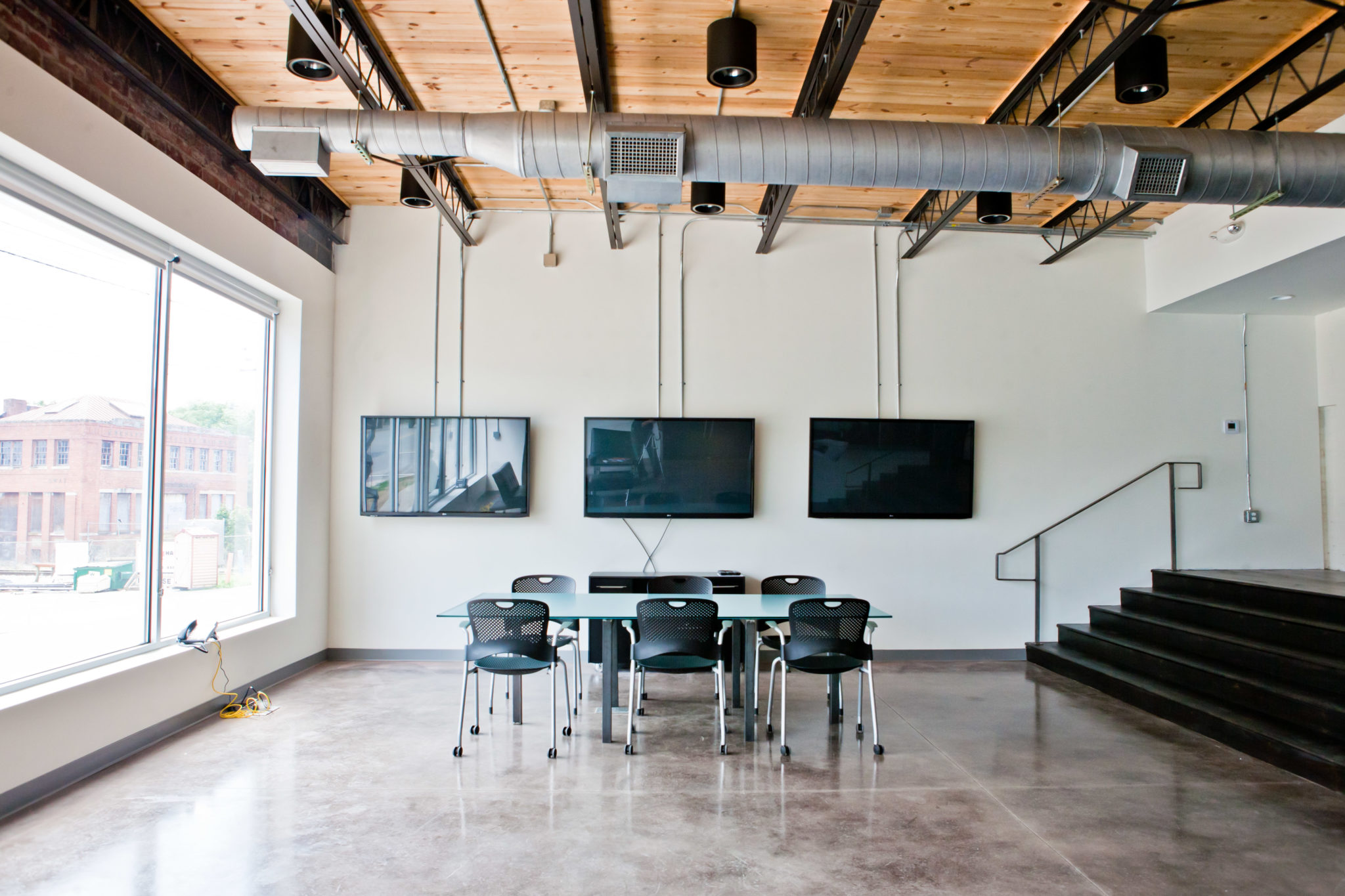 A meeting room in Blueline's Bruce Street office
Randy and Blueline also contribute a great deal of volunteer and philanthropic work to the Harrisonburg community. Randy is on the board of HDR and works closely with us and our Downtown revitalization projects. He's also very involved with Ridgeway Mennonite Church and has raised money towards a Habitat for Humanity build for them — as well as helping out other Habitat for Humanity projects with building permits and plans. He's also done pro bono work for Blessed Sacrament Church, where his staff member Anna Campbell attends and cares deeply for. And, for their 10-year anniversary, Blueline invited 10 different community service organizations to come in and receive free design services, completed by teams of Blueline staff and JMU students. That's not even close to a comprehensive list — Randy listed so many causes and organizations he's contributed to, I could hardly take notes fast enough. Randy's love and support for our community is deeply apparent in everything that he and Blueline does.
With all of that on his resume, what's been Randy's favorite Harrisonburg project to be a part of these past 15 years? He answered with no hesitation — the Turner Pavilion farmer's market.
"Harrisonburg has always existed as a market town. The primary economic engine is agriculture, but farmers needed a place to sell their goods," he explained. "There's an important symbiotic connection between agriculture and in-town commerce."
Randy told me that he and his wife love coming to the farmer's market on Saturday mornings, seeing the hustle and bustle and hearing the music.
"That, to me more than anything, shows me the vitality of Harrisonburg," he said.
With 15 years to his name as a Downtown business owner, I asked Randy how things have changed since he first opened his doors in 2004. Randy's loved seeing the city embrace its diversity and multicultural community, saying that while it's always been an ethnically diverse community, it wasn't always celebrated the way it is now. He also appreciates the collaborative spirit that's grown between city government and residents to help make Harrisonburg a more "whole" community. And, as an architect, he noted that he thinks the development community and HDR have done a great job promoting historic preservation. Or, more simply put:
"The good parts of Harrisonburg have gotten even better."