If you're an ice cream fanatic, you've probably heard that Kline's Dairy Bar celebrated its 75th anniversary this year with events like their 75-Cent Cone Days. You may have even attended their 75th Anniversary Bash at Turner Pavilion a few weeks ago with approximately 3,000 of their biggest fans.
You also know that Kline's Dairy Bar isn't your average ice cream shop. And that's because their hand-scooped, custard style ice cream left your mouth watering the first time you tried it. But, do you know how Kline's got their start, the family legacy they've created, and the lasting impact they've made on the downtown community and beyond?
History and Family Legacy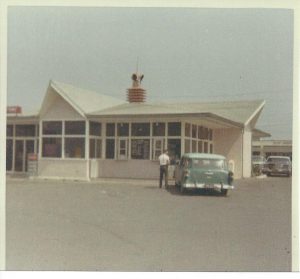 In 1943, John Kline opened Kline's in downtown Harrisonburg with the help of his father, Grover. When John married Bess Kline, she got involved with the business too, becoming the friendly face at the front window until 1994. The Arehart family took ownership in 1979, and siblings Mike and Kim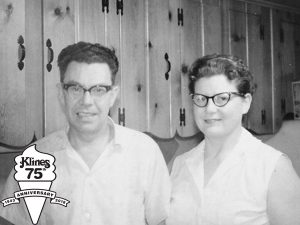 Arehart have expanded the family business to include locations in Staunton and Waynesboro.
Missy Summers, the General Manager of the Wolfe Street location, has been with Kline's for 24 years. She started working at 15 years old, making and scooping ice cream for customers. After working in the mortgage industry for a number of years, she ended up, as she describes it, "coming home," to a business that has been in her blood for generations. John and Bess Kline were close friends with Missy's grandfather, and eventually Missy's mother and older sister started working for the business.
"Though not everyone who works at Kline's now is related by blood, there's definitely a sense of family at our shop," explains Missy. "During the holidays each year, we have a Christmas party which allows for all of our staff members to get to know each other better. It's been a fun tradition we've done for years."
Favorite Part of Working at Klines
Surprisingly, sampling the ice cream isn't Missy and Mike's favorite part of working there. Instead, they truly enjoy offering kids in the area their first-time jobs and helping them learn the ins-and-outs of being employed at a young age. Given that making the ice cream each day is a slow, labor-intensive process, kids are forced to learn the ropes quickly.
"Our shop is ground for kids to come in and learn what it's like to have a job. We love being able to teach them customer service and responsibility, in hopes that they'll take what they've learned here and apply it to their next opportunity," says Missy.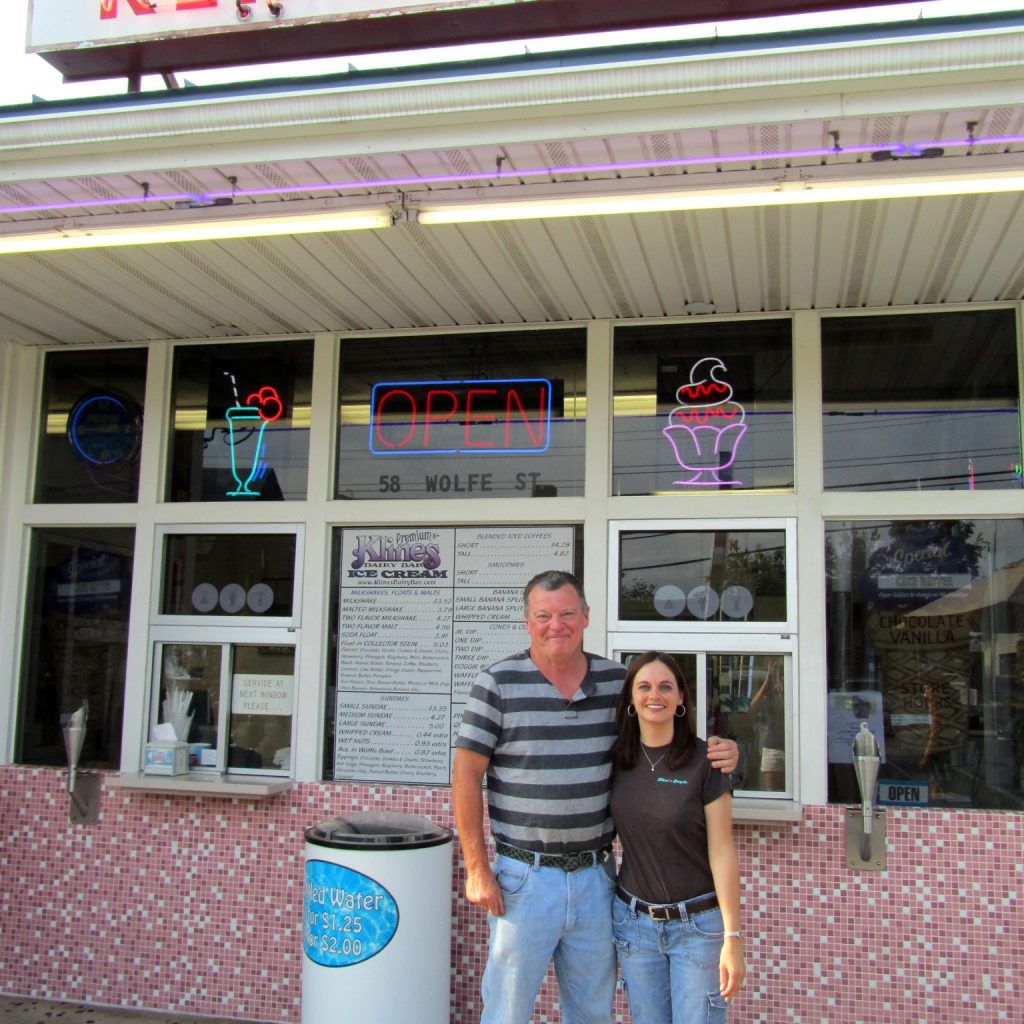 Kline's employs both high school kids in the area as well as JMU, EMU, and Bridgewater students, allowing for a blend of different ages to get to know each other. Just like Missy, many kids who work at Kline's are 'legacy kids' – some with three generations or more. Clearly, parents want to pass down the great experience they had working at Kline's to their children!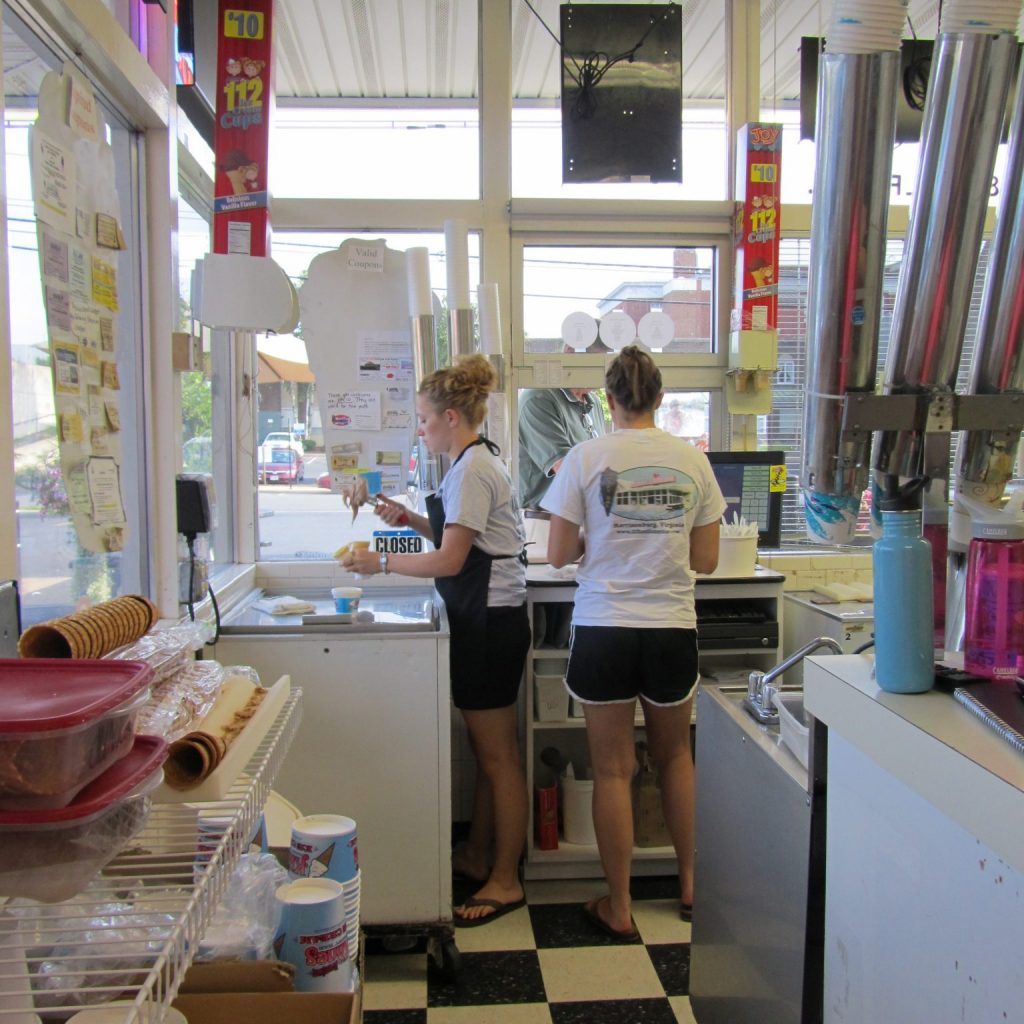 Most Popular Flavors
Can you guess some of Kline's most popular flavors over the years? Black raspberry is always a crowd favorite during any time of year. But coming in a close second is chocolate peanut butter, peanut butter, cookies and cream, and brownie batter, which never disappoint. Kline's experimented with a new flavor this year called "cookie crunch" – a mix of M&Ms and crushed Oreo over vanilla ice cream, and it ended up being a big hit among JMU students and locals alike.
"Sometimes we have a bit of a cult-like following for certain flavors. Our lemon gingersnap flavor, for example, has some die-hard fans that get very upset with us when we run out!" Missy jokingly explains.
Though spring and summer are Kline's busiest times, they've expanded how long they stay open throughout the year because of their popularity during all seasons. As one would expect, the pumpkin and peppermint flavors are always huge hits during Thanksgiving and Christmas, respectively.
75th Anniversary Bash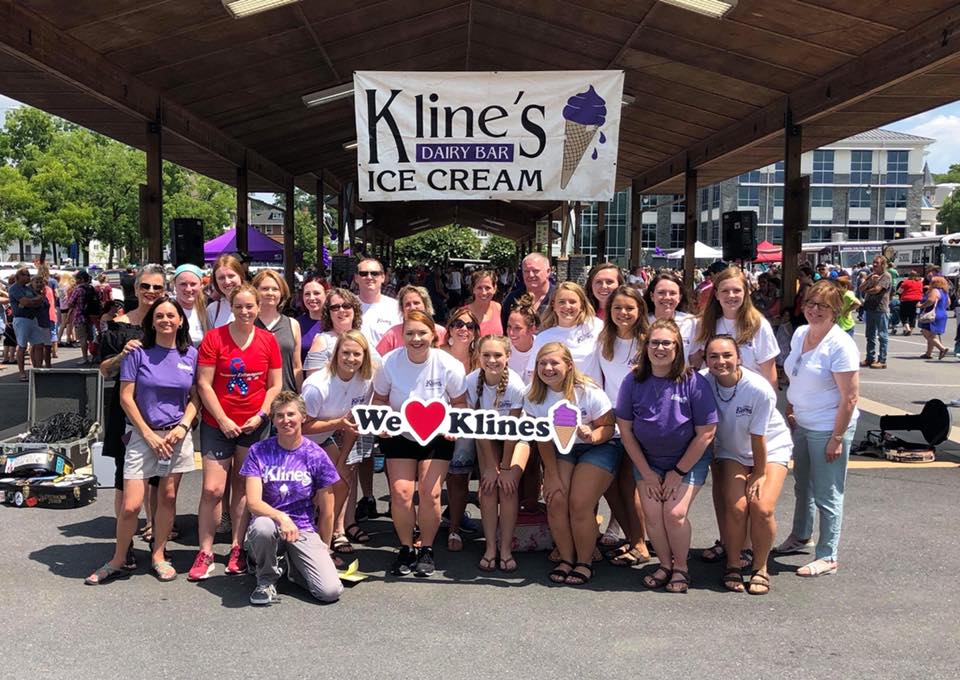 A few weeks ago, Kline's hosted their 75th Anniversary Bash at Turner Pavilion & Park to thank the Harrisonburg community for its support over the years. The family-friendly party included free cake and ice cream, live music by Many Nights Ahead, food trucks, and kids activities, all to celebrate a great 75 years in the Valley.
To solidify Kline's 75 years, Virginia Senator Mark Obenshain of Harrisonburg presented Kline's with a 75 Years resolution from the Virginia State Senate to recognize them for being in business for so long. 
The fun-filled bash also encouraged employees from past and present to get together again. They even took a group photo altogether to signify their wonderful employment at Kline's!
Block Party Gets Students Hooked
One of Kline's best turnouts throughout the year starts with the JMU school year at an event known as "Block Party in the 'Burg." Every year, HDR hosts this event to introduce JMU freshmen to downtown Harrisonburg. Orientation leaders always make a point to bring the students to Kline's during the scavenger hunt portion of the event, and not surprisingly, the kids are hooked throughout all 4 years.
"Each year, we set up a tent giving students samples of our different ice creams, and we usually have lines backed up all the way to South Main St. The event is 2 hours long, and always has a great turnout!" says Missy.
This year, the annual Block Party will take place on Saturday August 25th. JMU students, get ready to toast your cones to the longest standing ice cream shop in downtown Harrisonburg for their 75th anniversary!
---
Written by Susie Patrick. Susie is a recent graduate of James Madison University and worked as a marketing intern at HDR throughout her senior year. She continues to write for HDR's blog from time to time.