By Katie Mitchell / Photos by Philip Meador: If you ask a small child what they want to be when they grow up, they often have very creative answers, like "ice cream taste tester" or "ninja mermaid." I once had a dream of being a backup singer for Pat Benatar. Usually, however, we don't wind up doing what we dreamed of as a child. If we're lucky, we can earn a decent living and once in a while, taste a new ice cream or find a karaoke joint. Sara Christensen, the fantastic human behind The Lady Jane on S. Main Street, dreamed as a child of owning a shop, even though she knew she'd be a school teacher.
After earning her masters degree in elementary education from JMU in 2009, Sara accepted a job as a 4th grade teacher. She loved teaching right here in the Shenandoah Valley, and she loved her students, but that childhood fantasy kept ringing in the background. After a couple of years, Sara decided to take a break from teaching and see about opening a little shop. A mere month after leaving her classroom for the last time, The Lady Jane opened its doors, and Sara has cultivated not only a successful business but also a lasting and meaningful connection with the Harrisonburg community.
The teacher in her still lives, though — she stays involved with local youth through Big Brothers Big Sisters. And some of those 4th graders she taught all those years ago are now students at JMU, who come into the shop and cry "Miss C!!!" and remind her of the time she did cartwheels down the school hallway. You will frequently hear Sara laughing and chatting with customers who come into her cozy shop wedged between Jimmy Madison's and Oasis Fine Art & Craft. Sara loves being in the shop and interacting with people. As she puts it, "Working at The Lady Jane feels like I've been playing hooky for the last 8 years." And it shows. The space is visually interesting and charming, but it's also peaceful, uplifting, and relaxing. She has somehow tapped into an emotional need of her customers, a need to come in and feel welcome, to linger and feel unhurried, to laugh out loud at her eclectic assortment of greeting cards. Retail spaces don't usually have a calming effect on me, but her shop is a sort of respite — it's like hanging out with Sara at her house. Sara seems puzzled at why her store has this effect, but it's no mystery. Yes, it's the wall of greeting cards that allow a customer to care for a loved one. Yes, it's the one-of-a-kind gifts, like the "Please Leave By 9" cross stitch kit. Yes, it's the zillions of items hand made by local artisans. But mostly, it's Sara. The same desire to nurture people that led her to teaching infuses the shop. Sara oozes empathy — it's palpable and immediately disarming. That energy is present on every shelf and dispay case and inch of her space.
Snapshots from inside The Lady Jane
If you've ever been there, you know the space is not just for humans. On any given day, you might see her beloved and locally famous dog, Lulu, who just celebrated her first birthday at the shop with  birthday cake and all her dog friends, or a cat or two that Sara is currently fostering. Growing up, Sara's love of animals grew out of her mother's devotion to homeless pets. As an adult, she has continued to be a champion for cats and dogs in need of a family. After moving in to the current space, Sara and her then shop mate Amanda Tutwiler of Sparrow's Floral Design noticed that Cat's Cradle was right across the street. The pair wondered if it would be possible to foster animals inside The Lady Jane. So, "we literally walked across the street and asked." It wasn't long before the shop served as a foster home to some furry friends. It turned out to be a great idea, and customers embraced the addition of the fosters to the shop. Sara explains, "As soon as they see an animal, their guards come down and suddenly it's okay to get down on the floor and play." Fostering animals has given Sara a new level of purpose in her own life and has resulted in numerous new friendships with other animal owners. Moreover, Sara's animals perhaps get a little more love and attention than before, and so far, The Lady Jane is responsible for 29 animal adoptions. Kids all over Harrisonburg now refer to Sara as "that cat store lady."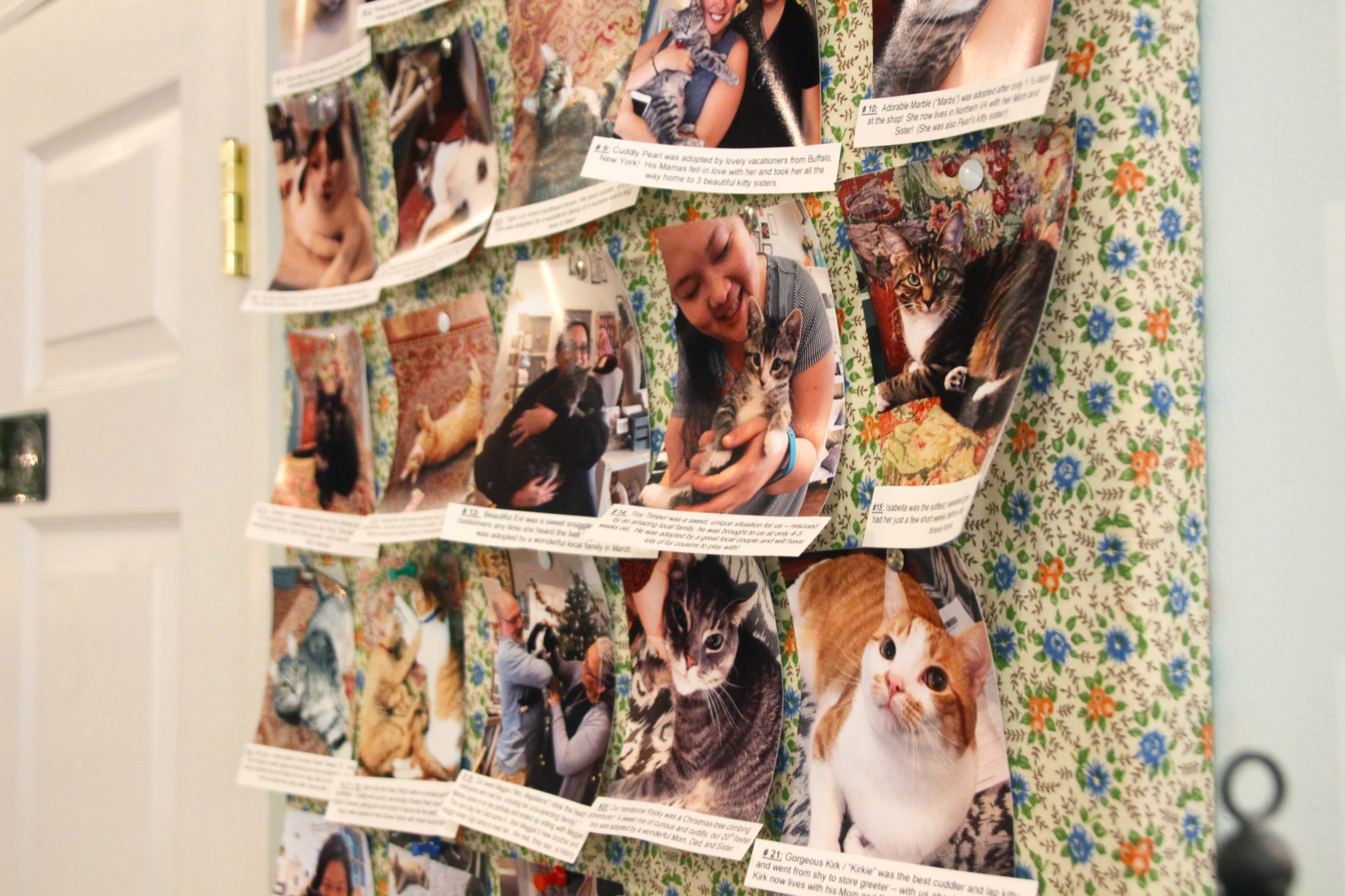 A board displayed prominently in Sara's shop, showcasing all of the cats who have found homes thanks to The Lady Jane
Sara marvels at how much Downtown has grown and changed since she opened her store. Five or ten years ago, people might have come downtown just to eat dinner, or just to make a quick trip into a store. "Now," Sara explains," people can come downtown for an entire-day experience." She refers to Downtown's expansion and diversity as a "garden," a place that nourishes everyone. While she misses Earth & Tea Cafe and longs for another congregational space where people can just gather for the sake of gathering, she notes that there's no shortage of communal events downtown, like trivia or open mic, karaoke or game night, educational events, concerts, or art openings, on any given day. Her home is not a number of square feet, or lumber or walls; it is the people who surround and interact with her each day.
Take some time this week to go visit Sara at The Lady Jane. Valentine's Day is coming and she has the best selection of funny, friendly, and romantic cards and gifts for your Valentine or Galentine. Or love yourself and buy something just for you. Or just go in there and introduce yourself. Sara would love to meet you.
The Lady Jane is located at 117 S. Main Street and is open Tuesday – Saturday 11 – 6pm, and Sunday 12 – 4pm.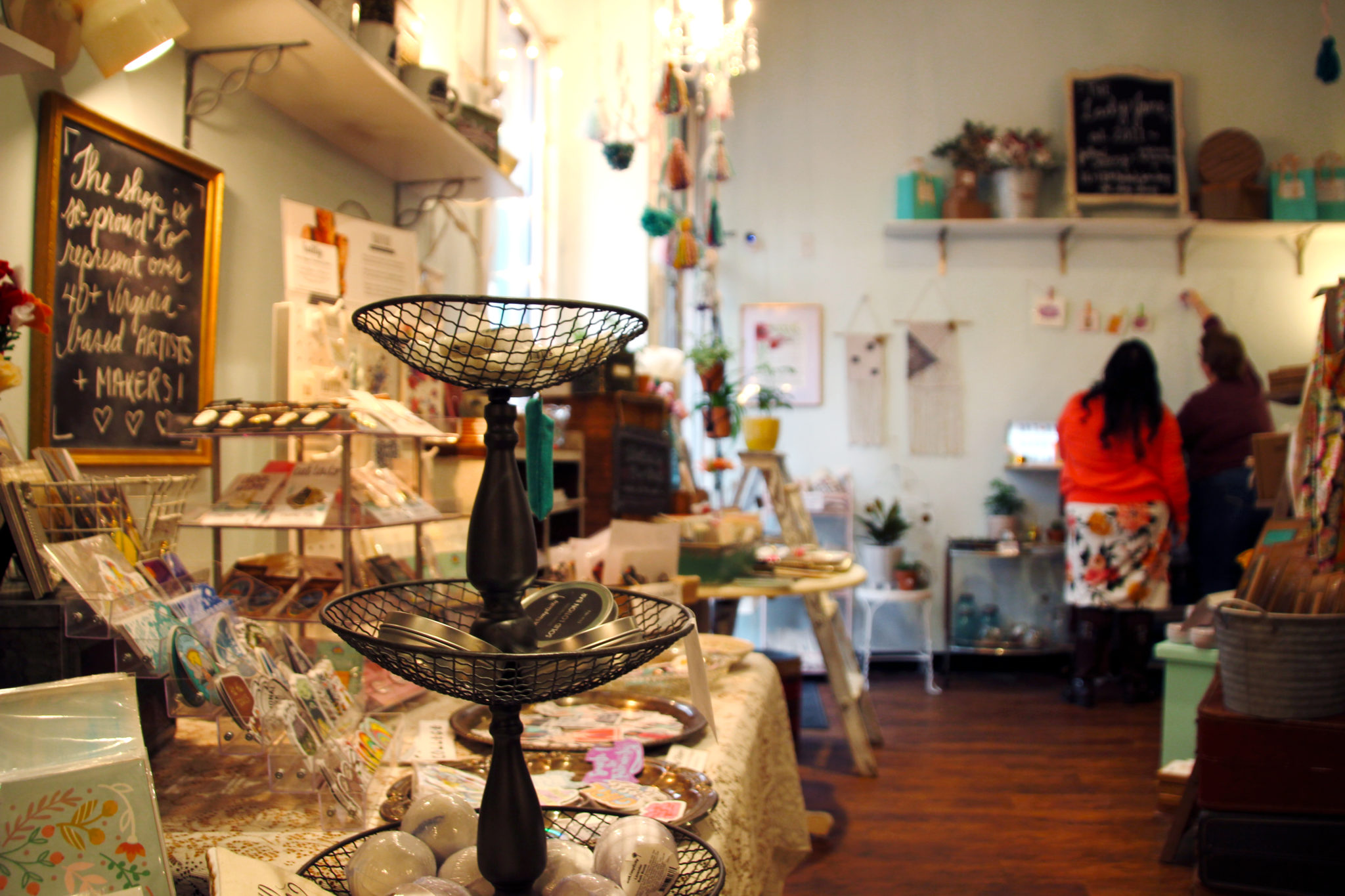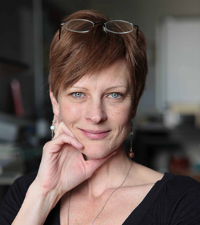 Katie Mitchell is a mom, educator, and writer who has called Harrisonburg her home since 1993. She loves books, beer, fire, sunsets, spicy things, trees, water, live music, and unexpected naps. She is the writer and founder of Harrisonburg's popular blog I Love My Burg and is currently working on her Masters Degree in Communication and Advocacy.
Photography courtesy of Philip Meador.