After 18 years in the Burg, there's a lot we've come to love about Shenandoah Bicycle Company: the well-apportioned showroom filled with neat rows of bikes and accessories, the upbeat and helpful staff who will answer any question, keep you informed of local cycling events, or simply engage in a friendly conversation, and the fast and competent service for whatever's ailing your bike. We've also come to love the simple fact that they're still there, one of just a few businesses who have weathered two decades of changes to our ever-growing downtown. Co-owners Tim Richardson and Thomas Jenkins opened SBC in 2000, after working in a bike shop together in the early nineties.
If you haven't been in SBC recently, your visit will reveal a host of exciting upgrades. You'll still find your favorite brands of bikes — Trek, Ibis, Electra, and more — plus helmets, shoes, "Darn Tough" socks, and Camelbaks. You'll see tools, tires, and apparel. And you'll find assorted pouches, seat packs, bags, racks, baskets, and any other mechanism you might need for carrying your stuff on your bike.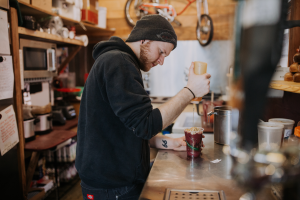 On the right side of the shop still sits PULP, the Organic Acai Bowl and Smoothie Bar that opened 6 or 7 years ago, where you can still build a big beautiful bowl of superfoods and antioxidants. But now, you can also order nachos and a beer! When I was there, they offered Pale Fire's Arrant IPA on draft, plus six additional canned beers: Basic City Sixth Lord IPA, Ballast Point Victory at Sea Porter, Red Stripe, Coors Banquet, Brothers Craft Brewing Great Outdoors, and Blue Mountain Full Nelson. You can sit with your bowl or nachos or beer at one of the four high top tables in the light and breezy cafe area, or you can take your snacks and drinks out back to their new patio! Yep! The enlarged brick paved area with seating just behind the shop to include an provides a safe and smoke free outdoor space that welcomes families and folks of all ages. Large trees, an arbor, and soon-to-be-installed canopies provide shade, and twinkle lights and beautiful planter boxes built by Tim make the space even more inviting.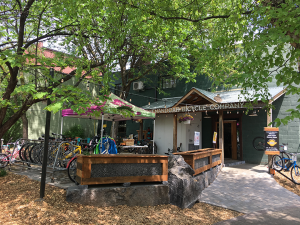 Partly inspired by parenthood and an awareness that businesses should do what they can to make families feel welcome, and partly motivated by the foot traffic that passes the shop every day between the parking deck and Main Street, Tim and Thomas describe these upgrades as a way to be unique (to attract new business) and reliable (to preserve current business). They also want the hordes of traveling cyclists who descend on Harrisonburg all year long to feel like they have a base, a place to go for repairs, for support and sustenance, and for a familiar face.
SBC's efforts to increase cycling culture in Harrisonburg reach quite far from their little shop on Main Street. About a year ago, SBC formed a partnership with JMU's UREC by opening an SBC branch inside the newly remodeled JMU facility. The branch serves as a second repair site and offers pickup and delivery on campus and loaners for students while their bikes are in the shop. As a result, more and more students are using bicycles as their primary modes of transportation, and recreational riding among college students has also increased through campus-organized riding opportunities for which students can borrow one of 25 or so mountain bikes.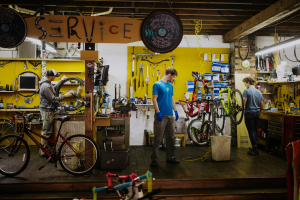 Shenandoah Bicycle Company hosts countless community events, too, some in conjunction with Shenandoah Valley Bicycle Coalition, like Women's Rides, Fast Road Rides, Social Road Rides, and Friday Fatty Mountain Bike Rides. You can consult their events page and be informed about daily opportunities to hop on your bike. May is Bike Month after all, so now's a great time to try out cycling or improve your cycling game. Here are some events this month you might enjoy:
May 16 // Harrisonburg Ride of Silence (in honor of cyclists who've been killed or injured while riding on public roadways)
May 18 // Bike Everywhere Day (a day-long celebration of non-motorized transportation that starts bright and early with breakfast on Court Square)
May 19 // Spring 2018 Metric Century Ride (a 62-mile ride that starts at EMS)
Shenandoah Bicycle Company is located at 135 South Main Street. They're open Monday – Friday 11am – 7pm, and Saturday 9am – 4pm.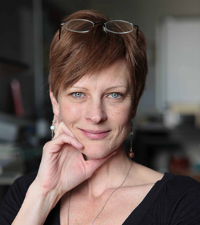 Written by Katie Mitchell. Katie is a full-time teacher, mom of two, and founder of the popular blog, I Love My Burg.
Photos of Shenandoah Bicycle Company: Katie Schmid, The Commoneer.