We're just a few days out from HDR's brand new event, the Downtown Dinner Party, which is taking the place of Renaissance Night. For HDR's 15th Anniversary, we've decided to team up with the Sub Rosa Supper Club event team for a festive and food-filled night in the heart of downtown Harrisonburg. The event will feature an elegantly transformed Turner Pavilion with 15 curated bar and tasting stations from downtown restaurants like you've never seen them before and 15 incredible experiences to be auctioned off to the highest bidder. Plus, there will be music by DJ Ryan Clark, The Rosy Co. vintage photo booth trailer, craft cocktails and more!
Be ready to raise your bid numbers up high to support HDR and go home with some really unique experiences. Plan ahead with some friends and coworkers and go in on your favorite item together. The live auction, sponsored by WHSV, begins at 9:30pm! Here's your chance to find out what will be auctioned off at the party:
Brew Your Own Private Label Beer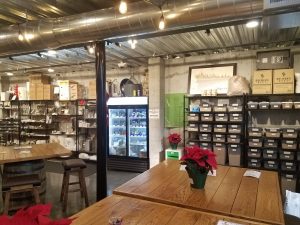 Brew your own batch of private label beer in a private brewing session at The Friendly Fermenter—Harrisonburg's first brew-on-site brew shop and nanobrewery. The brewing session will yield up to 10 gallons or 4 cases and you can choose up to 2 styles of beer and bring a few friends along to help you. But that's not all—Matt Leech, well-known for his awesome Brothers Craft Brewing label designs, will create a custom label just for your beer! This auction item is perfect if you've got a wedding, anniversary, or big party on the horizon.
Donated by Shawn Gatesman, The Friendly Fermenter, and Matt Leech, Matt & The Leeches. Expires 12/31/2018. Please allow several weeks for your label to be designed after meeting with Matt.
Private Art Gallery Dinner by Hotel Madison Chefs
Surround yourself with sensory pleasures—art, music and food—for a private 8-person dinner party at the gorgeous Smith House Galley, home of the Arts Council of the Valley. Dinner will be prepared by Hotel Madison Executive Chef Michael Collins & Chef Brian Bogan, Jennifer Sodikoff will style a stunning dinner table, and guitarist Mark Whetzel will provide acoustic dinner music to set the mood for a truly elegant evening.
Donated by Hotel Madison and Shenandoah Valley Conference Center and Arts Council of the Valley. Expires 12/31/2018.
Plein Air Painting and French Picnic in the Orchard
Plein air painting was made popular in the mid-19th century by French Impressionists who painted outdoors, directly on the canvas and without photographs. Local Harrisonburg artist Erin Murray will teach a 3-hour private plein air painting lesson for 4 guests in the orchard at Old Hill Cider. Guests will enjoy a catered French-style picnic from Heritage Bakery & Cafe. NOT a paint-by-number class, Erin will give you tips and tricks to create your own masterpiece whether you have never painted before or have lots of experience.
Donated by Erin E. Murray Fine Art, Showalter's Orchard, and Heritage Bakery & Cafe. Includes all necessary painting supplies. Date to be agreed on by artist and participants. Expires 9/30/2018.
25-piece Original Pottery Set and Lessons
Imagine how stunning your next dinner party will be served on this original pottery by artist Kassy Newman. The set of six dinner plates, salad plates, bowls, wine tumblers and large serving bowl, is glazed in one of her signature styles resembling the mountainscapes of the Shenandoah Valley. There's more—learn the basics of wheel-thrown pottery, trimming and glazing from Kassy in 6 private lessons for up to 4 people.
Donated by Kassy Newman. Expires 12/31/2018. Lessons must be arranged with the artist and participants.
Guided Day with Mossy Creek and Overnight in Jacktown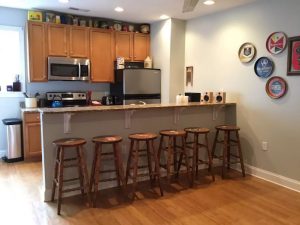 Experience the best fishing guide service in Virginia on this full-day fishing trip for 2 anglers. Mossy Creek guides will take you fly or spin fishing for the day. Individuals without previous fly fishing experience will have instruction provided in the morning and then will fish the afternoon. After your day on the water, come to Jacktown and enjoy a $50 gift card at Jack Brown's or Billy Jack's. And once you've toasted your catch over dinner and beers, head upstairs for an overnight stay in the new 3-bedroom Jacktown Loft. The loft sleeps 6 and has a fully-stocked kitchen, Wi-Fi, smart TV and a 6-pack of local brew in the fridge when you check in!
Donated by Mossy Creek Fly Fishing and Jack Brown's & Billy Jack's. Date must be arranged between all parties. Expires 12/31/2018.
Romantic Downtown Getaway
Start the night out by matching an outfit to this gorgeous sterling silver and blue sapphire Victorian cuff bracelet designed and donated by Hugo Kohl. Then head to the Local Chop & Grill House and enjoy dinner for two before making your way to the gracious Joshua Wilton House for a romantic one-night stay and gourmet breakfast in the morning. The perfect way to celebrate an anniversary, promotion, or just because!
Donated by Hugo Kohl, Local Chop & Grill House, and Joshua Wilton House. Alcohol, tax and gratuity not included and reservations are recommended for dinner. Overnight stay based on availability and two weeks advance notice for reservation required. Expires 5/15/2019.
Walking Roots Band and Gourmet Farm Dinner for 12 at Second Mountain Farm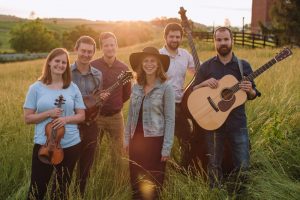 Make your way to the foothills of Second Mountain for a bountiful farm-to-table dinner on Second Mountain Farm, a certified organic vegetable farm and Harrisonburg Farmer's Market vendor. Enjoy music from The Walking Roots Band, a local acoustic-Americana, folk, bluegrass, and roots music group who pioneered the up-and-coming genre "folk-rap." An idyllic and beautiful setting to connect with food, music and friends on a warm summer night.
Date must be arranged with all parties and is available late summer to early fall, 2018.
Townie Summer Riverside Escape and Low Country Shrimp Boil for 12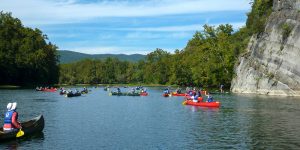 Enjoy a day out of town on the South Fork of the Shenandoah River kayaking, fishing, swimming or relaxing on a beautiful riverside private property. When evening comes, enjoy a traditional low country shrimp boil and gourmet s'mores bar around the fire-pit. Perfect for families with kids of all ages or an adult fun day!
Extra guests can be added for an additional fee and date must be mutually agreed on by all parties. Kirsten Moore, Amy Nesbit, and Taste. A Food Company. Expires 10/01/2018.
Private Off the Eaten Path Ride and Farm Dinner or Cookout for 10
Get in on the action before the awesome ride series Off the Eaten Path begins where guided bike rides end up at a local farm for a farm-to-table dinner. For this event, you can choose your style of riding. Choose a road ride and you'll traverse some of the most beautiful back country roads on the way to Radical Roots Farm for a gourmet family-style farm dinner. Mountain biking more your speed? Hit the Western Slope trails and end with a fire festival of grilled local meat and your favorite beverages.
Extra guests can be added for an additional charge and date must be mutually agreed on by all parties. Donated by Off the Eaten Path. Expires 11/01/2018.
JMU Tailgate and Football Home Opener Tickets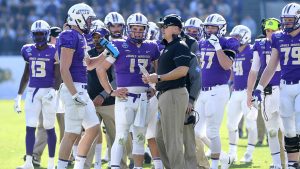 Are you ready for some football? James Madison University Football has donated 12 game tickets to the season home opener on September 15, 2018 along with 2 parking passes in R1 for tailgating. Catering by Urgie's Cheesesteaks will make it the best party in the lot!
Donated by JMU Sports and Urgie's Cheesesteaks. Must be used for the 9/15/2018 game.