With summer quickly approaching, kids all over the Valley are getting excited for summer camps, pool parties, the beach, and hanging out with their pals! Let's be honest, who doesn't love summer?
Though summer is great, it can sometimes be difficult to keep the kiddos occupied every day. That's why we've prepared a list of downtown destinations, camps, and activities for you.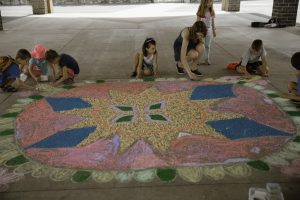 Fun Downtown Destinations
Activities
Harrisonburg Fire Department Museum
Do your kids ever hear a firetruck go by and ask, "How do those firefighters do that?" Open 9am-4pm Monday through Friday, the Harrisonburg Fire Department Museum offers an extensive display of fire department memorabilia such as uniforms, medals, equipment, old fire alarms, and photographs to answer some of your kids' questions about these heroes in our community. The museum also features touchscreen devices that present fire scenarios to teach your kids what to do if a fire happens. Not only does this museum teach your kids about fire safety and the history of Harrisonburg's fire department, but it's free!
Massanutten Regional Library
Take your kids to Massanutten Regional Library to find a good book! It's super important to keep your kids reading over the summer, even while school's out, and the library allows them to cozy up with a good book, or take one home for a few weeks. Whether you need something to do downtown or want your kids reading during your trip to the beach, Massanutten Regional Library has you covered.
Meridian Books and Games
Meridian Books and Games offers kids plenty of ways to stay occupied this summer. With their wide selection of small graphic novels, art books, and games, your little one is bound to find something to play with and get excited about this summer. Many of their books are educational as well, so this is the perfect store for your kid to keep reading while out of school.
Harrisonburg Farmer's Market
Every Saturday at Turner Pavilion & Park, the Harrisonburg Farmers Market is out from 9am-1pm, with vendors selling a variety of locally sourced produce, meat, bread, candles, jewelry, art, and more. The farmers market is a great way to teach your kids about where food comes from and the importance of supporting local farmers.
Glen's Fair Price Store
Glen's Fair Price is a child's paradise. With costumes, toys, knick-knacks, and more, your kid is bound to find something they'll love to play with. Grab some costumes and props and inspire your kids to put on a neighborhood play, or create a fun project.
Arts and Crafts
Horizon Gifts
Horizon Gifts is a great way to teach your kid about rocks, gems, and fossils. They also have board games for your kids to pick out and enjoy. Encourage your kids to create a treasure chest out of a shoebox or other container for them to put their new finds in. It may even be fun for them to have a "Buried Treasure Party" where they can create a map with their friends around your yard or neighborhood!
Trendy Glass & Beads
Another great place for arts and crafts is Trendy Glass & Beads, which offers all the materials you need to create a necklace, bracelet, anklet, and more. Take your child in to pick out a few strings of colorful, summer beads and some wire so they can make a fun necklace to wear to camp!
Games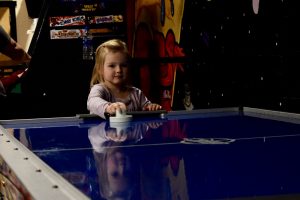 Ruby's Arcade
Open Tuesday-Friday at 11:30am, Ruby's Arcade is the perfect spot to take your kids to play games while treating them to lunch or dinner. With games like duckpin bowling, billiards, darts, ping pong, and air hockey, everyone is bound to find something they want to play! Plus, Ruby's holds different tournaments every Wednesday featuring games like foosball, chess, and Super Smash Bros. Ruby's also has a large menu featuring many kid-friendly items, including their famous wood-fired pizzas, sandwiches and subs, appetizers like wings and nachos, and dessert.
The Golden Pony
Every Tuesday from 5-9pm, kids eat FREE at The Golden Pony! After a long day at work when you don't want to cook, this is the perfect option to relax while your kids play some pinball. The Golden Pony offers burgers, pizzas, grilled cheese, and PB&J for your kiddos to enjoy.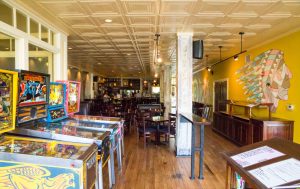 Restaurants
Benny Sorrentino's
Who doesn't love a slice of pizza on a beautiful summer day? Benny Sorrentino's offers HUGE slices of pizza that kids go crazy over. Take your kids and their friends to Benny's and order a 28" pie to sit outside with!
Artful Dodger
Open every day at 8:30am, the Artful Dodger welcomes all for a fun breakfast. They offer plenty of dishes from breakfast sandwiches to French toast to pancakes, and to top it off, their famous "Pot 'o' Tots," which is a bucket of tater tots with special sauce to dip into.
Little Grill Collective
If your kids are big pancake people, the Little Grill is the way to go. Flavors like their "Lemon Poppy Seed" or "Blue Monkey," which features blueberries and bananas, are sure to get your kid excited for breakfast. They also have toppings like chocolate chips for a treat!
Sweets and Treats
Mandy's Candy
Summer isn't complete without candy! Located in Agora Downtown Market, Mandy's Candy is a kid's paradise, with candy ranging from past to present. Cotton candy is also available as a fun treat while you're strolling through downtown. They also offer customized gift baskets perfect for a birthday party. Stop by and let them pick out their favorites.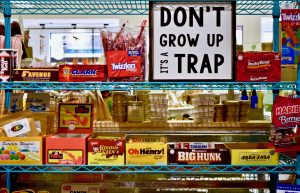 Shirley's Gourmet Popcorn
Need a sweet snack for the park? Shirley's Gourmet Popcorn is tasty to munch on, especially with all their fun flavors like "Caramel to Die For" or "Klondike Crunch." Here are Shirley's flavors of the month through the summer:
May – Dark Salted Caramel and Jelly Bean
June – Birthday Cake and Caramel Nut Cluster
July – Chocolate Almond and White Cheddar
August – Buckeye and Windy City Style
Kline's Dairy Bar
Ice cream during the summer is a must. Kline's Dairy Bar is the place to go for hand-spun, creamy ice cream. Here are their flavors of the week at their downtown location (58 E. Wolfe St) for the next 2 months:
May 17th – Mint Chocolate Chip
May 24th – Red Raspberry
May 31st – Blueberry Cheesecake Swirl
June 7th – Cake Batter
June 14th – Chocolate Peanut Butter
June 21st – Peach
June 28th – Black Raspberry
Bella Gelato and Pastries
Another fun option for a cold treat is Bella Gelato. Bella Gelato switches up their flavors seasonally, and makes their gelato by hand on-site using milk from Mount Crawford Creamery. Or, if you want a quick breakfast, Bella Gelato has tons of beautiful pastries, including macaroons and chocolate eclairs.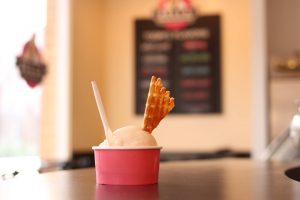 Bittersweet Bakery
Speaking of pastries, Bittersweet Bakery has a wide variety of specialties, ranging from savory to sweet flavors, to fulfill your kid's sweet tooth. Pastries like cake balls, fudge brownies, and blondies and chocolate chip, snickerdoodle, and peanut butter cookies are just a few crowd favorites. And you can't forget about their soft pretzel nuggets or pepperoni rolls!
Heritage Bakery and Café
Located in the Hardesty-Higgins House Visitor Center, Heritage Bakery offers new pastries and treats every day to keep customers on their toes! Their pastries range from muffins to sweet breads to mini cupcakes and more, and they even have a "Kids Corner" featuring items like PB&Js and Nutella Banana snacks.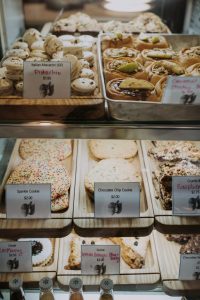 Summer Camps
Explore More Discovery Museum
Explore More Discovery Museum invites kids of all ages to participate in their summer camps from June to August. They have camps for two age groups –  Junior Explorers (ages 3 ½ to 5) and Master Explorers (rising grades 1-8), including sessions such as "Run the Newsroom," "Escape Room Design," "Discovery Theater," and "Little Scientists' Lab," to name a few. Each camp is designed to teach kids a specific skill in a fun, creative way while making friends along the way. Many of the camps have already filled up, so make sure to sign up before all of the sessions are full!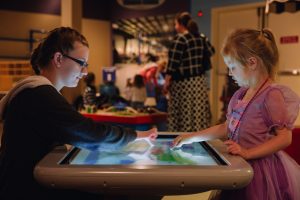 Larkin Arts
If your child is interested in arts and crafts, or you want to introduce them  to art, Larkin Arts has a wide variety of different art camps throughout the summer. Classes like "Abstract Creations," "Acrylic Painting," "Musical Art," "Mixed Up Animals," and more are designed to introduce kids to different types of art. Though the summer camps run from Mondays to Thursdays, Larkin also offers what they call "Fun Fridays" on certain Fridays of the summer for kids to extend their camp week for projects, field trips, and more fun!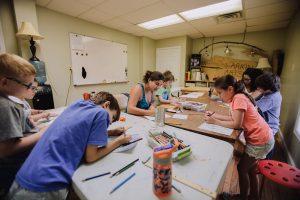 Activities in the Valley
Kid-Friendly Hikes
Hiking with the kids is a great opportunity to allow them to see the wonders of nature while getting good exercise. With Harrisonburg located so close to Shenandoah National Park and George Washington National Forest, it's silly not to take advantage of these beautiful trails. Here are a few spots to check out:
Before heading out for the day, stop by Walkabout Outfitter to pick up gear for hiking or camping. Walkabout carries hiking boots for kids and accessories that will get your little one excited to hit the trails. If you want to teach your kid how to fish, Mossy Creek Fly Fishing is a great place to grab fishing rods, tackle, and more. Plus, you can ask all about the best fishing holes in the area.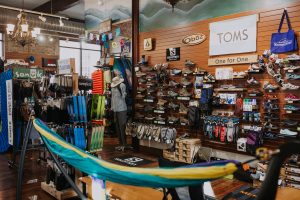 Also, if you want to make a day of your trip on the trails, why not plan a family picnic? Grab some sandwiches and pasta salad from Lola Mo's Delicatessen, or a pre-made sandwiches and snacks at the Friendly City Food Co-op.
Biking
Does your kid need a new bike for summer? Shenandoah Bicycle Company and Rocktown Bicycles are both awesome spots to pick out a new bike, get advice from biking experts, pick up gear, and decide on where to go! Biking around Harrisonburg, or even at the beach, is a fun summer activity that can get the whole family involved.
Adults' Night Out
Need a night out and can't find a babysitter? Take your kids to any brewery downtown (Brothers Craft Brewing, Pale Fire Brewing Co., Three Notch'd Valley Collab House, Restless Moons Brewing, and The Friendly Fermenter). Each one has games like Jenga and other board games to keep your kid occupied while you enjoy a craft brew.

Susie Patrick is a Marketing Intern at Harrisonburg Downtown Renaissance and just graduated with a Bachelor of Arts degree in Communication Studies from James Madison University.