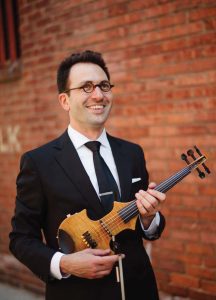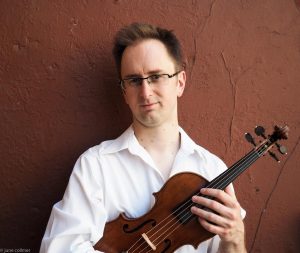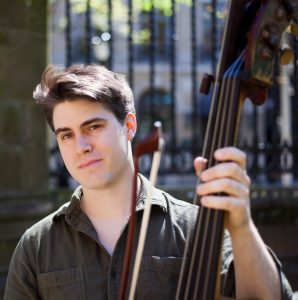 Cowbells? Effects pedals? Dueling harpsichords? Yes, all that and more is coming to this year's Shenandoah Valley Bach Festival. If you think the Bach Festival is an "EMU thing," think again! This year the Festival will have a bigger downtown Harrisonburg presence than ever before, and you'll hear sounds you never thought you'd hear from classical musicians!
To kick it all off, the Bach Festival will take over Pale Fire Brewing on Thursday, June 7 at 8 p.m. The event is free and we'll be giving away Bach Fest t-shirts. Music will be provided by a pair of 5-string electric violinists, David McCormick and Paul Miller, and virtuoso double bass player and JMU faculty member Sam Suggs. They will be playing amplified music of Bach as well as some of their own compositions. And yes, they are bringing their effects pedals!
From June 11-16, there will be free noon chamber music concerts at Asbury United Methodist Church. These concerts are under an hour – a perfect lunch break! Musicians from the orchestra perform more intimate works showcasing their individual musical personalities. Among the highlights will be a Bach concerto for dueling harpsichords that will leave you breathless. Who will win?! We hope it's a draw! Another highlight includes a suite for two violins that recreates scenes from Gulliver's Travels.
The Virginia Baroque Academy Faculty will offer up a ticketed concert celebrating their 10th Anniversary on Thursday, June 14 at 7:30 p.m. at Asbury. This is a new offering featuring some of the very best performers of early music in the country playing music of Bach and his contemporaries.
And before you run screaming from the "stuffy" orchestra concerts, you may want to take a look at the offerings on Saturday night, June 16. The orchestra and guest soloists will play music from two of Bernstein's most famous theatrical works – West Side Story and Candide. You'll definitely be asking for "more cowbell" by the end of the night!
And, if you're an avid classical music fan, this year's Festival won't disappoint. Beethoven, Telemann, Buxtehude, and of course Bach are all well represented!
This year's Bach Festival will welcome nearly 70 musicians and over 1500 patrons from all over the country. For more information about the Festival and all of these events, visit www.svbachfestival.org.