For several months, HDR has been working to separate fact from rumor in relation to the expansion of the court facilities downtown. Knowing that the Denton Building, which many recognize as the home of Larkin Arts, figures prominently into those rumors and that its demolition is likely if chosen as the expansion site, we have been very concerned. And, we are not alone in our concern; countless community members have asked us what is going on and what they can do.
What We Have Learned
Earlier this year, the owners of the Denton Buildings at 61 Court Square and 50 & 58 S Liberty Street received communication expressing municipal interest in their property. While an appraisal has been completed, it is our understanding that an official offer has not been made.
Rockingham County is the project lead and fiscal agent for the expansion. The City of Harrisonburg and the County share the responsibility for our judicial infrastructure. It is unclear if there is a formal agreement that guides the decision-making process behind projects like these but, ultimately, the Board of Supervisors and City Council will vote on it.
The County commissioned Moseley Architects to evaluate the judicial infrastructure and conduct an assessment. The August 2018 report, still a draft, shows a projected need to accommodate growth from 87 employees in 2018 to 132 employees in 2038, as well as more space for court services, from the Office of the Commonwealth Attorney to the Magistrate to the General District and Juvenile Courts. 
According to one document, seven options on or near Court Square were looked at for accommodating this growth. All but one of the options require acquisition of private property, which would remove them from the City's tax rolls at a time when other expensive projects loom.
Five of the options require the acquisition and demolition of the Denton parcels. All options include surface parking adjacent to or in place of the Denton Building. Concepts and floor plans have been drawn for scenarios involving the Denton site but do not seem to have been taken to that level for other sites. None of the options include expansion of the jail.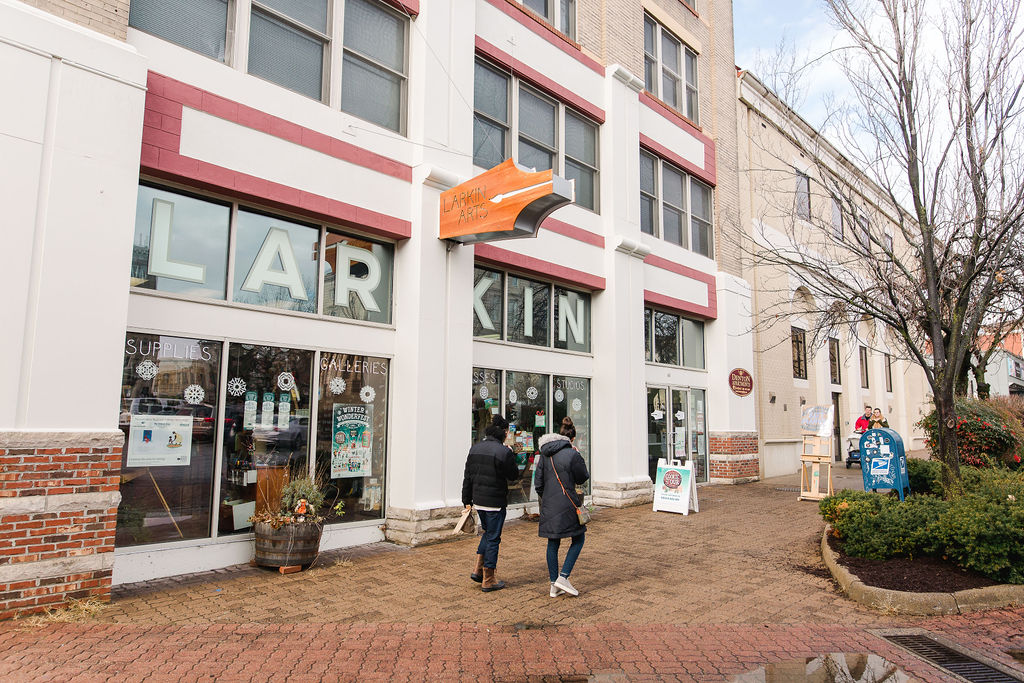 The Denton Building, home to Larkin Arts and affordable downtown housing, is at risk for demolition as it is currently the preferred site for judicial expansion downtown. (Photos by Sarah Featherstone)
Looking for a Win-Win
Luckily, it is early in the process and final decisions haven't been made. Now is the time to ask decision makers to investigate alternatives to the Denton site — ones that can balance best practices for downtown revitalization and the judicial system's needs.
Can alternative sites be analyzed and explored by developing concept plans and layouts similar to those that incorporate the Denton site and troubleshoot challenges in other potential sites so they aren't disregarded without a closer look?
Can we review municipally owned sites, particularly those pending redevelopment or projects listed in the Capital Improvement Program? Perhaps this includes the parking decks, the parking lot behind the police department, and the former municipal building? Which projects can accommodate the expansion as well as meet other needs the City has – such as parking – and share the cost with the County?
Can the Rockingham County-Harrisonburg District Courts Building Evaluation & Needs Assessment be finalized and shared so capacity needs are understood before properties are acquired?
Could property acquisition be placed on hold until the community has an opportunity to discuss its vision for downtown's future during the master planning process that is scheduled for 2020?
Next year, HDR and the City will kick off a process to develop a downtown master plan. It will include significant civic engagement opportunities where discussions will revolve around our community's vision and how downtown should be shaped. Given that the potential of this project can impact our community for generations, these community-driven conversations should be factored into the planning process to address judicial system capacity.
HDR has asked for the opportunity to support this decision-making process and help take into account all of the competing interests at stake. Together, as partners, we can find the right solution in balancing the need for adequate judicial system capacity and meeting the goals for downtown's sustained revitalization.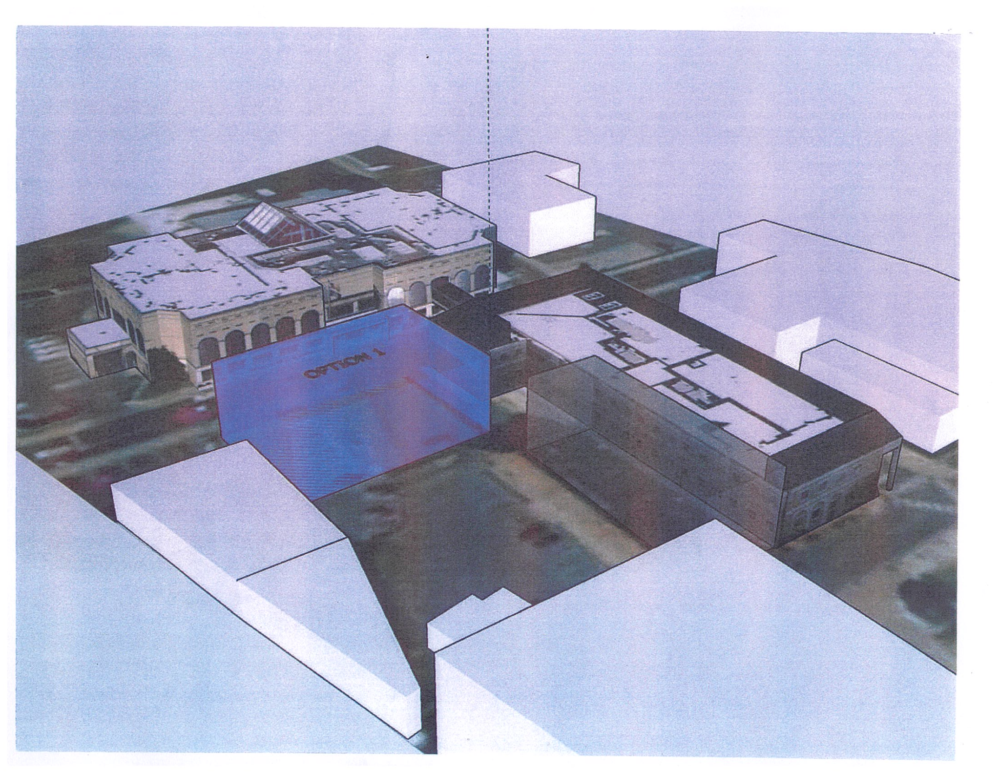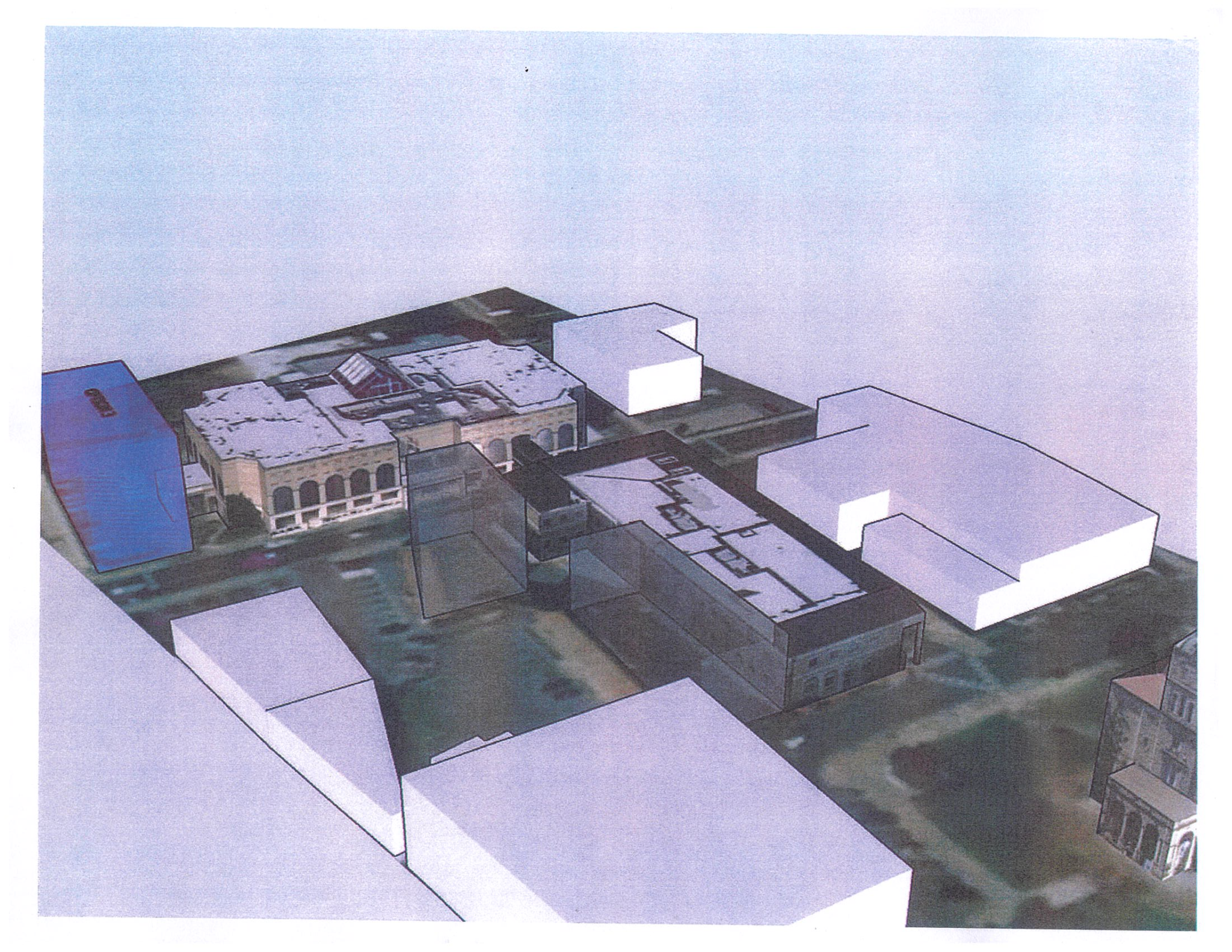 This is one concept under consideration for building a new three-story building on Liberty Street across from the jail. The greyed-out building is where Larkin Arts is, and would be torn down.
This is another concept under consideration that shows a two-story building built next to the jail with the greyed-out Denton parcels, which would still be torn down for surface parking.
This is Important
The Denton Building at 61 Court Square is a contributing building on the National Register of Historic Places. We attribute that designation, and our resulting eligibility for federal and state historic tax credits, as the single, most important driver for the types of renovation and investment that transformed downtown Harrisonburg and our ability to grow over the last 16 years.
The Denton parcels are also home to 40 affordable apartments and Larkin Arts — a thriving art gallery/art supply store that also has classrooms and artist workspaces. The buildings and how they are used add vibrancy to our downtown, build foot traffic, encourage pedestrian circulation, grow our customer base, and contribute to the City's property and sales tax revenues. Harrisonburg continually is held up as a model for revitalization, and what the Denton building and its uses offer are the type of assets other communities wish they had. Let us not lose the very things that make our community what it is and contribute to our success story. 
What Can You Do?
City and Rockingham County residents – tell your elected officials about your concerns. Please call/email/visit your elected Supervisors or Council Members. 
Save the date! You are invited to attend a community informational session on Jan. 21 at 6 pm at Hotel Madison. HDR and Dr. Carole Nash will take a look at the historical context of Liberty Street and Court Square, how they have been shaped over time, potential alternative options to the Denton site, and how a collaborative approach can accommodate the various needs downtown and align with best practices for downtown revitalization.