For two months now, green fencing has blocked off an area near our LOVE sculpture and our new downtown sculpture is slowly taking shape. We wanted to update you on the progress.
As you may recall, this new sculpture is called "Language of Love," and was designed and is being installed by artist and downtown business owner Jeff Guinn.
The sculpture will be three raised, wavy platforms that mimic the silhouette of Harrisonburg's surrounding mountains. As Jeff explains, "The shapes are meant to represent the physical geography of our area, as well as the movement of shared language and experiences between people. Language is not static. It is a medium that is used and exchanged and experienced."
The design alone is pretty cool. But part of the installation's inspiration is even cooler – to reflect Harrisonburg's values of multiculturalism and inclusivity. To capture this sentiment, Jeff had a virtual meeting with the Harrisonburg High School Fine Arts Academy (thanks, JR Snow!). The students helped select imagery for stencils that will be used to paint the sculpture once it is finished. The images chosen will represent the diverse and multicultural makeup of Harrisonburg residents.
Art Installation or Construction Project?
First, there was a lot of measuring and mapping the area. Downtown's Herr & Company jumped in to mark the footers. Then, Fine Earth volunteered to dig the holes for the foundation. Then there was more site prep (thanks to Mike Herr and Herr & Company, Jeff's dad Mike, and Grant Penrod) so Superior Concrete could pour the footers — there are 30 concrete form tubes, which will anchor the vertical steel supports that are up next.
Jeff is exclusively working with local firms such as Knoched VA and Black Forest Sawmill for sourcing ash wood from trees cut down from city parks (because they were attacked by the emerald ash borer) and Excel Steel Works that is currently fabricating the steel frames.
In a few weeks, the primed steel frames will arrive so they can be secured to the footers. Then the wood boards can be fixes to the frames.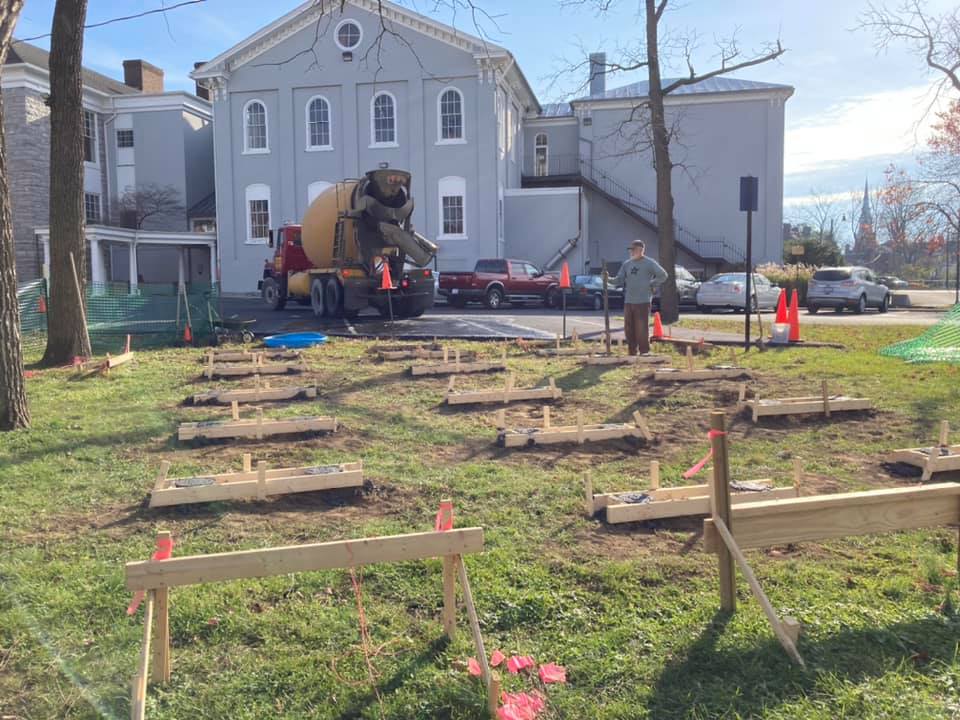 Would you like to help us complete the sculpture?
We hope to have a community painting party next year and will schedule it when it is safe to do so! Those aforementioned stencils will decorate the boards with the imagery the students wanted to represent. Then we will have a complete sculpture for the community to enjoy.
This project is made possible by Excel Steel Works (an in-kind sponsor), F&M Bank, and Riner Rentals, in addition to dozens of individual donations made by HDR supporters during our last Renaissance Night gala and a grant from the Arts Council of the Valley.
We have two sponsorship spots left! Sponsors will be included on the permanent interpretive sign next to the sculpture. We still have expenses to cover to complete this installation and would be very excited to talk with you! Make your mark downtown; please contact Andrea for more information.
It's been a lot of fun to see how a sculpture comes together thanks to Jeff's updates to the Language of Love – Harrisonburg Facebook page. Follow along at https://www.facebook.com/languageofloveharrisonburg