Like many of you, HDR learned about James Madison University's demolition of its 1880 historic Haas home at 741 S. Main Street from the DNR article "JMU To Tear Down Historic South Main Street House." We are deeply disappointed about this loss and believe it should have been approached differently but can't help but feel like it's time for our community to choose if we want to continue lamenting the loss of historic buildings or if we want to finally put local protections in place so this pattern can finally be broken.
Breaking the Pattern
Each time we lose a historic building in Harrisonburg, community members get angry, they lament the loss, and then this cycle repeats when another historic building is demolished. This keeps happening because we don't have a local historic district with controls in place to protect our irreplaceable buildings that embody our history.
A listing on the National Register of Historic Places is just an honor – it has no "teeth." A local historic district, however, is a tool that requires a review of proposed demolitions, which can result in a demolition delay or prevention.
Why don't we have a local district with protective regulations in place now?
In the early 2000s, community members began having serious conversations about what would bring downtown Harrisonburg back from decline. In 2003, HDR was founded by City Council to lead a revitalization initiative, and in 2004, a National Register of Historic Places nomination established our downtown historic district, which opened developers up to using historic tax credits. Some property owners at the time were vehemently opposed to creating a historic district because they didn't want to be told what they can and can't do to their buildings. Since a National Register listing doesn't have that power – you can paint your listed building any color and even tear it down – we were able to move forward just as long as a local district was removed from the equation.
If we established a local historic district as early as 1990 with a process in place for proposed demolitions, would an entire block off Court Square have been sacrificed for a jail? Would we have lost our town's beloved Virginia Theater? Just a few short years ago we lost the Faul's Building on Court Square around the time that HDR was fighting to save the Denton Building. Downtown has done fine without anyone dictating paint colors, but we continue racking up these losses and will continue to do so unless we as a community decide to break the cycle.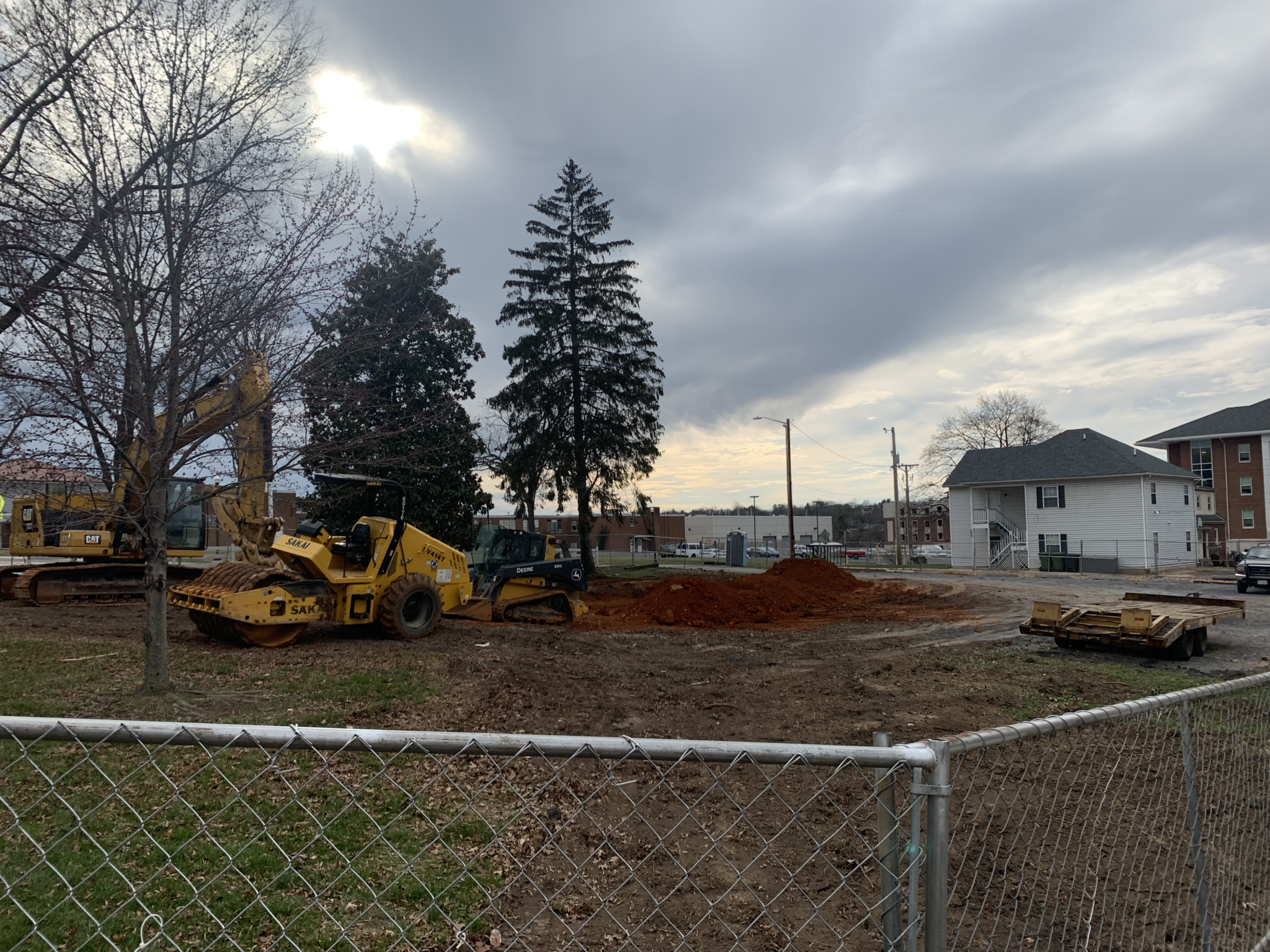 Haas House
When JMU decided to raze the historic Haas House, it notified the Virginia Dept. of Historic Resources (DHR), which said that the demolition would have an adverse impact on the historic district as a contributing structure and "mitigation" was required. DHR makes recommendations for mitigation, which can include intensive building and historical documentation, erecting a sign, notifying the community, and other things.
DHR has no power to prevent a state institution from demolishing a building. They only recommend mitigation measures. Since we lack a local historic district and regulations, JMU followed the state's procedures and then applied for a demolition permit from the city, which was within its rights, and proceeded with removing this historic property from our community's landscape without notifying the public or partners like HDR.
When we give new life to old buildings, we celebrate our history and end up with memorable, unique places that are worth the cost of renovation. It is more powerful to experience the past and enjoy marveling at historic detail in person, not by looking at old photos and reading about demolished buildings via a QR code link.
HDR is disappointed that JMU declined to care for this historical resource or find a creative way to adapt it to fill a university need. We believe that owners of historic properties should be held to a higher standard as they are no longer simply property owners but they are stewards of our shared history.  JMU hired an engineering firm to obtain cost estimates that led them to ultimately making the utilitarian decision to not proceed with finding an adaptive use for the structure and keep it operable. The high costs cited in JMU's engineering report weren't balanced with an architect's assessment, which ultimately lead to a "path to no" when considering if the building should be saved. Not all buildings can be saved, but let's give them a fighting chance.
We are also disappointed in the quiet, insular nature of this demolition. It was only days from when the chain fence went up around the building to when the home was taken down, which gave no one a chance to advocate for it. It happened too quickly.
This prompts us to wonder, how does tearing down our community's historic resources, especially without engaging the community, forward the goal of becoming the national model for the engaged university?
Instead of taking such a utilitarian approach to facilities management, could JMU develop a process with community perspectives and values for a more inclusive dialog and better outcomes for the university and the community? Going forward, when historic properties within the gateway of downtown or those located in downtown are being reviewed, HDR should be a consulting party and should be engaged by JMU's facility management's team. Should a building in those areas end up getting demolished, HDR should also be consulted in mitigation measures. Including various perspectives from HDR to JMU's own talented faculty would allow for a more sensitive and engaged community process that could lead to more richer dialogs and better decisions being made.
We implore the university to take a different approach going forward.
And, we implore the community to demand a different approach for our city as well.