You may have noticed that Downtown Harrisonburg was a bit more magical on the afternoon of April 13th — the piano in front of the library and music filling the air were brought to you courtesy of the Harrisonburg Music Teachers Association, who were hosting their inaugural Play-A-Thon. Made possible by a Destination Downtown grant from HDR and generous sponsorships from Whitesel Music and the Massanutten Regional Library, the Play-A-Thon hoped to bring people from all generations and walks of life together to enjoy and create art in the heart of Downtown Harrisonburg. I recently sat down with EMU professor and HMTA president David Berry to learn more about this uniquely creative and community-building event.
Inspiration for the Play-A-Thon came from David's time in New York City, where he participated in and served as a venue organizer for Make Music New York. This event makes it easy for any public area of the city to become a music venue for the day and connect with performers, resulting in a day where the entire city is filled with music. Make Music New York encourages musicians "of all ages, creeds, and musical persuasions" to participate in this inclusive, cross-generational celebration of music. David took what he learned from participating in Make Music New York, coupled with inspiration from seeing "pop up pianos" take hold on the streets of New York and other urban areas, to dream up an idea for a Harrisonburg music festival that would foster organic community music-making.
David got in touch with other Virginia music teachers to see if anything like this had been done before, and learned that other Virginia cities have hosted similar events to great success. Natalie Doughty, Vice President of the Harrisonburg Music Teachers Association, knew that HDR had a variety of grants to support downtown projects like this and encouraged him to get in touch with us.
"I just went on the website to look around and saw that there was a grant for this exact, specific kind of thing," David told me. He had been considering a few Harrisonburg venue options to hold the Play-A-Thon, but kept coming back to Downtown — describing it to me as "the heart of Harrisonburg". Finding the Destination Downtown grant solidified his decision to commit to Downtown, and he turned in his grant application. On a visit to HDR's former office space in the Hardesty Higgins House, David noticed the round plaza area in front of the library, complete with built-in seating. He asked the library if it would be possible to host an event there, and the rest is history — or music, in this case.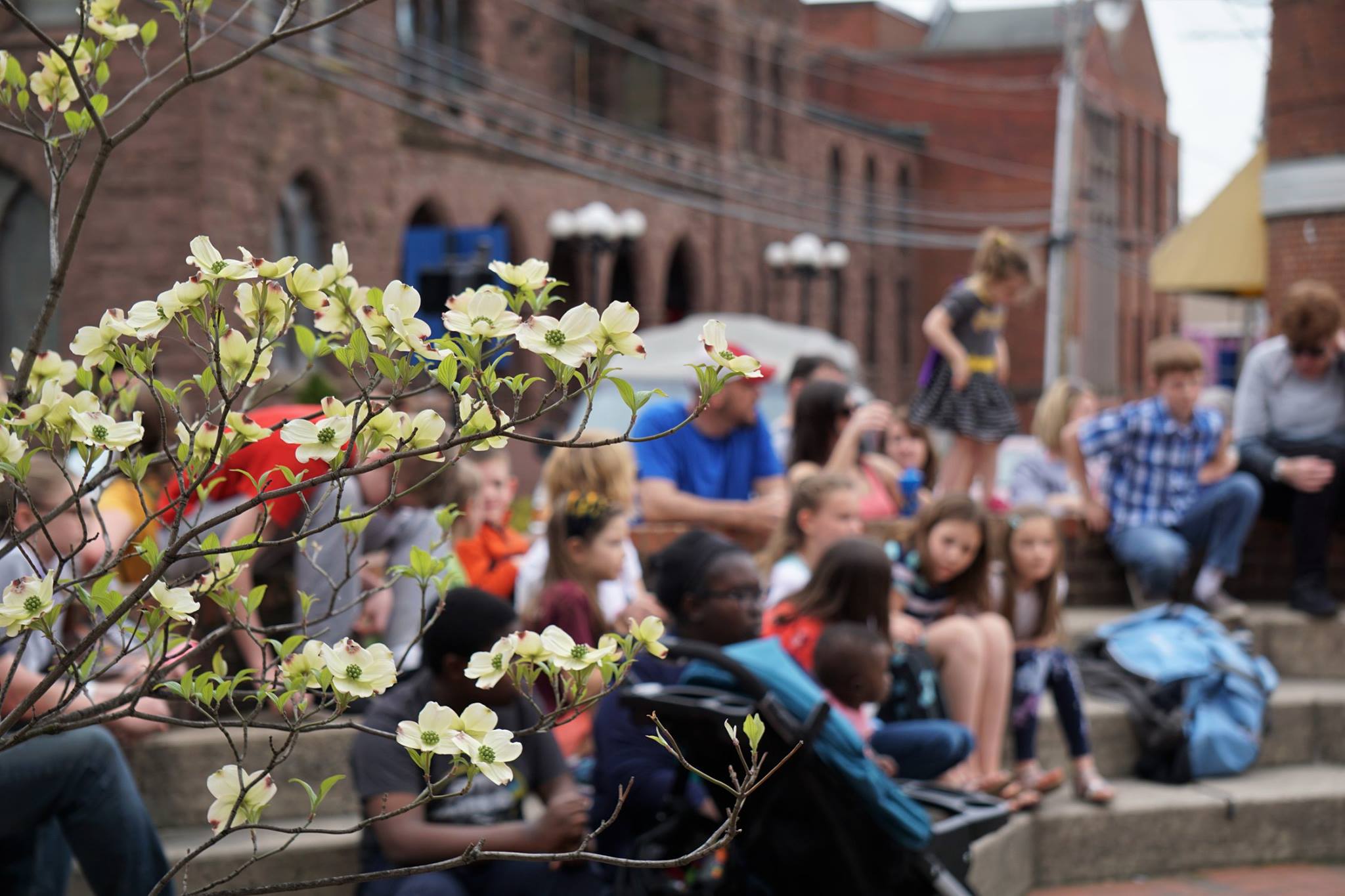 They didn't count the exact number of audience members who stopped to watch the Play-A-Thon, but it was a beautiful, bustling day Downtown, and the sidewalks were busy with shoppers and people out to enjoy the afternoon. David guesses that they had about 200 people come through and stop to watch at least briefly throughout the day. Friends and family came out to watch the younger performers by the dozen, and some of the more advanced musicians commanded groups of around 50 spectators at a time. The genres explored during the Play-A-Thon ranged from classical to jazz to bluegrass to hiphop to R&B. And, while the music was playing, the Shenandoah Valley Art Mobile was leading a walk-up community mural project. Overall, David and the HMTA felt it was an extremely positive experience, and the day played out exactly as they hoped it would feel like.
"[I hoped] it would be something intergenerational, with students and people of all kinds… That's the great thing about it being downtown, the populations that the library serves are numerous with so many demographics. It was great to see so many different types of people interact with what we were doing," David told me. He felt the event was of particular benefit to the younger students, who aren't often given situations in which they can perform their music out in the community, outside of the standard recital or classroom setting. Seeing the crowd support them was exhilarating, and David was moved to see people coming together to support the youth of our community with such positive, vibrant energy.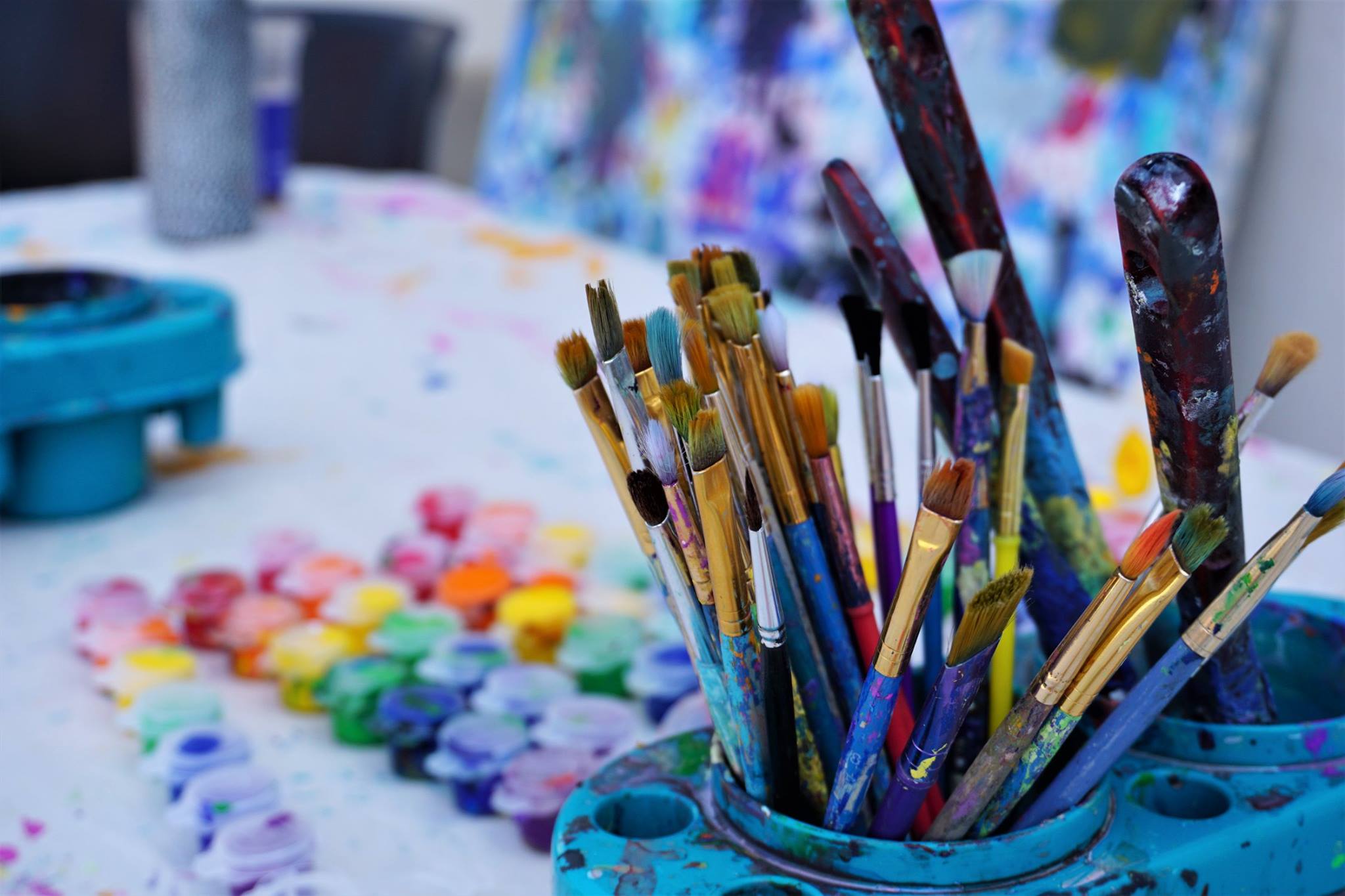 An unexpected highlight of the day came in the hours before and after the official time of the event. David arranged to have Whitesel deliver the piano to the library three hours early, to give them adequate time to ensure everything was okay and ready to go for the Play-A-Thon. As David sat with the piano in front of Massanutten Regional Library that morning, he got to know a few patrons of the library who were arriving for those early hours. The library is so much more than a place to check out books — it is a true hub of the community, where people go rest and reflect, or simply spend some peaceful time out of their house. David got a chance to talk to these community members, who came from all walks of life, and shared their stories with them as well as their music. He recalled one part of the morning in which he had both an older gentleman playing Motown and a high school student playing Mozart back-to-back.
"These two people would have never interacted outside of music in this particular instance," David said.
Later in the evening, the piano was host to a few more impromptu performances from passerby, ranging from classics to showtunes and everything in between. David was thrilled to see the community react so positively to the piano, and enjoyed learning more about the Harrisonburg citizens who stopped by to chat and play some tunes. Should the Play-A-Thon come back for a second year, David wants to find a way to tap into this energy and harness the potential for sharing not only the music, but the stories of Harrisonburg and the people who make our community so great.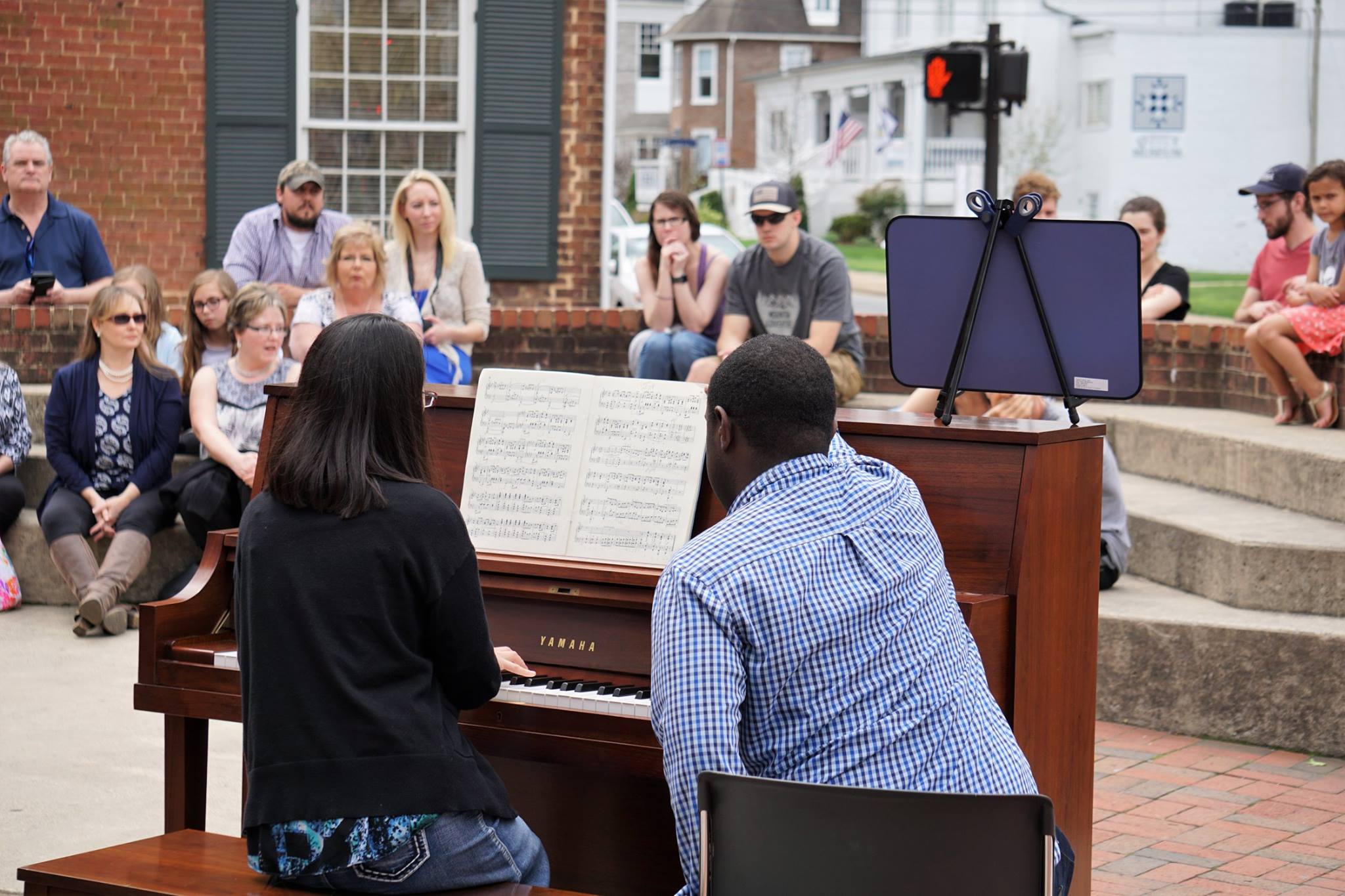 The Play-A-Thon was also a fundraiser — student musicians who participated in the day helped raise money through sponsorships from family and friends. A portion of the proceeds raised from the event will be donated to the Family Music Project, which helps provide music education to local children with fewer resources. The fundraising figures are still coming in, but David considers the fundraising efforts, along with the rest of the day, to be an absolute success.
"The Play-A-Thon is a great example of what we were hoping to accomplish with the Destination Downtown Grant. These funds empower community members to get creative and bring their passion project to life. Downtown is the place where people connect and these types of projects just add to that welcoming, creative environment," says Lauren Huber, Director of Resources for HDR.
Plans aren't yet in motion for any follow-up Play-A-Thons, but given the success of the inaugrual event, David is optimistic about its return. He'd love for the Play-A-Thon to be an annual Downtown event that people look forward to and talk about all year, and I think we can all agree that there's no such thing as too much art and music in the heart of our city.
"Let's get out there and do it," David says.
David Berry and the Harrisonburg Music Teachers Association would like to thank The Shenandoah Valley Art Mobile, Whitesel Music, the Massanutten Regional Library, and Harrisonburg Downtown Renaissance for their support in helping their inaugural Play-A-Thon come to life. You can see more photos of the event, taken by Natalie Doughty, at https://www.facebook.com/hmtaptf.
Learn how you can apply for the 2019-2020 Destination Downtown grant cycle here.