Written by Katie Mitchell  — When anyone visits me from out of town, we always end up doing something downtown. And when we park on the top level of the Water Street parking deck, my guest ALWAYS asks, "What's Denton's?" At eye level from the deck, its nostalgic font makes people curious. "What's in there?" they ask. When I tell them apartments, they say, "Wow, what a great location!" When I say an art store with galleries, studios, and classrooms, they want to go in. Which we do.
The Denton sign is a beacon to Harrisonburg locals and visitors alike, and now that the building's future is uncertain, people are getting concerned. Last night, about 200 folks gathered to hear an informative presentation about the situation. Harrisonburg Downtown Renaissance executive director Andrea Dono presided over the meeting, which also featured Dr. Carole Nash, associate professor in the School of Integrated Sciences at James Madison University, who talked about how Court Square has changed through the years.
For anyone who was unable to attend, here's a recap of what was shared.
What We Know
In this age of social media, rumors spread quickly, and it's important to separate fact from speculation. Here's what we know right now. Rockingham County commissioned Moseley Architects to study the current and future needs of the Harrisonburg-Rockingham judicial infrastructure. The 2018 study, still in draft form, identified a need for expansion. It identified seven potential options, five of which would affect the Denton properties, which houses Larkin Arts, a bail bonds office, and 44 apartments. As it stands, the Denton site is the preferred location at this time for expansion.
If the Denton properties are selected for the expansion, Rockingham County staff anticipate that the buildings would likely be demolished because of the misalignment of its four stories with the neighboring judicial building. The process for accommodating the projected expansion began in earnest last year. While an appraisal has been done, no offer has been made. Recommendations haven't been brought to elected officials for a vote. Nothing has been finalized, no decisions have been made, and there are no plans for the imminent demolition of the Denton Buildings yet. However, concept plans have been drawn to show possible new building footprints and the County continues to move forward in seeking an option to buy the Denton Buildings.
Therefore, now is the time for the community to understand what's happening and the myriad potential consequences. Andrea's presentation included several important points. First, she pointed out that the evening's discussion about the Denton Building and beyond – saving that building and its businesses is only a win if the second option doesn't sacrifice another building, business, or important aspect of a vibrant downtown.
She also mentioned that one of the criteria for the new expansion is proximity to other judicial buildings. While the Denton building is right across the street from the jail and adjacent to the court complex, there are other locations downtown that are within a reasonable walking proximity. Further, HDR has noticed that when people walk along Liberty Street toward the jail, they seem to think there's nothing beyond that area. Nothing except for the Denton's sign signals to pedestrians that shops and restaurants are nearby. Adding yet another institutional building would increase this detachment from downtown.
Also at stake are property and sales tax revenues and future economic opportunities associated with the property, not to mention the dozens of residents who would be displaced and the loss of a long-standing, beloved Harrisonburg art store, gallery, and school — Larkin Arts. As Andrea stated in defense of the building, Denton is "doing what it should. It is not blighted. It is not an eyesore. It is home to actual people. It is performing exceeding well economically and culturally." She cautioned that shifting the multi-use nature of Court Square will move it towards a mono-use corridor, which could further impede pedestrian flow and customer circulation slowing the revitalization to other parts of the downtown even more.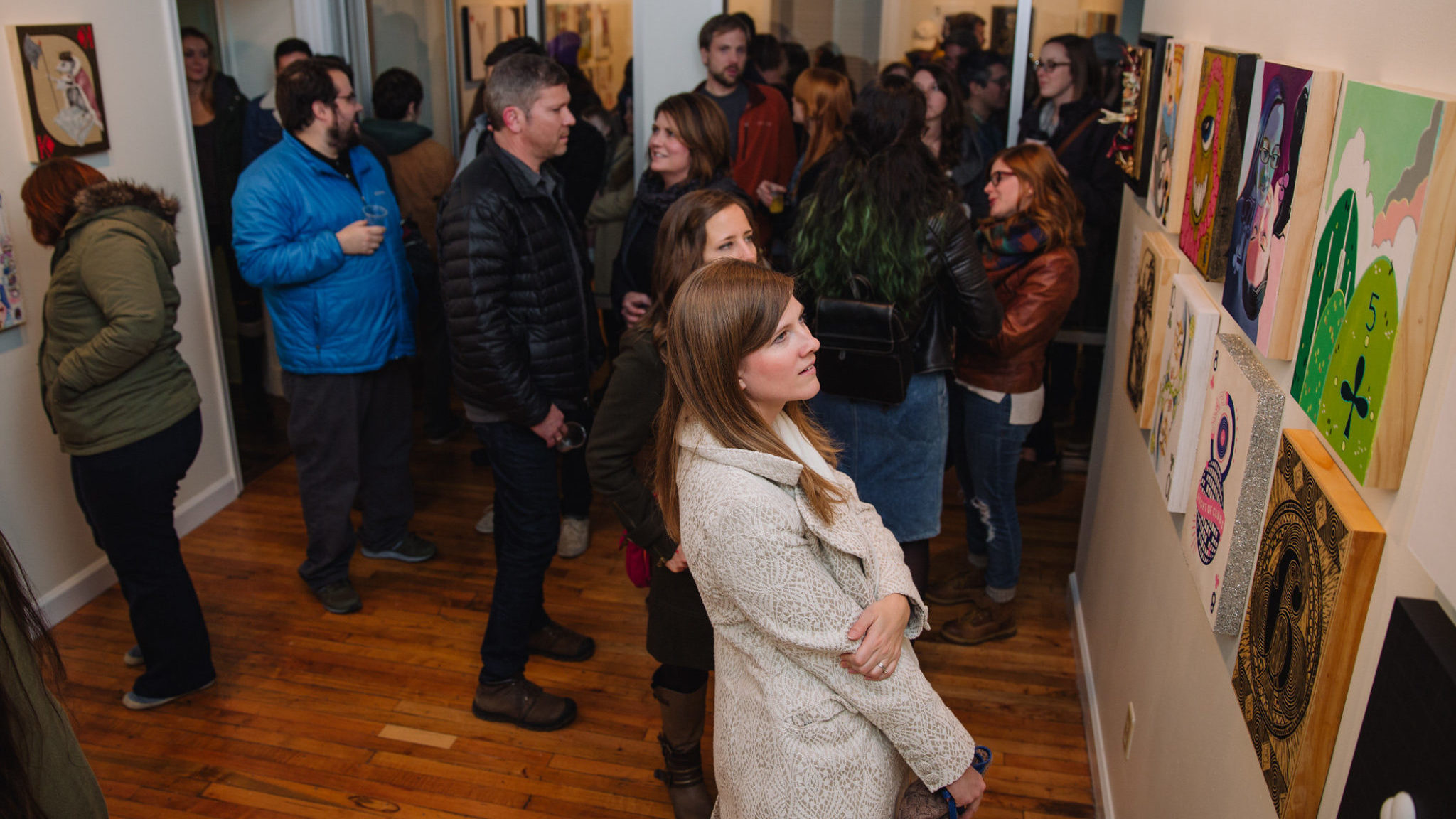 Crowds browsing the galleries at Larkin Arts' popular Deck Show

Gone is Gone
Dr. Carole Nash offered a real-life cautionary tale about a large demolition in the name of progress that occurred downtown about 30 years ago. In March of 1989, the City and the County reached an agreement about building a jail on Liberty Street. In November of 1990, the Daily News Record published an illustration of the proposed judicial complex, to be located along West Market and Liberty Streets. Over the course of the next year, 17 historic buildings (some of them centuries old), containing more than 70 separate addresses, were razed to the ground to make room for the judicial complex that stands there today. The audience's audible and visceral reaction to Dr. Nash's photographs was a cruel mixture of nostalgia, giddiness, horror, and grief.
What did Harrisonburg lose that year, in 1991? The historic infrastructure of the old Union Station, Zirkle's Paint Store, Ole Virginia Ham Cafe, Brittle's Bakery with underground bake ovens, and Eaton's Service Station. The Pro-Pool building, home to apartments and a grocery, Rearview Bikes, Layman's Restaurant, and Twin State Beauty Supply. Campbell Shoes, The Tire Warehouse, and Harrison Antiques. Mystic Den music venue and apartments, the Jesse Bowlin House (a 2-story log home built in the 18th century), Native American sites along Blacks Run, and other thriving and beloved establishments.
By comparison, this expansion would "only" destroy two buildings (successful buildings, mind you, with cultural significance, which many people call home), but, as Dr. Nash warned, there is often a cascade effect for adjacent buildings. Expansions continue and demolition spreads right on down the street, like dominoes, until there's just not much of anything left. "What you have lost," Dr. Nash explained, "is often comprised of things you don't even know about."
What is the story of the Denton building? The Denton furniture business began in 1878, and the family moved the business to Court Square in the 1920s. Nearby, along West Market Street where the District Court now stands, were many thriving and bustling small businesses. The Dentons used the entire building for their furniture operation until 1932, when they converted the top two stories to apartments, which still exist today. The Dentons are no longer in the furniture business; the fifth generation Dentons — Linda and Tripp — now own and operate Denton Downtown Properties.
So, while it's still early in this process of finding more space for Harrisonburg and Rockingham County's judicial system, it's important to remember how quickly everything happened in 1991 — how we lost pieces of our history and identity that we'll never get back, how we lost places and spaces we'll never again enjoy, how people were displaced from their homes. As Andrea suggested, there is a way forward where other creative options could be discussed so the expansion can be accommodated in a way that also protects the historic buildings, small businesses, pedestrian orientation, and cultural amenities that helped revitalize and sustain our downtown.
What can you do?
Stay informed by signing up for HDR's newsletter, and follow their Facebook page.

Watch for updates from HDR about downtown master planning meetings and try to attend if you can.

Go to Change.org and sign the petition started by Barbara Camph.

Reach out to your elected officials.

If you live in Harrisonburg, contact your City Council.
County residents, in particular, should voice their concerns to Rockingham County Administrator Stephen King and their representatives; just go to the Board of Supervisors page and you'll see the contact information for your specific town.

Lastly, be ready if and when HDR needs help!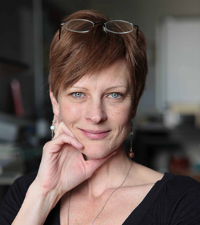 Katie Mitchell is a mom, educator, and writer who has called Harrisonburg her home since 1993. She loves books, beer, fire, sunsets, spicy things, trees, water, live music, and unexpected naps. She is the writer and founder of Harrisonburg's popular blog I Love My Burg and is currently working on her Masters Degree in Communication and Advocacy.
Header photograph courtesy of Sarah Featherstone Photography. Larkin Arts gallery photograph courtesy of The Commoneer.