By Allison Geringer — Wiping a bead of sweat from his brow, Chance Ebersold finishes building his 10th table for Black Sheep Coffee shop. Using reclaimed wood from the furniture at his wedding reception, Ebersold builds his tables on a foundation of love.
Making tables for his coffee shop was a project of passion for Ebersold. These tables are one example of how his character shines through Black Sheep Coffee. Ebersold's inspiration for Black Sheep Coffee begins with Mudhouse Coffee Roasters, a coffee shop located in Charlottesville, Virginia.
"Everyone at Mudhouse was friendly and warm," Ebersold said. "I was lucky to have such genuine people in my life."
Back in high school, Ebersold worked at Mudhouse for two years, starting as a dishwasher and ending as a night manager. During his breaks, Ebersold watched customers from afar. He admired the shop's warm sense of community and welcoming atmosphere.
New to Charlottesville at the time, Ebersold found great comfort in Mudhouse's environment. Having moved from Brunswick, Maine, in his teens, he entered high school in Charlottesville with few acquaintances. Luckily, he made friends after joining the school's lacrosse team.
"Between working at Mudhouse and playing on the lacrosse team, I learned the values of teamwork and inclusivity," Ebersold said.
The sport of lacrosse helped Ebersold create a place for himself in high school. However, he still valued the Mudhouse community and admired the cafe's charming aesthetic. The shop's live music and homemade treats contributed to its popularity.
After graduating from high school spring 1998, Ebersold attended James Madison University in Harrisonburg, Virginia, in the fall. He graduated in 2002 with a major in integrated science and technology but upon graduation, Ebersold struggled to choose a line of work that would hold his interest for life.
He stayed in Harrisonburg for a few years and picked up jobs at local restaurants. Ebersold eventually settled on a career in food services but did not have a clear vision of what he wanted to do, oscillating between a bar and a restaurant. His plans, as vague as they were, came into focus when Miranda entered the picture.
Ebersold met his wife Miranda while opening a restaurant in Martinsburg, West Virginia. They ended up dating for several years, eventually getting married in 2012. They now have two children: a son Graham and a daughter Poppy.
Ebersold's dreams shifted after the birth of his children. He wanted to open a place where his kids would feel welcome. A bar was out of the question but a coffee shop was not. Thus, Black Sheep Coffee was born.
When seeking inspiration for Black Sheep Coffee, Ebersold recalled his experiences in Charlottesville. Mudhouse had made him feel included in the community despite his then recent arrival in Virginia and a lack of friends. He had felt appreciated and connected.
"When I moved to Harrisonburg, there wasn't anything like Mudhouse. The closest thing we had was a drive-thru Starbucks," Ebersold said. "My goal with Black Sheep Coffee was to bring the people of Harrisonburg together."                                                                                                             
Ebersold brought the appeal of Mudhouse to Harrisonburg by implementing live music and by creating a homemade menu, a recipe that had worked before in the city beyond Afton mountain. He also designed the interior to enhance the shop's aesthetic and give it a community feel.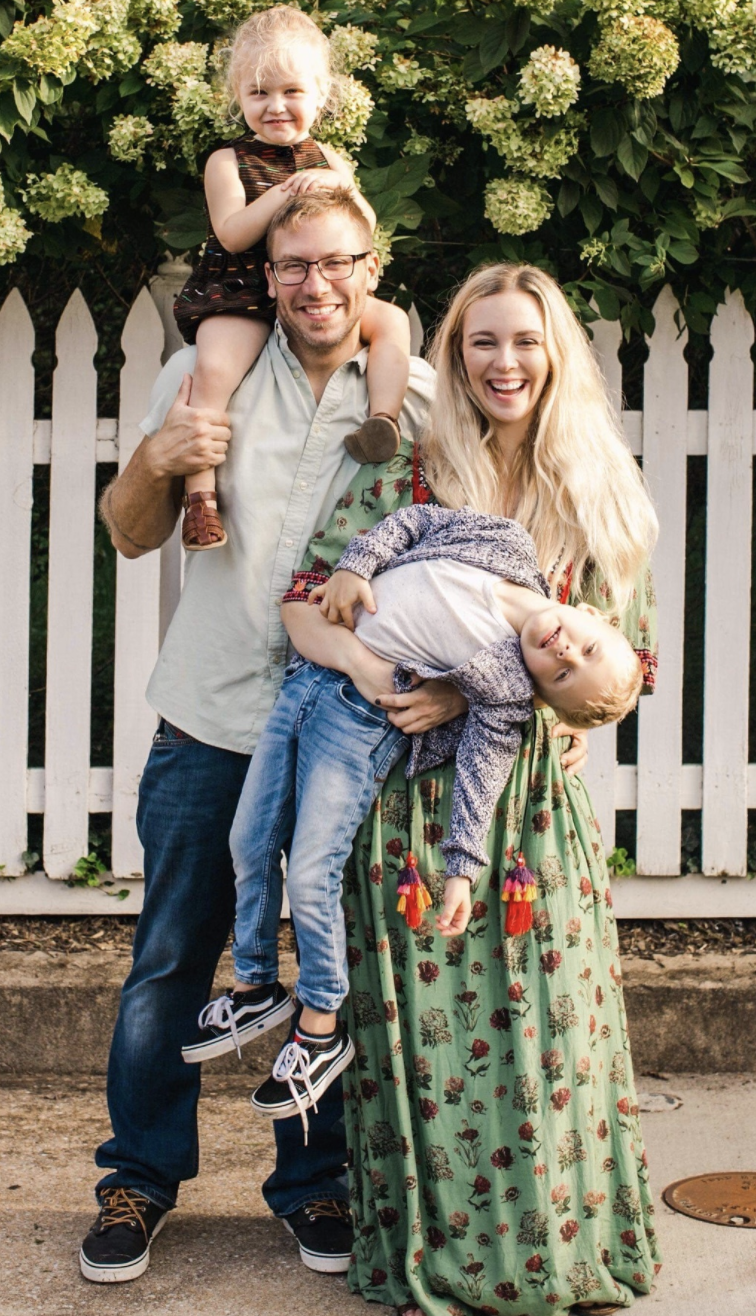 Black Sheep Coffee Owner Chance Ebersold spends an afternoon with his family in Downtown Harrisonburg. Photo by Katie Stoops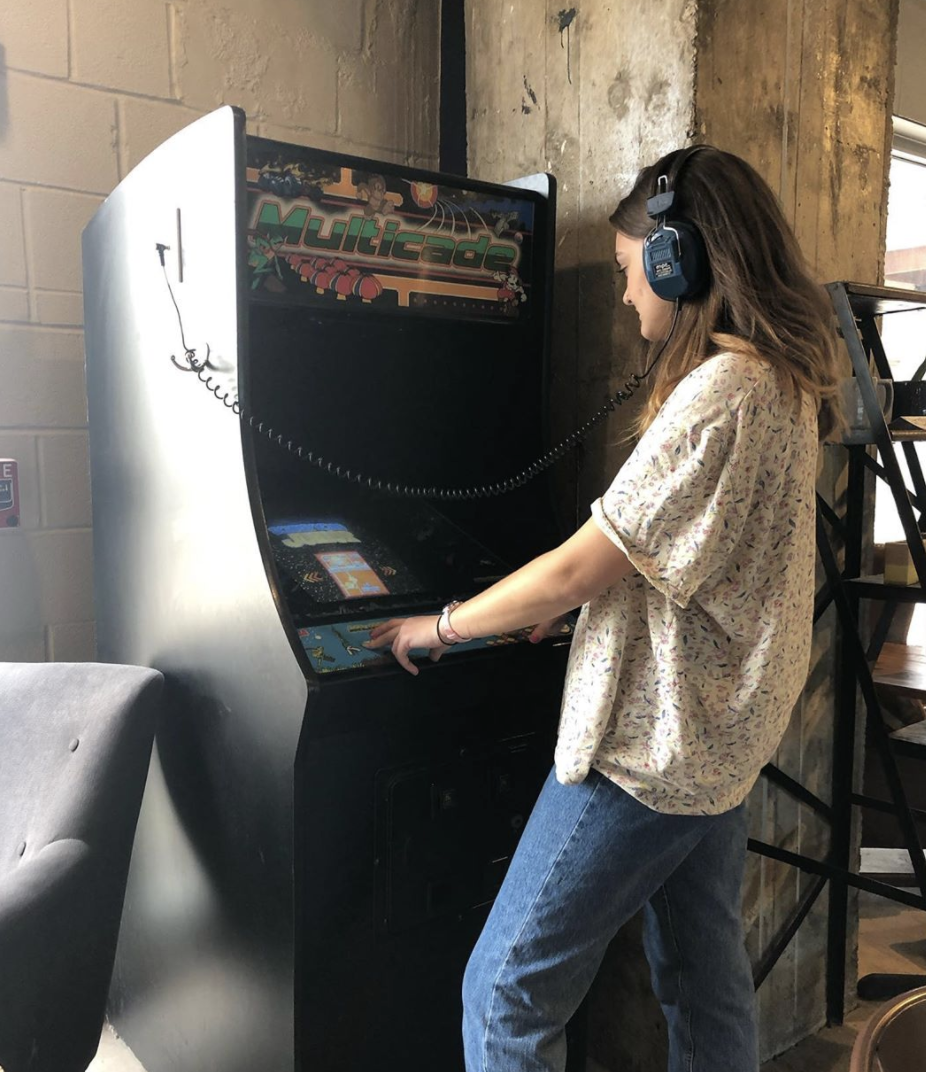 Barista Christa plays Pac Man arcade game at Black Sheep Coffee. She challenges customers to beat her high score.
Aside from building the tables, Ebersold opted for an open floor plan to encourage face-to-face interactions between customers. To create a family feel, he furnished the shop with comfy couches and vintage arcade games.
By encouraging a community among guests, Ebersold provides low-key socialization that industry giants cannot emulate. Differentiating Black Sheep Coffee from Harrisonburg's drive-thru Starbucks was part of Ebersold's inspiration for the shop. In 2018, Starbucks revealed that over 80% of its new locations feature drive-thru options.
A 2019 Starbucks press release states that, "Streamlining the experience is convenient for customers."
But for Ebersold, streamlining the experience is undesirable. To guarantee an interactive customer setting, Ebersold goes out of his way to hire friendly employees. His ideal candidate is friendly, personable and easygoing.
"I try to conduct employee interviews in the form of a conversation," Ebersold said. "My whole approach is pretty relaxed. I'll ask one or two questions about availability, but aside from that, I just try to get to know them."
Over the years, Black Sheep Coffee has acquired a band of loyal patrons. You will often see a book club gathering, a business lunch meeting or a group of moms chatting. A special group of women and men have held their knitting circle at Black Sheep for a year.
"It's great seeing seven or eight of them all sitting around, knitting and chatting," Ebersold said. "I also enjoy seeing the local talent perform at Black Sheep. We have had some poetry readings, some solo guitarist and some dance recitals. I am always open to new ways for people to get together."
Ebersold's contributions to Harrisonburg does not end with Black Sheep Coffee. He is also a member of three city boards: The parks and recreation board, the economic development board and the transportation safety and advisory board.
Unfortunately, as COVID-19 has wreaked havoc on the world, Ebersold is no longer permitted to host customers. (Editor's note: This piece was written before Virginia's Phase One reopening, and Black Sheep is currently able to serve customers on their outdoor patio area.) In an effort to demonstrate his commitment to the community, Ebersold is offering delivery and pick-up services throughout the pandemic. Black Sheep Coffee has partnered with GiddyUP Courier, a bicycle-powered delivery service, to provide picnic-style lunches for families in the Harrisonburg area.
When he finds time, Ebersold delivers for GiddyUP Courier. He enjoys riding around Harrisonburg and maintaining an active lifestyle.
Although his deliveries are less personal than the typical Black Sheep Coffee experience, Ebersold prides himself on serving the community. By staying open during social isolation, Ebersold reminds customers that no one is fighting COVID-19 alone.
Throughout his life, Ebersold's experiences have fashioned his values and anchored them in the community. Working at Mudhouse showed Ebersold the importance of inclusivity; playing lacrosse showed him the importance of teamwork; having children showed Ebersold the value of family. But ultimately, serving coffee to Harrisonburg has merged these lessons to given him direction and purpose.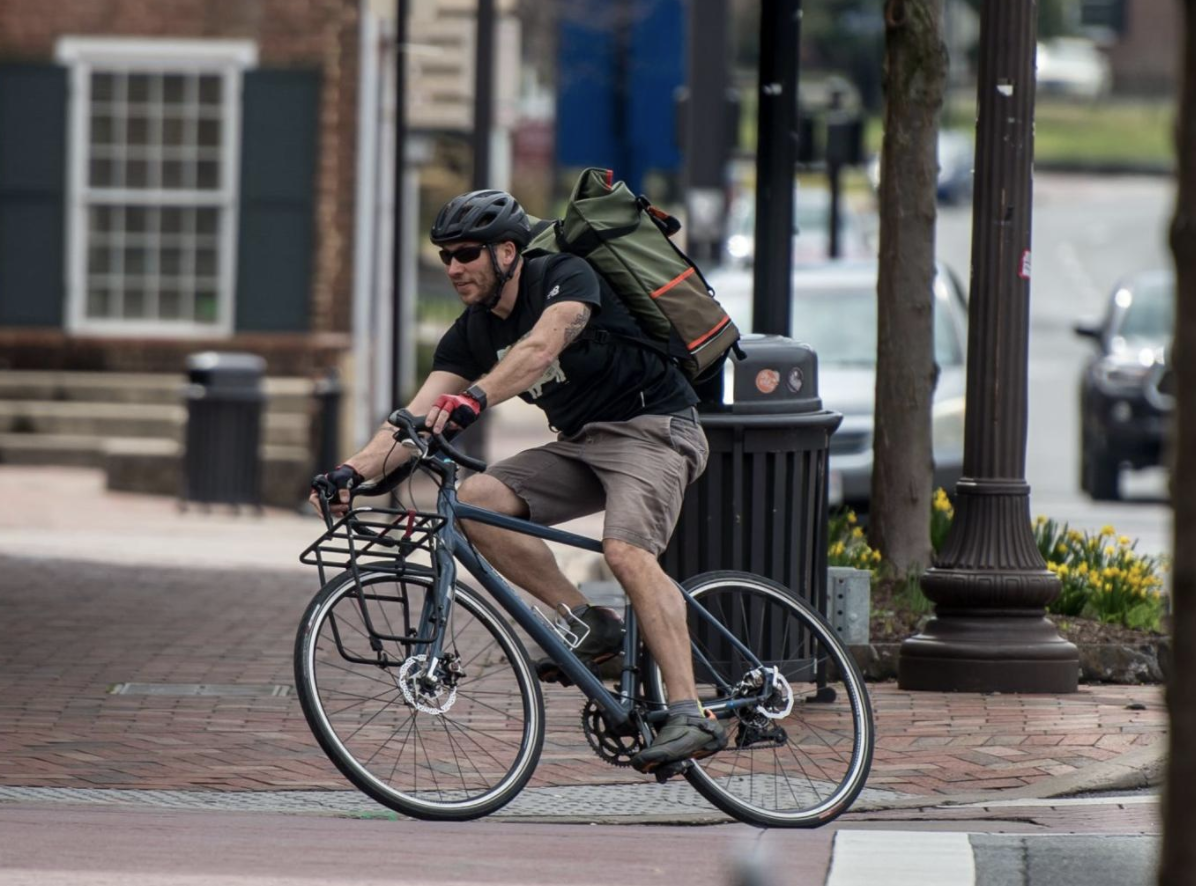 Black Sheep Coffee Owner Chance Ebersold rides his bike for GiddyUP Courier delivery. Photo by The Daily News-Record
About Black Sheep Coffee
Black Sheep Coffee is a local coffee shop in Harrisonburg, Virginia. Its menu includes finely crafted espresso, drip coffee and house-made treats. The shop maintains an open floor plan and family style seating. For more information about Black Sheep Coffee and its services, visit www.blacksheepcoffeehburg.com
About Allison Geringer
Allison Geringer is a rising junior at James Madison University. She is pursuing a major in communications with a concentration in public relations and a minor public policy and administration. Originally from Rockville, Maryland, Geringer is attending James Madison University on an academic scholarship. She is on track to graduate in Spring 2022. Geringer's interests include writing, sports and politics. In Summer 2020, Geringer is interning with a digital marketing and analytics firm located in Jerusalem.