It's about that time of year…when most people have forgotten their New Year's resolutions that they so desperately wanted to stick to. In fact, according to Business Insider, 80% of people who made a resolution will fail by the second week of February.
Luckily, downtown makes it easy to keep your healthy commitments and we've put together a list to re-energize you before next week rolls around. Here are 5 resolutions and ways to maintain them:
Exercising More
If your resolution has to do with exercising more and getting in shape, downtown is the perfect place to get started. Take a yoga or pilates class at Ice House Studios, Hot Yoga, or Shenandoah Yoga. Treat yourself with a new bike or get new equipment to hit the trails from Shenandoah Bicycle Company or Rocktown Bicycles. Or, if you're looking to run outside more and need some motivation, Bluestone Running at Agora Downtown Market has a wide selection of running shoes, athletic socks, and more to help you reach your goal. Pop in to see when their next free group run event is.
And, it can't hurt to give yourself a reward after breaking a sweat. Three Notch'd Brewing Company is hosting a "Winter Bend & Brews Taproom Yoga" event on Wednesday February 10th, where for only $10, you'll get a great workout and pint of beer afterwards. Three Notch'd hosts exercise events like this frequently, so be sure to keep an eye out for events like these in the future.
Skip the drive-through and enjoy healthier options at locally-owned eateries. PULP offers açaí bowls, smoothies, and oatmeal, and is a guaranteed great place to start your health kick. Choose a house special or make your own.
Check out the salads menu at many of our downtown restaurants where you're bound to find something that makes you forget you're eating healthy. The Little Grill Collective  is also a great choice that offers many vegetarian and vegan options, with tasty, locally-sourced seasonal vegetables.
Picking Up a New Skill
If you haven't followed through on this resolution, or want to add another resolution to your list, there's still time to learn a new skill in 2018. Here are a few ideas:
Reading More
There are plenty of places for you to pick up a good book downtown!
Downtown Books offers a wide selection of books with plenty of different genres to choose from. Owner Bob Schurtz will be sure to help you find what you're looking for.
If you're looking for a unique graphic novel, zine, art book, or children's book, head to Meridian Books and Games, located inside of Larkin Arts.
Don't forget, Pale Fire Brewing Company has tons of books for you to choose from! Grab a beer and sit by the fire for an afternoon of reading. Or, attend one of Pale Fire's "Books & Brews" events, where you'll hear from your favorite authors and receive a complimentary beer. Don't miss out on their next event on February 13th.
Getting Active in the Community
If you're looking for ways to give back to the town that gives us so much, resolve to be more active in the downtown community.
HDR plans several annual events throughout the year, such as the Rocktown Beer & Music Festival, Valley Fourth, Friendly City Fortune, Renaissance Night, Skeleton Festival, and additional partnership events. For these events, we need all hands on deck, so you're guaranteed to find a volunteer spot. Starting soon, HDR will offer volunteer opportunities for the following and more:
Promote HDR and downtown Harrisonburg at community events like First Fridays, Shenandoah Valley Pride Festival, Harrisonburg Farmers Market, etc.
Guided Walking Tours
Photography

Share great photos of downtown dining, shopping, street scenes, and more taken anytime
Event photography

Blog Writing

Write a story from an HDR suggested idea or pitch your own

Design Assistance

Assist with event posters, programs, newsletter, etc.

Poster TeamDistribute posters to downtown locations and to key community boards around the city and county
Stay tuned with more details on our volunteer opportunities.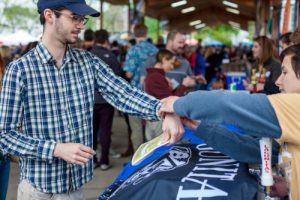 Good luck with your resolutions downtown!

Susie Patrick is a Marketing Intern at Harrisonburg Downtown Renaissance and a senior at James Madison University, where she majors in Communication Studies. She will graduate in May 2018.