Join downtown Harrisonburg in welcoming back our very own World Champion Roundnet competitors- Becca Graham and Alli Kauffman Rogers! Becca and her partner Alli recently returned from Brussels, Belgium where they represented team USA in the first ever roundnet World Championship. After four days of intensive competition against 33 represented countries, team USA dominated the game by placing first in each of the five categories! The power duo, Becca and Alli, placed number 1 in the team bracket with a resounding score of 10 wins and 0 losses. The duo has made history and Harrisonburg could not be more proud of their incredible accomplishments! We got to sit down with one of the champions, Becca Graham, and get an inside look of what the experience was like.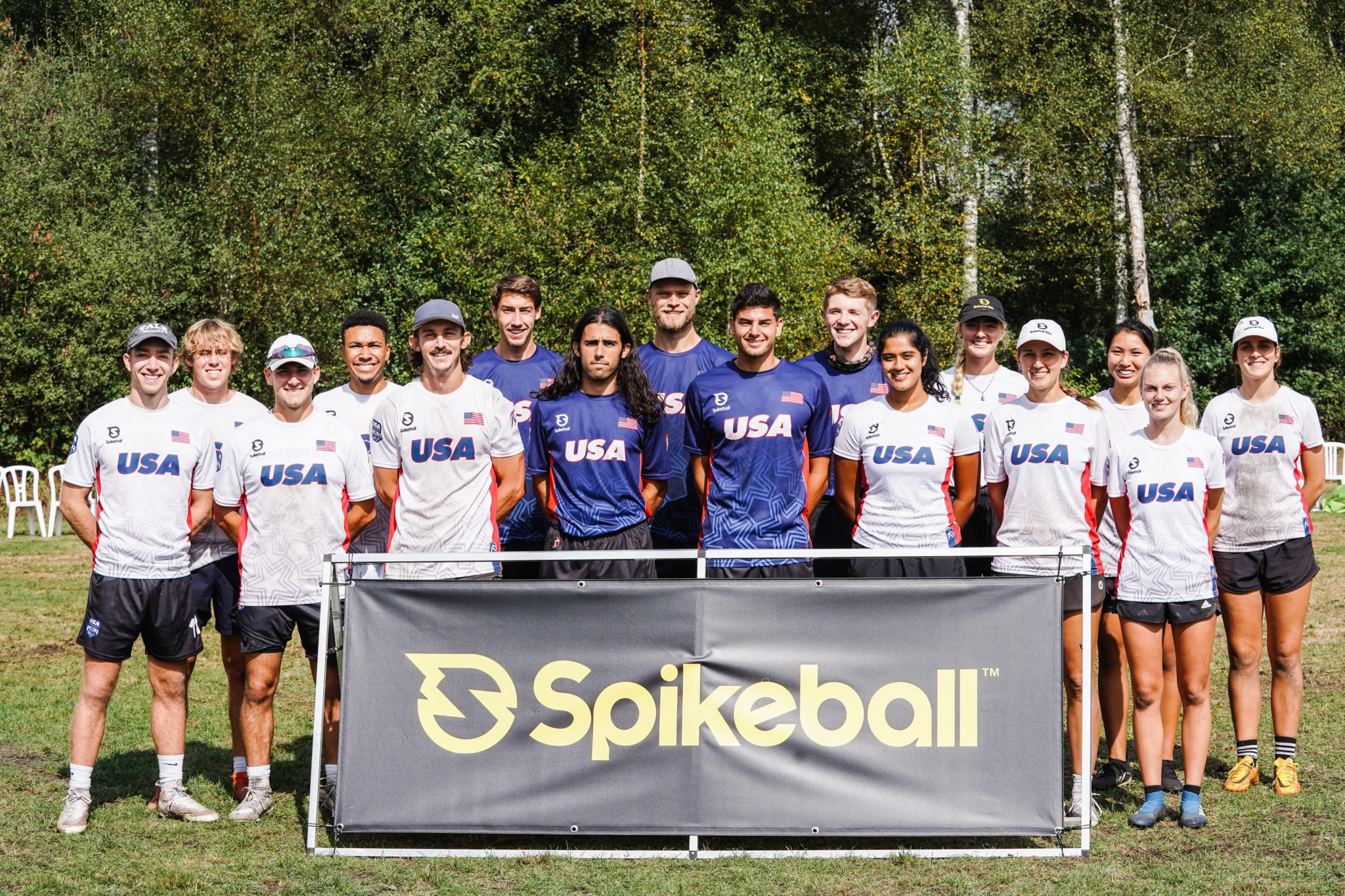 What is Spikeball?
Also called roundnet, Spikeball is a game that has been around since the late 1980s. But according to Jacqueline Zote with RecreationInsider (2019) it wasn't until Spikeball Inc's. CEO Chris Ruder got his hands on the game and launched his company in 2008 with a new trademark and patent that the game became what it is infamously known as today. What originally started in his basement eventually became a widespread phenomena after being aired on ABC's Shark Tank on May 15, 2015. The now multi-million dollar company is a stable for many college students and Spikeball fans alike.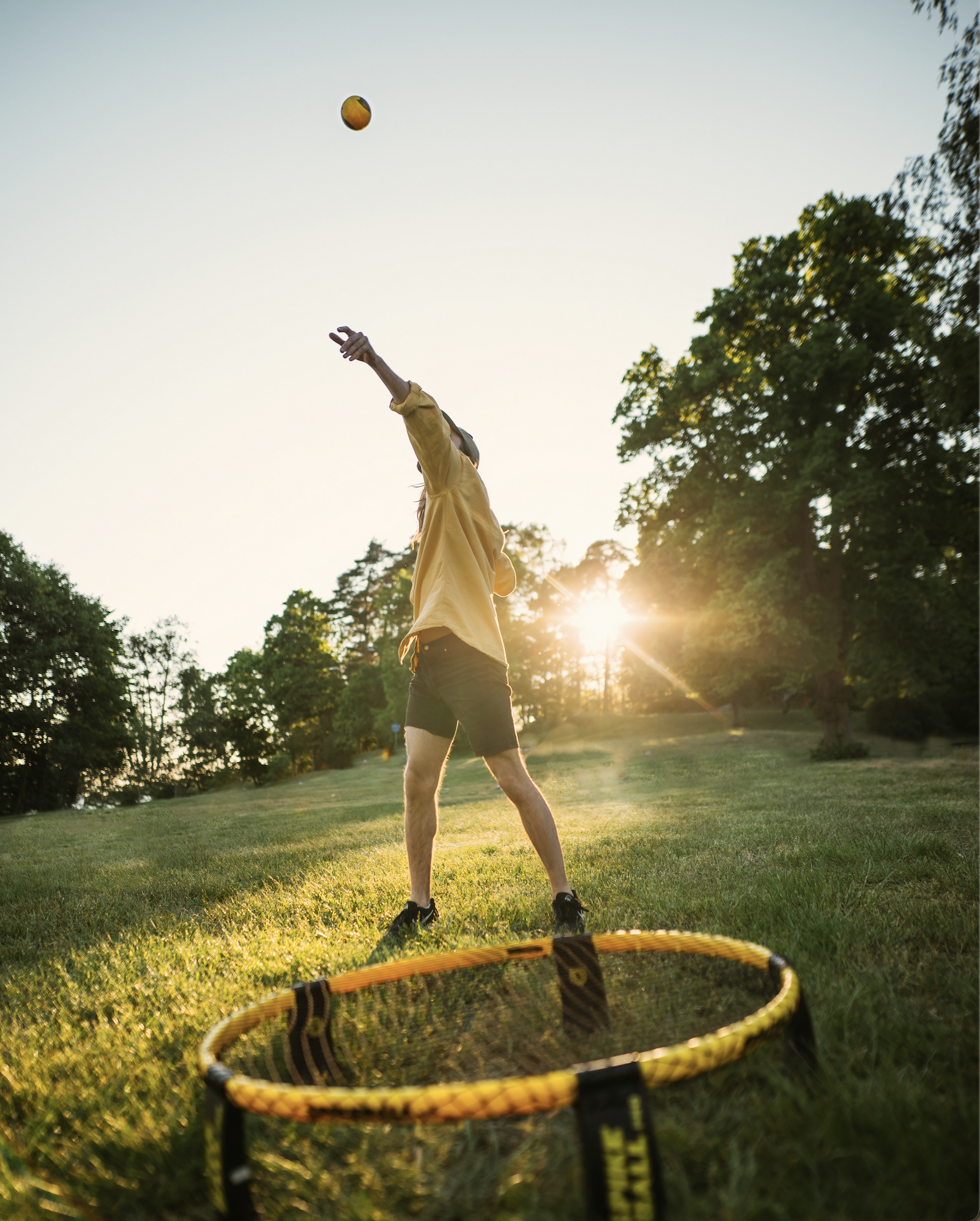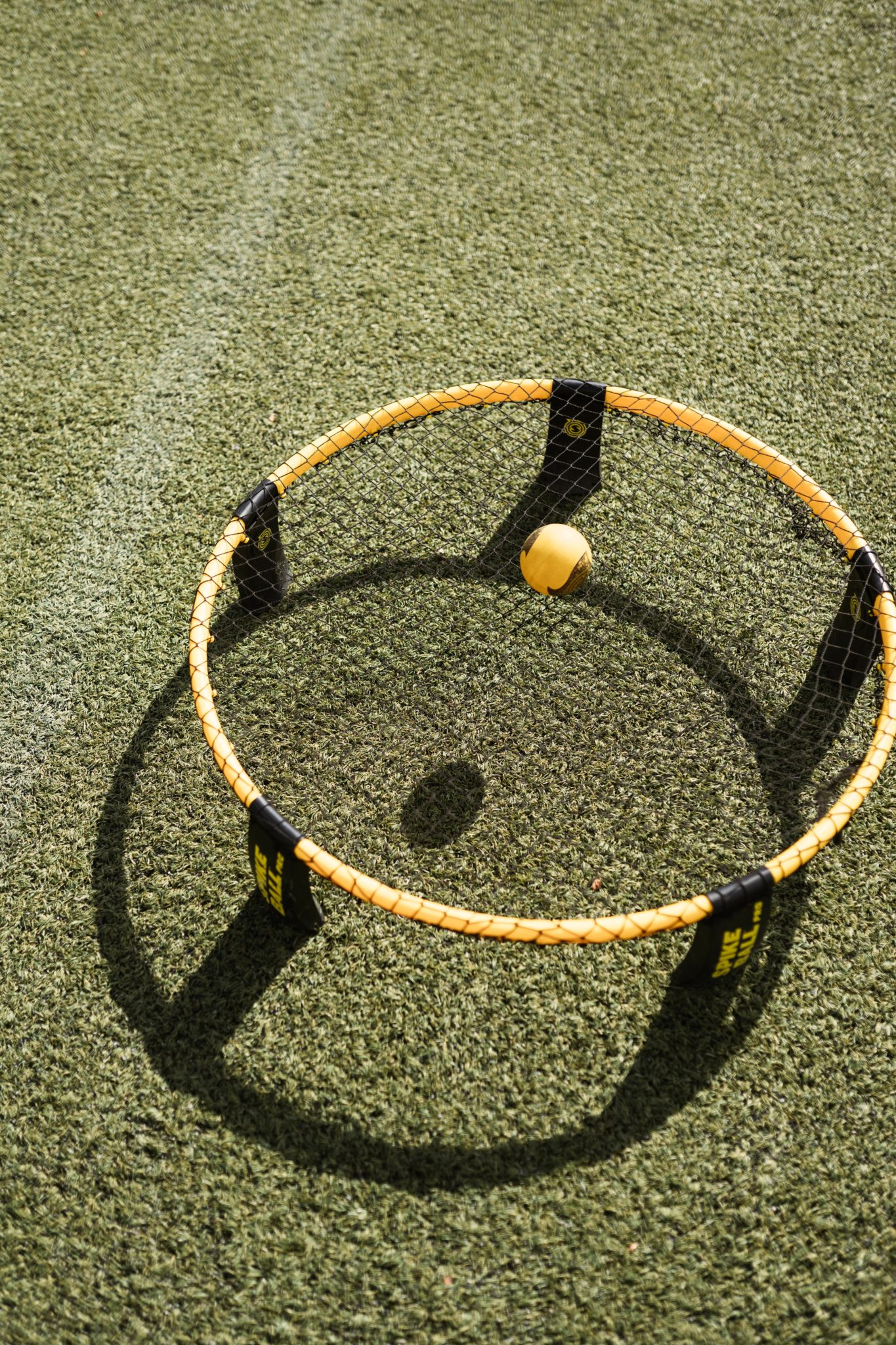 About the Champion
Becca Graham is an integral part to our downtown community. Her and her husband, Joel Graham, moved to Harrisonburg four years ago and shortly after began running the Friendly City Inn bed and breakfast. Believe it or not, Spikeball played a key role in introducing Becca to her husband and future coach, Joel Graham! Joel had been introduced to the game from his resident assistant in college and fell in love with the sport, although at the time the game had very little traction. Joel was so passionate in fact that he reached out to Spikeball's CEO in hopes of being able to work for them. Joel eventually became an ambassador for the company and it was while he was promoting the game at a music festival that he met Becca. Becca and Alli were then introduced to the sport they'd come to know and love and as they say, the rest is history! This upcoming summer will mark ten years that the duo have been playing Spikeball. Joel went on to work full-time for the company in 2014; at the time that he was hired, there were a mere five individuals working at the company– that number has since increased tenfold.
Both Becca and Alli developed a passion for playing the sport and brought sets back to their college that following fall to introduce the game to their fellow classmates. In early 2015 when visiting her brother in California, Becca competed in her first tournament alongside Joel which ignited a fire in Becca to potentially take this recreation hobby of hers to a competitive level. In our interview she noted how cool the atmosphere was and how she thought to herself:
Wow this is awesome." 
It was that same year that Becca and Alli began seriously participating in the sport and attending tournaments. It was also in 2015 that Becca and Alli were one of 13 teams put into the first ever women's roundnet division. Up until then there hadn't been enough diversity amongst players to create gendered divisions–nonetheless, Becca and Alli had been competing in the advanced divisions despite that fact. Becca notes that "it's been a slow grind finding girls to get out there to compete" but within the last couple of years there's been huge progress made; as of now every tour stop has had a women's division. Since their first tournament in 2015, the power duo have won 3 national champions and Becca herself is the only Spikeball player to have won 4 national championships.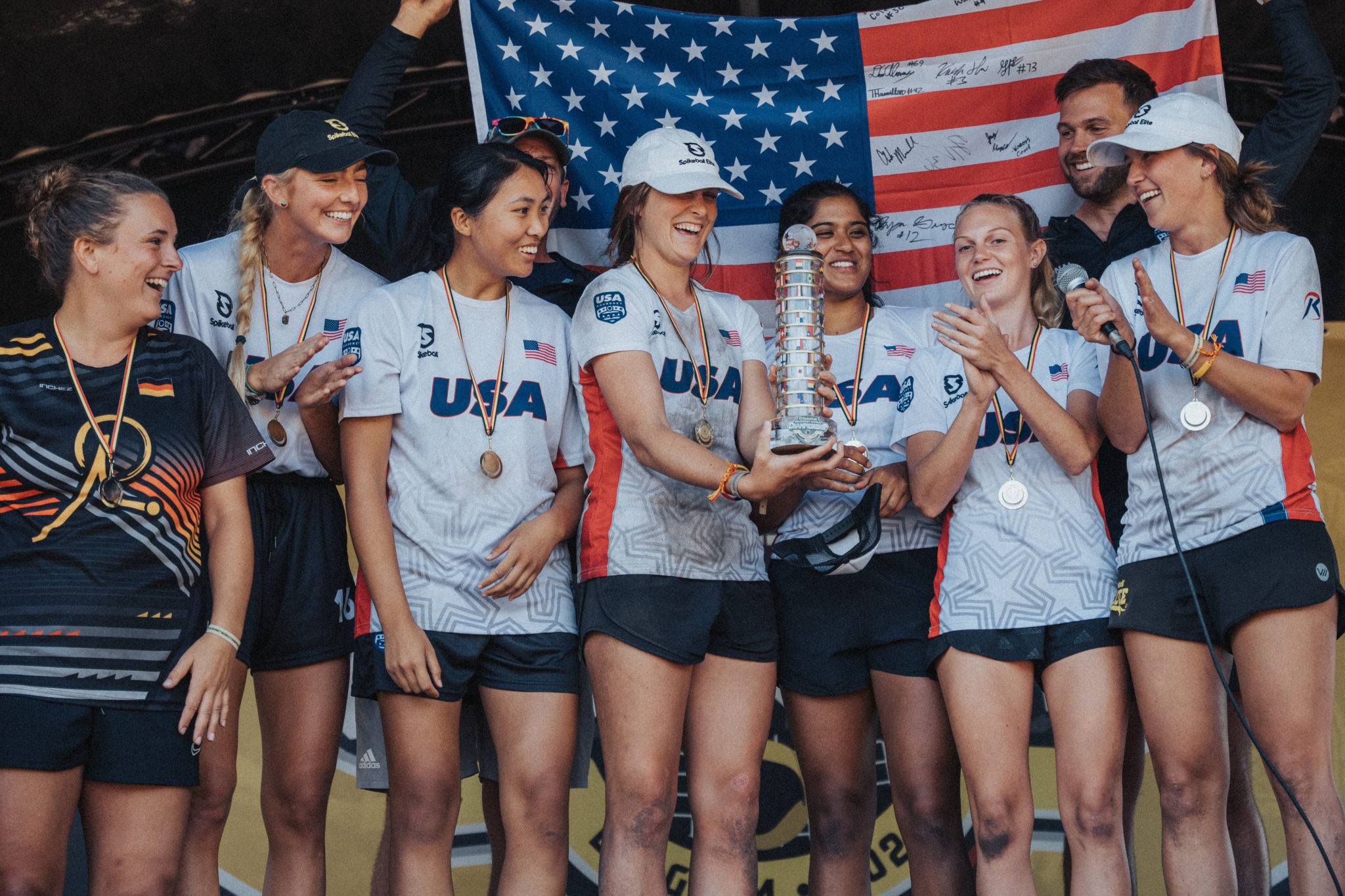 It was a dream come true' 
Given the fact that both Becca and Alli have been competing in the sport far longer than anyone else in the competitive womens scene, it hadn't been a total surprise to the two when they got word that they were invited to represent team USA at the first ever World Championship of roundnet. But nonetheless, Becca explains how surreal the entire experience felt. It was, "super exciting", "this is something we've been working towards for almost ten years. We've always dreamed of being able to play against other countries." In our interview, Becca explains how monumental this competition was for the sport of roundnet. Like many other competitive roundnet players, Becca is hopeful that one day the sport will be integrated into the Olympics. Becca doesn't deny how difficult the process of getting a new sport acknowledged by the Olympics is, but the fact that 33 countries were able to take initiative and form teams of passionate and skilled competitors alike showed much promise for the sport of roundnet.
Might not be [in the Olympics] for 15-20 years but this was a big step in the right direction."
Becca emphasizes that despite the fact that the United States had a multiple year advantage playing roundnet compared to a lot of the participating countries, the competition was incredibly skilled and Becca acknowledged that it took many of the USA team members by surprise.
What Was Your Favorite Moment in Brussels?
Becca describes her time in Belgium as an "all encompassing experience" and she notes how surreal it felt to meet people from all over the world that share something in common; some of her best moments on the trip were being able to meet people from a multitude of countries and being able to connect to people face-to-face that she'd previously only known through social media.
Felt like a big summer camp- in the best way."
Becca described one of the most memorable moments of the experience–it had been the first team match and every country had shown up in support along to watch the competition. Becca describes the sheer excitement that was in that one space, noting that hundreds of people had been fully dressed out in their countries gear; the spectators were both playing drums and chanting as a means of supporting the teams competing. Becca says it was "mind blowing to watch that happen." 
Felt like a once in a lifetime experience- but I hope it's not!"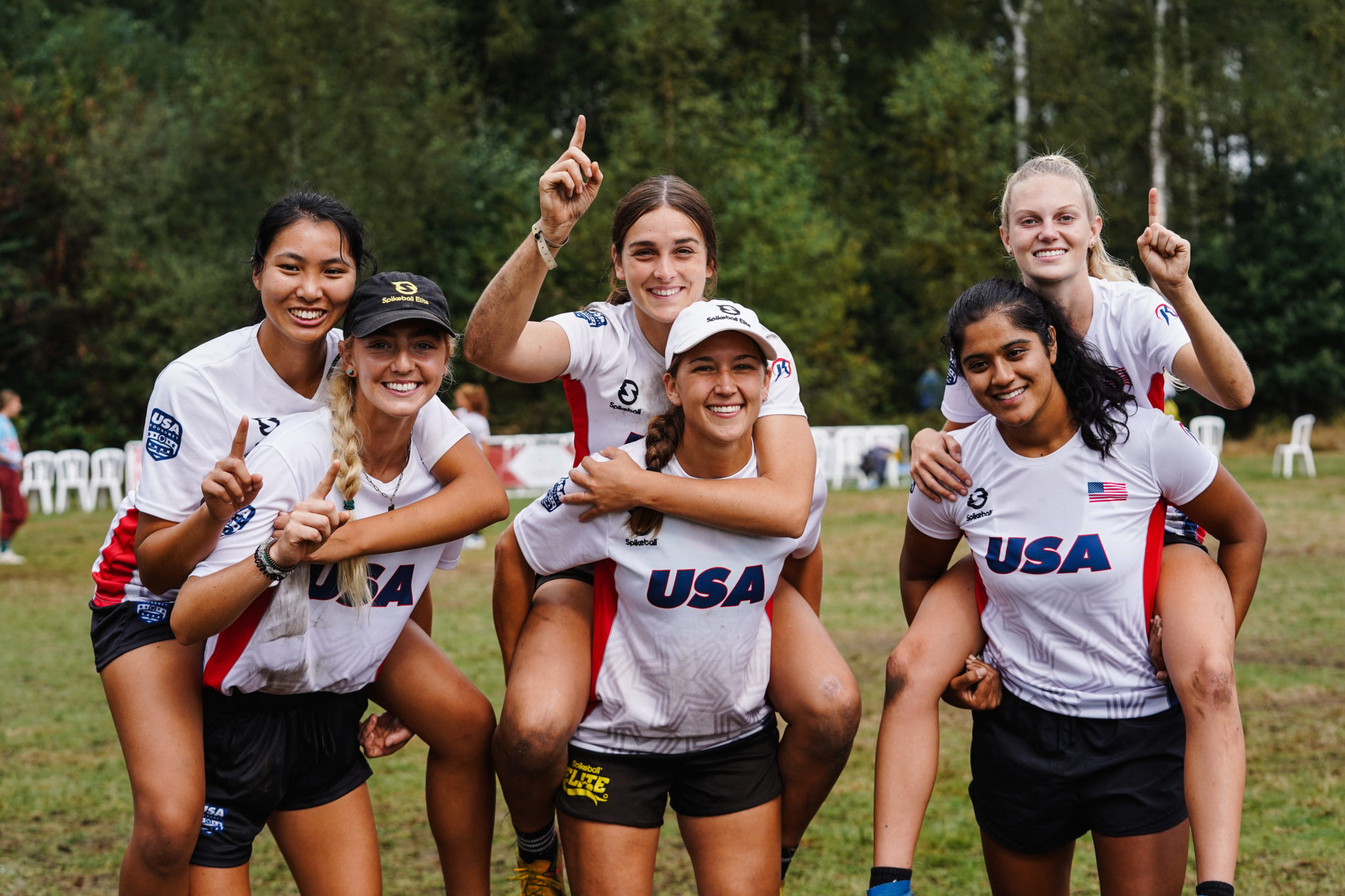 What's Next?
Becca and Alli will soon be making their way to Texas at the end of October to compete in yet another roundnet championship. Be sure to keep up with the duo on their Instagram and congratulate the champions when you see them!
Watch the duo's Spikeball highlights here, and read RecreationInsider's article "Complete Guide to the History of Spikeball" here.