2018 was an amazing year for downtown and our organization. There were a lot of fun and memorable moments, but here's some of our favorites!
Bricks & Clicks: We helped strengthen businesses.
We launched Bricks & Clicks, a program to help businesses strengthen their bricks-and-mortar destinations as well as their websites and digital marketing. We hosted a day-long workshop, then provided free one-on-one marketing consultations to a dozen downtown businesses and awarded $37,000 in grants. In just a few months, one business saw 30% increase in sales and we're still hearing great feedback from others who have invested more into their marketing and are seeing positive outcomes. 
Downtown Dinner Party: We celebrated. 
We kicked off our 15th anniversary at the Downtown Dinner Party, a celebration of our culinary district that featured 15 tasting stations from talented chefs at one of the best parties Harrisonburg has ever seen. The party was the perfect way to toast to downtown's success story and 15 years of working together to make downtown a Great American Main Street. Watch the video below to see how far we've come.
Destination Downtown Grant: We gave back
We launched the new annual Destination Downtown program and awarded $25,000 in grants to community members, organizations, and businesses with the best ideas for attracting people to downtown throughout the year. Grants include events, public art, and local history project. Check out our blog to see who the award winners were.
Friends: We grew our partnerships and made new friends
The transformation of downtown is a story you helped create. We are so thankful to our wonderful annual partners like the Harrisonburg Radio Group, WHSV, and Pendleton Community Bank who support our mission all year long. No matter how you support our organization, whether through sponsorships, donations, purchasing raffle tickets or attending our events, your contribution allows us to continue to build downtown Harrisonburg into a destination where independent businesses thrive and people enjoy memorable experiences. And we are proud to say that every year the community support is growing!
Branding: We refreshed our look and developed a downtown brand
After participating in a city-wide branding process, we delved deeper into a brand for downtown and HDR. This process involved a lot community input and was an opportunity for us to look at our community and organization through a different lens. We're thrilled with the outcome and look forward to rolling out more materials and swag with our new look and feel in 2019.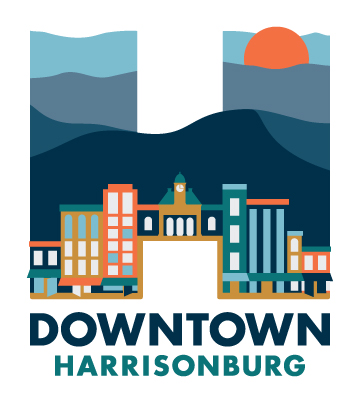 We couldn't have done any of this alone! Your support of HDR makes it possible. Please consider making a year-end gift to Harrisonburg Downtown Renaissance so we can achieve even more together in 2019!