Happy Valentine's Day! As part of our twentieth-anniversary celebration at Harrisonburg Downtown Renaissance, we invited the community to share their love stories (romantic, platonic, family, etc.) that feature Downtown Harrisonburg. We LOVED reading everyone's stories and have shared some of our favorites on Facebook and Instagram. Check out the full collection of stories below, and prepare to feel warm and fuzzy.
This promotion is just one of 20 surprises we have in store in 2023 for Harrisonburg Downtown Renaissance's twentieth anniversary! Make sure you are following @downtownharrisonburg for more fun content throughout the year as we celebrate 20 years of building Downtown Harrisonburg as a destination where businesses thrive and people enjoy memorable experiences.
Congratulations to Natalya & Myles Lawlor for being randomly selected as the winners of the $25 gift card to Rocktown Kitchen! We hope you enjoy your next date downtown on us!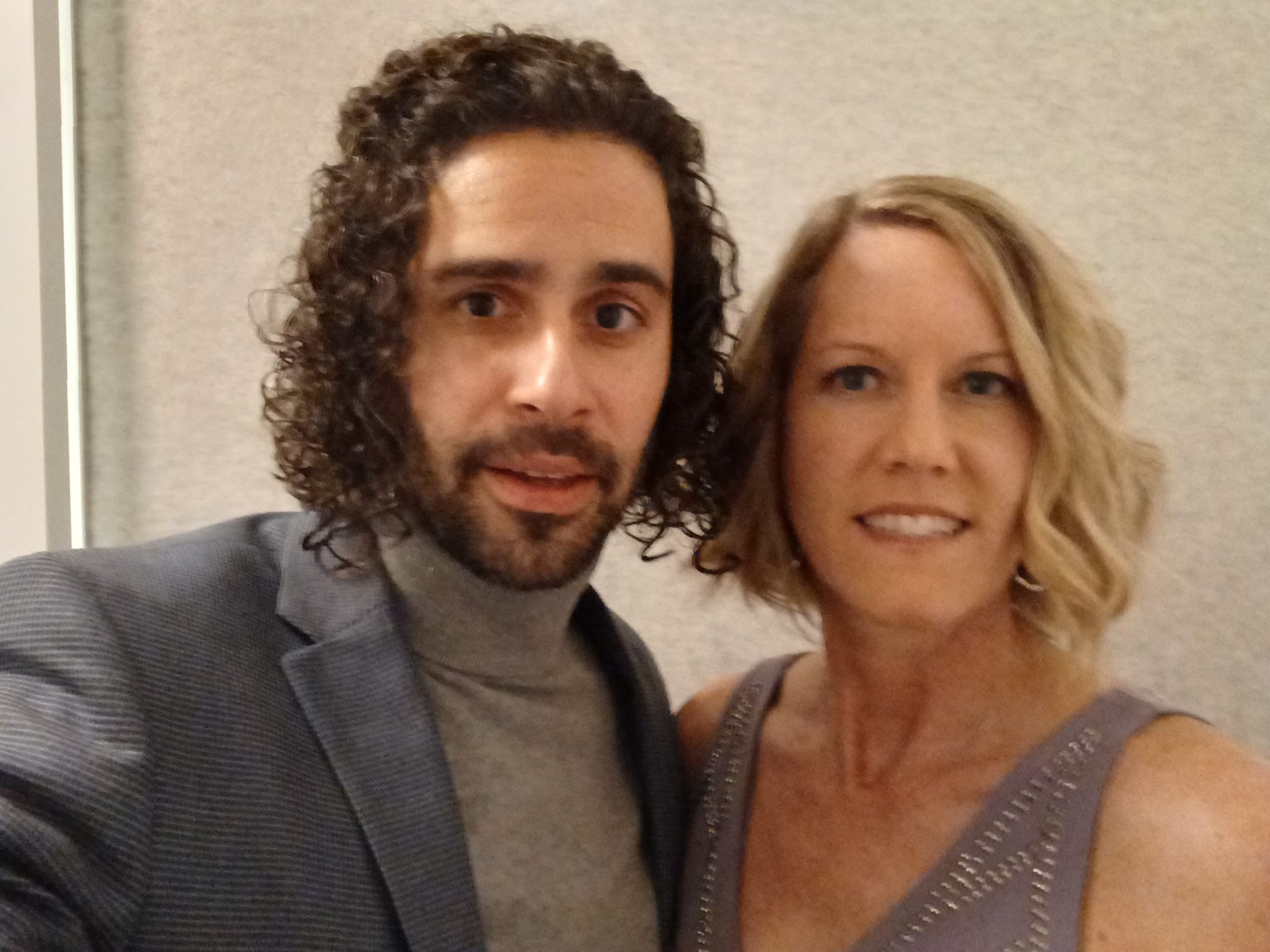 Michael and Alison Trocchia
I met my husband in 2001 when we both performed in a play at Valley Playhouse, formerly located on Water Street. We often went to Jess's after rehearsal for pie and coffee (since he was a New Yorker, he quickly learned that around here we speak of "pie" as a dessert, not pizza). Many of our early dates occurred in Downtown Harrisonburg, including a dinner at the Joshua Wilton House to celebrate his graduation from James Madison University in 2003. We were married in May 2004 at St. Stephen's and held our reception at Calhoun's. These days we go out regularly for beers at Pale Fire or Billy Jack's, or enjoy a weekend dinner at Clementine, Beyond, or Magnolia's.
Dylan and Anna
Our story began when we met in an improv dance class at JMU… but it was not until years later that we had our first date at Billy Jack's! We spent hours talking and walked so slowly back to our cars because we didn't want the night to end. Our love story has taken us to multiple cities, but we have always known that Harrisonburg is our home. In 2019, Dylan proposed on the JMU Quad. We celebrated our engagement that night at The Indian American Cafe with our friends and family! Our wedding plans were put on hold in 2020, but we kept our hopes alive for our "Big Wedding" celebration in 2021! Our rehearsal dinner was at Bella Luna and we got married with a beautiful view of Massenutten Mountain at Cross Keys Barn. Now we happily live in the 'burg and frequent all our local faves…Billy Jack's, Bella Luna, Indian American Cafe…we love you, downtown Harrisonburg!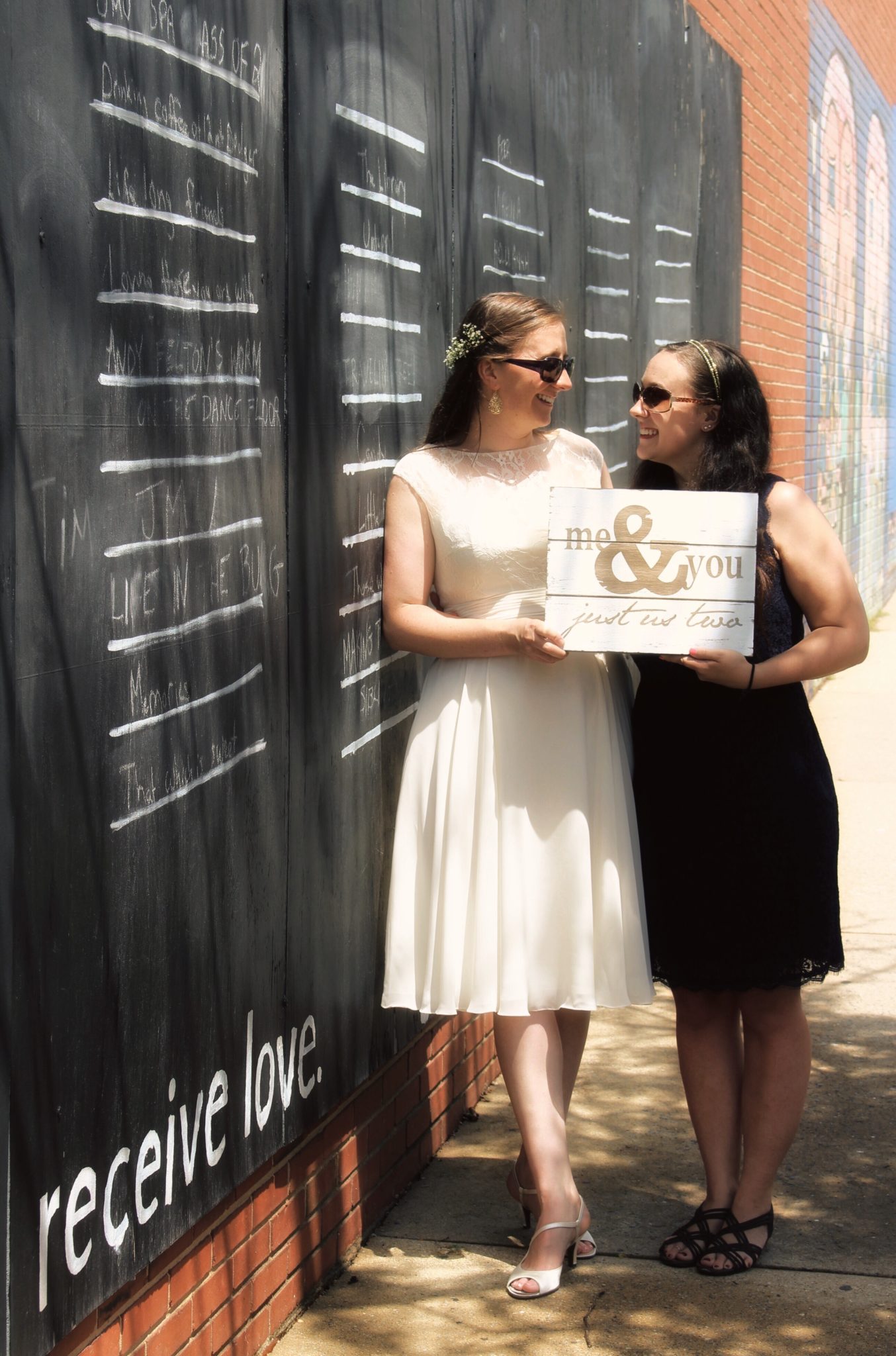 Erin M. and Colleen K.
Colleen and I met in New Hampshire in 2007, when I was in graduate school and she was an undergrad at the University of New Hampshire. We started dating in 2008 and moved in together in our first apartment in 2009. As our relationship developed over the following years, we moved from New Hampshire to Maryland, and then to Virginia. We had the unusual experience of having gay marriage legalized in each state, when we lived there. New Hampshire in 2010, Maryland in 2013, and finally in Virginia in 2014. When Virginia legalized gay marriage in October 2014 we both new we wanted to get married! We secretly each bought the other a ring and, long story short, we proposed to each other in December 2014 at Christmas time. We got married in June 2015 at Hillandale Park, surrounded by family and friends. Our reception was catered by Mashita and local musician, Jeff Gorman, played the guitar and sang Johnny Cash's "I Walk the Line" for us as we walked down the aisle together. We have been very happily married for almost eight years.
RW C. and Emily C.
Literally every part of our love story took place downtown! From meeting while working together downtown at Rockingham County, to flirting while hanging out with coworkers at Jack's Hideaway and early dates at Magnolia's for happy hour, to getting married at Muhlenberg Lutheran Church, having our rehearsal dinner at Ruby's Arcade, and moving into our first apartment together on E Market/Myrtle. I used to always say that I "lived, worked, and played downtown" but we also loved each other downtown! Even though we moved out of downtown when we bought our house, we are grateful that we still work and play there and that we're only a 7 minute drive away. Our picture for our Save the Dates is included below, it was taken on E Water St.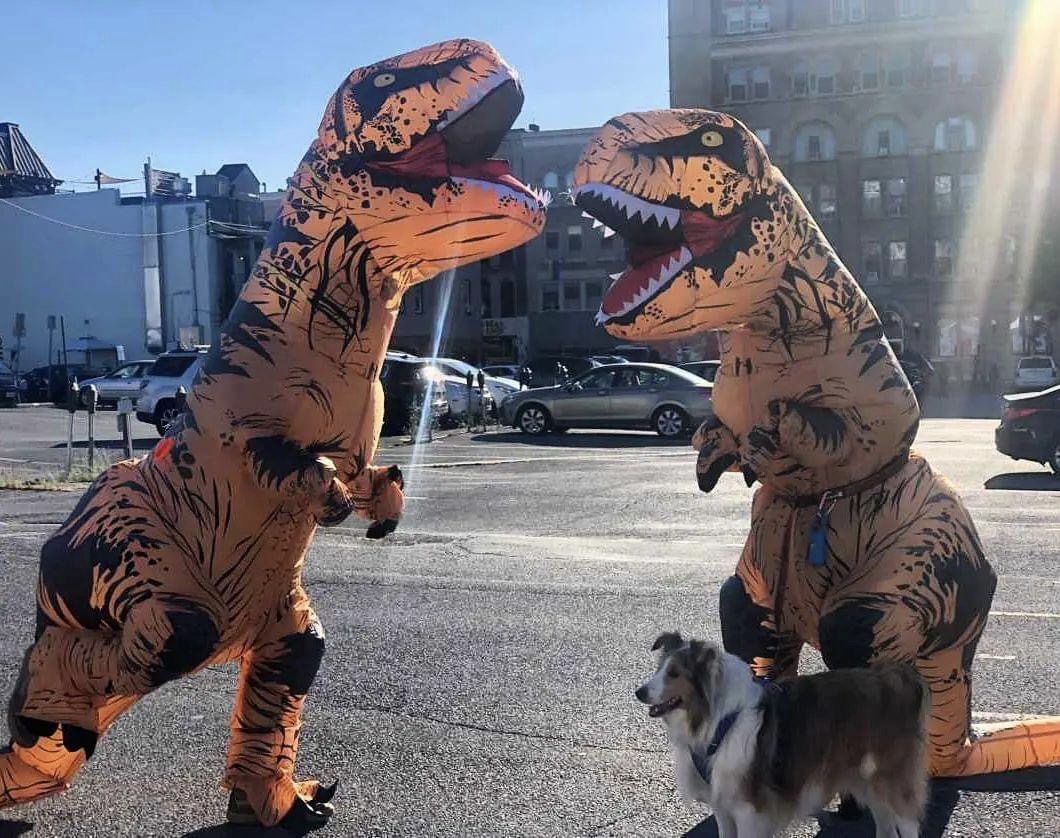 Ethan Morris and Brooke Imber
Ethan and I met in August of 2017 at Ruby's Open Mic night. This was the evening that his band, Paracosm, was the featured act. I was drinking a Breckenridge Vanilla Porter by myself. He came up to me, asked how my beer was, and proceeded to tell me that that's from his favorite brewery out where he used to work. (Nice one, Ethan.) I told him that I had actually just committed to work in Breckenridge, CO as a ski instructor the week before. Surprised to hear that, he told me that this was the first season in four years that he would NOT be working in Breck as a snowboard instructor. He then enthusiastically had me add his best buddy on Facebook so that I could have an immediate friend out there. Ethan ended up getting my number a few days later and I ended up deciding to work even further away (Idaho) for the winter LOL. We did the long distance thing and then both ended up working in Breck together for the last fifteen days of the ski season. Moved back to Harrisonburg that spring and have been roommates ever since. You can now occasionally find us in the form of dinosaurs led by our fearless King, Stu.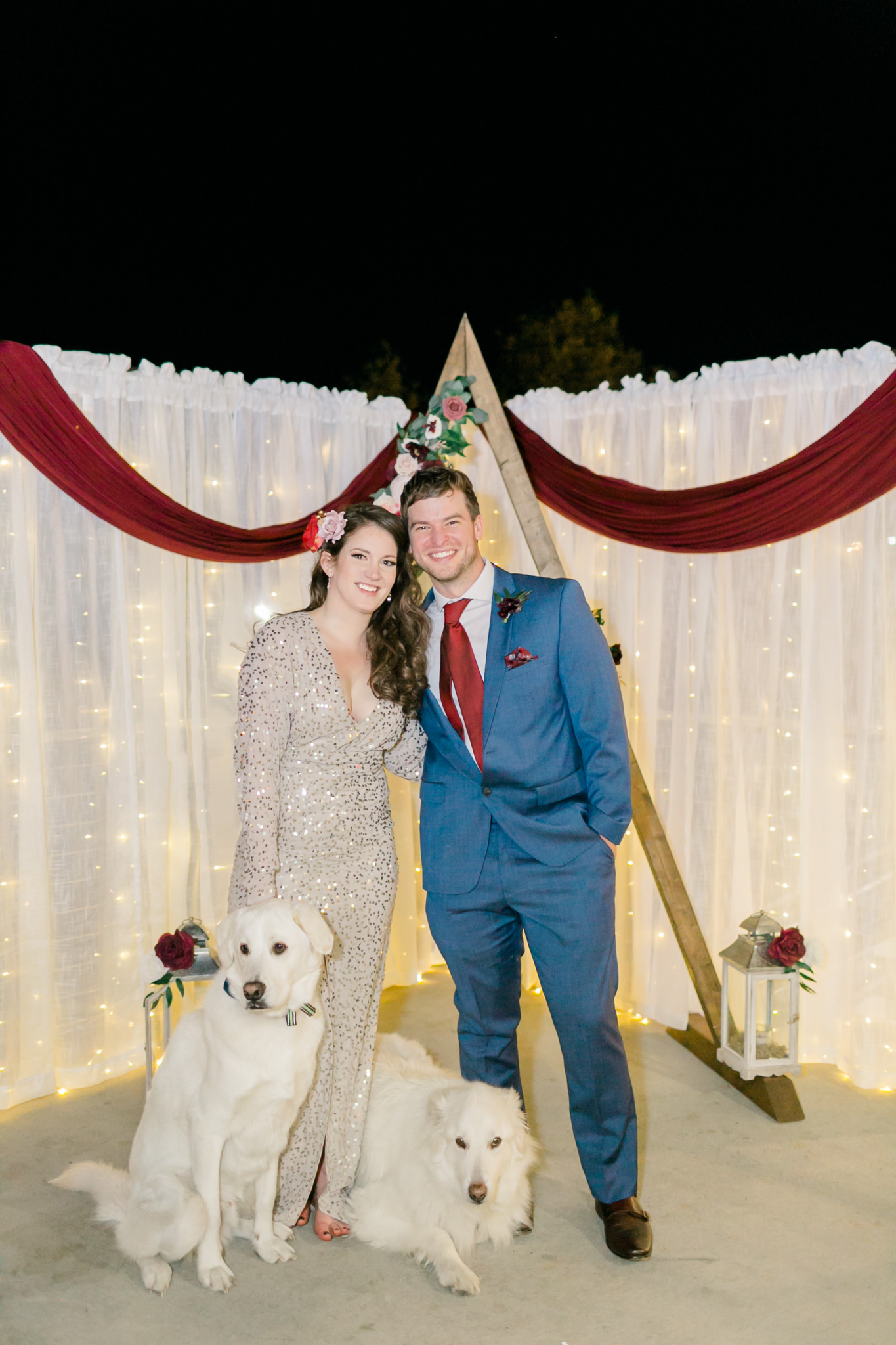 Landon Heavener and Christine Schmidt
Landon and I met online in 2016 and had our first date at Pale Fire. As adults post college, online dating can feel odd so we were of the mindset that we should meet for a short experience first and then see where it goes. Well, one late night pint turned into a few and we stayed at Pale Fire until closing. On the way out we said "Hey, you hungry?" And went to Billy Jacks for the infamous sticky nuggs and things just clicked. As time went on, we kept enjoying ourselves downtown and can honestly say we've had a date in each location. From meeting parents over a game or two of duckpin bowling at Ruby's arcade to meeting friends for many brunches from Clementine's to the Artful Dodger to the Golden Pony. Two years of dating turned into moving into our first house together and then turned into an engagement. Where did we go the exact same night we got engaged? Pale Fire follows by Ruby's Arcade for some duckpin bowling. Where did we host our rehearsal dinner? Pale Fire. Where did we get married? You guessed it – Pale Fire. And perhaps one of my favorite parts about our special night was we had at least one food item catered from every business we could to highlight just how important Harrisonburg is to us. Our menu consistent of sticky nuggs from Billy Jacks, fried Oreos from Jack Browns, Pizza from Ruby's, pork chop-chop from Cuban burger and a few more fun items but to this day Harrisonburg holds a "forever spot" in our hearts.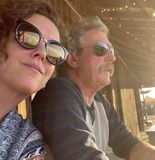 Scott G. and Catherine D.L.S.
We met online playing Words with friends. I am from Quebec, Canada and he is a Harrisonburg native and the community is very important to him. It was an unlikely pairing and a crazy story but our love grew over months of phone conversations, texts, and facetime calls. I, as a true Millennial, spent a lot of time searching about Harrisonburg businesses on Instagram. Downtown Harrisonburg was my first go to and from there I discovered all the wonderful restaurants, bakeries and shops before I ever made it to Harrisonburg in person. When we got serious and talked about marriage, I had spotted James McHone Jewelry online but didn't say anything. Scott asked me to send him pictures of engagement rings, wedding rings and stones I liked. When he proposed, he had a wonderful set he had made by Tina at James McHone Jewelry! It was perfect, the full set is a four piece set with a Montana Saphire and I fell in love with it! Ever since, they are like family and a few additions were made to my collection but also to my mom's when my parents visited! Our first dinner with my parents (another love story between them and Scott!) was at the Bella Luna and we have been many times since. This past December, we celebrated our 3rd wedding anniversary at the Local Chop & Grill House. It's our favorite place for special dinners! Our love story is grounded in Harrisonburg. I still have to be in Canada half the time, while Scott is here because his business, Graves Electric' keeps him here as well as his elderly mom. So when I come to Harrisonburg, I truly feel like Virginia is for lovers since it's where I get to live my love story with Scott! Thank you for reading me!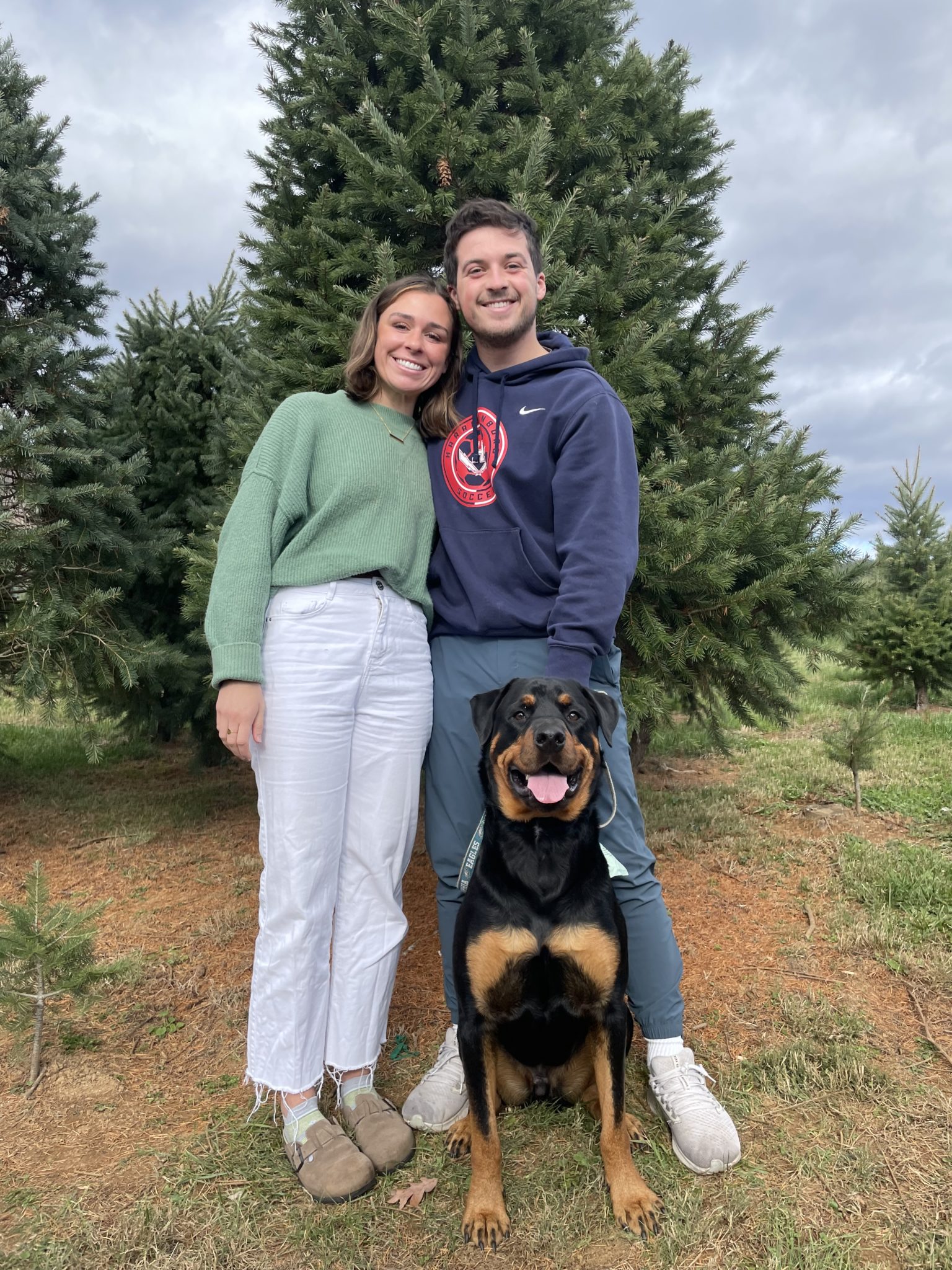 Anthony M. and McKinsey S.
We met in college, I went to James Madison University and he went to Bridgewater. Downtown Harrisonburg has been the center and building block of our relationship. Our first date was tacos at Magnolia's, followed by ice cream at Kline's. During the beginning of our relationship we went to many different downtown restaurants for our date nights, Billy jacks, Heritage Bakery, Joshua Wilton house, and Bella Luna. When we moved into our first apartment together in the Ice House South, we were so excited to be able to walk to all of our favorite places. We have just bought our first home together in Harrisonburg and are so happy to be close to all these special places that we went to at the beginning of our relationship.
Tyler and Caitlin
I was in Graduate School at James Madison University for Occupational Therapy and I was out celebrating the graduation of friends in another program at Ruby's! Tyler was out with Rocktown Rugby friends. My friend kept trying to ask me who I thought was cute in the bar because she wanted to help me meet a guy. I kept telling her, "no no we're out to celebrate your graduation, we do not need to worry about that!" However, she kept on insisting and I finally pointed to a guy, to get her to stop asking me. I did not think she would actually do anything. Have you seen How I Met Your Mother? You know how Barney is Ted's wingman and always introduces him to women…have you met my friend Ted? Well next thing I know, my friend is dragging me across the bar and so nicely stares, "have you met my friend, Caitlin?" and then walks away! We both stared at each other and eventually starting chatting. Before we left, I asked for his number and then we had our first date at Jack Browns! Tyler and I took our engagement pictures in Downtown Harrisonburg and we were supposed to get married at Bluestone Vineyards but due to COVID, we had to make a lot of wedding changes. We have been married for over two years now and always love coming back to Harrisonburg!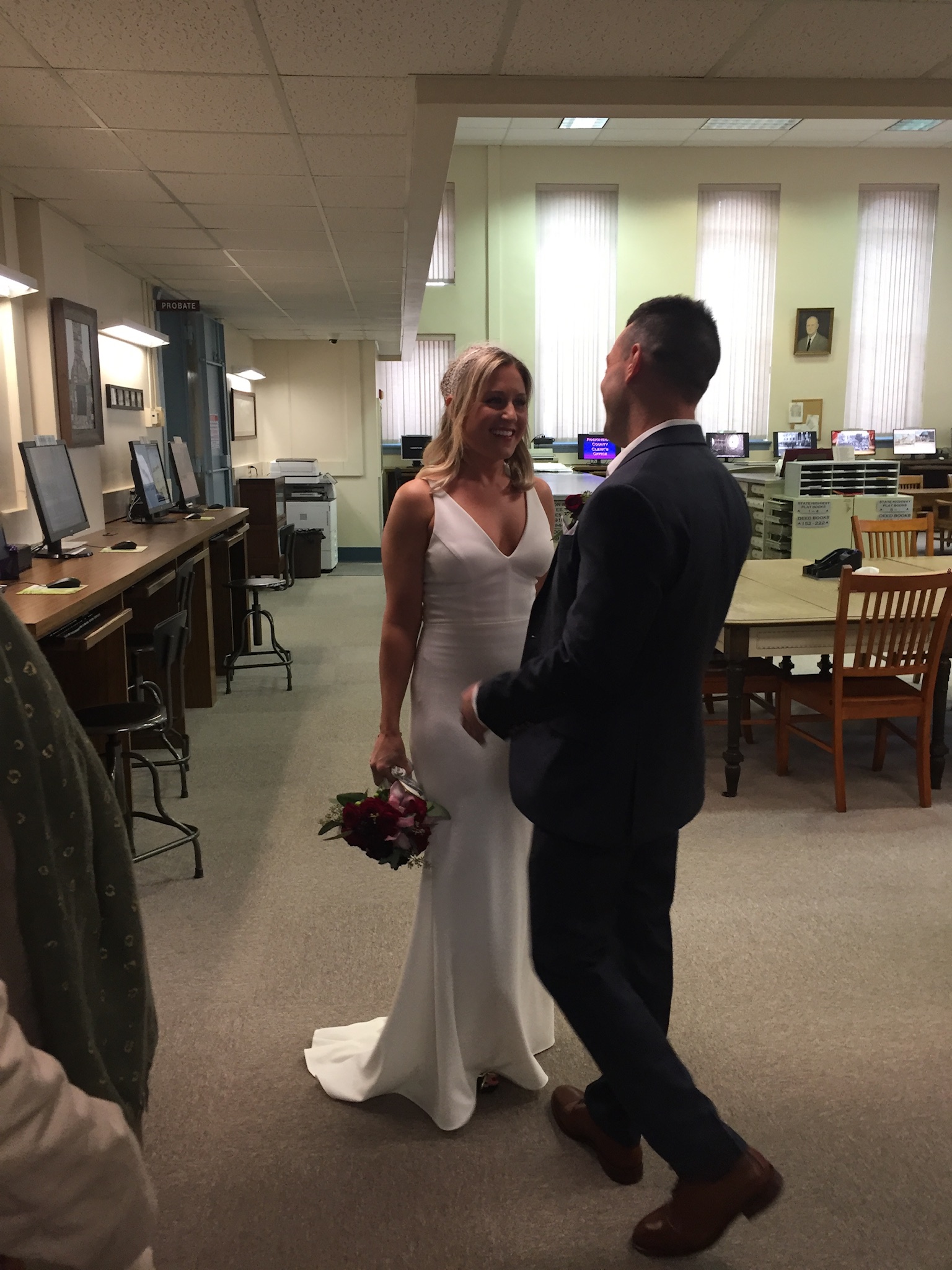 Christian Frye and Erin Overstreet
We met thirteen years before we got married. Our story started at Gold's Gym in town. We were gym pals but that was the beginning and end of it. Our lives continued on separate paths, rooted in Harrisonburg, for over a decade from the time we met. Then, in 2018, one morning at the gym, Christian asked me if he could join me and a friend on a hike. His hiking buddy was injured and he knew we were going out for a long one the next day. That hike was not a date. He spent seven hours listening to me and my friend talk about life, failed love and future possibilities. The next day, he asked me out. Thirteen years after we met. I was weeks away from making the decision to move, to leave that town that I loved but in it could not find the love I craved. We hiked High Top Peak in the Shenandoah National Park that week. It was dark; 30 MPH winds and monsoon-like rain followed us up and down the trail. Neither of us were sure if it were a date or just a hike so we did not dare suggest anything else. He grabbed my hand on the way down the mountain when I slipped on a wet rock and then did not let go until we hit the road. We were married four months later. I met him at the courthouse in Downtown Harrisonburg at 9am on a Thursday…Valentine's Day. Ten of our friends and family piled into a small room upstairs in the courthouse and Chaz officiated. Our vows were real and unfiltered. Our friends thought we were insane. But I knew how to trust my gut by that point in my life. We both knew. This Valentine's Day marks our fourth year as a married couple and actually, just a couple in general. We have explored every inch of this town together and it never gets old because we stay curious and always bring it back to love.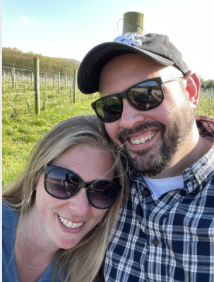 Dan E. and Kristin N.
We met online and talked for several weeks before meeting in person. Dan is a chef and picked the spot for our first date – Joshua Wilton House. I was suitably impressed! It was April 2021 and the weather was beautiful, so we sat outside. Because of his job, our date was on a Tuesday night. We were lucky enough the whole patio to ourselves, which would not have happened on a Saturday! The lighting, greenery, and privacy combined to make quite the romantic atmosphere. After a very long (and lovely) dinner, we were not done talking, but we also are not go-home-together-on-the-first-date kind of people. So we sat on the bench in front of Massanutten Regional Library for a few hours more, talking and listening to the crosswalk signal beeping until after midnight. We just got engaged on Christmas.
Jack & Brenda Kearney
As I saw here across the bar at Ruby's, I knew. I knew either she wouldn't return a glance or it would be forever. One glance later… making homemade Penne a'la Vodka followed by a lifetime of adventures and foods. Four years, and two restaurants later, we still share the same passion for food and each other.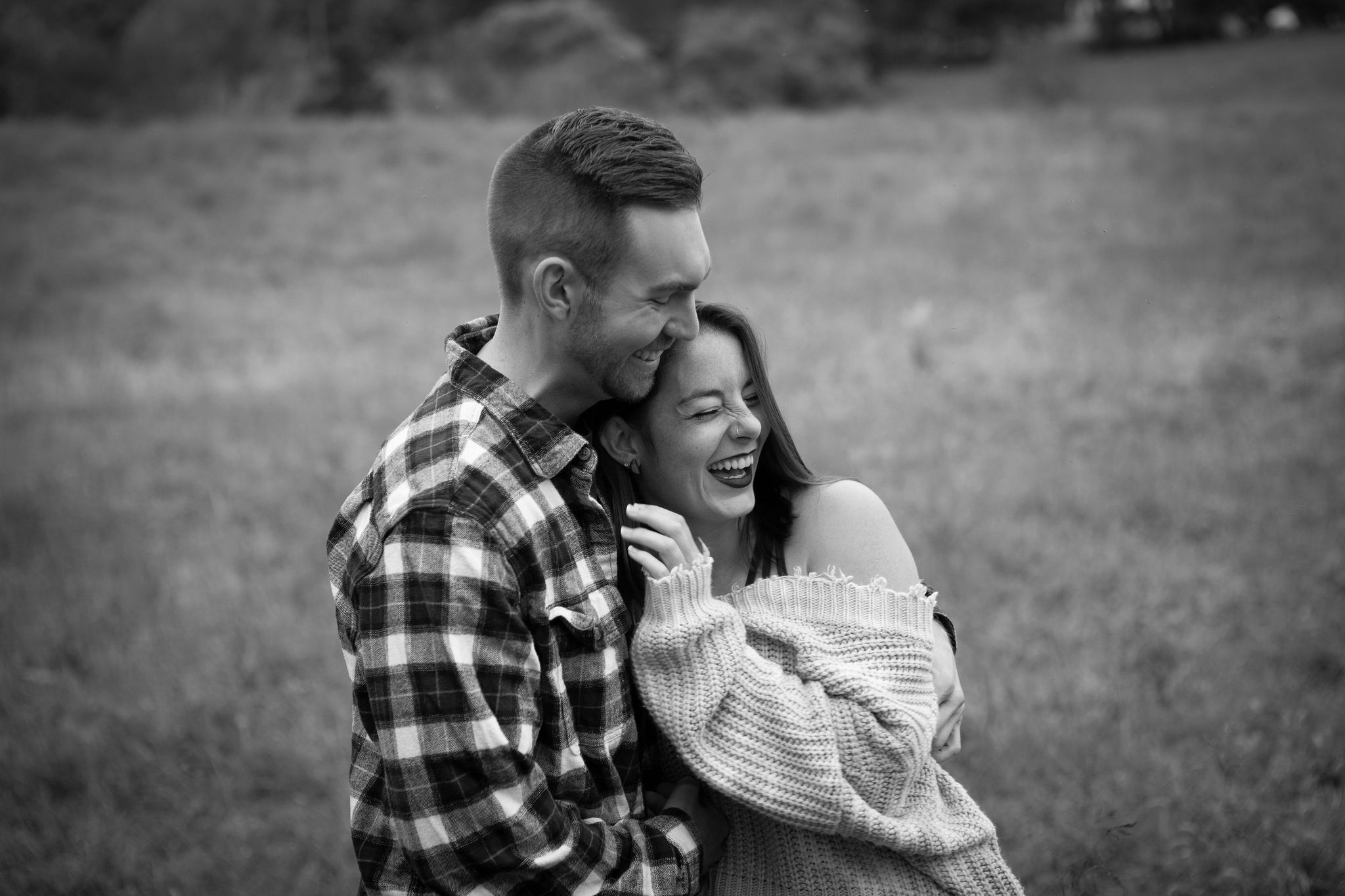 Nate O. and Eryn M.
I had picked up a Saturday closing shift at Three Notch'd and man, was it a slow and rainy evening. I had no customers in the taproom when lo and behold here comes a group of people in. Paying absolutely no attention to the one male in the group (because I assumed he was with one of the four females with him), I took their orders and that was that… or so I thought. About thirty minutes later, they all pile up to the bar asking various questions and talking when I found out that they were all school counseling majors. I found this interesting since I am also a teacher. We all started chatting when one by one the girls in the group started leaving. A plot that ended in the guy and I being alone to talk. Hours went by, we bonded over hiking and my incredible spreadsheet of all of the hikes I had done/wanted to do, then the night was over. No phone number, just a goodbye with hopes I would see him again. Fast forward to the next week, I am getting ready to go on a run with my usual group when I get an email from him. I would be lying if I said I did not scream a little in excitement. He had said he enjoyed meeting me and asked for sunrise hike recommendations. I closed the email without responding because of timing, went on my run, and sat down at Sage Bird for a drink with friends. We stayed for a while when one of the girls from the group a week prior walked by. We said hi and then she said "how funny." Something in me just knew he was going to be walking through the door soon because of that comment. Lo and behold, it happened. We somehow ended up at the same place for a drink and trivia. We awkwardly took up answers for our teams the entire night when at the last round I thought "I am not letting this opportunity slip by this time." So, I took my phone, bumped into him, and in true Eryn fashion asked "would you like to upgrade from an email to a phone number." And just like that, our bond was formed. This all happened in August of 2021 and it has been the best time since. We have been on many adventures and grown more each day together and I am so thankful for that slow, rainy evening bartending at Three Notch'd.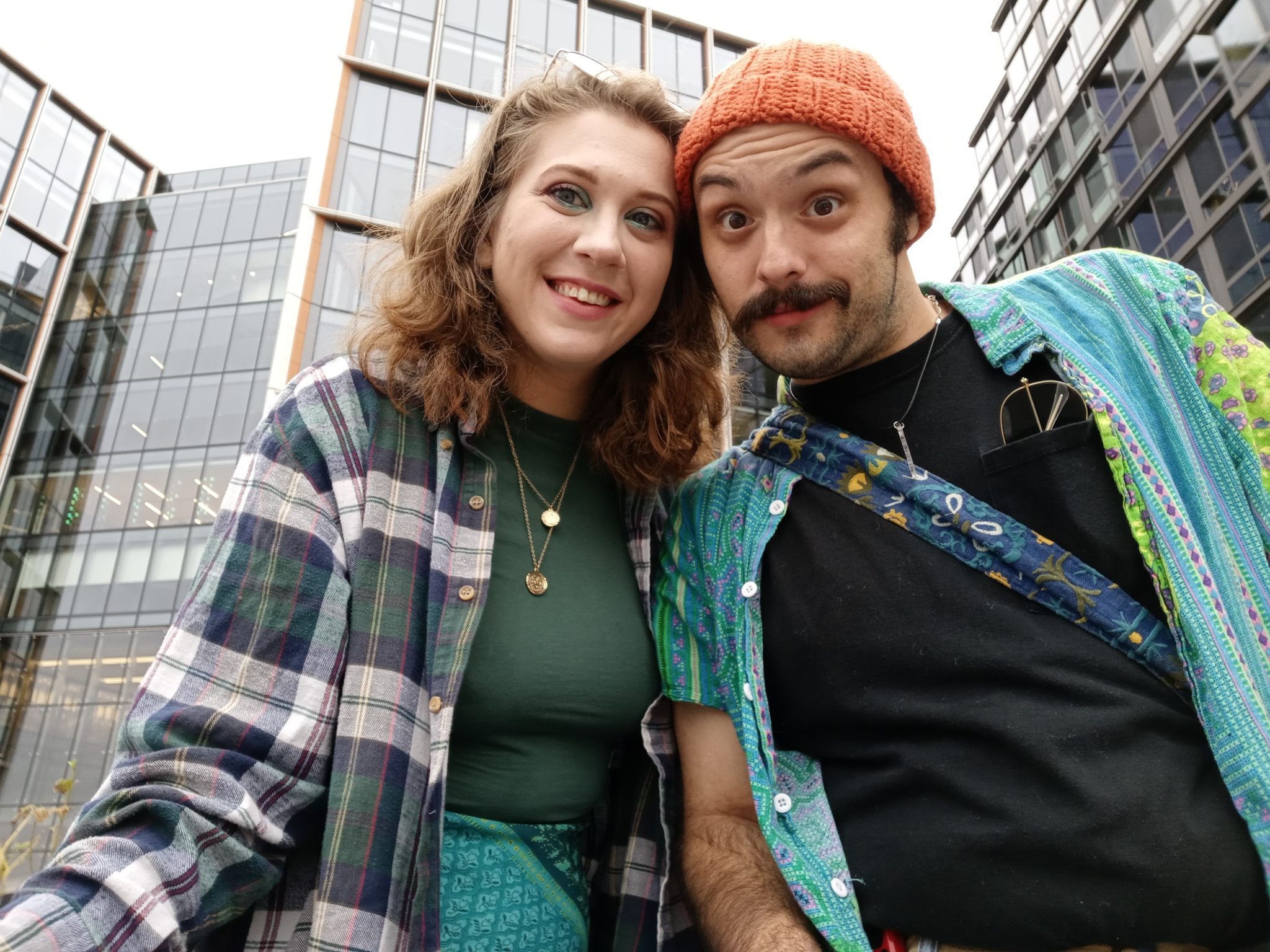 Tabitha & Andrew 'Wilson' Wilson
Wilson and I met in 2018 while working at Rocktown Kitchen! He had been working there since the day they opened – he started as a dishwasher and worked his way up to cooking on the line. I started on the serving staff in early 2018, while attending JMU. The other guys in the kitchen called him "The Wolfman". On one of my first days, the other cooks dared him to introduce himself to the new waitress as "The Wolfman". I said "I'm not going to call you that" and walked away. The other cooks laughed. Thus my crush on him began.
I had a huge crush on Wilson for MONTHS. The other servers knew it. Some of the other cooks picked up on it. Mira (co-owner and front of house manager) teased me for it. But Wilson had no idea! But the moment I really fell for him was when he told me about taking his childhood best friend to dinner at Bella Luna. I asked how his night went and he set down the dirty dishes he was holding, looked at me with pure joy in his eyes, slapped his thighs, and said with the utmost sincerity "it was DELIGHTFUL".
We started dating a few weeks after that.
We lived together in a house on the corner of MLK and South Mason, and would walk to work together. We adopted a cat from a coworker whose barn kitty had had kittens. We went to Pale Fire after our shifts. We would walk to Benny's together at midnight. We had more delightful dinners at Bella Luna. We hung out at Artful Dodger in its last days. We would get each other little gifts from Agora, and bought our beer from Midtown Market. We would hang out with Rocktown regulars and work late with Mira and Kristol Papa. Our whole lives were downtown. I fell in love with my soulmate while walking these streets.
We ended up moving away in early 2019, and our son was born in May 2019. We officially tied the knot in October 2020! But after spending a few years in Hampton Roads, we missed the community and friendliness of Harrisonburg. So in September of 2022, we moved back!!
Wilson is back in the Rocktown Kitchen, slinging plates and working with his mentor, Chef Kristo. He's happier than ever and we love calling Harrisonburg home again. Though downtown has changed a lot in recent years, we're falling back in love with the place. Our son loves the library, the Explore More museum, and Lola's Deli. We hang out at Sage Bird and Three Notch'd and mourn the death of Artful Dodger with our friends. Harrisonburg is where we fell in love, where my husband learned to cook, where we came of age. We're proud to have this town as part of our history. 🙂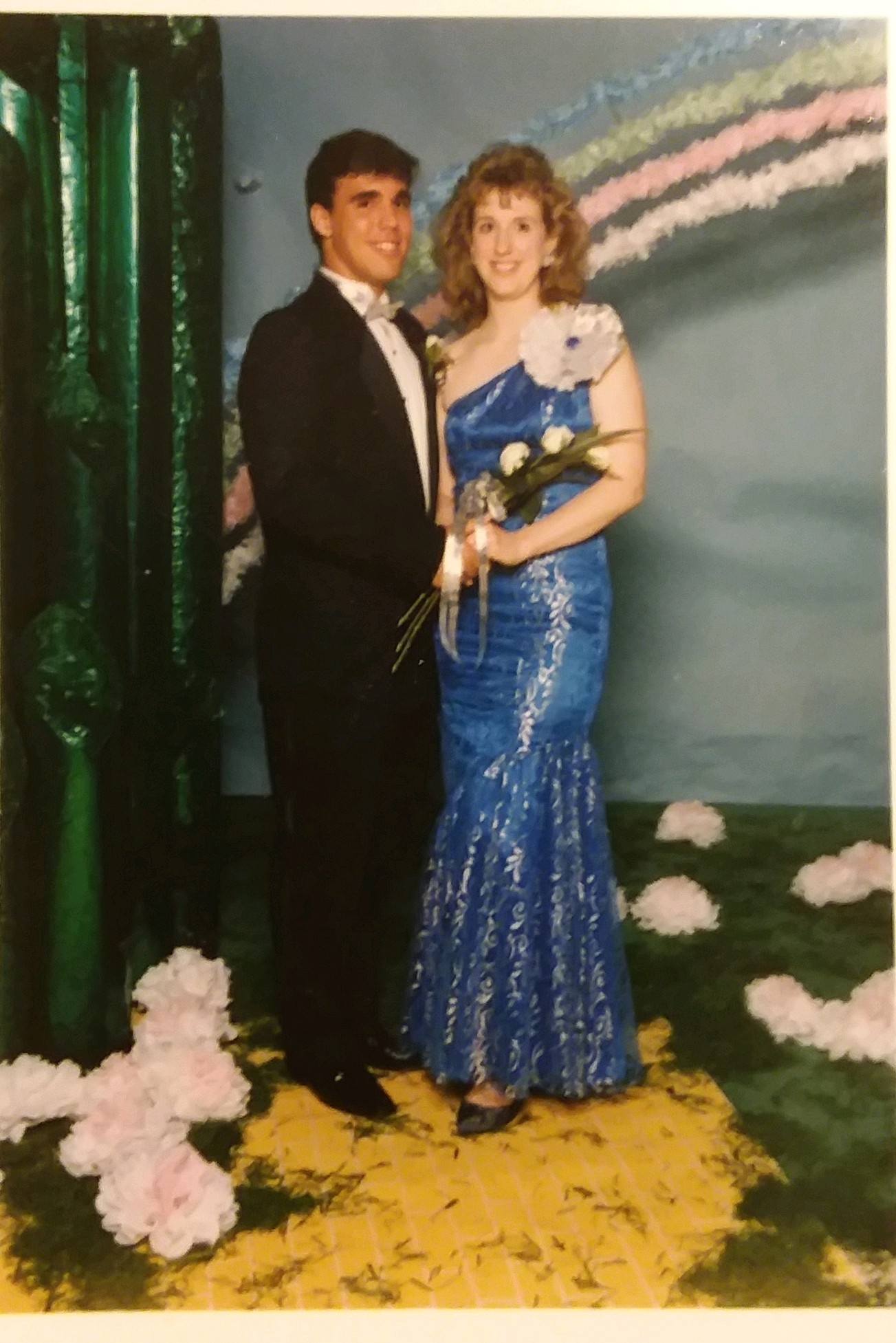 Jenny & Chris Richmond
We were high school sweethearts who went the HHS. We have so many fond memories of downtown Harrisonburg and still do. There isn't a month that goes by that we don't have a "downtown date". When we were teenagers we loved going to Spanky's. It was our favorite restaurant for a Friday night date. Then we would walk around hand in hand and stroll downtown. We also had jobs together in downtown Harrisonburg. We worked at a telemarketing office, where Bella Luna Pizza is today. We also delivered pizzas for four star pizza where Merge coffee is today. We also have a very memorable visit to downtown when we went to the Joshua Wilton house for Prom. I can still remember that night like it was yesterday. After high school we went on different paths and it was 30 years later we went on our second 1st date, you guessed it, in Downtown Harrisonburg! We planned to meet at Bella Luna. The funny part is we each thought the other got stood up. I was waiting at Bella Luna Pizza and he was waiting at Bella Luna Gelato. I crossed water street to head back to my car and I smiled at the man sitting on the bench and it was Chris! We went on our second 1st date and have been inseparable since then. We were married October 3, 2020. Harrisonburg is so special to us both. I have lived here my entire life and my husband's family moved here in 1985. Harrisonburg will always be our hometown and downtown Harrisonburg will always be very special to us.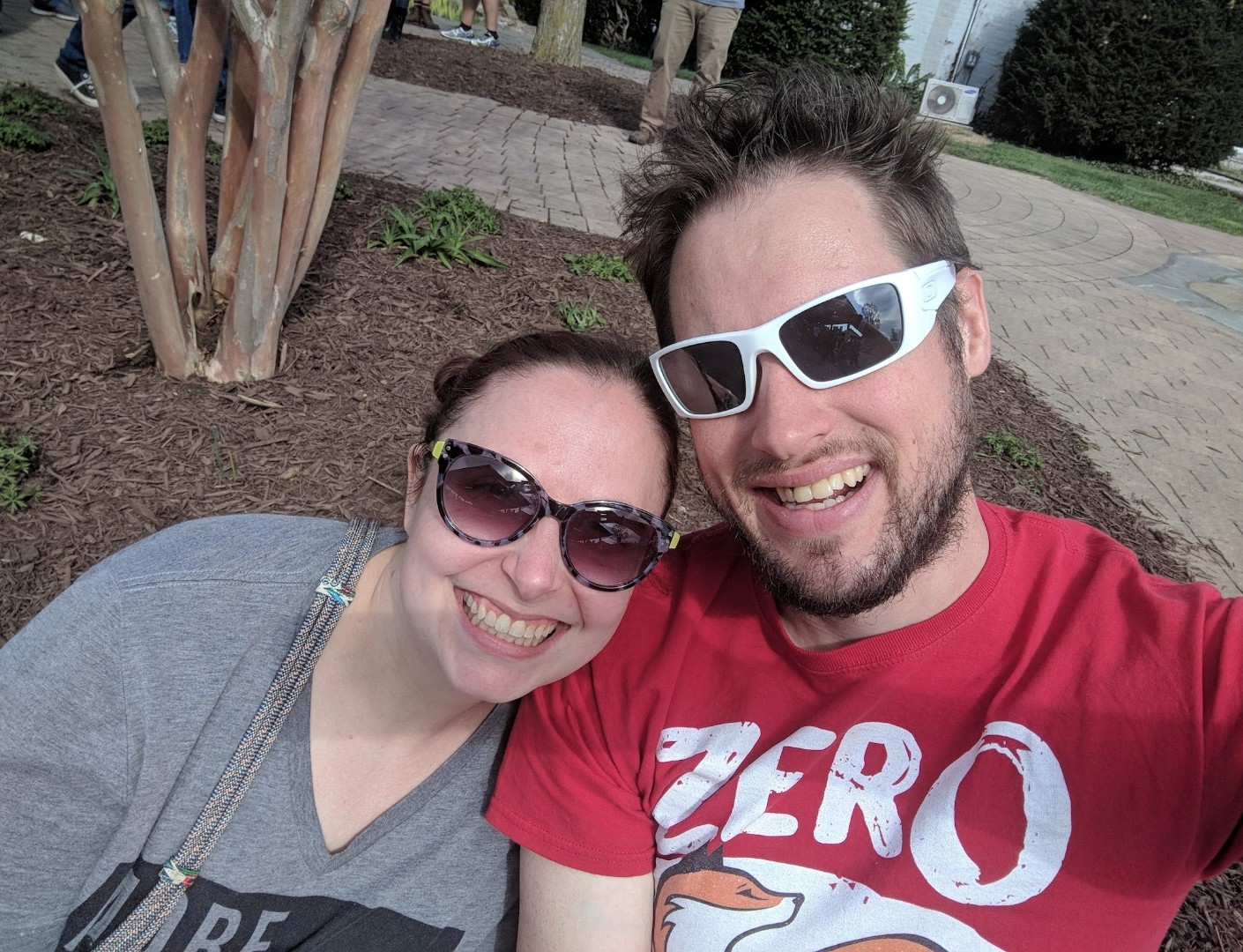 @jorge__the__great and @bibliolinger
My girlfriend and I met on a dating site in 2016 using Bumble. We chose for our first date to be at Bella Luna and we had our first kiss just outside Bella Gelatos. It was a magical way to end our magical first date. We have had many many more dates in Harrisonburg but mainly in downtown. A plethora of memories we have had and many more to come in downtown Harrisonburg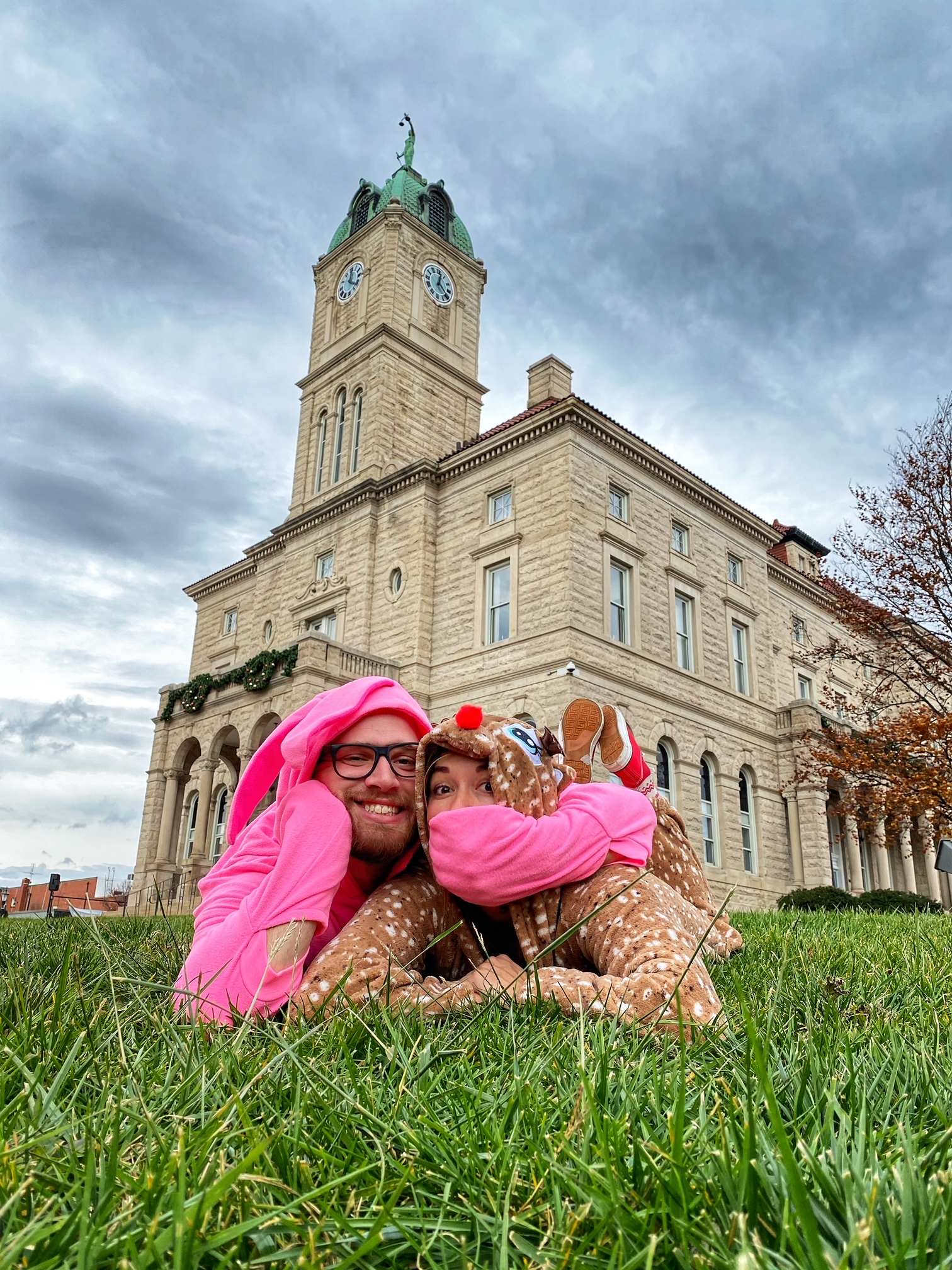 Brandy & Jason
Jason and I met in 2019 at Jack Brown's. We were both there with a group of mutual friends discussing the complexities of carb placement on food, how a hot dog is a taco, and pizza is just fancy toast. It would be another month before we bumped into each other again at J Ellis Photography's holiday party. His quick wit, genuine care, and sweet smiling eyes won me over quickly. The next day my friend and I went to a holiday costume party as the robbers from Home Alone. Jason showed up eating a bag of popcorn, dressed as Kevin. We've been all over Downtown in costume more often than not ever since.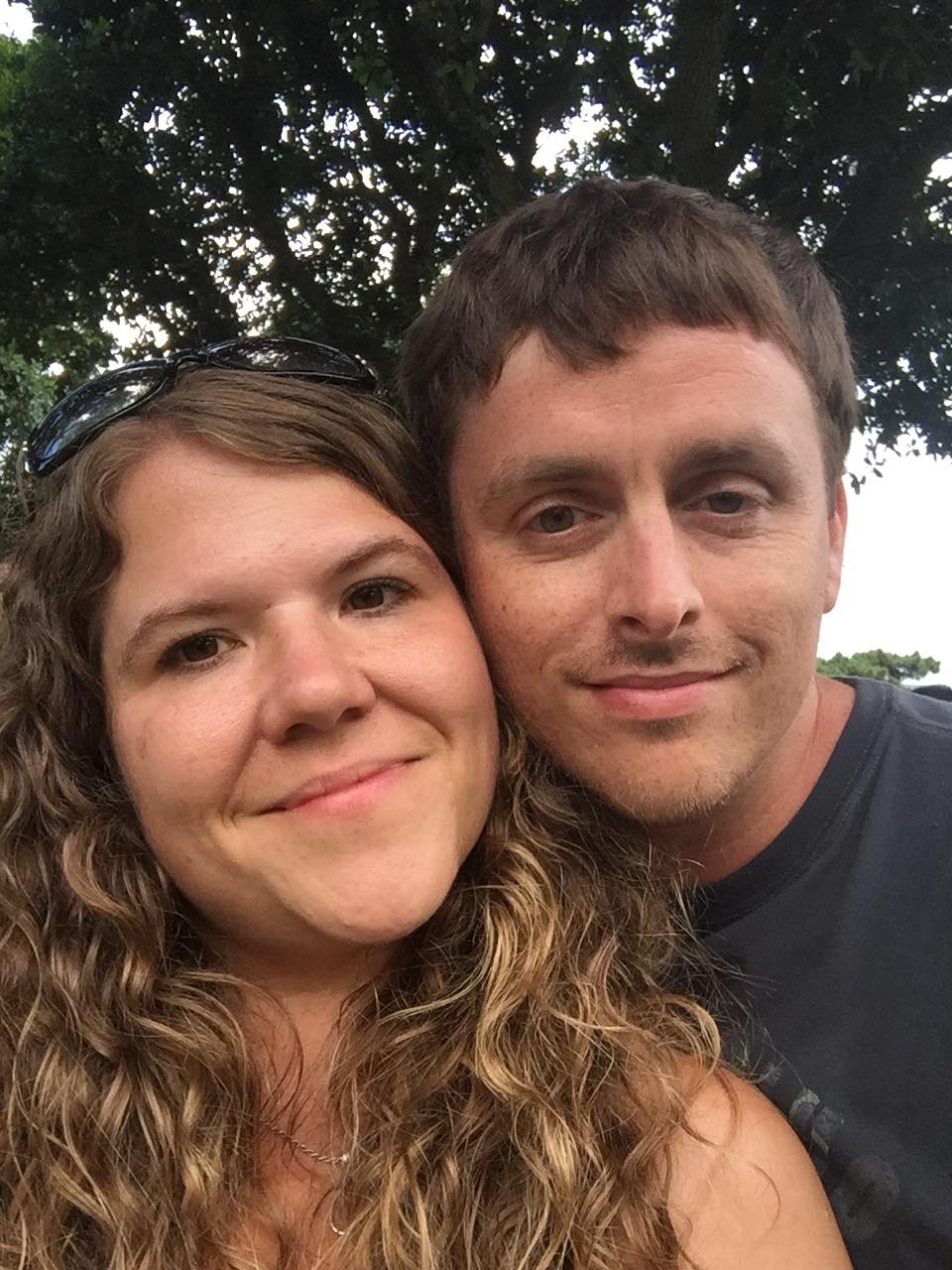 Ashley & Nick Comer
My husband and I met while I was attending JMU in the fall of 2003. It's hard to believe that was 20 years ago! Our downtown dating haunts at that time included Kline's, Jess' Lunch and Smokin' Pig, but he went big when he decided to propose on Valentine's Day weekend in 2005. After dinner at Joshua Wilton House, on our way out the front door he paused under the porch light, took a knee and asked me to marry him. We decided to make the 'Burg our home, and are now a family of three with our 11 year-old son. We're excited to see what the next 20 years will bring!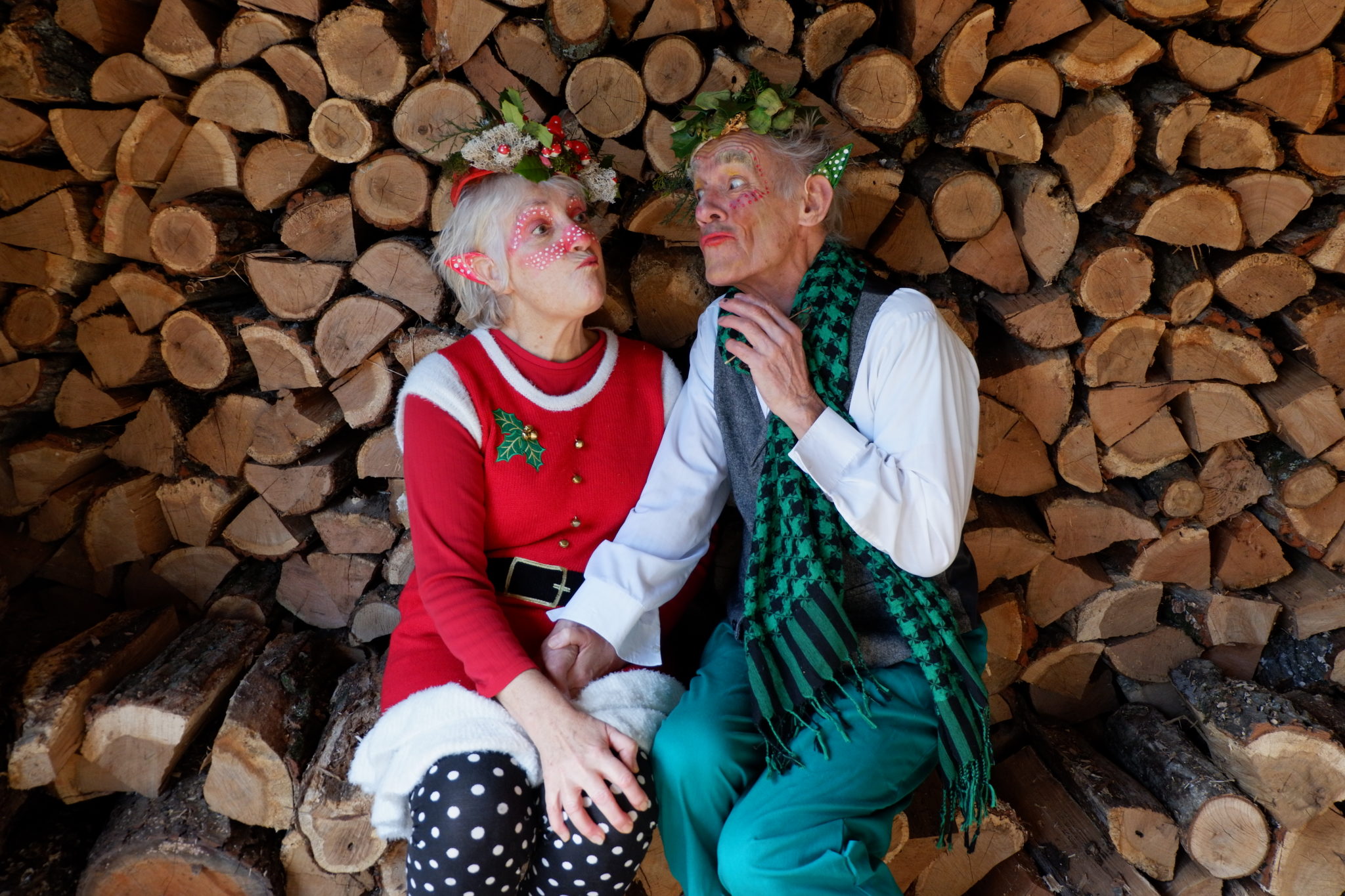 Janet and Frank Marsman (aka Prince Phrog and Dobby)
Frank, who has lived most of his life in Harrisonburg and I met in 1968 at the Marketplace Coffeehouse that was on East Market Street. It was operated by Trinity Presbyterian Church and was a branch of their ministry. The Marketplace, as it was called, was a place for students from Madison College, (now JMU), Eastern Mennonite College, (now EMU) as well artists and musicians to go. It was also considered safe for " young girls" to hang out, because it was run by a church. I was 17 at the time and he was 21, and Vietnam vet. Frank was a volunteer waiter that Friday evening Carol, Mim and I sat down to order our Russian Tea. Seeing a table full of young girls, he sat down and started chatting until closing time. He invited us to come his parent's house the next day and help him rake leaves. Carol declined but Mim and I were curious enough to take him up on his offer. Crazy, huh! The next day to his suprise we showed up and after several hours of serious leaf raking and feeling guilty that he had taken advantage of the "free labor" he invited us to go to the movies at the Virginia Theater which was downtown. That was our first "date". We had many dates that were planned but mostly spontaneous over the next two years, until he moved to Louisville to study photography. It took us over ten years to reconnect, but as of this March we will have been married 43 years. We have lived and raised five children here in Harrisonburg. We love the growing art scene in downtown Harrisonburg and First Fridays are always date nights.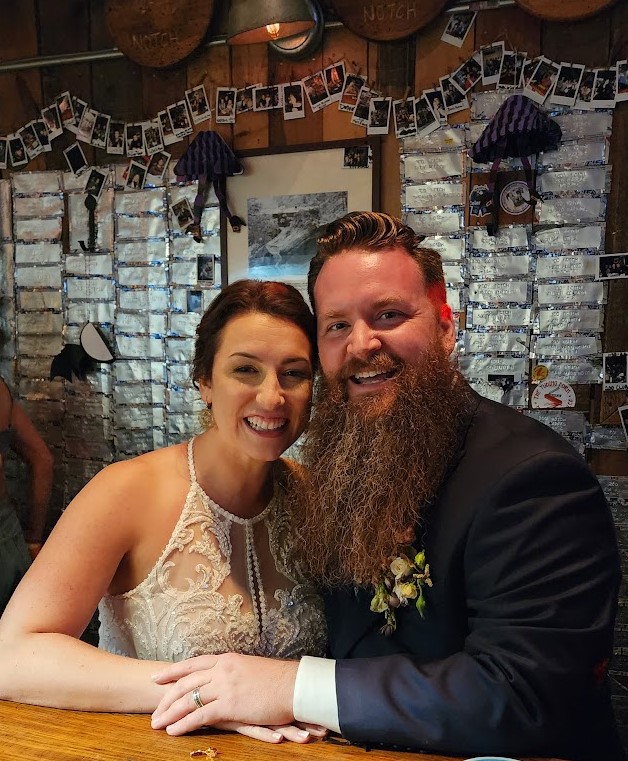 Katherine Behrens & Jeff Jones
I met Jeff in 2017 through Harrisonburg Park and Recreation's dodgeball program, a year after relocating to Virginia from upstate New York. We both played for Jack Brown's and would go out with the team after games for burgers and beers. As any rom-com plays out, I made a huge scene one night while nervously sliding my pint glass between both of my hands and I ended up spilling an entire beer all over Jeff! Trying to save face and still connect with my new teammates, I reached out to our team's page later that night and offered up tickets to a JMU women's basketball game that Friday night. Jeff ended up joining me and after the game we went downtown to Ruby's Arcade where Jeff and I went head to head competitively in nearly every game there. We ended up having a blast and he asked me out for lunch that Sunday. After lunch he took me to Westover Park where there was a Bumper Pool table…Out of all the nights spent rambling stories to Jeff after dodgeball games, he had remembered a fond memory that I had shared of playing bumper pool at my aunt and uncle's house and that I had never seen a table like that again. Turns out, there was one right here in our little 'Burg. I knew it then that if he could not only keep up with the amount I could ramble on about, but also catch onto what was really important to me, he was worth another date…
Fast forward a few years and a two-year engagement through the pandemic, we were finally able to celebrate our wedding with our closest friends and family in October of 2022! Downtown Harrisonburg continued to play an integral role in one of our biggest life moments from engagement pictures at Hillendale Park to our rehearsal dinner at the Wilton House to the involvement of so many additional local businesses and vendors on the wedding day including Heritage Bakery, Tall & Small Photography, Kassy Newman Ceramics, Ryan Clark VA and Blakemore's Flowers. A perfect celebratory weekend capped by a shared drink after our reception at the place that brought us together, Jack Browns. We continue to live here in the city (along with our five dogs, cat and six chickens) and still enjoy playing co-ed softball and kickball.
We're forever grateful for this city and downtown community that not only brought us together, but helped us meet some of the greatest individuals and friends.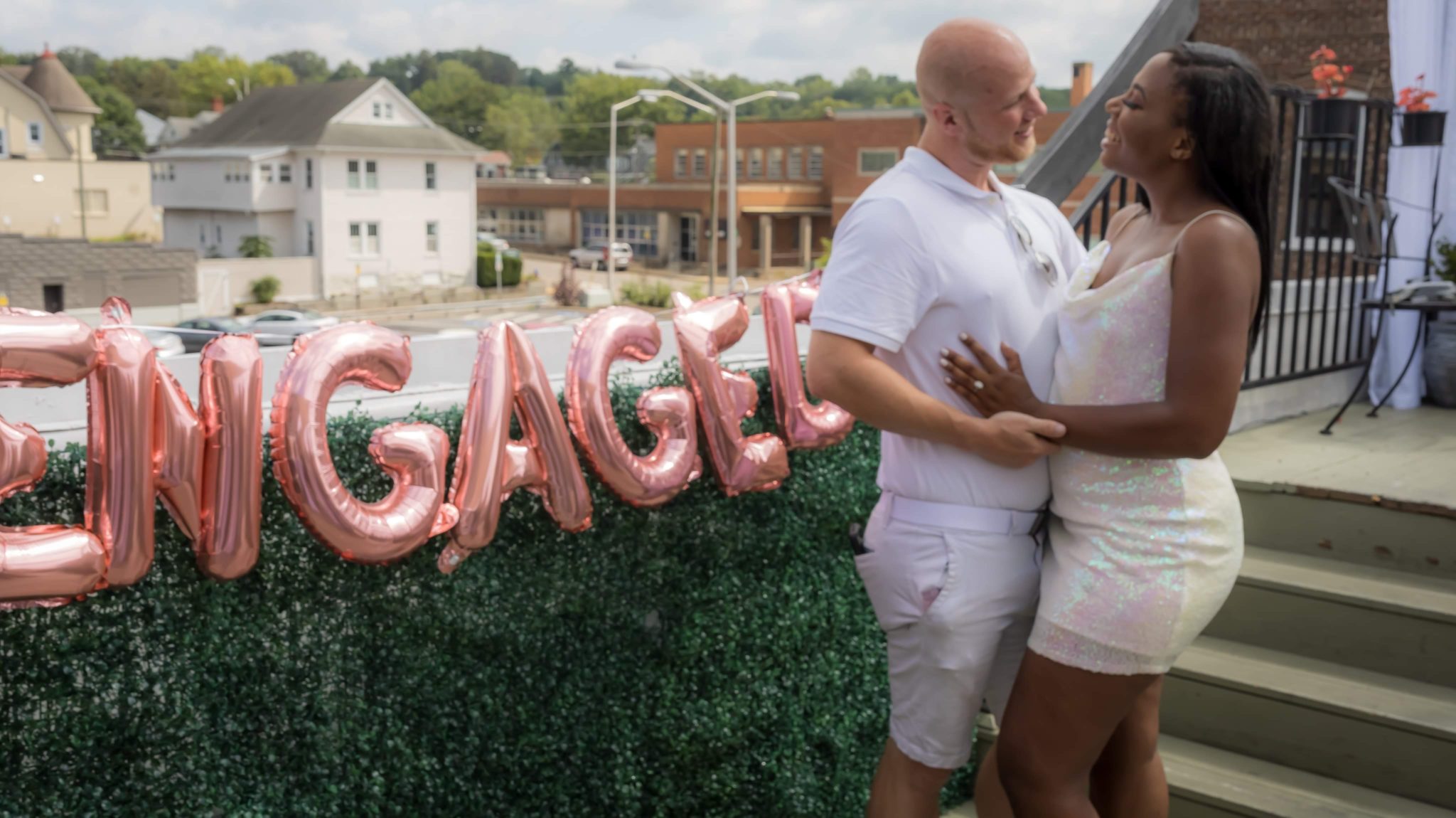 Alcinda Brubaker & Wade Puffenbarger
Wade and I met at downtown at The Golden Pony and started dating in the fall of 2019. When the pandemic hit we got even closer since we had lots of time to spend together. We celebrated our first anniversary at the Local Chop & Grill House.
He popped the question during the summer of 2021 while on vacation and we had our engagement party on the rooftop of Magnolia's Taco & Tequila Bar.
We love spending time in downtown Harrisonburg especially at Magpie Diner for brunch and can't wait to tie the knot!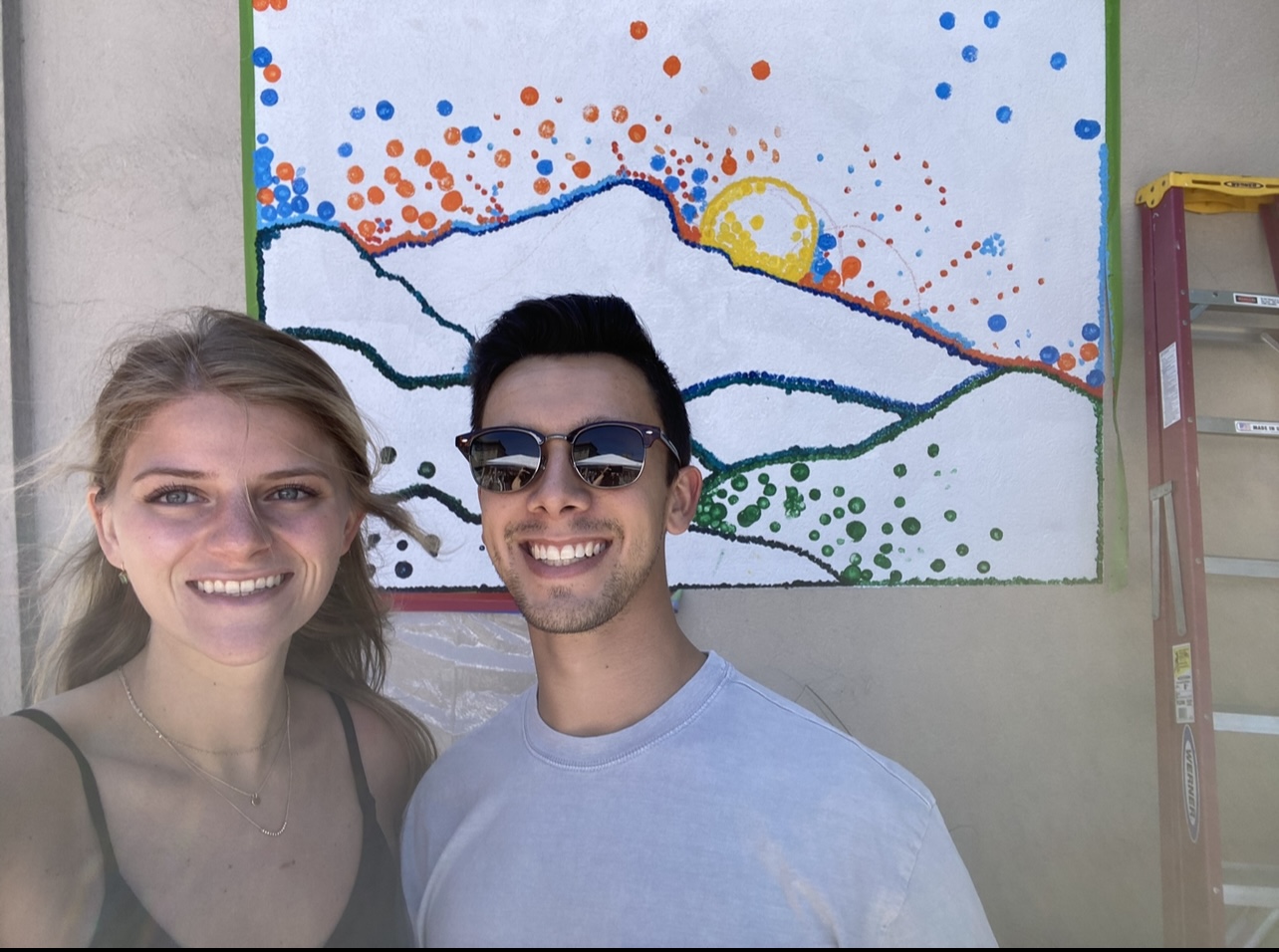 Michael Carter and Julia Sideri
How could you not fall in love with Harrisonburg and the people in it? After what was only supposed to be a weekend visit in Harrisonburg, we're coming up on two years being together. We met through a mutual friend when Julia came down to visit Harrisonburg for the very first time. After getting Covid and quarantining together in an interesting turn of events (and the perk of working from home), Julia took a leap of faith and moved from New York for the first time in her life to start a life in Harrisonburg. The past two years have been filled with celebration cakes from Heritage Bakery, pup ice cream cups from Klines for our two dogs Teddy & Phoebe, many down festivals and more to come! One of our favorite memories downtown (in the picture attached) is adding a painted thumbprint on a downtown mural last year that'll always leave our mark together in our happy place. Harrisonburg truly is the friendly city and has its mysterious ways of bringing people together and we couldn't be more grateful for this community.
Brianna C. and Shay
Shay and I met online in 2018. In our "just hanging out" stage, we spent so much time at some of our now go to date night spots, Bella Luna, Beyond, Cuban Burger, and going to the Harrisonburg Farmers market on Saturday mornings. When the pandemic hit, we were renting a small apartment by the farmers market pavilion, so walks around the now quiet downtown and doing masked pickups became part of our regular routine. Over the past 2 years, Mashita has become one of our favorite date night spots and they actually catered our wedding this past November! We love our downtown Harrisonburg and bringing visiting friends and family to our favorite spots.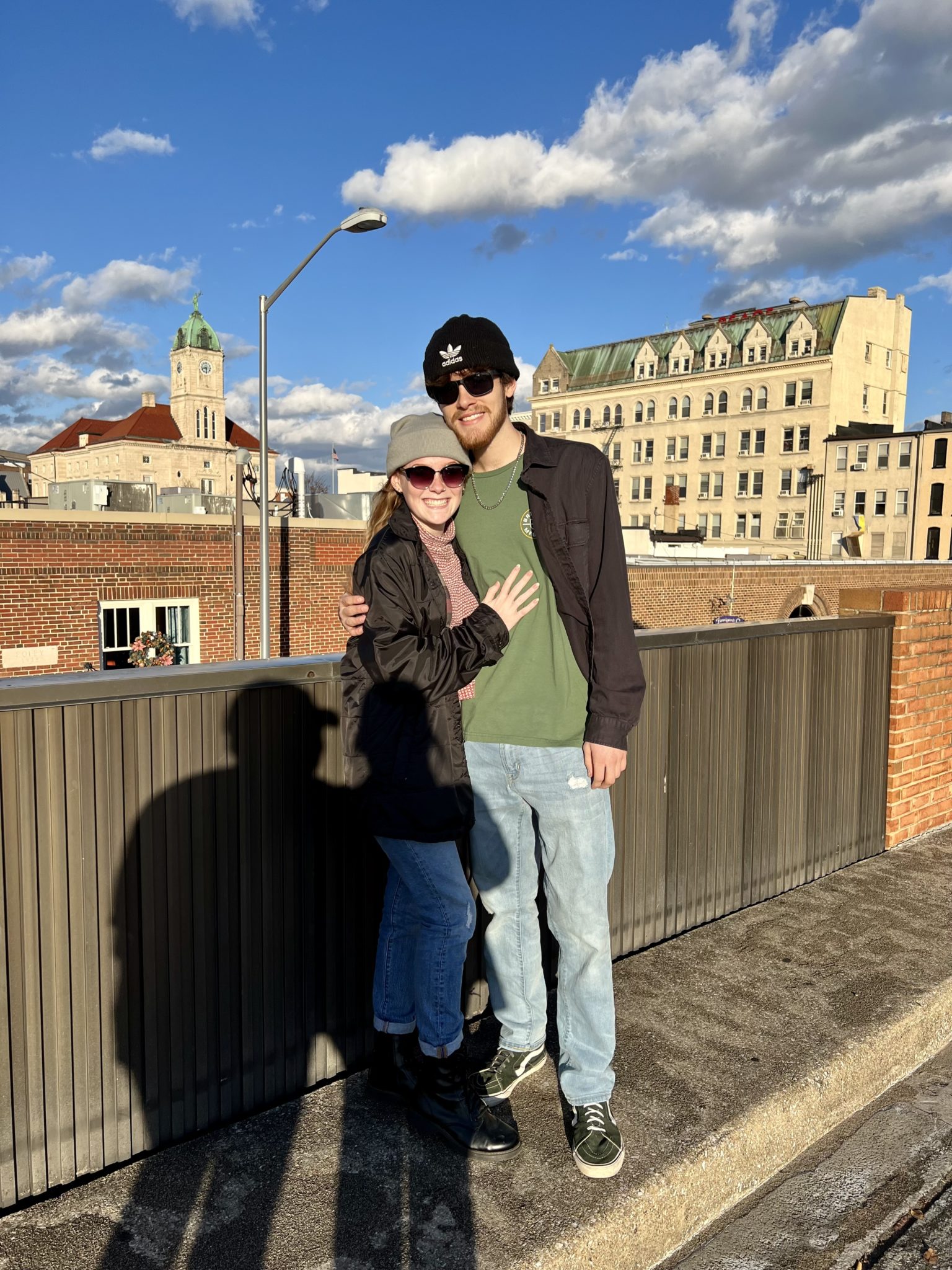 Kendall H. and Kylee A.
Our love story began in Harrisonburg while we were both attending a car meet at Crutchfield in Harrisonburg, November of 2021. Harrisonburg quickly became our "hangout spot" for months because it was the perfect middle meeting spot for us. We would always find our way into Downtown on our date nights, wether we would be eating in downtown or just looking at the beautiful lights from our favorite parking decks. After a few months of becoming each others best friend, he asked me out on top of the Water Street Parking Deck next to Wonder Skateshop! Since then, our relationship has completely blossomed into the childhood love story I have always strived for. Downtown Harrisonburg will always hold some of our best memories, like going to Klines in the middle of winter for some ice cream and I would not want it any other way! We love Downtown Harrisonburg and will always hold these memories in our hearts.
Chad and Sarah Hanger
Twelve years ago, while separately enjoying burgers at Jack Brown's, we spotted each other at the bar and started some small talk that turned into deep conversation. Fast forward to ten years later, after staying in touch for an entire decade and our first official date was at Bella Gelato during which we knew for certain, this was meant to be. From there, we had many dates at Bella Luna and Jimmy Madison's and truly I am shocked we did not burn the places down with all the sparks flying between us. Now, we are married with two wonderful children and have ventured back downtown with brunch at Clementine, more pizza at Bella Luna, sushi at Beyond, and even took family photos around downtown to showcase the areas where we fell in love. To say that downtown Harrisonburg is to thank for our love story would be an understatement. Had it not been for that first meeting over burgers twelve years ago, we would not have met our life long partner, adventure seekers, and best friend.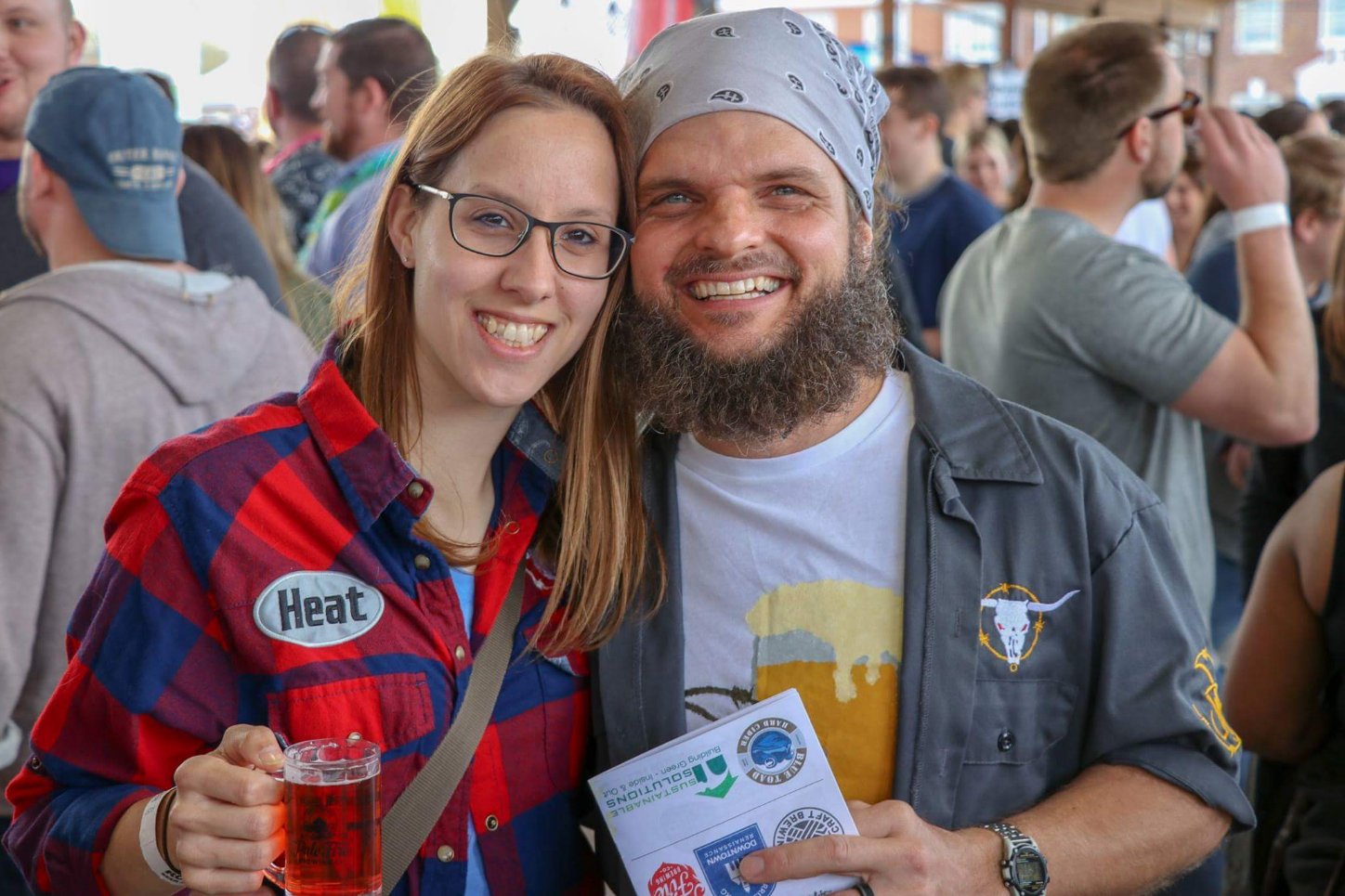 Jake and Emily Heatwole
My husband and I met in 2014 at Jack Brown's Beer and Burger Joint. I was sitting on a wooden stool near the grill – one of the seats that is perfect in the Winter, too warm in the Summer, and inevitably lead to the purchase of a burger. At the time, I was an out-of-towner, only in Harrisonburg for a family event. Jake began talking to me and the conversation was easy. I love our story, but it is not unique. During our years of dining and drinking at Jack Brown's, we have met several other couples who found each other through the JB's community. So many, in fact, that my husband and I have often joked that the restaurant should extend their Notch Club into a dating app. "Jake is three barstools to your right. You have matched in several categories. Want to buy him a beer?" No information was exchanged the night we met, but fortunately we reconnected through the Rocktown Beer & Music festival three months later. We have been married now for close to six years and I love calling Harrisonburg my home.
Hunter and Kasey R.
I am not originally from the area, but graduated from Bridgewater College in 2014 and decided to stay in the Valley in Harrisonburg. Hunter and I originally met through friends at Ruby's on a Saturday night out in February, but I had a boyfriend at the time. We sat on one of their couches and talked all night and I thought he was a really nice guy! Things worked out and the next summer we found ourselves single and went on our first date. The night he proposed, we went to Union Station where I thought he was going to pop the question, but he actually had his parents at our house setting up the proposal. A little while later I was graduating nursing school and when I passed my boards we celebrated with champagne at Joshua Wilton house where we got a ride to and from on the Friendly City Pedicab. When we got married, we had a cake tasting from our absolute favorite bakery, Heritage Bakery and Cafe, where we got our wedding cake and where we continue to get a replica cake every year for our anniversary. We also got our wedding flowers from Sparrows Floral Designs and got mini apple pies for dessert for our wedding from Bittersweet Bakery. Although some of these business are no longer in downtown, we love to support the local community anyway we can. I cannot think of our relationship without the many places downtown we went while dating and still go to now with our eighteen month old son.
Rob and Angela Layne
Rob and I met as online acquaintances with similar friend groups, music, and hobby tastes. After a while, we decided to meet up in person and hang out a few times closer to where I live (he lived 45 mins away at the time), at The Golden Pony and Finnigan's Cove. At this time, we were completely platonic, however, having such a great night in Downtown Harrisonburg made it easy for us to talk about our personal goals for the future. While chatting at The Golden Pony, we realized we wanted the same things out of life, love, and our futures. That night marked our first kiss and our first conversation about becoming a couple. Months later, we married on Saturday, October 8, 2022, at JMU's Arboretum and completed the night at our favorite bar, Finn's. On any date night, we have, we go to Finn's or The Golden Pony. We believe these places have a lot to do with our current happiness and why downtown is a special place. There's a lot to be said about good food, live music, jukeboxes, drinks, and a chance to have a real conversation–this is what brought Rob and me together as a couple. Happily married, joined families, a new home, and snuggles every night–thank you, Downtown Harrisonburg, for being a part of that. If you want to see two people in love, you can find us about one night every other week, having a drink and appetizers at Finn's, or eating Nile Nachos and drinking their Naughty Duke cocktail at The Golden Pony.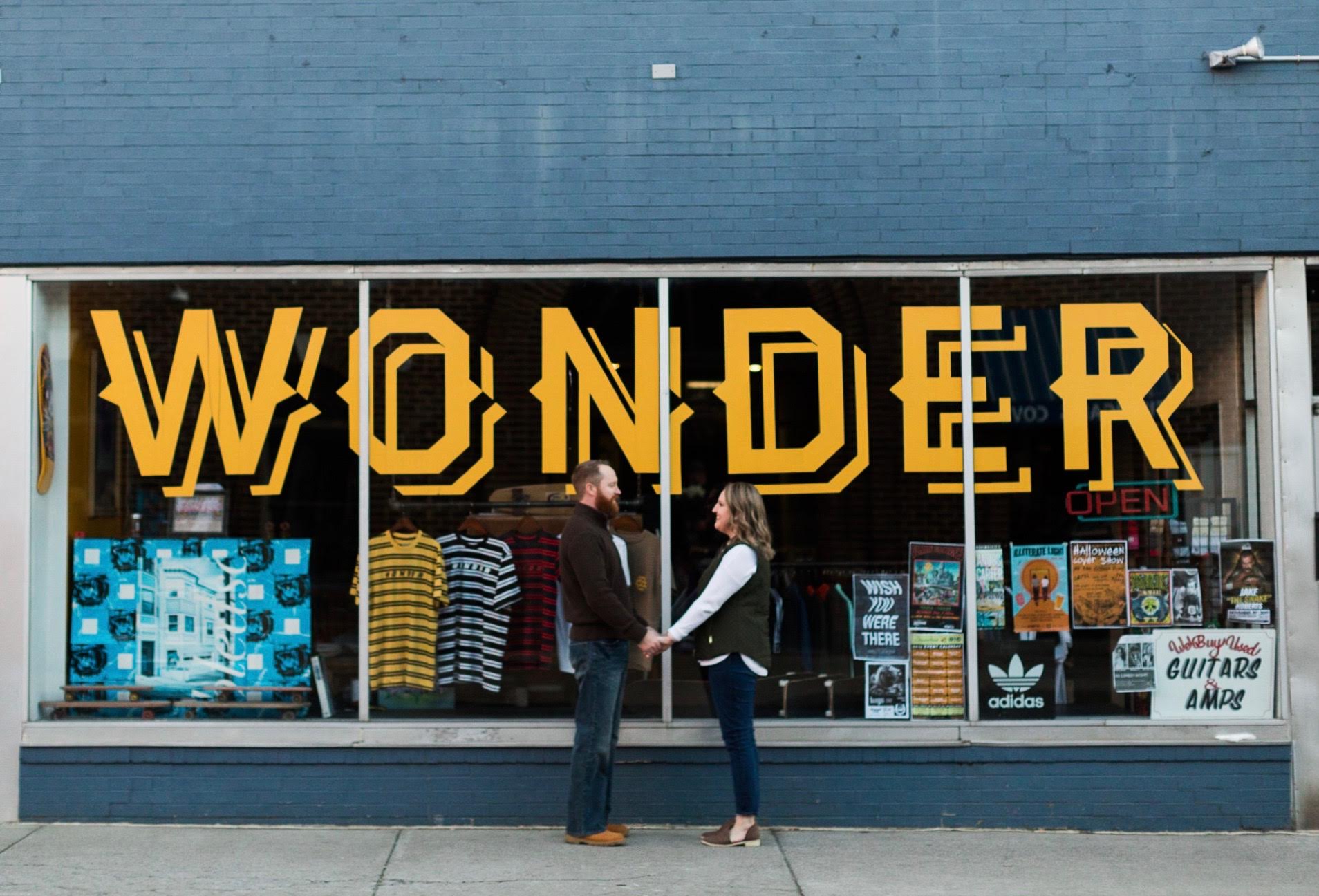 Sam and Paula M.
Though neither of us is originally from Harrisonburg, we both found our way here at pivotal moments of our lives. Harrisonburg is where we each figured out who we were and our place in the world. We built friendships here. We built our careers here. And we found each other while we lived here. Though we have since moved away, Harrisonburg will always have a special place in our hearts because it is where our story began.
Patrick and Lakisha Roberts
Patrick and I met in 2017. He was a regular at downtown: He is a Saint at Jack Brown's and a Notcher at Billy Jack's. Our first date was at Beyond with drinks after at Cuban Burger. The following week, we met at The Golden Pony for brunch, sitting on the patio listening to the live music. Following brunch he took me to Ruby's arcade. And although the jury was still out on my laugh, Downtown Harrisonburg quickly became a regular for our dates nights. We married in 2018 at The Hideaway, the speakeasy above Billy Jack's. We love downtown, it is where our story began.
Tyler and Emily
December 2018 I met this handsome guy for a drink at Billy Jacks for the first time. Four years and lots of sticky nugs later, we are now engaged! We recently took our engagement photos at our favorite spot to commemorate all the good things that have come from that first nervous date. Although we do not live in the area anymore, Harrisonburg will forever hold a special place in both of our hearts.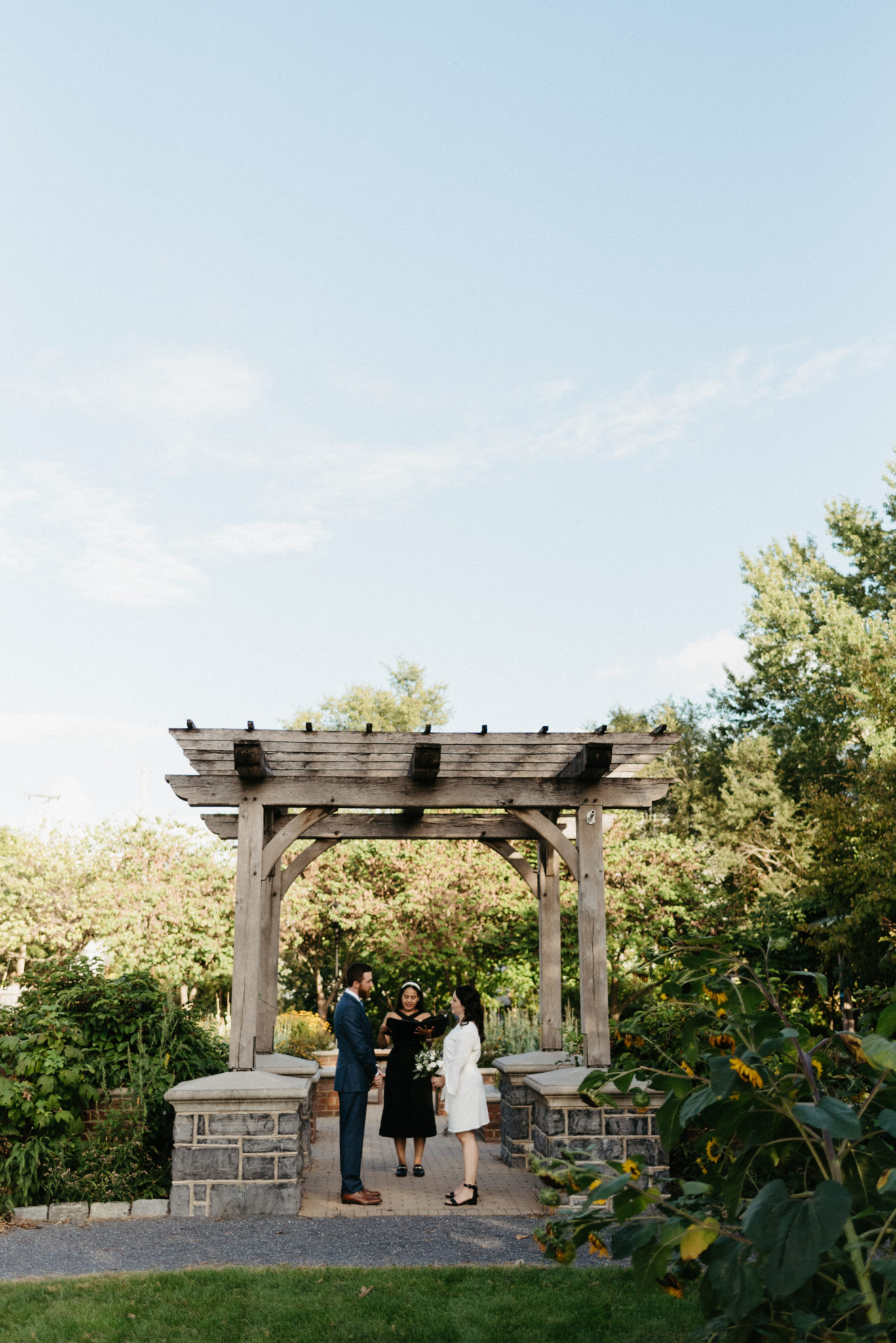 Kyle Rothemich and Nora Sutton
While my husband and I were planning our wedding in Fall 2021, we unexpectedly learned we needed to be legally married before our big day in October. We chose to have an intimate (just us!) ceremony in Liberty Park on a Friday evening, and it was perfect. Passing drivers honked their horns as we held hands and said our vows. As we walked downtown to take photos and celebrate with dinner at the Joshua Wilton House, other drivers and pedestrians clapped and shouted their congratulations. I remember a group of college students asking, "Did you just get married?!" and the giddiness I felt when I shouted back, "yes!!" Although not part of our initial plan, it was the perfect wedding day.
Photo by Selene Fink (Handhewn Living)
Ethan and Keyana M.
Ethan and I first met online in 2017. Even though we did not have cars, Downtown Harrisonburg was a constant when we first starting dating. Whether it was a trip to Bella Luna for some pizza (also where we had our first Valentine's Date) or grabbing a cone from the Kline's on Wolfe street, we enjoyed being in Downtown as well as supporting small businesses! We got married last October and there are a lot of times I think back on these special memories and realize how special it is to live in Harrisonburg. Downtown Harrisonburg will forever be filled with memories that built the loving relationship we have, and I could not think of a better place to be while we watch our love continue to grow!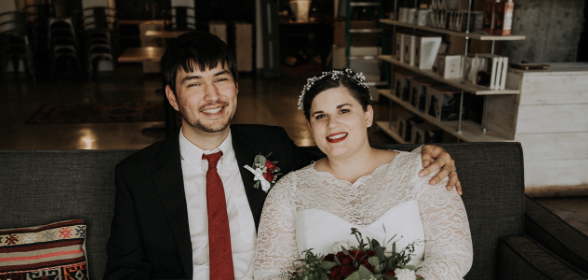 Myles and Natalya Lawlor
Myles and I met at Black Sheep Coffee during their 2017 Valentine's Speed Dating event. I had signed up because I thought, what better way to celebrate Valentine's than by being rejected by a bunch of guys. Myles signed up the day of and immediately called his brother saying "what have I done!?" I remember when I first saw him I thought he was the cutest man there. He said that I was the most interesting woman that he had met that night. We were each others only match, however we did not find out until about a week after because they never called to let us know! Myles was thankfully persistent called a few times before he got my number. He said he wanted to know for certain if he had zero matches. Our first date was at Ruby's Arcade during Mardi Gras. We spend hours just chatting and by the end we were excited for our second date. Three years later, June 2020 we got married and we had to go back to Black Sheep for pictures. June 2022 we had our baby boy, and of course we had to get him a Black Sheep onesie.
Purrfect Match
When I first moved to Harrisonburg, I didn't know anyone. So on my first day, I was strolling dowtown and saw the beautiful kitties in Cat's Cradle's window. I walked in, spent a full hour playing with Chu, and walked out with my first friend in Harrisonburg and best friend since.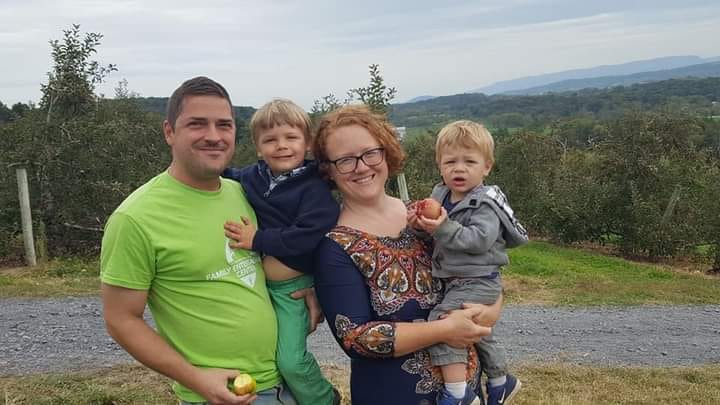 Rachel & Philip Haddad
The Joshua Wilton House may or may not have put me into labor!
Philip and I met in Pennsylvania, but made the decision to move to the Valley about a year before getting married. We probably patronized at least 30 new restaurants that first year in Harrisonburg. Our wedding registry was also with Ten Thousand Villages after falling in love with the amazing store downtown.
When I became pregnant with our first child, the restaurant tour continued. We really wanted to visit the Joshua Wilton House, but were waiting for a special occasion. On November 2nd, two days after our first anniversary and 8 days before my due date, Philip got us a reservation. We were so excited, especially about the artisanal cheese board. If you think you don't like blue cheese, ORDER THAT BOARD. It'll change your life. After an amazing meal, we went home and went to sleep. A few hours later, I woke up to my water breaking. A few hours after that, we became a family of three!
We joke sometimes about how that meal was so incredible, it persuaded our son to make his debut early. The world may never know!