With Taste of Downtown 2023 officially concluded, we are taking the time to reflect on the interviews we did with several of the downtown community's businesses. Some of these businesses participated in the fun Taste of Downtown events, such as the HARRISON-burger competition, workshops, passports, and more! Thanks to event participants, generous sponsors like Eugene Stoltzfus Architects, Sysco, and Hyatt at Harrisonburg, and all of our local restaurant workers. Due to them, we were able to continue on experiencing the culinary experiences that Harrisonburg has to offer!
We absolutely love connecting with the downtown community here at HDR, and we had the opportunity to meet with new friends and old friends this year. In addition to meeting new friends, we were updated on the developments of some businesses regarding those we featured last year! It is wonderful to see first hand how we grow as a community through individuals and individual businesses! In this special round up, we have featured all of the stories we have captured this month.
While every background of these individuals we interviewed was unique, many shared qualities became evident as each person spoke proudly of their appreciation for the work they do for our community. We are so fortunate to have such expertise and dedication to such a wide range of crafts right here in the Shenandoah Valley region!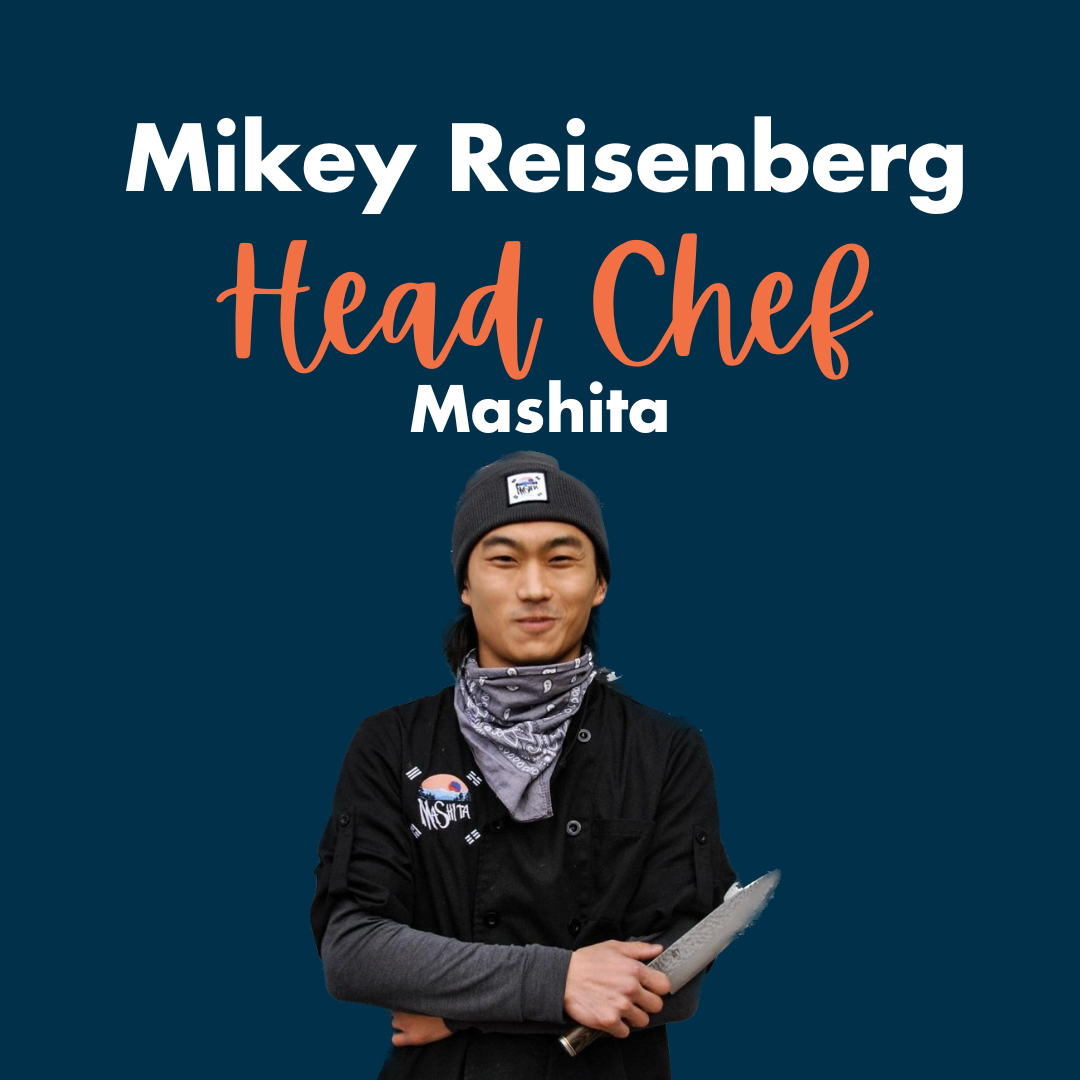 Is there anything coming up on your menu that you are excited about?
Since Spring is starting and warm weather is imminent, Mashita is offering some fantastic new dishes to pair with the weather transition. Coming up, they plan on featuring meatball subs that come with kimchi, tomato marinara, mozzarella and other delicious toppings. In addition they are hoping to add cheesesteak and Kogi platter to the menu. The Kogi platter will be modeled after Korean short ribs and will display Mashita's skill of modeling their menu with traditional Korean dishes as inspiration.
What is something you participated in recently that is different from your day-to-day business?
As a business, Mashita loves to pair with other businesses for events or collaborate to create dishes and drinks that differ from their usual offerings. Recently, Mashita's own Joel Orenstein partnered with Restless Moons Brewery for their fifth anniversary and created a 24 karat beer. Joel is known for his flavor combinations, and this beer had a fantastic flavor profile! This rice lager was paired with lime, ginger, and carrots to create an exclusive beer for this event!
What is something you want people to envision when they experience your restaurant?
This year especially and in upcoming years, Mashita will continue to focus on making Korean inspired dishes that include locally sourced ingredients. While they want customers and downtown visitors to look to Mashita when celebrating a special event or wanting a high-end experience, they are looking to make Mashita the place to come for a quick meal that is locally sourced and of the best quality. Now that they have a bigger space and more staff, they are excited to expand their offerings to the community, and now that Spring has sprung their menu is reinvigorated with the availability of new and returning ingredients!
What are you looking forward to throughout "Taste of Downtown?"?
Mashita featured their Smash Burger throughout the month of March! This smash burger comes topped with leek muchim, a quail egg, kimchi aioli, and American cheese for $6! This burger displays their unique skill set and shows the variety available to downtown visitors when they visit Mashita.
What are you Looking Forward to during Taste of Downtown?
During Taste of Downtown, Outskirts participated in the Harrison-BURGER competition with their "OUTTA THIS WORLD Cookout Dog," which is an all beef hotdog (or vegetarian hot dog options available), topped with Gardein "Beef" Crumbles, shredded cheddar cheese, diced tomato, diced onions, ketchup, mustard, and barbecue potato chips! (Gluten free bun available). The thought throughout this process was how do you turn a hot dog into a hamburger? Through this hot dog, Amanda decided to keep the classic burger experience only hot dog shaped!
What is your Favorite Dish to Make?

Amanda has two favorite dishes, starting with the Grinch dog, which is a Christmas seasonal hot dog that comes with coleslaw, fresh and sliced jalapeños. She loves this dog because it tastes so fresh and light. The second dish is the Teacher dog, topped with granny smith apple slaw and "Demon Turds" hot sauce which is actually made by an employee! For more information about the hot sauce you can go to their Instagram @demonturds.
What is your Chef Origin Story?

Amanda has always loved to cook, but before opening Outskirts, she worked as a Compounding Pharmacy Technician. The opportunity to open Outskirts came up, while at Sage Bird and talking with the owners, Zach and Amberlee Carlson, about wanting to start a business related to hot dogs. Coincidentally, Zach and Amberlee had been wanting to do something similar and the ideas grew from there! They collaborated on hot dog recipes, fun things to pair with hot dogs, and the suggestions blossomed into the dishes we now know and love. Throughout the creation of Outskirts as a whole, the idea was to keep the weird, new, creative, kooky energy in every aspect.
What is your Favorite Story from your Career?
Amanda's favorite story from her career so far comes from the first day Outskirts was open, which happened to be the Harvest Festival. Her friend was helping her during the event, and Amanda was so nervous because of how busy she expected it to be. It ended up being amazing because all her friends came out to support, she met so many new people and friendly faces. That day was a great example of the "Friendly City" for her as all the customers were so kind and made the experience so positive.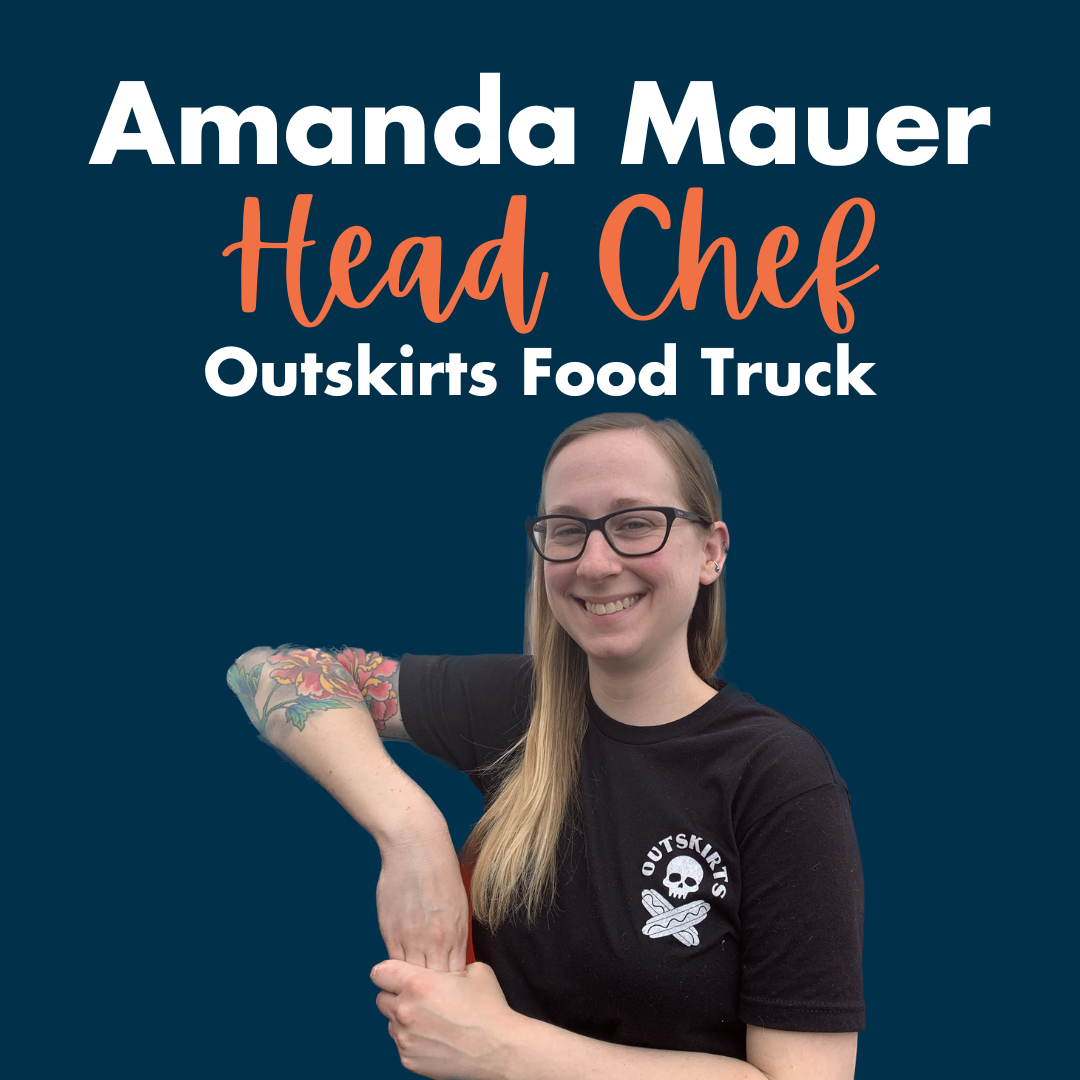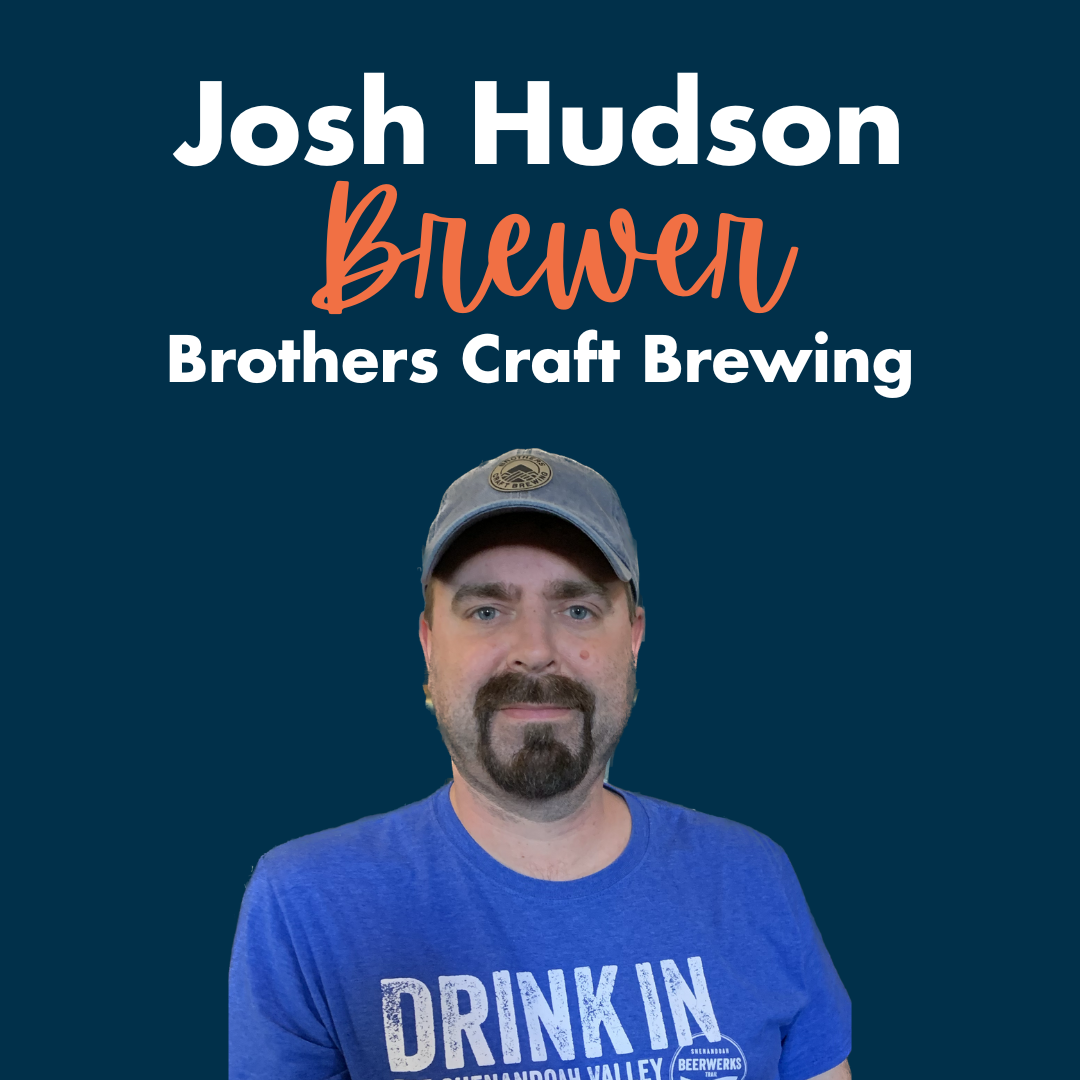 What would you consider the biggest highlight of your career?

"All the philanthropy that I have gotten to do through the business. Many of the philanthropy events were even already established before I joined the business. For example, Mercy House Brothers Giving Tree, Blue Ridge Area Food Bank, Meals on Wheels, Casks for a Cause, United Way's Christmas in July, and we have since made them annual. I especially love giving back to the community in this way."
What is your favorite dish to get downtown?
"That's a tough one, because I love many downtown eats, whether it be the sticky nuggs from Billy Jacks, cheesesteak from Urgie's Cheesesteaks, Paneer from the Indian American Café. It is so hard to pick just one place!"
What challenges have you faced as a taproom manager?
"I think the biggest challenge, and it is one I embrace, is that we have a very small staff. When we lose someone or hire someone new, it is always a challenge to find someone who fits our values and do what we are able to do. There is a lot behind the scenes that people do not understand, as we have less than ten people in this business while we cater to the entire state of Virginia, in addition to all the events that we have."
What is something unexpected about you that would surprise people?
"That I have a degree in Theater from James Madison University! I went from 1998 to 2002 as a Music Industry minor and Theater major. Both of these educational experiences have been useful in my life as a Taproom Manager. Despite not having a degree in this industry, my education has been helpful in booking live music, running sound, etc. Life tends to come full circle when you do not expect it to!"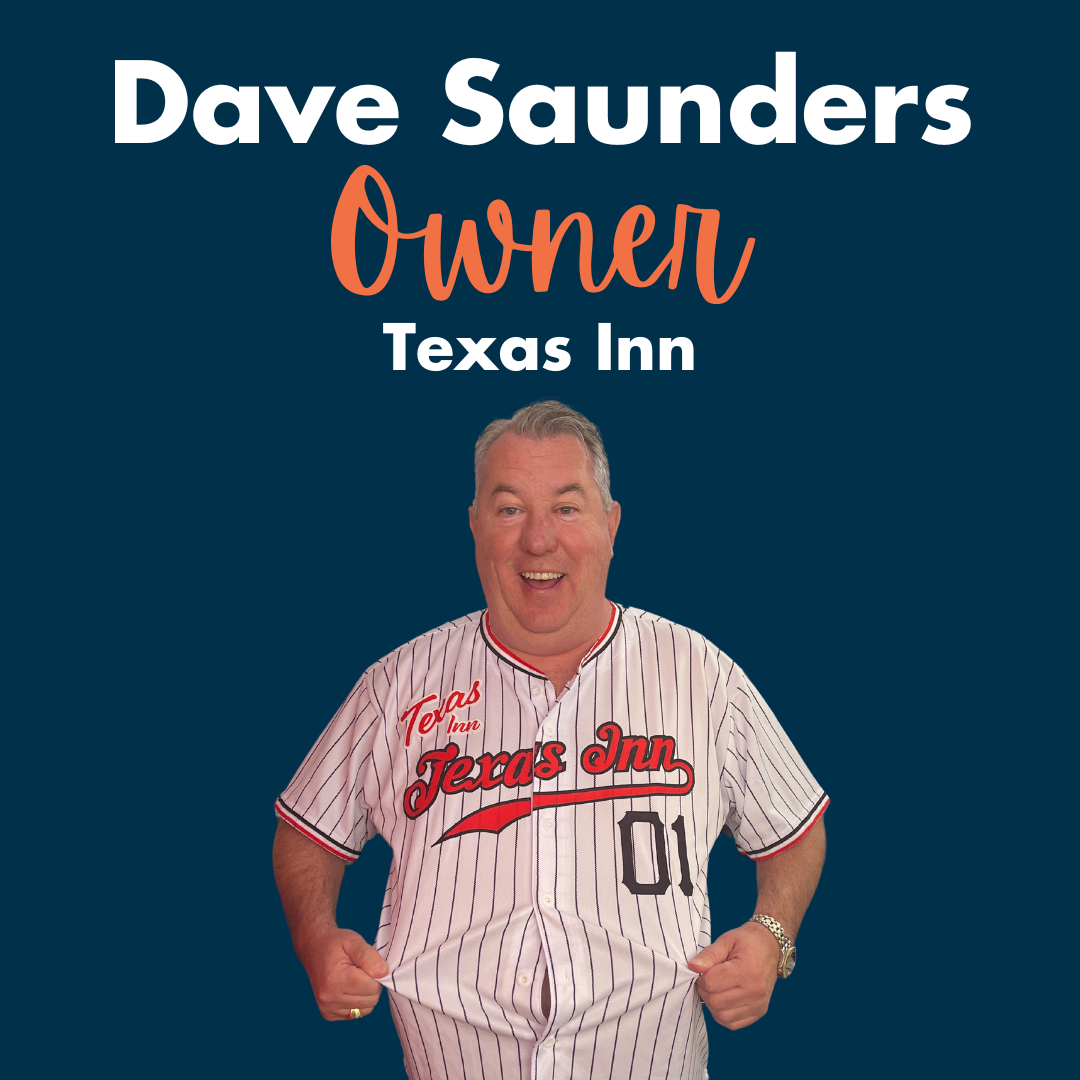 What inspired you to be the owner of a restaurant?
"So I walked into the Texas and in downtown Lynchburg when I was five years old with my dad I think I got a hot dog and I was spinning around on the little red school. The lady behind the counter was super nice to me, and I felt like a really big boy went out to eat with my dad. My dad was a fire marshal and worked in downtown Lynchburg. That was his favorite lunch spot and it was a part of my life growing up. Then, about five and a half years ago, I was on Facebook one night and I saw viral posts. The restaurants were for sale. People were scared that they were gonna go out of business, and so I called the owner and I told him I was gonna try to help him find a buyer. At the time, I owned several other things, but I hadn't been in the restaurant business. I couldn't find a buyer and six months later, I bought both of the restaurants."
What is Texas Inn most recognized for?
"The thing that made our place famous is the Cheesy Western. The key to our success in Harrisonburg is that if people try the Cheesy Western, they don't like it, they love it! I think the key to our longevity is people coming in and having a Cheesy Western. People go anywhere to get a cheeseburger, but no one else serves the Cheesy Western."
What is something unexpected about you that would surprise people?
"I was eating the food 45 years before I bought the place, and I grew up at Texas Inn as a kid!"
What are some challenges you have faced as the owner of Texas Inn?
"We are an in-store diner, and we had a one star reviews because we did not provide enough vegan options or offer reservations. Additionally, when someone people come in and they order, they don't order our special because they've never heard of it. We sell between 4,000 and 5,000 Cheesy Westerns a month at our Lynchburg location. However, we only sold 700 in Harrisonburg. People are not ordering our most famous sandwich!"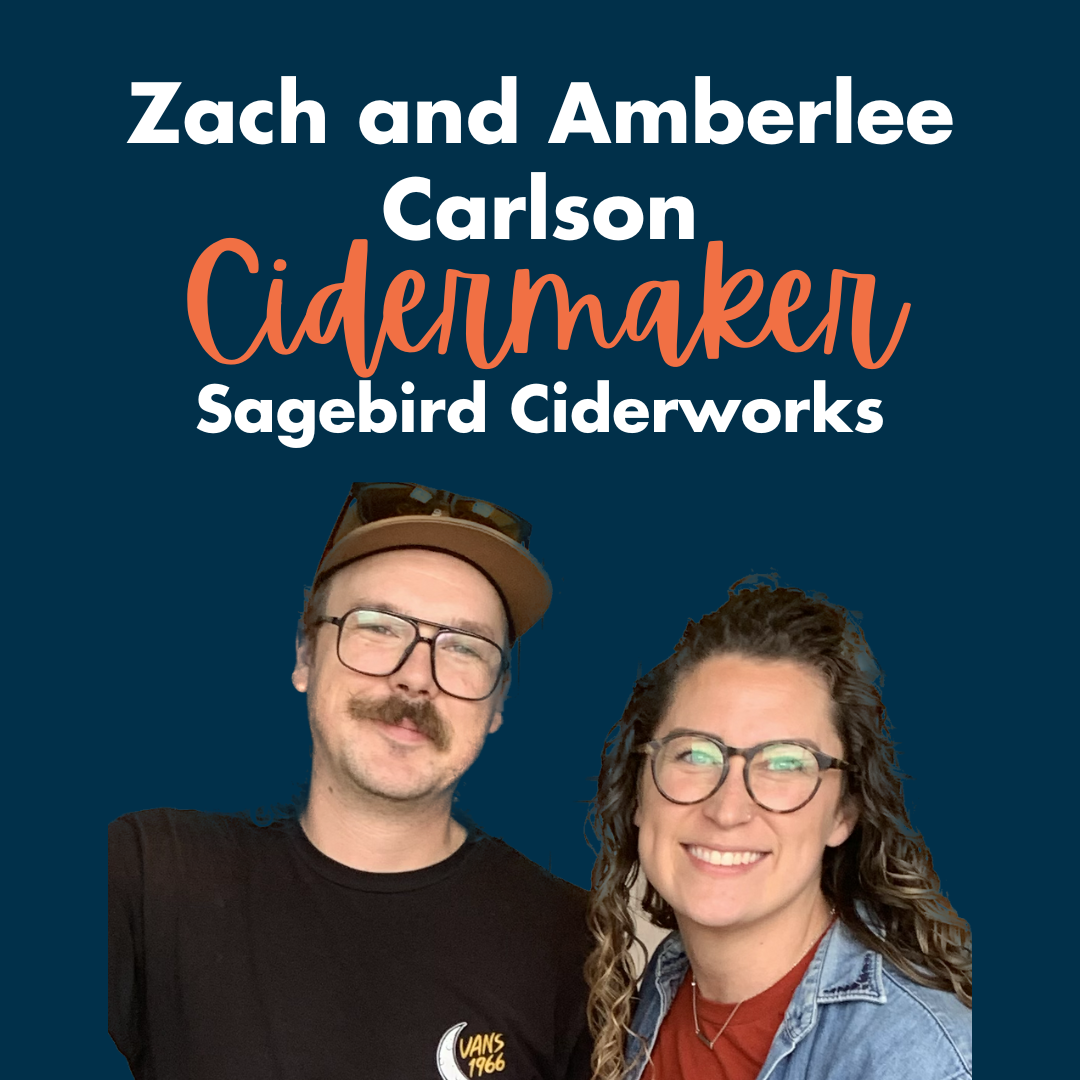 What is Sage Bird's origin story?
Zach and Amberlee Carlson, the owners of Sage Bird, started producing cider early on in 2014 as home brewers. As newlyweds and fresh out of college, their interest in DIYing and the process of making cider led them to pursue this unique trade. As time went on, their cider increased in taste and volume, and soon they pushed 200 gallons a year while home brewing. In 2017, a game changer entered their cider journey. A neighborhood yard sale yielded their discovery of an old cider press from the 1800s from their friend's Father. This acquisition led to pressing every Fall and Winter, yielding 200 gallons of juice. The press lived on their porch and opened the door for varieties of apples that were unavailable to them before, completely transforming their cider making. The press let them start with older apples, which are cider specific and not for consumption. While they were continuing home brewing, this press pushed them into a world where they could see a commercial possibility. Soon Sage Bird opened, and while the press offers a rich history of the business, it is not efficient, as their new methods now produce thousands of gallons at a time. However the press makes appearances at special events, so be on the lookout for it once a year at the Harvest Festival every November. In addition to the food truck, vendors, and music, there is a press demonstration, where folks can jump in and spin the grinder, or watch the truly old school way of pressing apples.
What were you involved with during Taste of Downtown and looking toward the future?
Since Sage Bird uses locally grown ingredients, anything made at the cidery is a natural pairing with businesses that focus on Shenandoah Valley cuisine. Sage Bird works to create a sense of place within their cider, highlighting what it means to drink or make cider from Virginia. They are proud of this area, what it has to offer, and the quality this area can produce. Through their business, they aim to show off and impress those who are unfamiliar with this area. They are both originally from other areas, but attended JMU, met, married, and fell in love with each other and Harrisonburg. As they considered their business, they wanted to be involved in Downtown Harrisonburg and contribute to the brewery culture while offering alternative beverages and gluten free options to the Harrisonburg community. In addition, the Outskirts Food Truck participated in the HarrisonBurger competition with their "Outta this World Cookout Dog."
What's a unique aspect of Sage Bird Ciderworks?

The Location of Sage Bird actually used to be an abandoned car garage, now turned cidery! Big L Tire had a sprawling repair facility that worked on brakes, until Sage Bird and other nearby businesses took it over. The shell of the building remains the same size, but otherwise they completely transformed the space, breathing new life into the area. They decided to retain the history by showing where the bolts were cut off and the rust on the ground where the legs had been.The outdoors area started with little space, and grew to now include a parking lot! Which is especially unique as they close that space and increase standing room for their Harvest Festival and other events!
What are some events that Sage Bird offers?

Of all the events Sage Bird offers regularly, Trivia and Yoga are the most consistent as trivia is held every Thursday and Yoga every Sunday. They continue to offer karaoke on certain Fridays and provide live music events on occasion. Be sure to check out their website for specific information and follow their social media to receive updates regarding Sage Bird's social calendar! As a result of Sage Bird's contribution to the community through these events, they were awarded Downtown Scenemaker last year. They partner with various other businesses throughout the year to support countless causes and to bolster the community as a whole.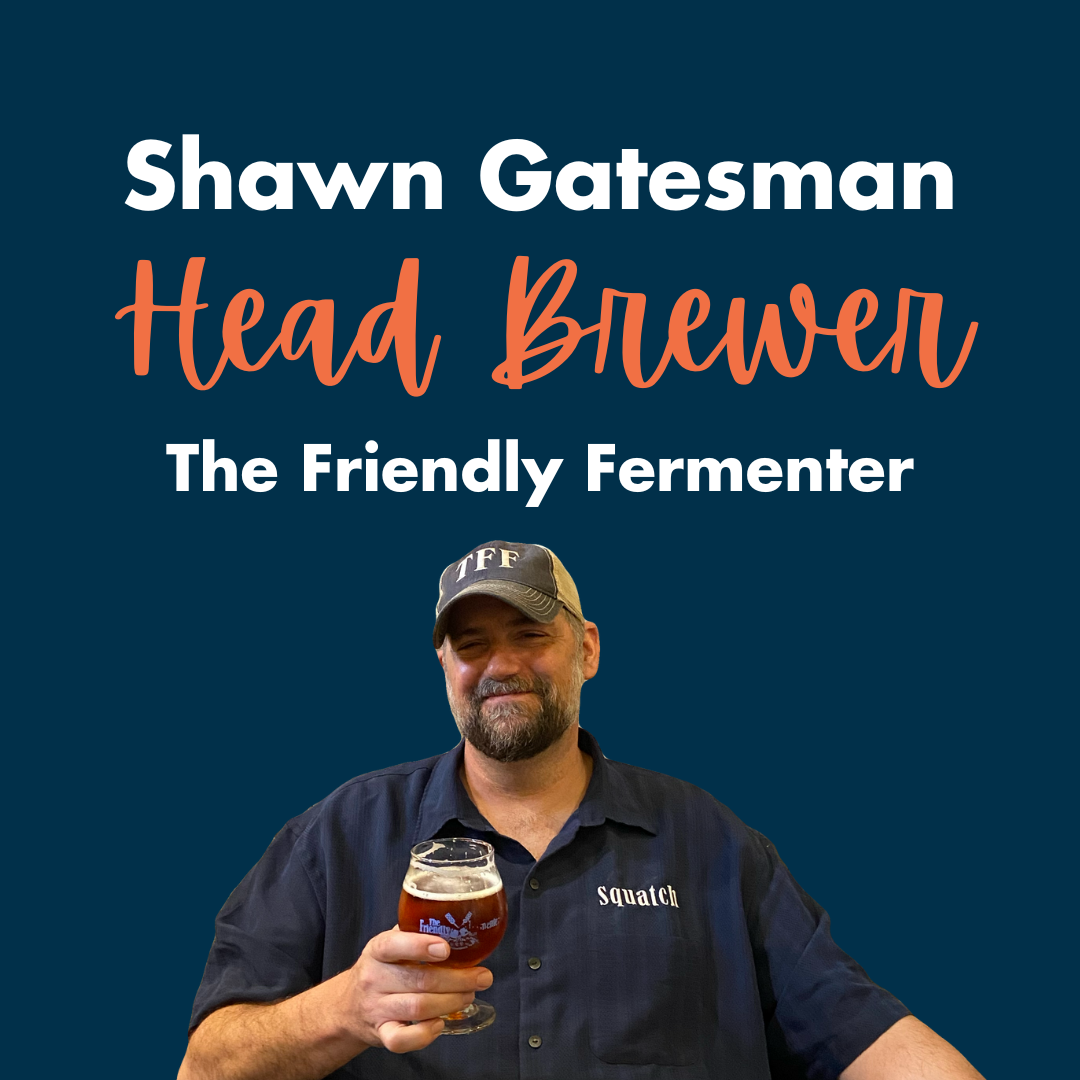 What do you love about working in your industry?

"I think I love the fact, and this is based on experiences and other industries where people didn't always necessarily enjoy spending money on your services, rather they had to do it. I like the fact that people come to this establishment for something they absolutely want is a luxury. They're coming here to relax and unwind and enjoy each other's company. And to me, that's something that the world needs more of. And I take a lot of pride in creating a product in a space that's meant and built literally to catalyze those kinds of interactions and those kinds of experiences. So yeah, that's definitely what I love about it the best."
If you could prepare a dish/drink for any person, what would it be and for whom?
"I guess it would be a good a good pun there to have my barleywine 'motivational speaker' with Chris Farley."
What is your favorite dish to get downtown?
"I definitely I would have to say my favorite dish is the cuban chop chop at Cuban burger. It's like a salad meets Fajita. There's rice in it, beans and lettuce. I particularly get one my way and we affectionately call it the gates chop chop. It's a shrimp chop chop, add bacon, light rice, extra lettuce, or kale. Overall I'd say the chop chop at Cuban Burger, one of my favorite go tos. I have a few, but that one's up there."
What's your favorite story from your early career?
"One of my favorite stories was when I was an embryo transfer technician for Ashby. I did that for five years and we traveled a good bit and worked in a lot of affluent farms because it was a more advanced reproductive process. We did work at a farm up in Northern Virginia called Whitestone, the owner took us out to dinner in Leesburg in his 85 Rolls Royce limo that supposedly once belonged to Mike Tyson. So I got to go out to Leesburg and take a ride and 85 Rolls Royce limo. Probably the only Rolls Royce or have been in my life, that was quite the experience. That was just a completely different career, but such an interesting story"
Even though Taste of Downtown has come to a close, we encourage you to keep visiting downtown and Harrisonburg in general to get to know this amazing city a little more each time. An available way to learn more about the downtown community is even taking the time to read these inspiring stories and get to know some of the people who make downtown dining so special. You can start today using our dining guide available on our website that lists spots downtown to grab a drink, eat a meal, shop around, and more!
Congratulations Taste of Downtown Passport Winners!
Alexandra M, Monica NM, Arianna W, Rose L, Brittany D, Adrienne H, Reece P, Leora P, Bo P, Denise L, Kelli B, Brandy S, Hannah H, Nicole L.
THANK YOU to our generous sponsors: