Downtown Harrisonburg Restaurant Month is generously supported by:
March 2021 is Downtown Harrisonburg Restaurant Month!
Celebrate Downtown Harrisonburg, Virginia's first Culinary District, all month long with specials, promotions, giveaways, and more! Be sure to follow us on Facebook for all the latest news and updates, profiles on your favorite chefs, and daily celebrations of all things food and drink downtown.
Eat, drink, and shop at your favorite downtown restaurants, coffee shops, bakeries, breweries, cideries, grocery stores, and the farmer's market this March to help them kick off 2021 with a strong start! Plus, with so many great takeout, curbside pickup, and delivery options available downtown, you can have an amazing culinary experience safely from home. Just be sure and save those receipts, because we want to show our appreciation for your support.
During the month of March we'll be giving away $500 in Downtown Dollars! The more you support downtown, the more chances you'll have to win. Here's what we're giving away each week:
March 8th: Two $50 Downtown Dollars winners
March 15th: Two $50 Downtown Dollars winners
March 22nd: Two $50 Downtown Dollars winners
March 29th: Four $50 Downtown Dollars winners
How to Enter:
Support Downtown!
Dine or shop at any downtown restaurant, coffee shop, bakery, brewery, cidery, grocery store, or the farmer's market and save your receipts. See our downtown directory for inspiration!
Submit Your Receipts:
Snap a pic or screenshot of your receipt or order confirmation showing $25 or more and email it to downtownharrisonburg@gmail.com. Each $25 spent counts as an additional entry! So, for example, if you spend $77 at one business, that will count as three entires when you submit it to us. The grand total, after taxes, tips, and shipping, is what we will count. We will round up if you're within $3 of an additional entry. Receipts must be dated 2/22/2021 or later.
See if You Win!
Each Monday during the campaign period we will draw two random winners from receipts submitted during the prior week to win the prizes listed in the schedule above. Entries must be submitted by 9am the Monday of the drawing to be eligible for that week's drawing. If a winner does not wish to claim their prize or does not respond to out attempts to contact them within seven days, a new winner will be drawn.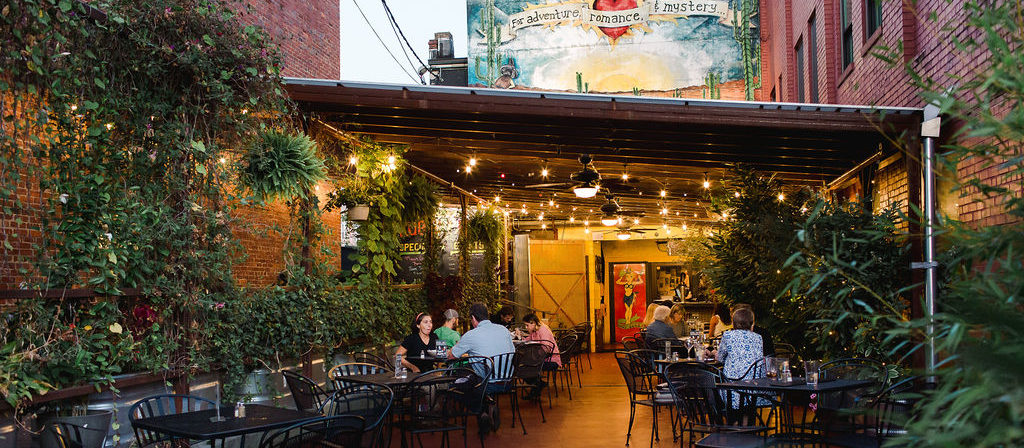 Specials, Promotions, and Celebrations
We hope that Downtown Restaurant Month inspires you to support your favorite downtown spots and discover some new favorites this March! Some downtown businesses will also be celebrating the month with specials, promotions, limited menus, new product releases, and more. Expect exciting things coming from the following spots (and more) — more details coming soon!
Bella Gelato: Will have a new latte, sorbetto, or pastry featured every week!
Bella Luna Wood-Fired Pizza: Each week of Restaurant Month, they'll be featuring a different dish that aligns with that week's theme. They even created a special "Three Course Date Night" menu for week 2! There will also be a different drink promoted every week from a Restaurant Month drink menu created by their bartender.
Billy Jack's Shack: Will be offering meal deals on their classic chicken sandwich and on all 3 of their Chicky Sandwich options – Meal deals include a sandwich, fries, and a soda or beer!
Brother's Craft Brewing: For their restaurant month offerings, they'll be promoting a specific beer each week that would pair well with that week's theme.
Capital Ale House: In addition to weekly Chef specials, they will also be featuring Irish food specials to celebrate St Patrick's Day and offering beer flight specials through the month of March!
El Paisano Bakery: Every weekend though March, they'll have a special pastry available. In addition to their pastries, they'll be releasing new flavors of cheesecake all Restaurant Month long! – Pastries will be announced on their Facebook every Friday
Farmer's Market: Will be featuring market products in recipes that will come out in their weekly newsletter to coincide with the Downtown Restaurant Month weekly themes. Their newsletter will be posted on Facebook and Instagram.
Friendly City Food Co-op: For Restaurant Month they'll be rolling out their new Panini Grilled sandwiches! Try a Salmon Breakfast Panini or Breakfast Burrito to kick your morning off right – They will be available everyday from 9am until 12pm
The Golden Pony: During Restaurant Month, they plan to add 1 unique item to their menu every week! Each menu item will also feature a suggested drink pairing.
Jack Brown's: Available through the month of March, they're offering meal deals on both their Cheeseburger and any of their Specialty Burgers – Meal deals include a burger, fries, oreo, and a soda or beer!
Joshua Wilton House: Each week will feature either a special discount on their menu items that fit the week's theme or a new menu item that coincides with the theme and features multiple courses.
Kline's Dairy Bar: Special Reese's Cup topping all month long, plus a new flavor creation to be unveiled during Dessert Week (3/22)
Mashita: Hopes for warmer weather this March inspired them to create and feature new seafood specials all month. A different special will launch every week and will only be available for a limited time. Don't miss you chance to experience each one!
OASIS Fine Art & Craft: Bring your downtown restaurant receipt to get 10% off your OASIS purchase (all month)
Pale Fire Brewing Company: Is offering the "Get Friendly Flight" for restaurant month – 10 4oz beers for $10. Must be shared!
Rocktown Kitchen: Created multiple special new menu items that will change each week based on the Restaurant Month theme being promoted!
Sage Bird Ciderworks: Will be highlighting Restaurant Month with suggestions on which ciders pair well with popular menu items at some downtown restaurants.
Urgie's Cheesesteaks: Not only will Urgie's be promoting menu items that line up with our weekly themes, they'll also be offering special discounts on their themed food item of the week!