Agora Downtown Market is a funky, indoor marketplace that brings 11 businesses under one roof to offer a unique shopping experience. What's even more interesting is the collaboration that's happening inside. Business owners appreciate being able to brainstorm creative product and marketing ideas with each other while working together to promote the space. Here's a glimpse of three businesses inside Agora that frequently share ideas and inspiration.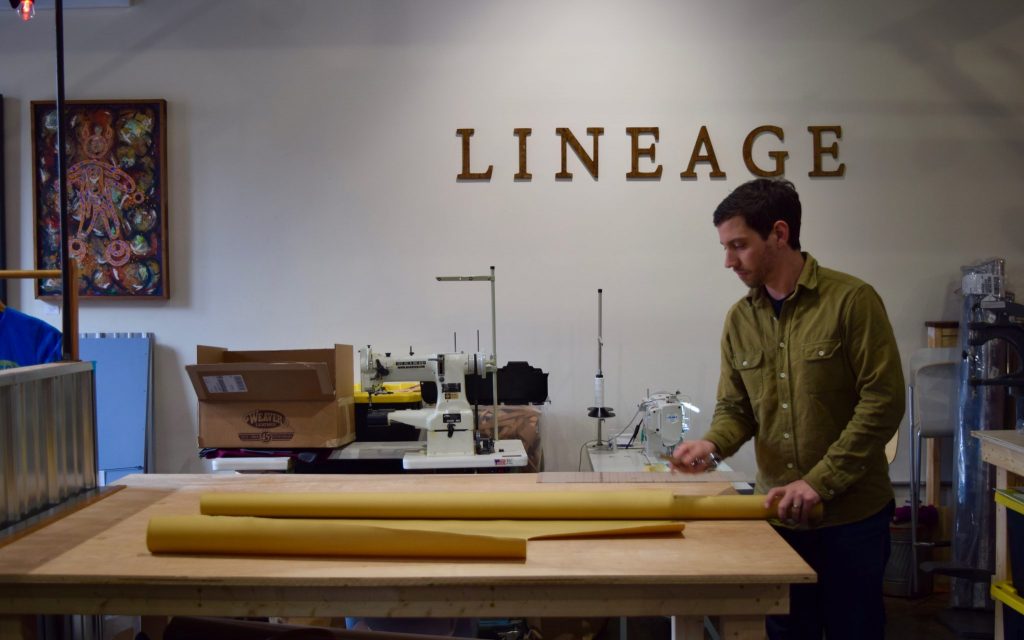 In the back of Agora Market, Paul Hansbarger is making waxed canvas and leather bags and wallets for customers. The beauty of this space is that you can see what a day in the life of the owner looks while you shop for the very products he's making. Just two years ago, Paul received a request from his pregnant wife for a diaper bag. She wanted a unique product that would stand out from all the similar looking bags on the market. Paul got to work, and when friends saw his daughter's new bag, they couldn't resist asking him to make more. And so, Lineage began.
Paul started the company in his home, but when Agora Market opened, he knew it was the perfect place for customers to see him at work and ask him questions about his products. Agora was both affordable and a creative space for locations inside to bounce ideas off one another.
"All of the business owners at Agora are creative people with such high energy and variance. We really like to use each other as a sounding board to bring our new ideas to the table and get creative feedback from each other,"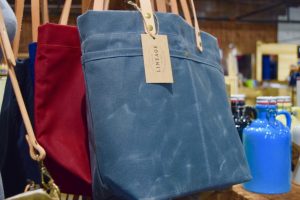 says Paul, "Because we all sell such different products, there isn't a competitive nature, and we all benefit from the wide range of customers that walk through the doors."
Paul is constantly requesting customer feedback about what products they would like to see. Some of his most popular items right now are his tote bags and zippered cross-body bags. But he also carefully selects additional items to add to his store, such as pocket knives, barware, cocktail bitters, incense, stationary, and more. He's also working with both Christian from Randy's Hardware and Quillon from The Wooden Trout Art Gallery to collaborate on some new pieces in the coming months.
You can always stop by the market to shop and see Paul at work, or you can head over to Pale Fire Brewing Co. on April 28th from 1-6pm for their second Handmade Harrisonburg arts and crafts market. Try one of Pale Fire's signature beers while checking out Paul's canvas, denim, and leather bags and accessories.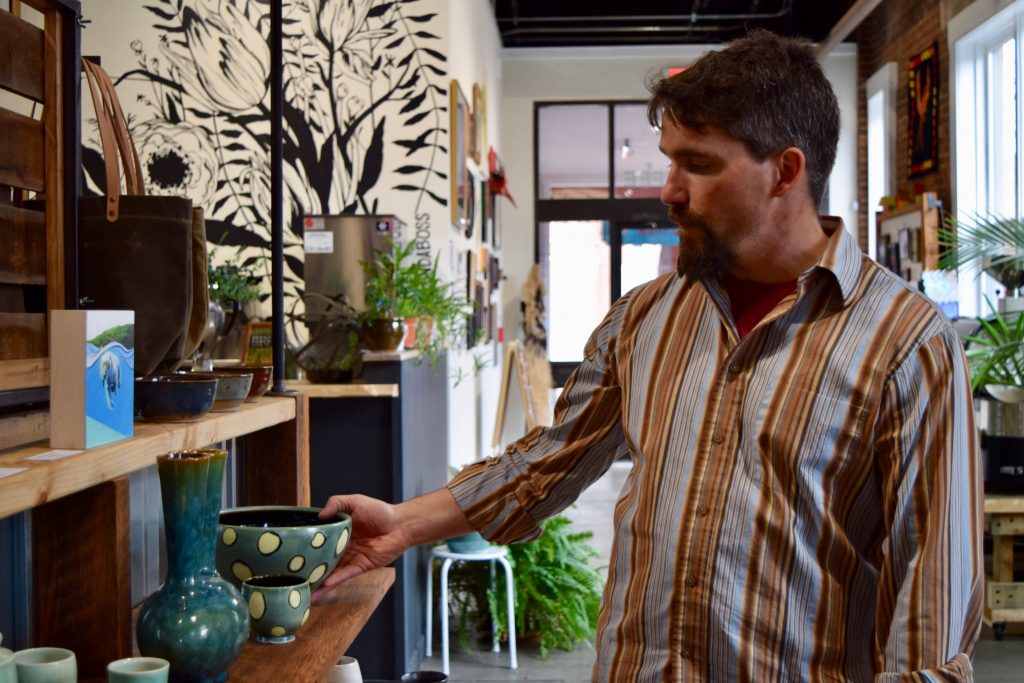 Right next to Lineage is The Wooden Trout Art Gallery. Owner Quillon Hall, an art educator originally from Iowa, moved to Harrisonburg in 2009 after his wife got a job at JMU. As a work at home parent, he decided that starting a small art gallery was the perfect transition between being at home and having a large-scale gallery.
Though there are several art galleries in downtown Harrisonburg, Quillon believes what sets Wooden Trout apart is how long he holds the art. Traditionally, art galleries hold pieces for one month at a time, and will shift their focus during the next month to keep the art fresh. Quillon takes a unique approach to this idea. He has two separate spaces in Agora—one next to Lineage and the other next to Broad Porch Coffee Co.—where he can display pieces for three months at a time while changing out the other space more frequently for themed months. This allows for customers to view the art, make a decision, and come back to purchase at their convenience, while also giving them a taste of a more concentrated art collection throughout the year.
Their monthly section currently holds the "Bird Show" exhibit where 26 artists will show their different perspectives of birds, including portraits, ceramics, and photographs. For the month of May, Quillon plans on hosting  a "Petal Show" exhibit where flowers will be the main theme of the month. Quite fitting for May, don't you think?
Quillon's goal for the gallery is to expose people to art and increase their appreciation of it so they'll want to acquire their own pieces. "It's one thing for people to go to a gallery and look at the art, but a much bigger decision for them to want to own their own art. At Wooden Trout, I collect a wide range of paintings, ceramics, and woodwork, which gives customers a nice price range to choose from," Quillon explains.
When he's not curating art, you may find Quillon and Paul working together on a project. Paul will often craft a leather belt then Quillon applies the design. Paul's craftsmanship and Quillon's intricate designs go together nicely, catching the attention of customers who would want a custom belt of their own.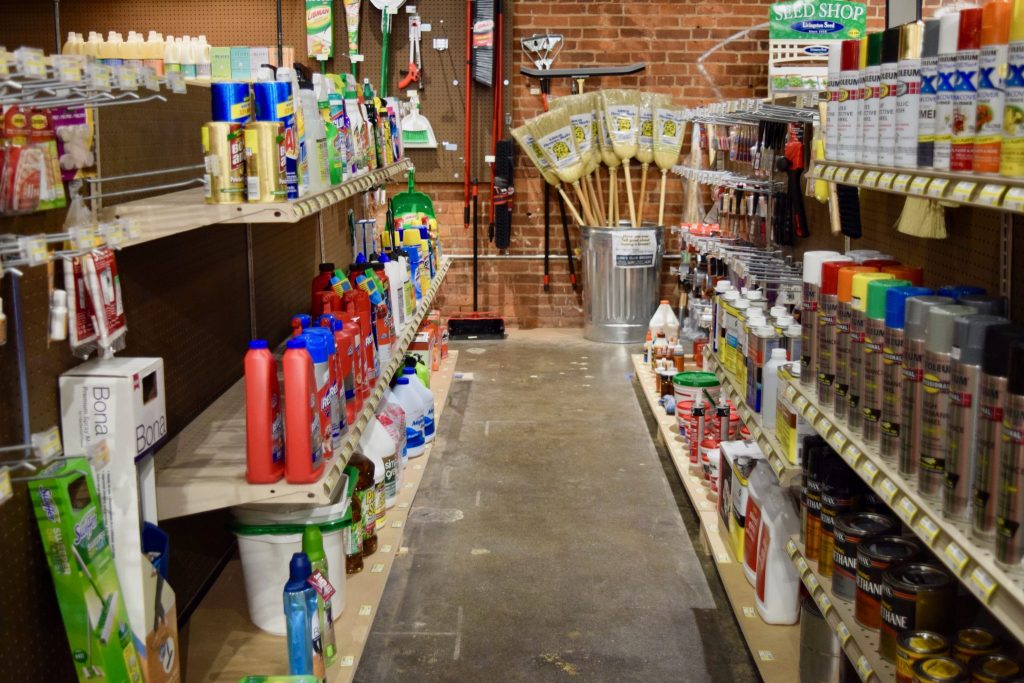 With their grand opening happening just last month, Randy's Hardware Market is one of the newest businesses to open inside of Agora. Although this is Randy's Hardware's third location, the urban nature of the store attracts new visitors who love the convenience of a hardware store downtown.
Second generation CEO, Christian Herrick, believes that the new location is one of the things that makes his store cutting-edge. You won't usually find a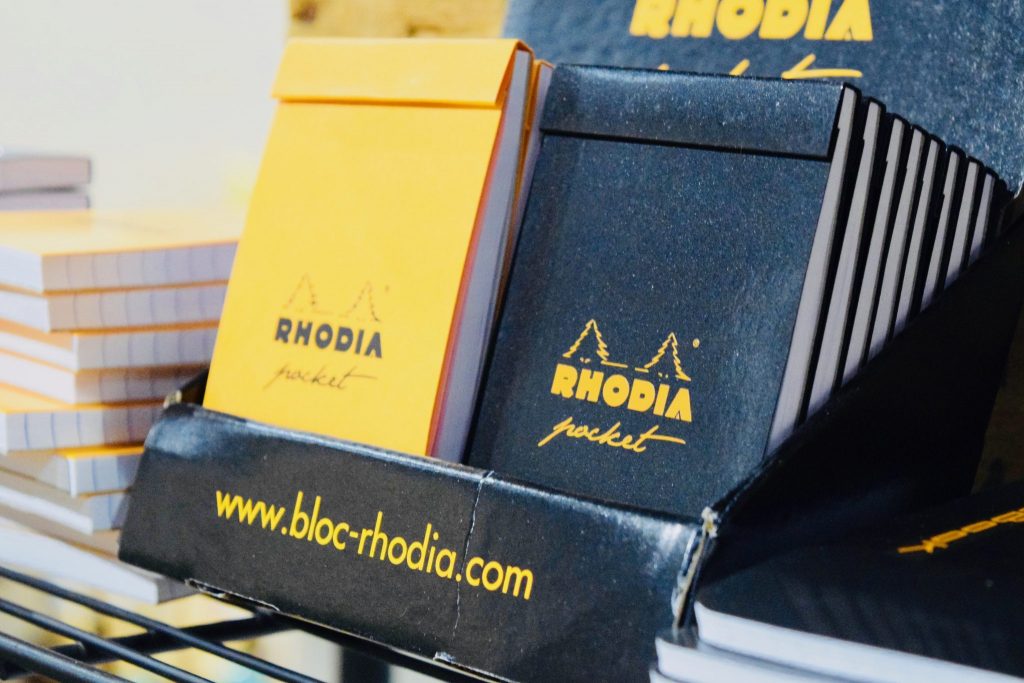 hardware store in a shared space. The other thing thing that makes them unique is their selection of products. People usually visit the hardware store with a specific product in mind; however, Christian spends a lot of time and effort choosing products that no other hardware store offers. He prides himself on being in tune with what customers want and offering cool and unexpected things. Customers are pleasantly surprised to find items like fine writing supplies and the Meyers cleaning products line. Christian mentions that these products are only offered in hardware stores in Richmond and Baltimore, and they fill a niche that no one else offers in the Shenandoah Valley.
Next time you need any tools, paint, or even pens or notebook pads, Randy's Hardware is the place to go. Ask Christian what his next collaboration will be; you may find out an Agora Market secret!

Susie Patrick is a Marketing Intern at Harrisonburg Downtown Renaissance and a senior at James Madison University, where she majors in Communication Studies. She graduates in May 2018.
Photos by Navya Dev Photography