Welcome Eastern Mennonite University students to Downtown Harrisonburg! We are excited for you to discover our downtown community during Royal's Do Downtown – EMU's Block Party event on Thursday, September 22 from 5 – 8 PM at Turner Pavilion. In the meantime, let us introduce you to some of the friendly faces of the Friendly City who graduated EMU. Read on for favorite memories and words of wisdom.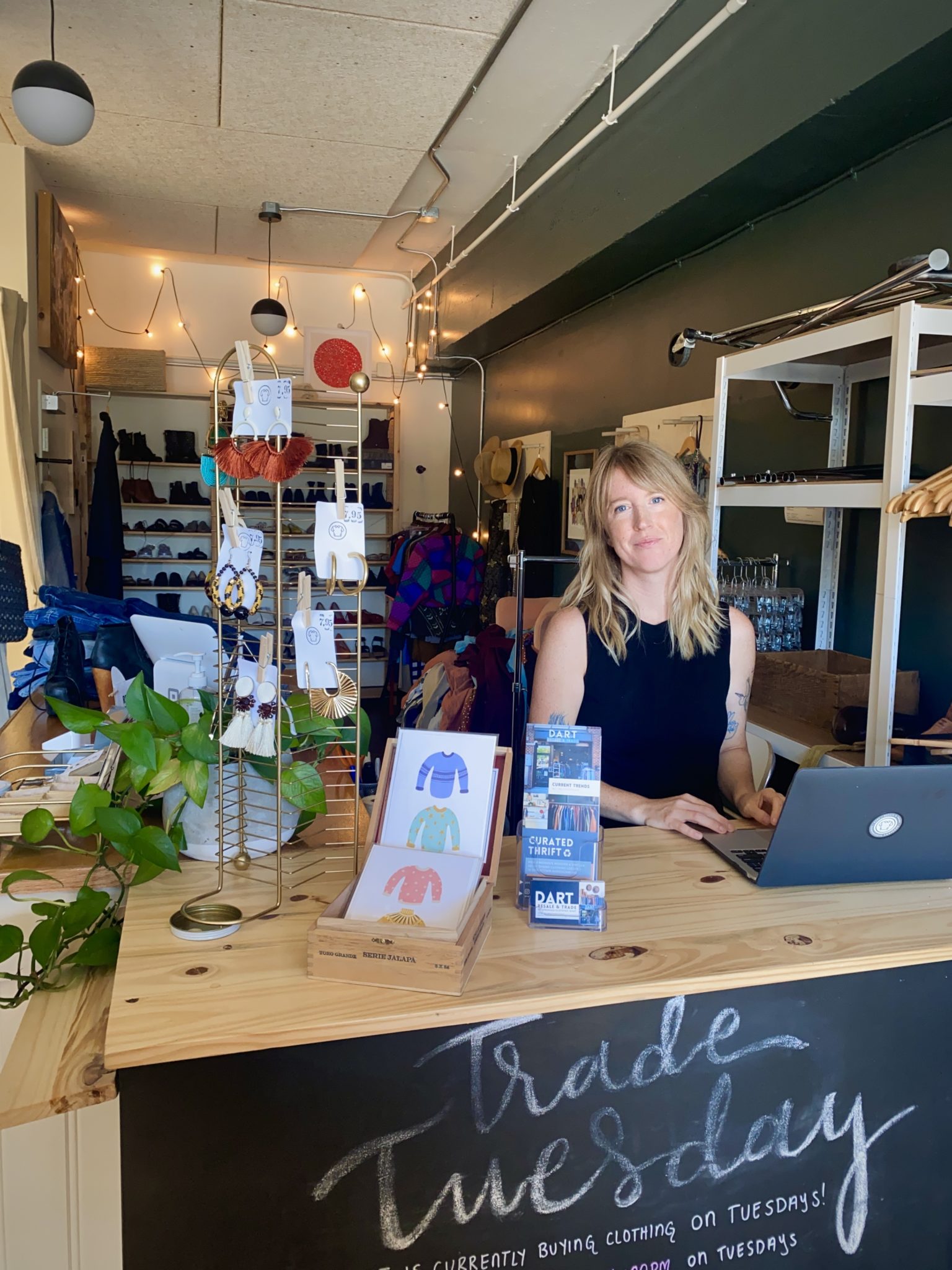 EMU alum Mary Yoder at the register in Dart Resale & Trade
Mary Yoder – Dart Resale & Trade
What is one of your favorite memories from EMU?
My most memorable moment from EMU was my Cross Cultural semester in 2005 to France and Benin. I gained a new perspective and formed close friendships. 
What is something you learned at EMU that has helped you with your current business?
I was an art major with a digital media concentration. The skills I built in art and graphic design courses are now used in Dart marketing. Selecting the secondhand inventory for our shop can feel similar to curating an art show. We buy clothing from the community every Tuesday and as we look through pieces, we're always considering color scheme, material texture, shape and form, etc.
What advice do you have for EMU students?
My advice: Take an art class.
What do you wish more EMU students knew about downtown?
I came to EMU from Oregon and fell in love with Harrisonburg. Now I'm here for good. There's a great music and art scene downtown and it's a welcoming creative community. If you want to get involved, there are lots of opportunities. The shopping options have expanded so much since I was in college you can now buy all your groceries and clothing downtown. Visit the farmers market every Saturday morning then come see us across the street at Dart!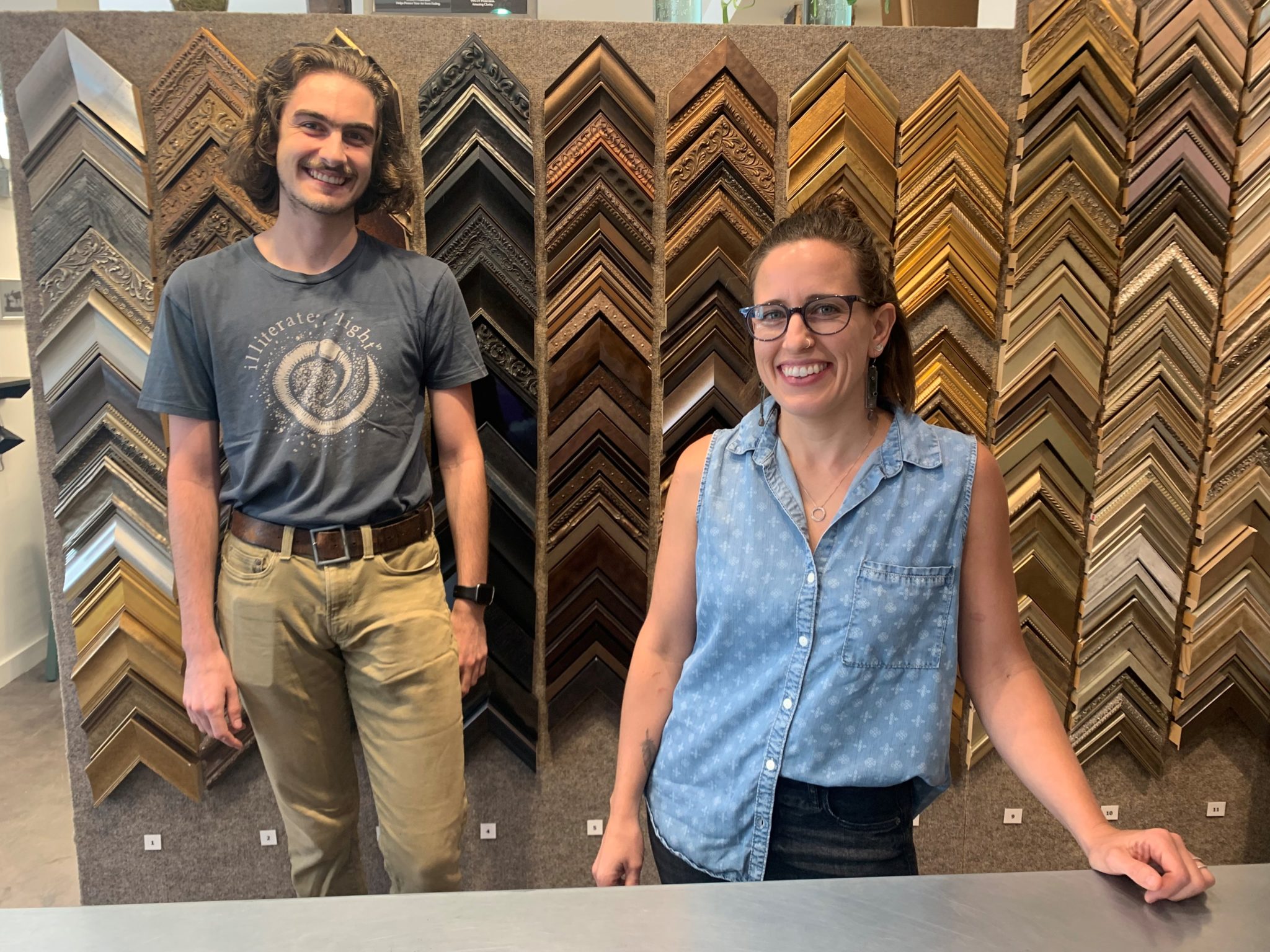 EMU alums Joseph Harder & Roda Miller posing in front of frames at The Frame Factory
Rhoda – The Frame Factory
What do you value most from your experience at EMU?
Rhoda – I believe the most important things I gained from my experiences at EMU are the ability to think critically and to foster a sense of curiosity. The more I learn, the less I realize I know and I'm OK with that – we're all just fumbling around in the dark here anyway, right? No matter how much I learned in my programmatic studies, my most valuable learnings were those I discovered about myself through EMU's cross cultural programs (I somehow managed to weasel my way into two semesters!) and the restorative justice program at the Center for Justice and Peacebuilding. I believe the more we know and think critically about ourselves, the better we are able to serve and relate to others. My career path has been quite varied but the thread that remains central no matter what has been the desire to work with people in some capacity. I just made the major career switch from working in the nonprofit sector to becoming a business owner and it has been a fun and challenging transition that has brought a lot of joy and balance into this stage of my life.
What was your experience downtown like as an EMU student?
Rhoda – Early in my freshman year at EMU, several friends and I decided to take the city bus downtown to explore what was there. Back in 1999, the answer was not much. The downtown consisted mostly of Jess' Quick Lunch, The Artful Dodger (then a coffee shop), A Touch of the Earth, Dave's Taverna, and Main Street Bar & Grill (now Clementine). We spent some time at The Artful Dodger and enjoyed some live music and then panicked when we realized the city bus was no longer running and we had no idea how to get back to campus. We eventually got in touch with our resident advisor who came and picked us up. We had a good laugh later when we realized it was only an easy 2-mile walk from downtown back to campus, but this was in the days before smartphones and we had no idea how close we really were! I hope current EMU students are much more aware of how close downtown really is and how vibrant the downtown community is compared to when I first relocated here. 
What is one of your favorite memories from EMU?
Joseph – I'm hugely appreciative of EMU's opportunities for off-campus study. I was lucky to have two semesters off campus — a cross-cultural in India, immediately followed by a fall at the Oregon Extension — and firmly believe that those two semesters were the most formative experiences of my college years. The Oregon Extension in particular pushed me in many ways; the rigor of the reading, opportunities for exploration both physical and mental, and learning to live in intentional community all stretched me and provided a fruitful 'growing edge' that I've hungered to recreate ever since.
While it's maybe a bit of a stretch to label my time off-campus as a 'favorite memory of EMU,' I will say that EMU did a great job of setting me up for those to be powerful experiences, and helped to contextualize those experiences both through the structure of the programs themselves as well as simply creating a space where it is expected of you to seek those experiences. In this way, I think these experiences epitomize what the college experience should provide: exploration of new concepts and ideas, developing as an individual, and learning to be a member of a global community. I'm deeply thankful to have attended an institution that emphasizes the value of experiential learning.
What advice do you have for EMU students?
Joseph – Get off campus! It's easy as an EMU student to exist just in EMU circles, but the city of Harrisonburg (and its surroundings) has a lot to offer to students. After making some connections at a concert in Common Grounds my freshman year, I started going to concerts at various venues around town and getting a sense of what was going on in the local music scene. As a music major, I found this to be just as valuable as the classes I was taking, in some ways; it offered a practical counterbalance to the theoretical knowledge I was acquiring. First-hand experience of the creativity at shows around town bolstered my sense of what was possible/effective musically, and helped feed my energy to learn about and create music of my own. It also introduced me to a set of peers that have continued to push me musically and help me find ways to become more deeply involved in the Harrisonburg community.
Similarly, take advantage of the natural surroundings of the area! Getting a bike and exploring the roads and mountains around town was a fantastic outlet for me. Even as a Harrisonburg local, there was plenty to discover, and the pace of biking helped me develop a stronger connection to my surroundings. Beyond biking, there's plenty of opportunities for hiking, canoeing… even farming! There's many great ways to get to know the area, and good communities for each. It's just a matter of finding them.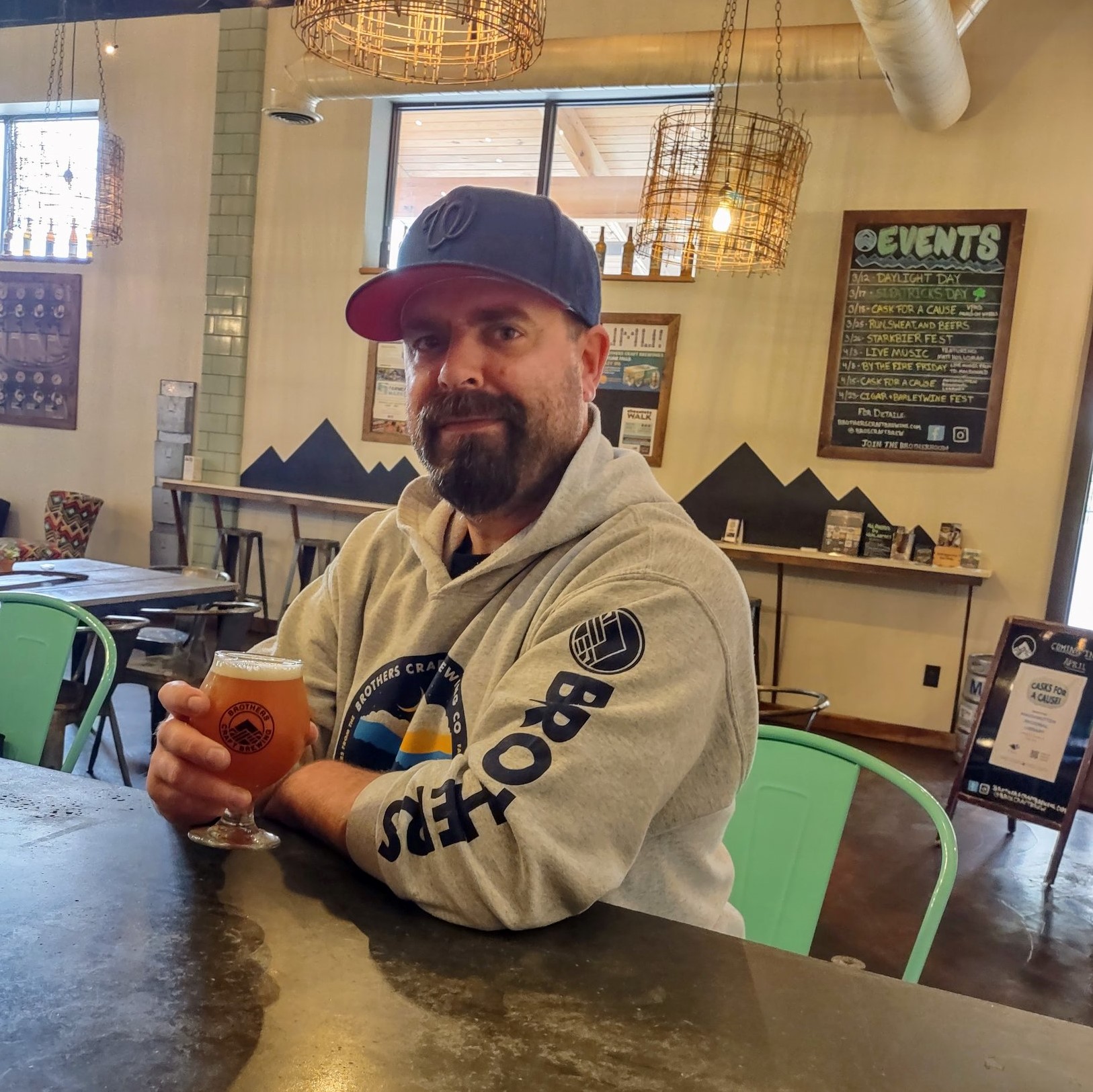 EMU alum Josh Harold of Brothers Craft Brewing posing with a glass of beer at the brewery
Josh Harold – Brothers Craft Brewing
What is one of your favorite memories from EMU? 
My favorite memory from my time at EMU both in the Post Bacc program and also the Masters program was the wonderful professors, each of which were so very caring and nurturing of each of their students.  For someone who did not have an undergraduate degree in education and had never taken a single course, they made it very comfortable to be working on a masters level.  Their support and confidence in me took something very intimating and made it comfortable.  Despite every challenge presented and the high level of expectations, their support allowed me to learn and grow despite the lack of prior knowledge and experience.
What is something you learned at EMU that has helped you with your current business?  
The teaching style of constructivism, which is the idea that the teacher is NOT the holder of all knowledge that passes it down to the student, but simply a facilitator of experiences that help guide the learner to gaining the knowledge being taught.  Learning from experience is the most effective way, and this approach has stuck with me both as a learner, school teacher, taproom manager, and person.
What advice do you have for EMU students?  
Experience everything that Harrisonburg and Rockingham County have to offer!  Do downtown to the fullest.  Take advantage of the George Washington National Forest, Skyline Drive, and all of the things you can experience in this area in the great outdoors.  Learn more about so many people and cultures by volunteering in the public schools or with great organizations like the United Way, Meals on Wheels, Big Brothers Big Sisters, Boys and Girls Club or Second Home.  Participate in Blacks Run Clean Up Day or any of the other great events/activities with Harrisonburg Parks and Rec.  And stay connected through HDR and Harrisonburg Tourism, both are great sources of information.
What do you wish more EMU students knew about downtown?  
It is not just restaurants and bars, but a community of local businesses offering so much to so many.  Experience the arts, get some exercise with VA Momentum, take advantage of the yoga studios, and eat/drink local with the culinary district and the farmers market!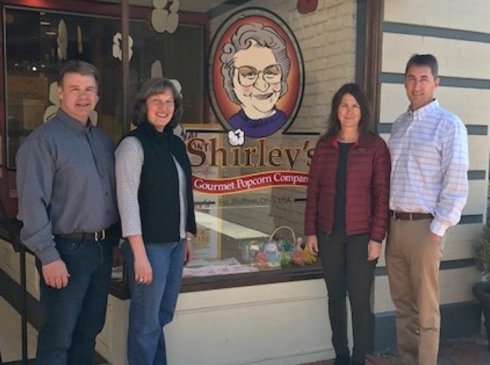 EMU alums posing outside their workplace, Shirley's Gourmet Popcorn, located in Downtown Harrisonburg
From left to right – Rob Roeschley, Lisa Roeschley, Luisa Witmer & Wayne Witmer
Shirley's Gourmet Popcorn Company
How did you get connected with EMU?
Rob & Lisa – Our take on EMU is a little bit different since we moved here after graduating from Bluffton U (then College).  For Rob, the move was for a hall director position (in Oakwood!) that allowed to continue with a pursuit of coaching baseball.  The interview for the hall director was with a wonderful woman by the name of Peggy Landis (she hired me and then retired before I started!).  Sue Blauch and Roger Mast took us downtown to Spanky's for lunch and did a great job of completing the sale for a move to EMU!  For Lisa, the opportunity to complete a Masters in Education degree at EMU was one of convenience but also a wonderful experience gaining insights from seasoned professors, Judy Mullet, Jean Hawk, and Phyllis Coulter.  Our time in the EMU community has kept us in the Valley for 30+ years and has produced dozens of friendships with EMU graduates.
What is one of your favorite memories from EMU? 
Luisa – One of my favorite memories of EMU is playing on the "jv" field hockey team as a freshman and sophomore when I knew only what I learned in high school phys Ed….an honor to play and learn a new sport!
Wayne – My favorite memories would be time spent with great friends.  I made lifelong friendships at EMU.
What is something you learned at EMU that has helped you with your current business?  
Luisa – Being part of the EMU community reaffirmed my upbringing to be kind, fair, hard-working and share with others.
Wayne – I was given a perspective that business is not about me and my success but about helping those in my community and the world as well.  Also serving employees and coworkers is a powerful tool in growing as a person and as a business.
What advice do you have for EMU students?  
Luisa – My best advice for current students is to get involved in the community outside of EMU……attending a church, volunteering,  finding a 5K race etc—get to know another community!
Wayne – Take every opportunity you can to learn outside the classroom.  Look for opportunities to connect with the local community and leaders in that community.
What do you wish more EMU students knew about downtown?  
Luisa – Downtown has many shops, restaurants, and active things to do …grab a few friends and spend time walking the streets to discover them all! Go Royals!
Wayne – The downtown businesses are primarily locally owned and by supporting them you are helping the local economy and indirectly local charities as these businesses succeed.
Rob & Lisa – When someone spends their money downtown, there is a better chance that the money will stay in the Harrisonburg community through charitable contributions, as well as donations to youth programs and schools.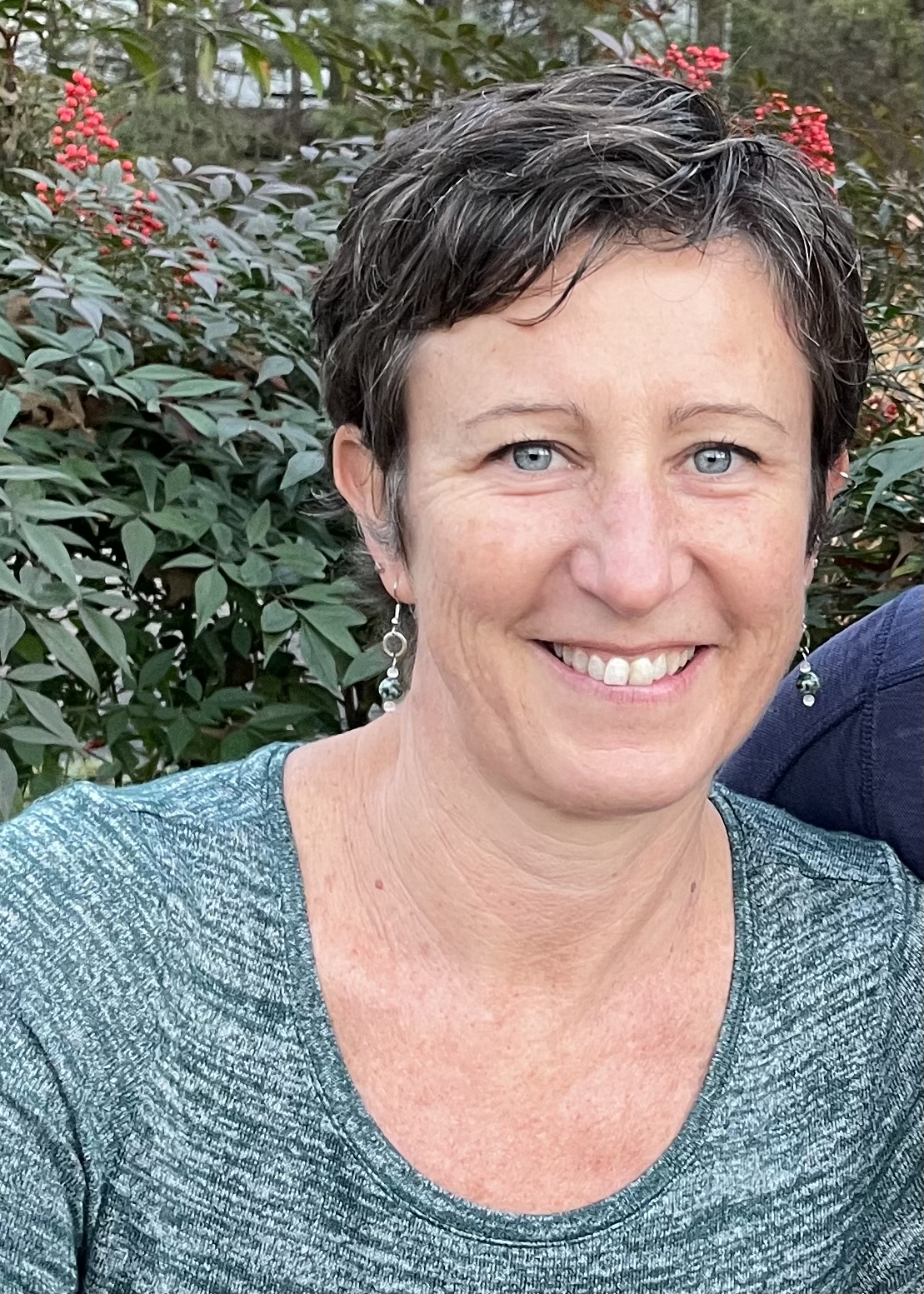 EMU alum Shelby Longnecker, bakery manager at Magpie Bakery
Shelby Longenecker – Magpie Bakery
What is one of your favorite memories from EMU? 
My cross-cultural experience in Chile. I wish everyone could do a semester abroad!! Oh, and… I met my husband, Kevin at EMU.
What is something you learned at EMU that has helped you with your current position?  
I very much enjoyed the smallness of EMU and the ability to relate to and connect to a variety of people, including the close relationship with many of my professors! I like to think that those relationships and experiences helped form a foundation that I have built upon.
What advice do you have for EMU students?  
Take advantage of the smallness of EMU and all that it, AND the valley have to offer!
What do you wish more EMU students knew about downtown?  
Keep exploring! We have lived here for 30+ years and continue to find things that surprise us! I think you'll miss this place when you leave. 🙂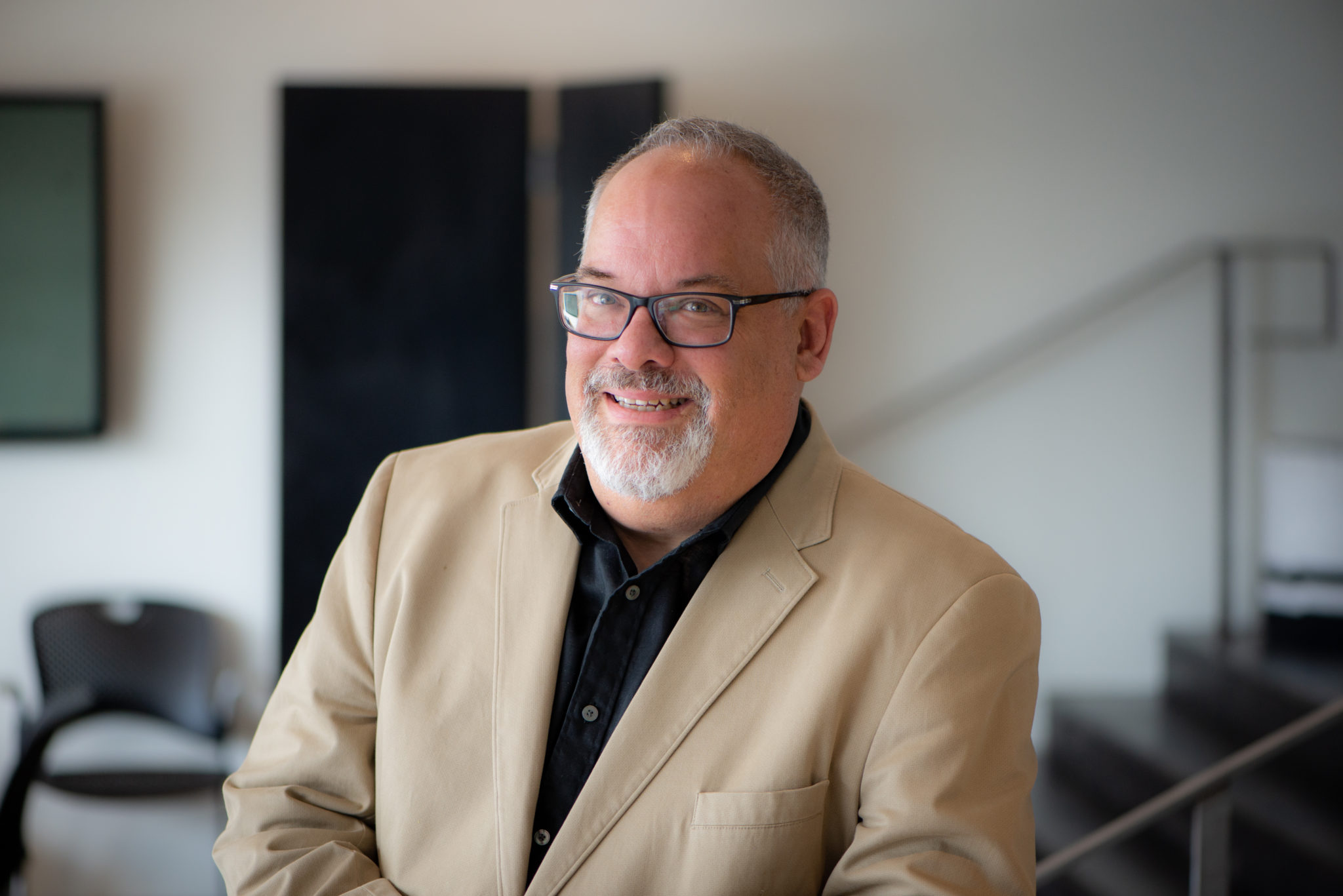 Randy Seitz – Blueline
How did you get connected with EMU?
I attended for one year and spent one semester in the Middle East.  During that year I made good friends who remain an important part of my life to this day.  My son graduated from EMU this spring and is the fourth generation of our family to get a degree at EMU.
Start Your Downtown Journey
College students are a huge part of the vibrancy and energy of downtown Harrisonburg. We are thrilled for you to join the community — you'll soon love downtown as much as we do! Check out this quick guide and a few college survival tips to help you navigate downtown over the next four years.