Last Thursday, a cool show popped up in downtown Harrisonburg that united music lovers, beer drinkers, and concert goers alike. Sofar Sounds, a music organization reaching 376 cities across the globe, made its third appearance in the "friendly city." A group of JMU Marketing and Music Industry students brought Sofar to Harrisonburg last March. The JMU seniors handle all of the logistics, including booking the artists, selecting the venues, promoting the shows, and hiring and managing a production team of photographers, videographers, and audio/sound engineers.
You may be wondering, "If Sofar Sounds is so awesome, then how come I've never heard of it?" Well, here's the fun part. Sofar's goal is to host secret gigs in intimate spaces, in order to promote an inclusive, music-loving culture for attendees to enjoy.
So, how do attendees get selected to attend these secret concerts? First, you should apply on Sofar Sounds' website. If selected, you'll receive an email asking you to confirm your spot for the show. Until the day of the show, all of the details are a surprise! You'll be unaware of who's performing and where the venue is – a unique and refreshing way for concert-goers to enjoy live music.
Three Notch'd Valley Collab House was the perfect venue for Thursday's show. "We knew going into the show that we wanted a place that was downtown and had an outdoor space," says Cynthia Coleman, Sofar Sounds Harrisonburg's Venue Coordinator. "But the warmth provided by the hanging lights and the character of the brick wall was what elevated the atmosphere and it became more than just your standard outdoor show."
The show was the perfect opportunity for Three Notch'd to get more involved with the music scene as well.
"I was thrilled when Sofar reached out to me," says Three Notch'd Events Coordinator, Elsa Schultz. "I've had several friends in bands that have performed in Sofar shows before and I was familiar with the organization prior, so it was an honor to be considered to be a host venue."
Attendees for the show arrived around 7:30pm and were pleasantly surprised to learn that Three Notch'd was giving 15% off beers for Sofar guests. A crowd favorite was the seasonal Pomegranate Gose, a German sour ale brewed right at Three Notch'd for the fall season.
After guests got their drinks and settled in, the show began with experimental-pop artist Flyying Colors, started by Harrisonburg local Graham Brouder. As part of the Sofar culture, each band was allotted a four song set list, to give each artist an equal chance to show listeners their favorites. Following Flyying Colors was Saw Black, an Americana-folk band from Richmond. To top the night off, The Hill and Wood from Charlottesville played some of their indie-folk hits.
It became apparent throughout the night that both artists and attendees were pleased with the atmosphere created by Three Notch'd. "I think Sofar draws a really special type of person, who loves music and genuine interactions, and those are the people that we want to engage with more in the taproom," says Elsa. All three artists emulated an acoustic vibe that was perfect for Three Notch'd's outdoor patio, and the warm weather really sealed the deal for guests.
Three Notch'd Taproom Enthusiast, Naveed Quarterman, adds, "Sofar provides pure, blind exposure to any location that agrees to host a show. It provides a great way for downtown businesses to reel in a group of individuals that may have never thought to walk into their establishment before."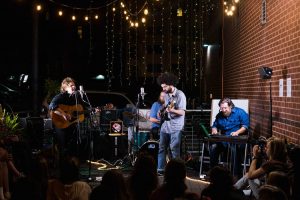 If you'd like to host a Sofar Sounds show in Harrisonburg, please contact harrisonburg@sofarsounds.com.

Susie Patrick is a Marketing Intern at Harrisonburg Downtown Renaissance and a senior at James Madison University, where she majors in Communication Studies with an Advocacy concentration. She will graduate in May 2018.