There are so many great restaurants in Downtown Harrisonburg, it can be overwhelming trying to visit them all! Wouldn't it be great to spend a beautiful afternoon walking through Downtown, learning some Harrisonburg history, and checking a bunch of food spots off your culinary checklist? With the Rocktown Bites Downtown Food Tours, brought to us by Hotel Madison, you can do just that. With tickets at just $49, this three-hour-long walking tour chock full of scenery, history, and generous food samplings will definitely NOT leave you hungry for more.
The Rocktown Bites Downtown Food Tour was originally launched by Regina Hissong, Shami Gravatt, and Erin Young, who operated the tour for six years before transferring the business to Hotel Madison. Hotel Madison had their soft launch of the tour last year, where they kicked off a tour of the international flavors of Downtown to complement the events of the International Festival. As their first fully launched year, 2019 will boast tours from March to November, with rotating restaurants on the itenerary every month. And even if you catch the same tour twice, every day is a different experience as the restaurants will vary their tasting offerings each time. So the menu I experienced is just an example of what you could be in for— your unique tour day will be a surprise!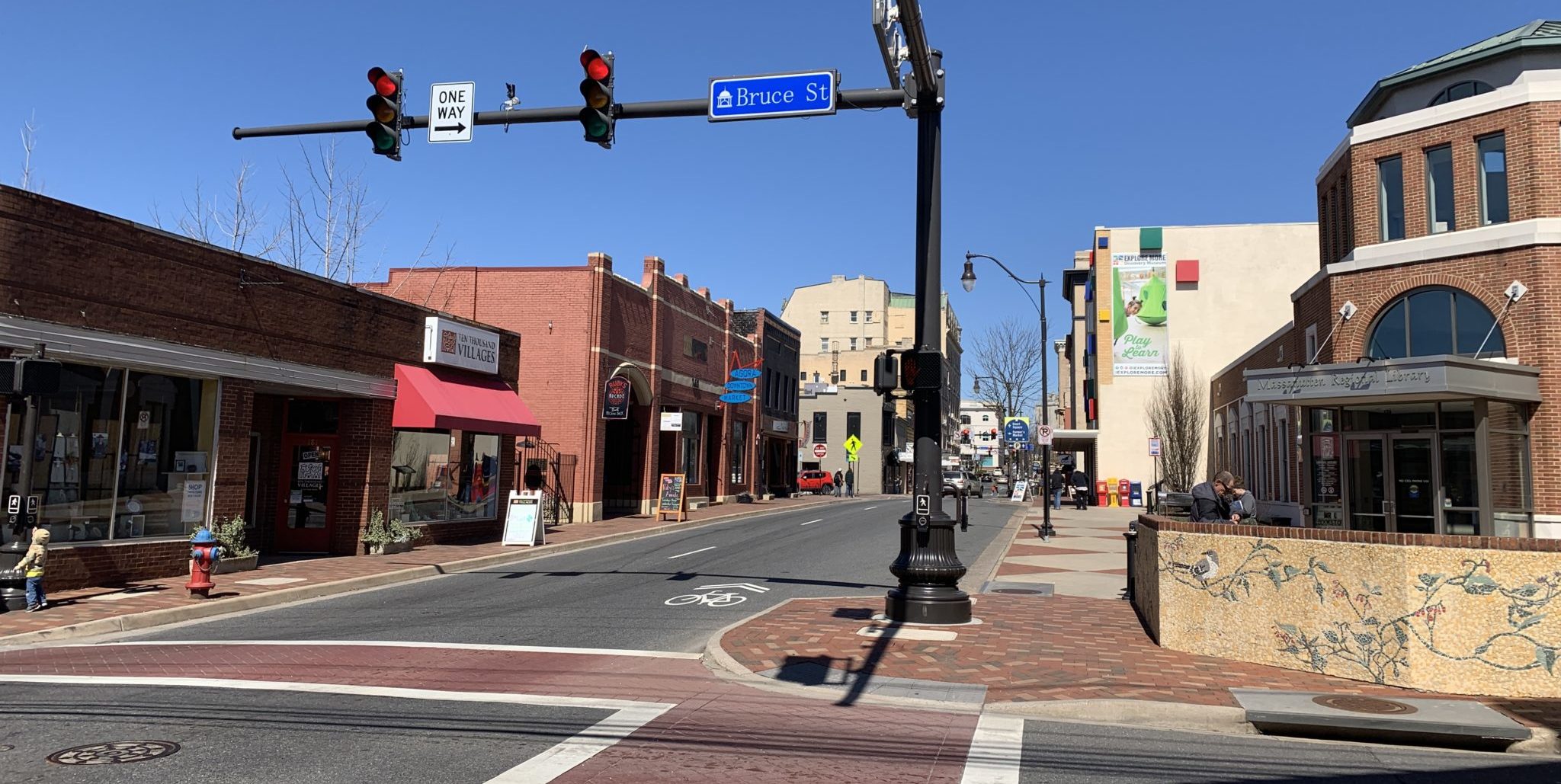 I took the Original Tour, which is modeled after last year's soft launch and showcases the international flavors of Downtown Harrisonburg. The tour kicked off at the Hardesty Higgins House Visitor's Center and ended at Montpelier Restaurant in Hotel Madison, with stops at Taj of India, Beyond, CubanBurger, BoBoKo, and Green Hummingbird in between. The tour requires about a mile of walking, although with it spread out over three hours and broken up with plenty of stops, it didn't feel like a workout at all. In addition to the scheduled restaurants and shops, your Rocktown Bites tour guide will also stop at Harrisonburg landmarks for history lessons and fun facts. Do you know which Hollywood actor got married in Harrisonburg? Take the tour to find out!
Our first food stop after leaving the visitor's center was Taj of India (website | Facebook), where we enjoyed onion and vegetable fritters, fresh naan bread, chicken skewers cooked in a clay oven, momo dumplings, and the incredible decor. Taj of India is an authentic Indian experience, with none of its dishes being "Americanized." Their naan bread is cooked in a special oven brought all the way over from India, which is absolutely worth the extra effort! As you can see, I was unable to get pictures of the naan bread (or much of anything else!) because it was devoured as soon as it hit the table. If you'd like to experience Taj of India for yourself, their lunch buffet is a great way to get acquainted with their authentic cuisine. The buffet food is very mild, with spice on the side, so you can customize your plate to your comfort level.
Next up was Beyond Restaurant and Lounge (website | Facebook), which is celebrating its 10th birthday this year! Beyond, sister restaurant to local favorite Taste of Thai, is known for its Asian fusion menu including sushi and pho, adventurous cocktails, and chill lounge atmosphere. We sat at the bar and enjoyed pineapple cheese wontons (my personal favorite) and teriyaki meatballs as we watched a sushi-rolling demonstration, followed by a sampling of the finished creations. The sushi we tasted included a vegetarian option and rolls with cooked fish, showcasing that Beyond has great options for all tastes and preferences. 
It was only a short walk next door to our next stop, CubanBurger (website | Facebook). Home of the "El Vaquero"— named "The Most Over the Top Burger in Virginia" by Esquire magazine— CubanBurger offers a full menu of Cuban-American delights like tostones, fried yucca, Cuban sandwiches, craft cocktails, and, of course, burgers. We sampled their Cuban Chop Chop salad, original burger (including one on their new gluten-free bun), El Cubano sandwich, yucca frita con salsa verde, flan, and Hemingway Daiquiri. All of CubanBurger's sandwiches are served on authentic Cuban bread shipped in from the century-old La Segunda Bakery in Ybor City. As we enjoyed our food and drink, we chatted with founder Steve Pizzaro about his experience growing up as a first-generation Cuban-American in Florida and how that shaped his passion for the culinary arts.
Next was a walk over to the Ice House building (home of the Harrisonburg Downtown Renaissance!) to see our neighbors BoBoKo Indonesian Cafe (website | Facebook). BoBoKo (a west-java tribal language word for a bamboo basket used for serving rice, which feature prominently in the cafe's decor) serves traditional and fusion dishes inspired by the tropical islands of Indonesia. We sampled spring rolls filled with vermicelli rice noodles and mixed veggies, chicken satay or grilled tempeh skewers, and a sweet and sour salad with mango, pineapple, cabbage, cucumber, and peanut sauce. BoBoKo boasts a menu loaded with vegetarian, vegan, gluten-free, and dairy-free options, and proudly serves local meat and produce. As we enjoyed our food, co-owners Ridwan and Mark told us more about the history of the restaurant, and Ridwan gave us a geography lesson on some of the more than 17,000 Indonesian islands!
We took a break to work our appetites back up at Green Hummingbird Fair Trade Clothing (website | Facebook). Green Hummingbird offers unique Fair Trade fashion made locally, nationally, and internationally. Fair Trade is a system of buying products from artisans that provides them with a fair living wage. The goal is to provide artisans with a sustainable income so that they can thrive, support their families, and live decent and dignified lives. The name "Green Hummingbird" comes from an African story as told by Nobel Peace Prize winner Wangari Maathai. It's a reminder that we can all do our part to contribute to the welfare of the world! And what better way to do your part than through beautiful Fair Trade clothes?
Our tour came to an end at the Montpelier Restaurant and Bar (website | Facebook) in Hotel Madison. Hotel Madison is the largest hotel in the area and the only one downtown, featuring 230 guest rooms and 21,000 square feet of space for conferences, events, and weddings. Montpelier Restaurant, described as "contemporary dishes with southern flair," offers breakfast, lunch, dinner, and a late night menu; as well as social events like art night, open mic, jazz shows, and more. We tasted a sampling of some of their most popular bites, including nachos (with brisket smoked in-house for seven hours), local cheese & charcuterie featuring house-made peach chutney, their famous loaded mac and cheese, and a selection of German chocolate for dessert. I was thoroughly stuffed full of delicious food by the time we made it to Montpelier, but I somehow found room for seconds of their incredible mac and cheese!
Whether you're new to Harrisonburg or have lived here for years, the Rocktown Bites Downtown Food Tour is an absolute delight that will help you discover new favorite spots, fall back in love with old favorites, and bring you closer to the Harrisonburg community. With tickets at just $49, this three-hour-long walking tour runs from March to November, with featured restaurants changing monthly.