Whether you are looking to outsource your Thanksgiving meal or pick up a few sides, desserts, and drinks for your holiday feast, Downtown Harrisonburg has you covered! Check out our roundup for all things Thanksgiving, including ways that you can sweat it out before and after the big day!
Order sides (roasted Brussels sprouts, sweet potato mash, biscuits, salad, macaroni and cheese) and pies (pumpkin, pecan. chocolate) from Village Juice & Kitchen before Saturday, November 20. Pick up orders on Wednesday, November 24 between 8 AM – 4 PM. Closed Thanksgiving Day and Friday, November 26.
Leave the cooking to Montpelier Restaurant & Bar. This year! A special Thanksgiving dinner will be served from 4 – 8 PM. $35 per person, $20 for ages 4-12, and children 3 and under are FREE!
Walk-ins are welcome, but reservations are encouraged.
Prefer to eat at home? Montpelier Restaurant & Bar also are offering heat and serve options. Order before November 18 at noon and pick up either on Wednesday, November 24 or Thanksgiving Day between 10 AM – 2 PM.
Finnigan's will be open for Thanksgiving and serving a special dinner including fresh baked turkey, mashed potatoes and gravy, homemade dressing, green beans, and a roll for $12.99.
Add homemade cranberry salad for $1 more, or macaroni and cheese for $2 more.
A limited sandwich, appetizer, and raw bar menu will also be available on Thanksgiving.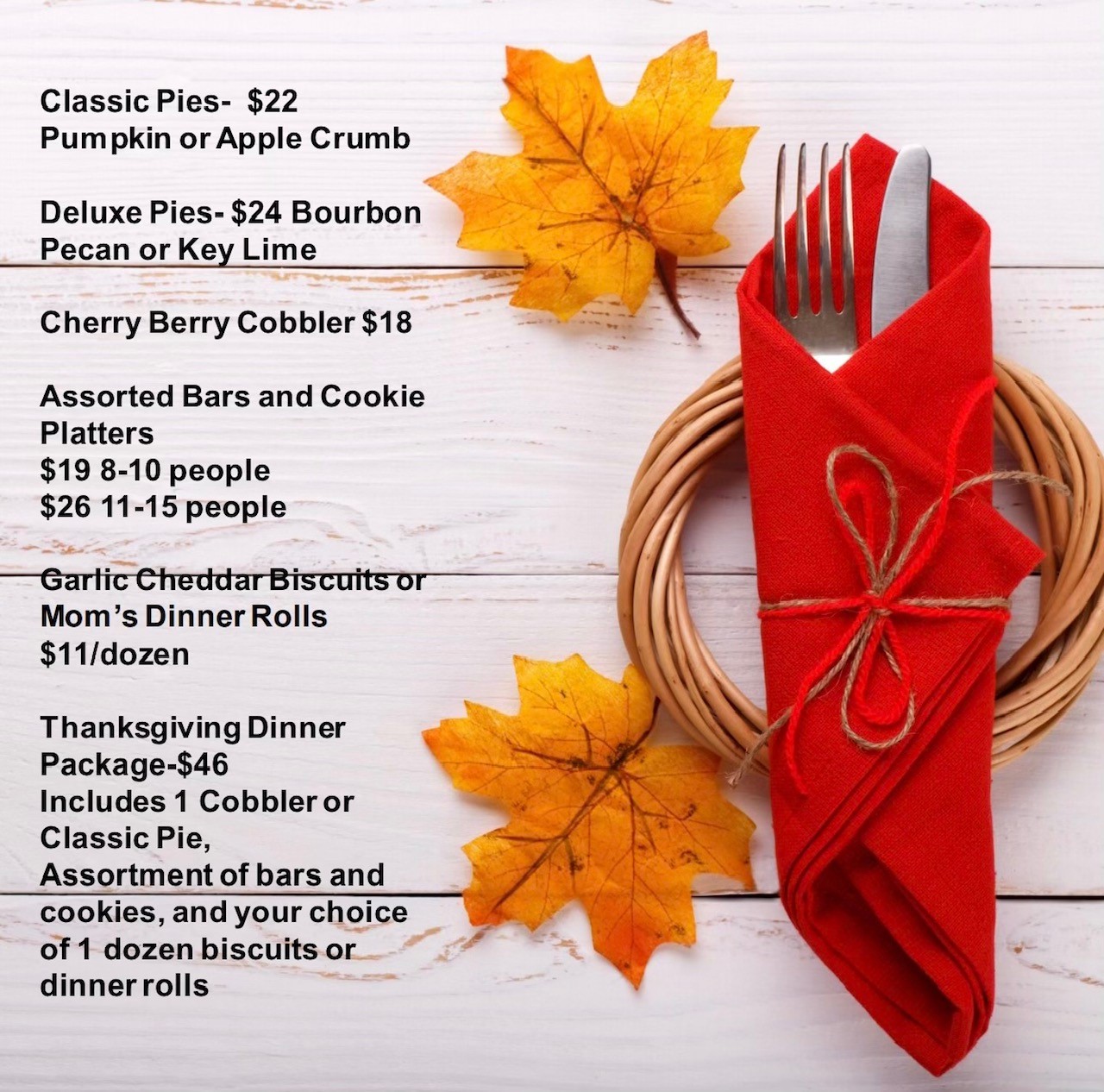 Bittersweet's Thanksgiving menu is up and ready for pre-orders! They'll be offering pick-ups on Tuesday, November 23 and Wednesday, November 24 between 10 AM – 2 PM with a pop-up opportunity to purchase for those who need something last minute.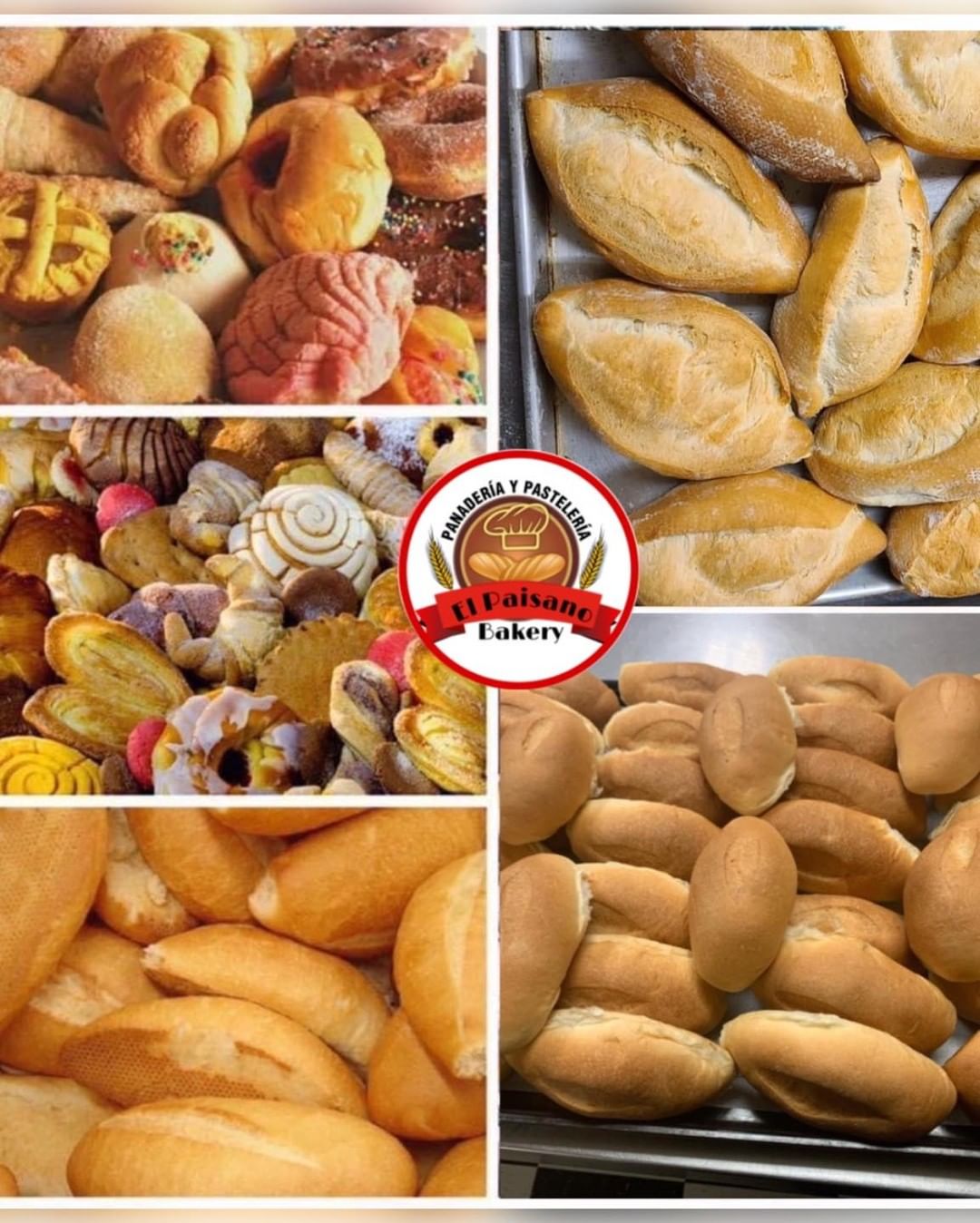 Dates are filling up fast at El Paisano Bakery for Thanksgiving orders! Contact them now for orders of flan, three milk cakes. cupcakes, traditional almond/fruit cake, French bread, butter rolls, and decorated rolls.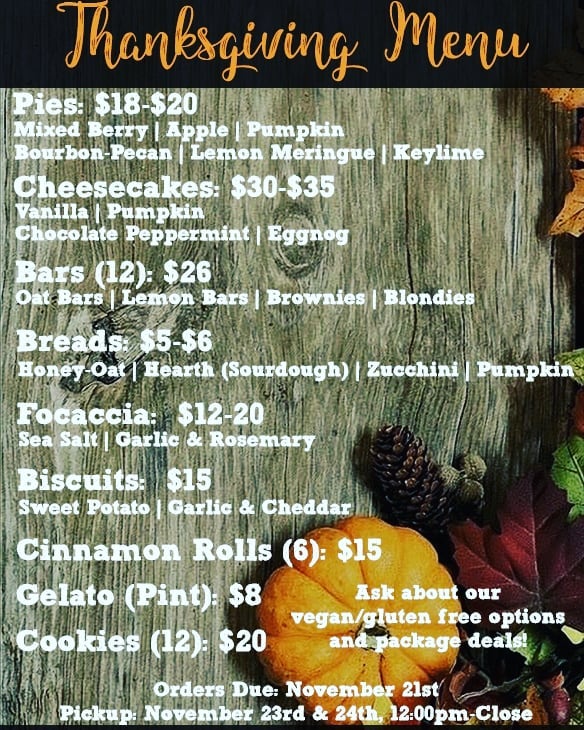 Bella Gelato's Thanksgiving menu is live – call 540-217-5657 or email kaila.bellabakery@gmail.com to order (or order in-person at the shop). Orders will be taken until November 21 or when items are sold out.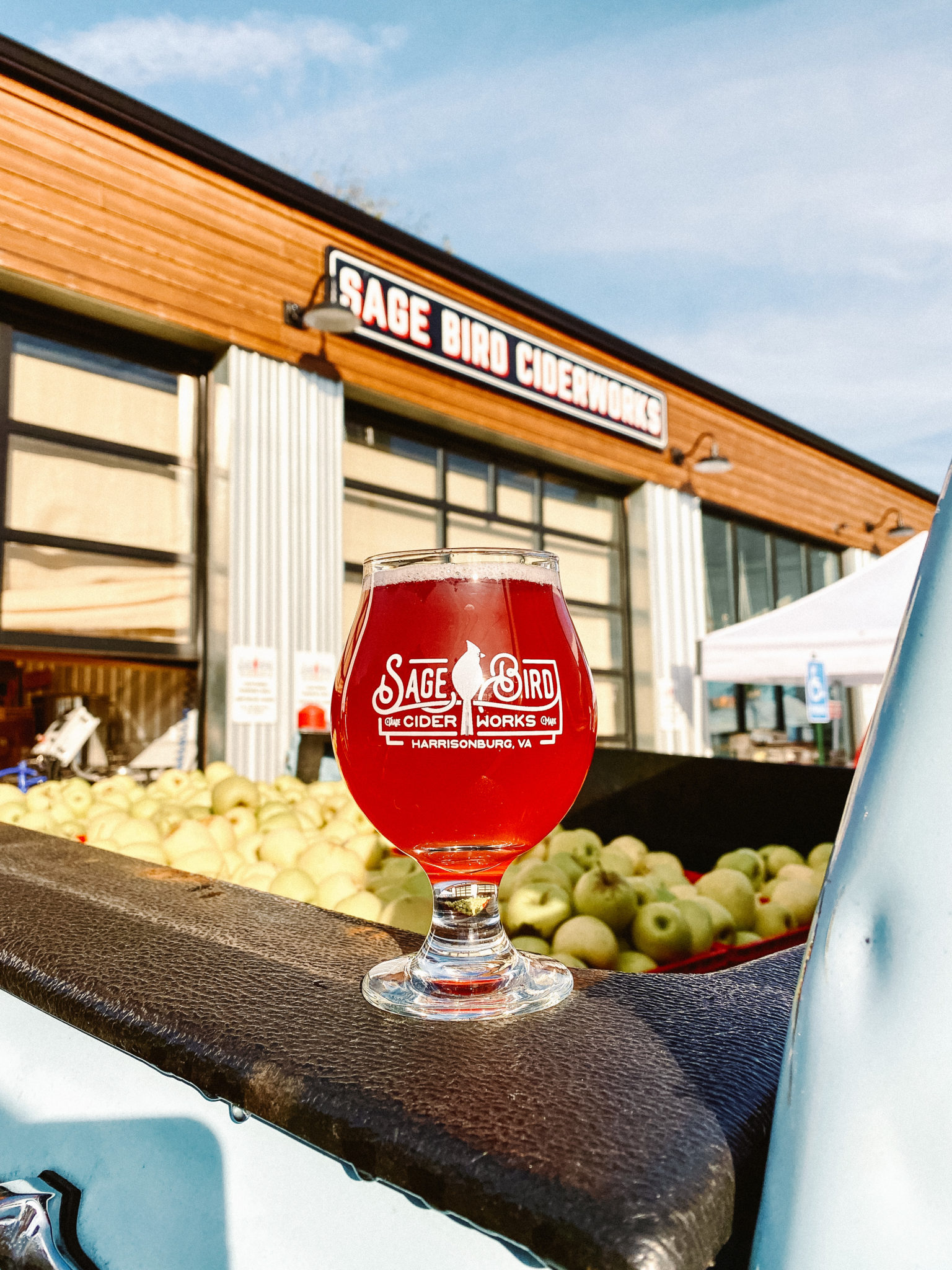 On Wednesday, November 24, Sage Bird will run a 10% off To-Go Cider discount. Make sure to try their Thanksgiving Cider, Pass The Sauce, a cranberry-infused cider aged in red wine barrels. Subtle sweetness and tannic tartness from the cranberry balances perfectly with vanilla and red grape skin.
The cidery will be open 11 AM – 9 PM on Wednesday, November 24 and closed Thanksgiving. Normal hours will resume on Friday, November 26.
Looking for a gift for your lovely Thanksgiving host? Ten Thousand Villages is having a 20% off everything except consumables sale November 26 – 28.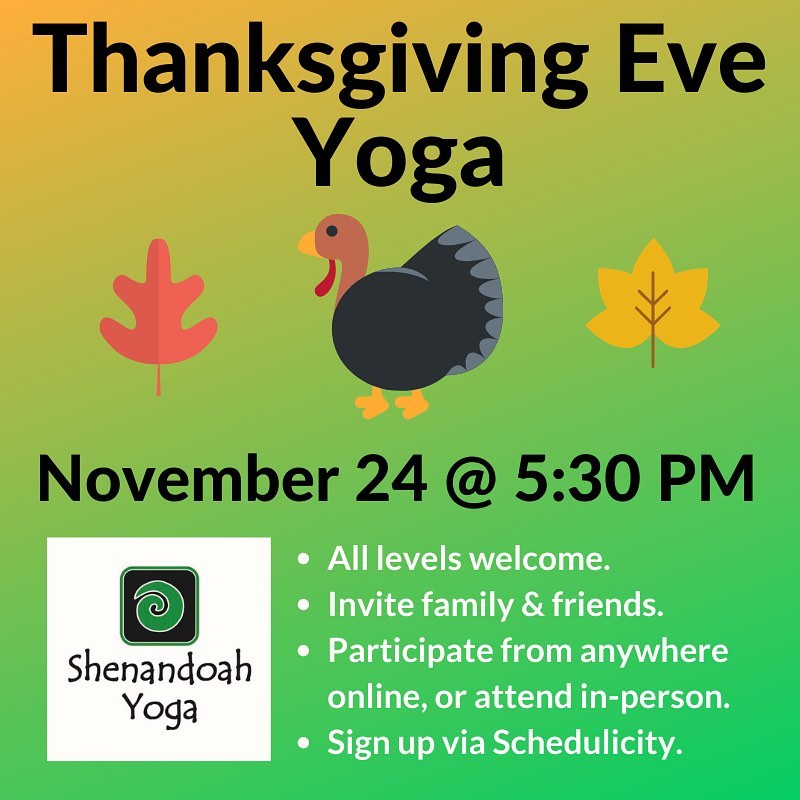 Prepare mind and body for Thanksgiving festivities with a Thanksgiving Eve Yoga Class at Shenandoah Yoga, Wednesday, November 24 from 5:30 – 6:45 PM.  Relax, unwind and get ready for the holiday – no matter what your plans. There will be both in-person (proof of vaccination & masks required) and online attendance options.
$17 drop-in fee or use a class pass! Register online on Schedulicity.
Join The Grace on Thanksgiving Eve for a special 75-minute class that will serve up all the fixings: Barre, Mat, and Stretch. Get some healthy movement in before the holiday feasting! Finish with a champagne toast (n/a option available) to celebrate the beginning of the holiday season.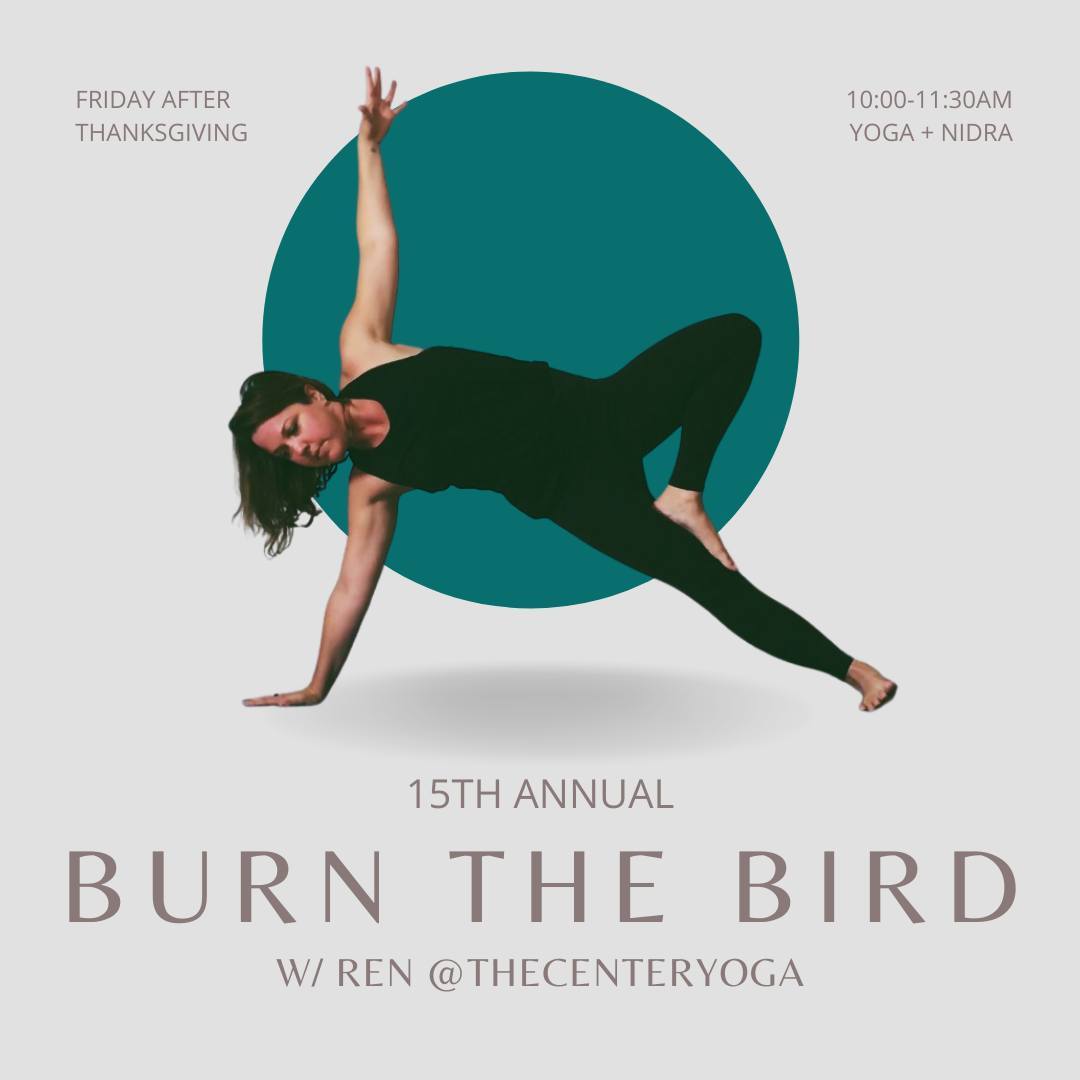 Join The Center for the 15th Annual Burn the Bird Event, in-person or online. Happening the Friday after Thanksgiving from 10 – 11:30 AM, this uplifting practice is designed to clear away excess, heat things up, and restore balance in body, mind, and spirit. Embody gratitude through lively and dynamic yoga, breathwork, meditation, and a deep savasana. This is an all-levels practice, with some yoga experience suggested. Bring a water bottle, a mat if you have one, and an attitude of gratitude.