HHS Downtown Prom Guide
Your guide to bringing your prom preparations downtown!
A group of students from Harrisonburg High School's Government Service Learning Class partnered with Harrisonburg Downtown Renaissance to bring students' pre-prom plans to Downtown Harrisonburg. As part of the project, there will be a prom photo area on Court Square complete with decorations and props. The students also worked with downtown businesses to offer HHS students special discounts for their pre-prom dinner and getting ready plans. Below are all the businesses for you to choose from. If your business of choice requires a reservation, don't forget to make it and we hope you enjoy!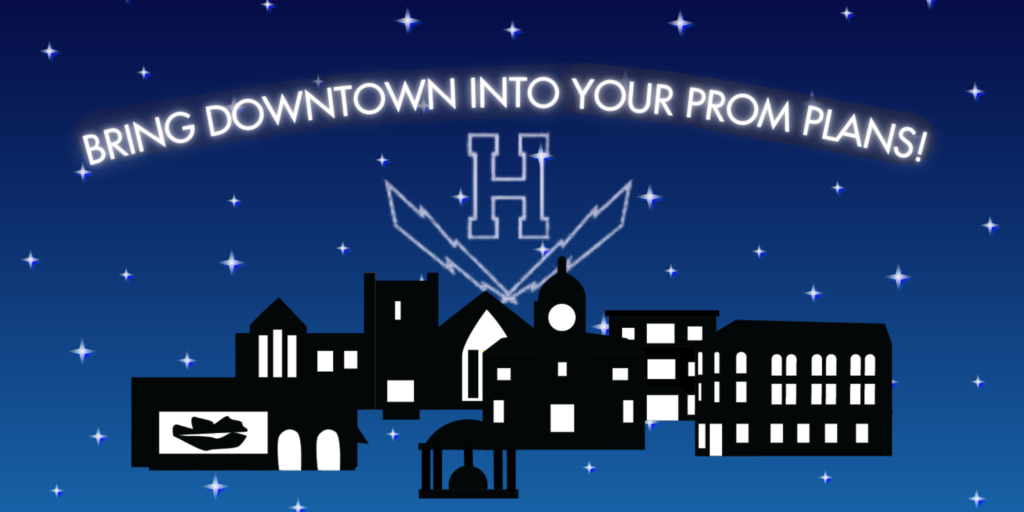 PARKING & TRANSPORTATION
Need to know the best place to park to get to your destination? Here is all the information you need to know.
Types of Parking Downtown

Public parking downtown is free, with time limits.  In general, the closer you are to your destination, the shorter your time limit will be.  On-street parking is two-hour, surface lots are two and ten-hour, and downtown's two parking decks are three and ten-hour.  There are also a few 30-minute spaces found at the ends of parking rows for your quick, in-and-out errands.  In addition, Harrisonburg Downtown Parking Services provides free parking in the Municipal Parking Lot for up to 24 hours.  All parking spaces have designated signs that state the time limit.
You can park for free in permit parking spaces after 5 pm only. Parking downtown is enforced on the 7-7-6 Plan: 7 am to 7 pm, 6-days per week. Enjoy evenings, Sundays, and holidays without restrictions.
Enforcement Times
City owned parking and street parking downtown is regulated Monday through Saturday 7:00am to 7:00pm.  The fine for overtime parking is $20.
Parking Map
Note: additional parking is available in the municipal lot behind the visitor's center. Visit the Hardesty-Higgins House for more information about downtown.