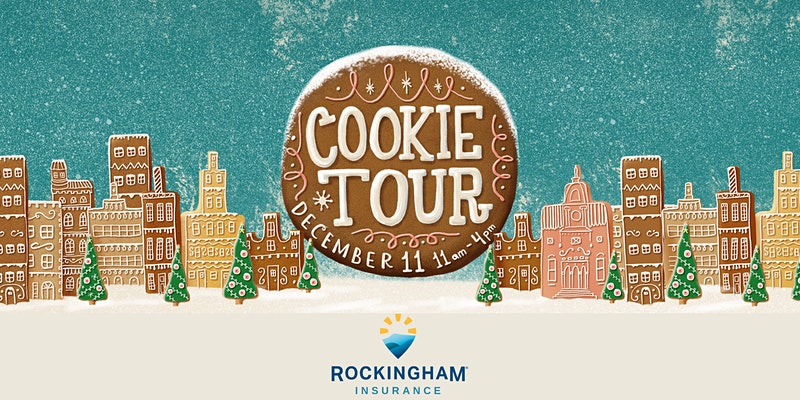 The Cookie Tour is back! Join Harrisonburg Downtown Renaissance for the sweetest tour of Downtown on Saturday, December 11, from 11 AM-4 PM.
Don't Miss Out on All the Fun!
Make sure to check out all the fun happening in Downtown Harrisonburg on December 11 as part of Winter Wonderfest!
It's the most wonderful time of the year! Visit downtown shops to build your own plate of locally-made holiday cookies during this self-guided tour that's great for groups of friends and families alike!
Start the tour by picking up your bakery box at Mashita and then stop at the other participating locations in any order you choose. Cookie boxes will also be available for pre-pickup at the HDR office during the week leading up to the event.
Each cookie will be individually wrapped by our participating bakeries. A map of participating locations and a description of each cookie, including warnings about potential allergens, will be provided at the event check-in. Participating bakeries and retailers will be announced soon!
Cookie Tour tickets cost $16 (plus service fees). Only 200 tickets are available for purchase. Get them while they last! (Note: tickets are only being sold online through Eventbrite. Please report any scam accounts selling tickets through other channels.) Tickets are NON-TRANSFERRABLE.
This event is part of Winter Wonderfest, a fun and family-friendly holiday festival on Saturday, December 11 from 11 AM – 8 PM! Make sure to check out all of the fun festivities happening downtown at winterwonderfesthburg.com.
Tickets can be refunded up to 7 days before the event date. If you are unable to attend but miss the refund deadline, please email us at downtownharrisonburg@gmail.com.
Want more holiday fun? Make sure to check out these resources for more events and promotions in Downtown Harrisonburg this season:
Handmade Holidays
Celebrate the holiday season in Downtown Harrisonburg! Make holiday decorations, gifts, and more at a variety of business locations throughout the month of December thanks to these workshops organized by the Friendly City Merchants group.
Downtown Harrisonburg Gift Guide
Harrisonburg Downtown Renaissance welcomes you to our historic shopping district where you can shop for everyone on your list! Check out our gift guides for inspiration from over 30 local and independently owned businesses.
Shop Small & Win Big!
We're making shopping small even sweeter this holiday season! Save your holiday shopping receipts from Downtown Harrisonburg businesses, because each week in December we're drawing two lucky winners to win big in downtown gift certificates.
This year's Cookie Tour is made possible by: