BEST.WEEKEND.EVER. LIVE MUSIC LINE-UP
Grab a Sip & Stroll drink and discover some great local music on our three stages Saturday, June 17 from 12 – 6 PM! And stay late for After Party events until 12 AM!
There's live music all weekend! Scroll down to see more live music shows happening Friday and Saturday at other music venues across Downtown Harrisonburg.
LIVE MUSIC AT COURT SQUARE STAGE
Located on South side of Court House on steps.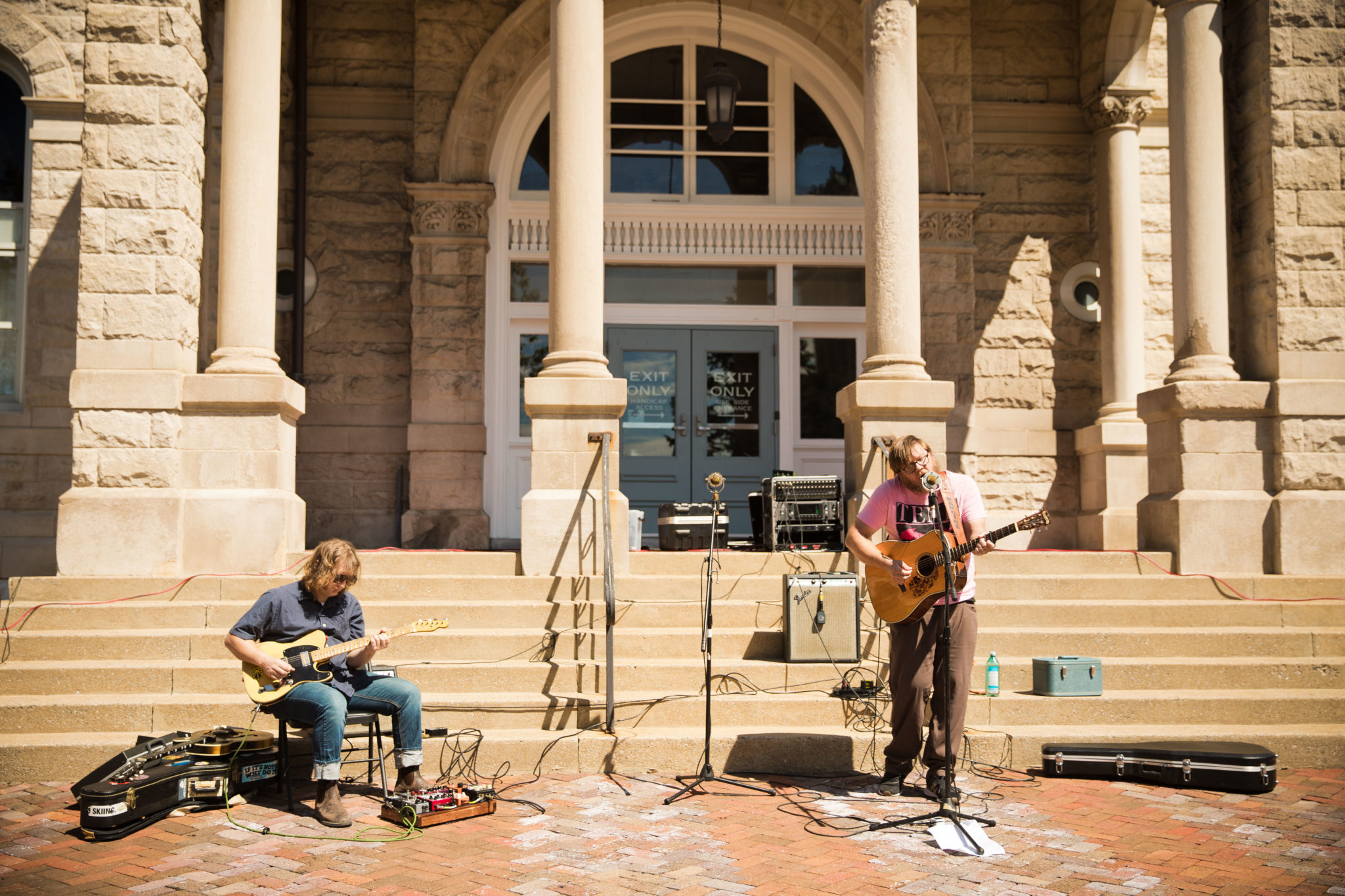 ARTIST LINE-UP SATURDAY JUNE 17
Tap + for more artist and band details
12 -1:15 PM - Loya Brothers
Loya Brothers
Three brothers who play an eclectic acoustic brass mix of all music genres
1:35 - 2:50 PM - Madly Backwards
Madly Backwards
Madly Backwards is the psychedelic roots rock band project of Richmond-based songwriter and multi-instrumentalist Eric Sites. Drawing equally from folk singers and rock bands, Sites has crafted a distinctive songwriting style and sonic palette. He delivers Americana music with his own fuzzed-out sound as a one-man rock show of guitar and kick drum or backed by a full band.
3:10 - 4:25 PM - GypsyTown
GypsyTown
GypsyTown will take you on a journey of cover & original Blues, Rock & Soul with a bit of Jazz flair. From Fleetwood Mac to Chris Stapleton to Imagine Dragons, there's something for everyone! Come on & visit our GypsyTown!
4:45 - 6 PM - Ellie and Azalea
Ellie and Azalea
Ellie and Azalea are a singer/songwriter duo who perform covers and originals ranging from Fiona Apple to Dolly Parton. They recently graduated from Harrisonburg High School where they became best friends through arts classes. They each hope to pursue music as their career.
LIVE MUSIC AT CROSS KEYS STAGE
Located Behind Shenandoah Bicycle Co.
ARTIST LINE-UP SATURDAY JUNE 17
Tap + for more artist and band details
12 - 1:30 PM - Highlander String Band
Highlander String Band
Old Time
1:45 - 3:15 PM - Jessie Payne
Jessie Payne
Americana Singer-song writer
3:30 - 4:30 PM - Jeremiah Prophett
Jeremiah Prophett
Alt-rock/Americana Singer-songwriter
4:45 - 6 PM - Dan Easley
Dan Easley
Traditional and Experimental Folk
LIVE MUSIC AT STEVEN TOYOTA STAGE
Located in the Denton Pocket Park on N Main St. across from Central Library.
ARTIST LINE-UP SATURDAY JUNE 17
Tap + for more artist and band details
12 - 1 PM - Annabeth
Annabeth
ANNABETH'S MUSIC IS A MIX OF SYNTH POP, DREAM FOLK, AND ETHEREAL ELECTRONICA, AND HAS BEEN DESCRIBED AS "POST NEW-AGE." Influenced by Florence & the Machine, Grimes, & AURORA, her live sound is a tapestry of looped synth sounds that lean toward the organic and fae. Photos in press kit on her website www.annabethsings.com
1:15 - 2:15 PM - Troutmouth
Troutmouth
Heartfelt story telling about life in Appalachia told by a self-proclaimed gravel mouthed oak barreled voiced hillbilly who found a guitar in the woods one day.
2:30- 3:30 PM - St. Hubertus Horn Quartet
St. Hubertus Horn Quartet
A variety of music and styles performed by a French horn quartet featuring Jacob Andersen, Allison Lyttle, Andrew Parker, and Ian Zook.
3:45 - 4:45 PM - Northbound Duo
Northbound Duo
Jonah Barnett- Guitarist JMU alum current Masters Jazz Composition student at the Manhattan School of Music; Peter Haensel- Tenor Saxophone Recent JMU grad starting at Eastman School of Music in the fall as a performance major
5 - 6 PM - Joe Zullo of 14 £bs
Joe Zullo of 14 £bs

Joe Zullo is a singer-songwriter based in Staunton, VA. His set will include some originals as well as plenty of covers as well. With roots in blues, folk, and bluegrass, Joe combines intimate fingerstyle and traditional guitar picking underneath soothing vocals that will bring you back home. 
MORE LIVE MUSIC (FRIDAY, JUNE 16)
LIVE MUSIC FRIDAY JUNE 16
Tap + for more artist and band details
Asbury United Methodist Church @ 12 PM
Bach Festival
Felix Mendelssohn (1809-1847)
Konzertstuck, Op. 114, No. 2 in D-minor (1833)
I. Presto
II. Andante
III. Allegretto grazioso
Leslie Nicholas, clarinet
Lynda Dembowski, basset horn
Lise Keiter, piano
Madeleine Dring (1923-1977)
Trio for flute, oboe, and piano (1968)
I. Allegro con brio
II. Andante semplice
III. Allegro giocoso
Cari Shipp, flute
Stephen Key, oboe
Lise Keiter, piano
Marcel Tournier (1879-1951)
Nocturne, Op. 21
Tom Stevens, viola
Kelly Mikkelsen, cello
Anastasia Jellison, harp
R. Vaughn Williams (1872-1958)
Six Studies in English Folk-Song (1926)
I. Adagio
II. Andante sostenuto
IV. Lento
V. Andante tranquillo
VI. Allegro vivace
Tom Stevens, viola
Anastasia Jellison, harp
Selected works for baritone and piano
Michael Richardson, baritone
Marvin Mills, piano
Corrie Lynn Green with The Hot Mamas
Corrie Lynn Green
Corrie is an Appalachian Folk Singer from the Shenandoah Valley of Virginia. She was discovered by accident by well-known producer and recording equipment engineer D.W. Fearn during the pandemic. She had been writing stories about her life growing up in rural Appalachia since she was young, challenging the ideas instilled by her evangelical upbringing, and education status and bringing authenticity and grit to the stage as if her life depended on it.
Creating a new spin on folk/americana/appalachia genre, self taught singer/songwriter Corrie Lynn Green writes and reflects the secrets and stories of life in a small holler town drawing from her deep roots in rural Appalachia, she also walks down a path of self discovery through personal heartbreak, rebellion, hardship, joy and acceptance.
With a new album on the horizon, Corrie Lynn Green aims to take you on a storyteller's journey through the stages of a life lived the mountain way.
Hot Mamas
"The Hot Mamas are an all-female singer-songwriter collective that is rapidly gaining interest around the Shenandoah Valley. With instrumentation ranging from toy piano, clarinet, banjo, accordion, ukulele, washboard, dueling kazoos to amazing harmonies, The Hot Mamas not only entertain and know how to have a good time but they also captivate audiences with their depth.
Their writing styles range from jazzy to pop, from sea chanteys to murder ballads, soulful blues to drinkin'-when-you're-sad country tunes. The Hot Mamas are quirky, fun, profound and sincere and not to be missed!"
Hotel Madison's Quill Lobby Bar @ 8 PM
Trio Jazz
Trio Jazz
Bob Bersson, Jack Greer, Carter Lyons
MORE LIVE MUSIC (SATURDAY, JUNE 17)
MORE LIVE MUSIC SATURDAY, JUNE 17 (DURING FESTIVAL)
Tap + for more artist and band details
Harrisonburg Farmers Market until 12 PM
Café con Leche
Café con Leche is back by popular demand! Café con Leche is a musical group based in Harrsionburg, VA. While the members met and formed the group in the Shenandoah Valley, they have roots in a variety of places throughout Latin America, from Mexico to El Salvador, Nicaragua, Eduador, to Bolivia and Puerto Rico. Their music will take you on a melodious andd rythmic journey through different regions and musical genres of Latin America, with the blended sounds of guitar, zampoña (panpipes), quena (wooden flute), charango (small 10 stringed guitar), bombo (bass drum), conga drums, and multiple voices.
Book Notes Concert
Led by the Shenandoah Valley Bach Festival, come enjoy an instrument show & tell, hear classically-trained musicians perform live, and hear wonderful children's literature read as well.
Dart Resale & Trade @ 5 PM
Rain Pickers
Perry Blosser (mandolin), Seth Stauffer (fiddle), Jesse Reist-Miller (cello), and Madeline Reist-Mil
MORE LIVE MUSIC SATURDAY, JUNE 17 (AFTER FESTIVAL)
Tap + for more artist and band details
GypsyTown
GypsyTown
GypsyTown will take you on a journey of cover & original Blues, Rock & Soul with a bit of Jazz flair. From Fleetwood Mac to Chris Stapleton to Imagine Dragons, there's something for everyone! Come on & visit our GypsyTown!
Court Square Theater @ 7:30 PM
Emmet Cahill
Emmet Cahill
Emmet Cahill grew up in the small town of Mullingar, located in County Westmeath, among the midlands of Ireland. He has been hailed as 'Ireland's Most Exciting Young Tenor' and has been touring North America for over eleven years as lead singer of the PBS phenomenon, Celtic Thunder. He is featured as a soloist on six World Billboard #1 Hit Albums.
Emmet has performed on tour in over 80 US and Canadian cities, as well as several cities across Australia. He made his Carnegie Hall (NYC) solo debut, with full orchestra, to a sold-out audience. Emmet performed at New York's St. Patrick's Cathedral this past March for several dignitaries of the church and world leaders attending the St. Patrick's Day mass, which was aired on public television. He has also performed concerts with such prestigious orchestras as the Atlanta Symphony Orchestra and the Pittsburgh Symphony Orchestra.
Emmet was recently titled, 'Irish Tenor of the Year' by the Irish American Music Association. Emmet's career as soloist has extended beyond the stage to several major TV networks and audiences, including: The Today Show, The QVC Network, and all PBS networks across the US. Emmet is excited to share his Summer Tour 23' with the city of Harrisonburg, VA at the Court Square Theatre on Saturday June 17th.
Josh O'Dell 
Josh O'Dell currently serves as Director of Choral Activities and Assistant Professor of Music at West Virginia State University.  Before coming to State, he served as Chorus Master/Director of Education & Community Engagement at Opera Roanoke, Director of Sales at the Roanoke Symphony Orchestra, Artistic Director/Founder of the Voices of Appalachia (Roanoke, VA), and served as Minister of Music for churches throughout Virginia, North Carolina, Pennsylvania, and Florida. Josh also held a music faculty position at Radford University where he taught Music Theory.
Josh has completed doctoral studies in Choral Conducting and Pedagogy and holds a Master of Music in Choral Conducting from Messiah University, a Bachelor of Science in Music from Radford University, and a Certificate in Sacred Music from Virginia Wesleyan University with additional graduate studies in Choral Conducting at the Shenandoah Conservatory of Music.
Josh made his Carnegie Hall conducting debut in July 2022 with a choir of over 100 singers, members of the Roanoke Valley Children's Choir, the New England Philharmonic and featured soloists from the MET. Josh is a sought-after conductor, educator, and clinician. He has served as a guest conductor and adjudicator for several choral/orchestral festivals and competitions across the country. He is elated to join Emmet Cahill and the team this summer as Music Director/Conductor.
Hotel Madion's Quills Lobby Bar @ 8 PM
Josh Davidson
Josh Davidson
Josh Davidson hails from the Blue Ridge Mountains of Virginia. He is a local artist that plays a wide variety of genres including country, outlaw country, southern rock, folk and blues. He started playing music when he was 16 years old and continued to improve his craft. His inspiration through his music career has been Lynryd Skynrd, Tyler Childers and Chris Stapleton.
Sage Bird Ciderworks from 8 PM – midnight
harriSYNTHburg VOL X
BEST.WEEKEND.EVER AFTER PARTY
harriSYNTHburg VOL X: Synth Music Showcase
𝐎𝐔𝐓𝐃𝐎𝐎𝐑 (𝟖-𝟏𝟎): Pʀɪᴅᴇ Mᴏɴᴛʜ Rᴀɪɴʙᴏᴡ Pᴀʀᴛʏ
𝐈𝐍𝐃𝐎𝐎𝐑 (𝟏𝟎-𝟏𝟐): Iᴀɴ's Pᴏsᴛ Pᴜɴᴋ Bɪʀᴛʜᴅᴀʏ
FREEEEEEE
ʜᴀʀʀɪSYNTHʙᴜʀɢ MERCH + DONATIONS sᴜᴘᴘᴏʀᴛ ᴛᴏᴜʀɪɴɢ ᴀᴄᴛs
Donate to bands and get free glowsticks for the party!
𝐖𝐈𝐃𝐎𝐖 𝐑𝐈𝐍𝐆𝐒 – (Fʀᴇᴅᴇʀɪᴄᴋsʙᴜʀɢ) Pᴏsᴛᴘᴜɴᴋ / Dᴀʀᴋᴡᴀᴠᴇ
 𝐌𝐀𝐂𝐇𝐈𝐍𝐄 𝐒𝐓𝐀𝐓𝐄 – Pᴏsᴛᴘᴜɴᴋ / Cᴏʟᴅᴡᴀᴠᴇ
 𝐒𝐓. 𝐂𝐀𝐓𝐇𝐄𝐑𝐈𝐍𝐄 𝐎𝐅 𝐒𝐈𝐄𝐍𝐀 – "Bizarre, dissonant, and dark, St. Catherine of Siena combines raw audio with punchy synth and classical instrumentation to create a pseudo-orchestral, pseudo-dance pop sound. Haunting and playful vocals describe feelings of desire, loss, and devotion."
https://soundcloud.com/idreamofloveeternal
 𝐉𝐀𝐆𝐔𝐀𝐑𝐃𝐈𝐍𝐈 – Dᴀʀᴋᴘᴏᴘ / Rᴇᴛʀᴏsʏɴᴛʜ
https://jaguardini.bandcamp.com/
𝑆𝑒𝑐𝑟𝑒𝑡 Bathroom 𝑆𝑒𝑡 𝑤𝑖𝑡ℎ 𝐏𝐎𝐓𝐓𝐘 𝐃𝐑𝐀𝐌𝐀
 𝑂𝑢𝑡𝑠𝑘𝑖𝑟𝑡𝑠 𝐹𝑜𝑜𝑑 𝑇𝑟𝑢𝑐𝑘