Grab a Sip & Stroll drink and discover some great local music on our various stages!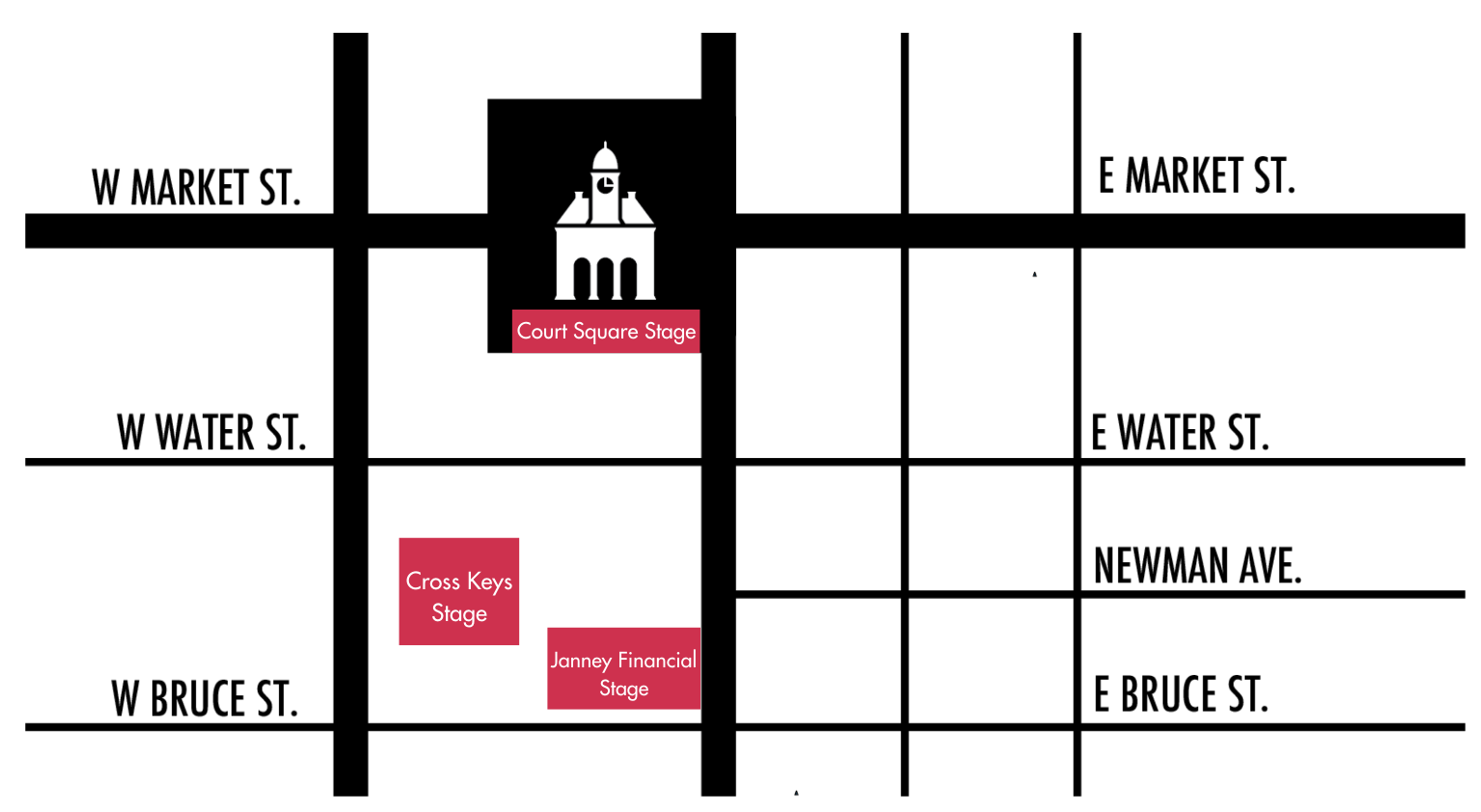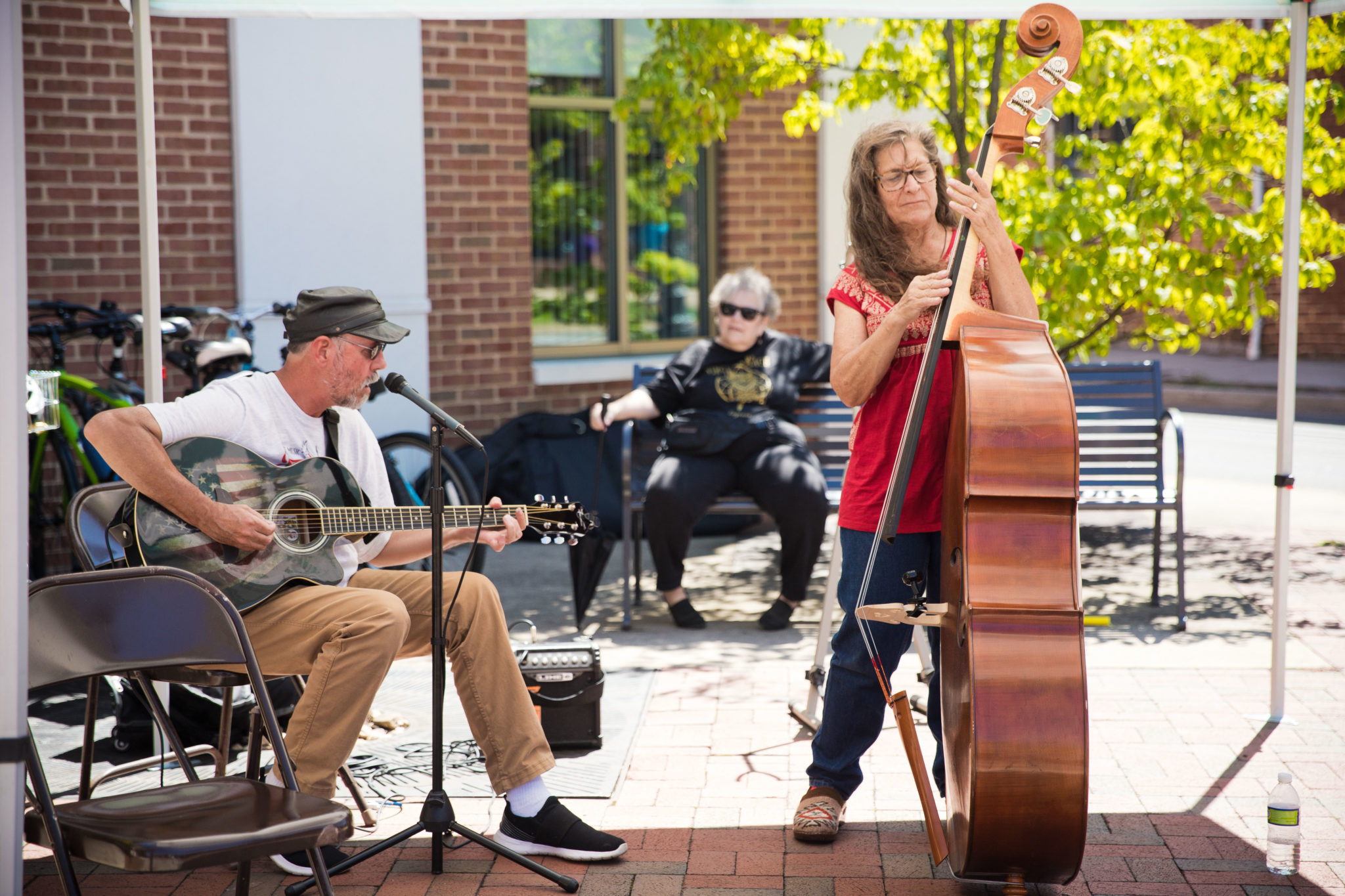 Made possible through sponsorships from:
LIVE MUSIC AT COURT SQUARE STAGE
Sponsored by Denton Family Foundation
1 PM – Zouk Dance
Lively dance demo!
1:30 PM – Rebecca Porter
Heartfelt and honest country music.
2:50 PM Rebecca Porter & Ebony Nicole
Join these two artists with the crossover duo set!
3: 35 PM – Ebony Nicole
Singer-songwriter.
4:10 PM – Dr. How
Jam out to Dr. How and Friends!
5:10 PM – Beyond the Sea
Unplugged rock.
6:30 PM – Keynote Illidge
Hip-Hop
LIVE MUSIC AT CROSS KEYS STAGE
Located Behind Shenandoah Bicycle Co.
1 PM – Highlander String Band
Old-time string music.
2 PM – Simply Folk
Singer/songwriter music.
3 PM – Caitlin Fernandez
Americana/ Country music.
4 PM – Jesse Payne
Americana/ songwriter music.
5 PM – Clymer & Kurtz
Textured singer-songwriter guitar duo.
LIVE MUSIC AT JANNEY FINANCIAL STAGE
Located at Denton Park
1 PM – Mallory McKendry and her One Mal Band
A whole band with just one performer!
2:15 PM – Morgan Dean
Americana Rock on acoustic guitar.
3:30 PM – Appalachian Crabgrass Revival
Check back soon!
4:50 PM – Georgia Saunders
Check back soon!
6 PM – The Millichenkos
Traditional Ukrainian music.
Butts Up Cider Release Party (4 – 10 PM)
Sage Bird Ciderworks
Friends of Shenandoah River trivia 4 – 7 PM, live music with Cousin Jimmy's String Band 7 – 10 PM, Chanello's pizza, Butts Up! koozie & dry bag giveaways
Dr. How at Restless Moons with Opener Oliver on Drums (7 PM)
Restless Moons
A full electric rock show! Sing along, tap your toes, dance around, whatever makes ya happy.
Live Music at Pale Fire (7 – 10 PM)
Pale Fire
Crystal and Kelly May will be playing live at Pale Fire!
MORE LIVE MUSIC (SATURDAY)
Live Music at the Farmer's Market (10 AM – 12 PM)
Turner Pavilion
Enjoy tunes from Corrie Green & the String Geeks from 10 AM to noon while you shop fresh and local summer produce, farm products, BBQ, crepes, and artisanal products.
Book Notes Kids' Concert and Story Time (1 – 2:30 PM)
Massanutten Regional Library
Come enjoy an instrument show & tell, hear classically-trained musicians from the Shenandoah Valley Bach Festival perform live, and meet JMU's Furious Flower Poetry Center founder Dr. Joanne Gabbin, as she reads her children's book "I Bet She Called Me Sugar Plum." Free for children of all ages and their caregivers.
Live Music: The Backroad Hitchhikers (4:30 – 10:30 PM)
Restless Moons
Best.Weekend.Ever. After Party (8 PM – 12 AM)
Sage Bird Ciderworks
HarriSYNTHburg Volume IV, synth music showcase with BODY DRAMA, LEMONSQUARE, ONOKIO, PANDASTAR, JAGUARDINI, and NOAH SEE
Who Shot John at Clementine (8 PM)
Clementine
$5 Advance / $8 Day of Show
Live Music in at the Horizon Gifts Parking Lot Sale  (TBD)
Horizon Gifts
Troutmouth and Rebecca Porter!
The Stephanie Nakasian Band at Court Square Theater (7:30 PM)
Court Square Theater
Join The Stephanie Nakasian Band on a Journey through the American Songbook: the Great '20's & '30's. Stephanie Nakasian is an exciting, well-seasoned vocalist and master of innovative jazz improvisation, completely authentic with a fresh and vibrant sound all her own.
Live Music at Pale Fire (5 – 7 PM)
Pale Fire
FREE live music with Sadie Gustafson-Zook + Jobi Riccio
"Les Go baby" Tour (8 PM)
Golden Pony
Brainstory with Takyon. $12 advance/ $15 at door.