It's been over a year since Agora Downtown Market opened downtown. Business owners love the shared space, customer sharing, and working with the other entrepreneurs in the space. But, what's more interesting is their unique stories and what brought them to Agora. For some, Agora is their second location. For others, Agora presented a great opportunity for two JMU grads to start up their dream business.
See why Agora was the right fit for New Creation, Bluestone Running, and Broad Porch Coffee Co.
New Creation 
New Creation is a nonprofit organization and a boutique that symbolically got its start in a building outside of downtown Harrisonburg that once housed a pornography store. New Creation owners, Sabrina Dorman-Andrew and her husband Steven Andrew, got their start working with The Zion Project, a Ugandan organization, by selling paper beads out of their home to assist the Project in its mission to help survivors of sex slavery. Realizing how impactful social enterprise can be in counteracting modern-day sex slavery, they bought the former pornography shop to promote their mission and business dedicated to counteracting sex-trafficking and selling fair trade and survivor-made goods.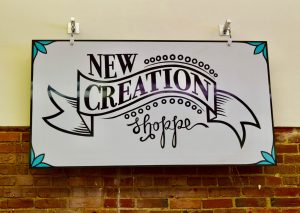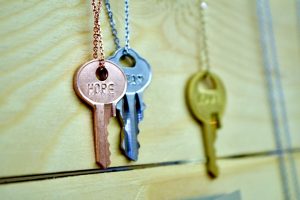 "We wanted to start the conversation around the connection to porn and sex trafficking. It has been a great conversation starter and way for us to raise awareness regarding the damaging realities of pornography," says Sabrina, "We hope that by us taking a building that was used in a negative way and redirecting it to be used in a beautiful way has sparked hope in people. We want our message to be one of healing, hope, and newness!"
When Sabrina and Steven heard about Agora from The Isle Co.'s Becca Miller Slye, they decided it was the perfect opportunity to reach the downtown Harrisonburg community.
"By adding our second store downtown, we're able to reach another demographic that we wouldn't normal reach to spread the message about what we do," says Steven.
With products ranging from jewelry to bags to accessories, New Creation partners with organizations that help women around the world earn income while dressing the women of Harrisonburg in style. With an eye for design, Sabrina carefully chooses all of the items in New Creation.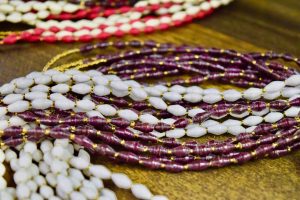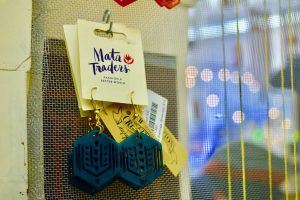 "Networking with others in the anti-trafficking movement is the most common way we make connections for items in our stores. I love design, so I really enjoy choosing which items we will carry as well as designing items for our partnerships to create. Every item tells a story of lives restored," Sabrina reveals.
With graduation quickly approaching, New Creation is an excellent spot to buy your favorite grad a leather bag to enter the working world and pick up some nice accessories for yourself while you are there, too.
Bluestone Running
A runner and biker since birth, owner of Bluestone Bike & Run, Kyle Coleman, has always enjoyed bringing people happiness through his two favorite forms of exercise: biking and running. Since 2014, Bluestone Bike & Run has been serving the runners and bikers of Harrisonburg with specialized gear, service, tours, and more. Though he was originally hoping to go to business school, Kyle was presented with the idea of taking over an established bike shop and revamping it. The opportunity was too good to pass up, and so, Bluestone Bike & Run came to be on his 30th birthday on South Main Street near Purcell Park.
Last year, Kyle decided that it was time to expand to the downtown area. He wanted his new store to reach new customers and focus on running shoes, accessories, and customized service. And since December, Kyle has been able to do just that with his newest location, Bluestone Running, in Agora Market.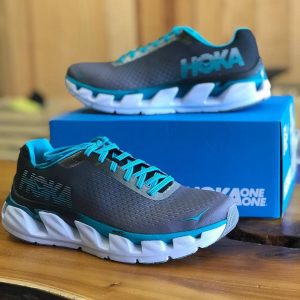 "We wanted to become a part of the downtown community. Although our main location is barely a mile and a half south of downtown, we miss out on all the great things going on downtown. Our main shop is a destination location, which is great in its own sense, but I also wanted a location that had lots of people walking through, and Agora fit the bill perfectly. I like to say that our Agora location is for people who 'live, work, and play downtown,'" says Kyle.
Bluestone Running's goal is to focus on bringing together the downtown Harrisonburg community through running and walking. With warmer weather on the horizon, it's a great time to find a pair of sneakers that fit nicely and a group to run with! Luckily, Kyle has some advice for those who aren't into running…yet.
"Start slow. Everyone is a runner, some just go faster than others. Walking has many of the same benefits for your body as full-out running, so don't be afraid to go slow," advises Kyle. "Also, find a group of friends to walk or run with. We have a Wednesday night 'fun run' group that is open to all types of runners. Join in the community and you'll get more out of running than a healthier body: you'll also get some great friends!"
Some of Kyle's favorite places to run are Purcell Park, JMU's campus, Hillandale Park, and the Western Slopes of Massanutten. Head into Bluestone Running, grab a pair of sneakers and shades, and hit the trails!
Broad Porch Coffee Co.
Agora Market wouldn't be complete without a coffee shop. Located near the back of the market, Broad Porch Coffee Co.'s beautiful wooden bar and the scent of roasted, small-batch coffee will make you want to interrupt your shopping for a cup of joe.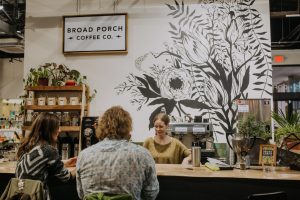 The story of Broad Porch is a classic tale of two people putting their ideas together. Both JMU alums, owners Phil Duntemann and Jill McMullan combined their love of roasting small-batch coffee and running a small business. Phil started roasting his own coffee after googling how to do it. When he sold his coffee to Jill, she fell in love with it. Jill always wanted to open a restaurant out of a truck, and bought a 1963 Shasta camper to get started. However, when they heard about Agora, they agreed it was the perfect place to start their new business together.
One thing that environmental activists will love about Broad Porch is their ability to stay committed to waste reduction. In fact, Broad Porch encourages customers to bring their own coffee cups or mugs, and when they do, they receive a discount. And the savings don't stop there: Broad Porch also encourages customers to bring in their own coffee canisters for their whole, roasted beans for a discounted price. Finally, make sure to grab a loyalty card the next time you're there. Return visits for a cold brew, latte, blended tea, or classic cup of joe will earn you rewards.

Susie Patrick is a Marketing Intern at Harrisonburg Downtown Renaissance and a senior at James Madison University, where she majors in Communication Studies. She graduates in May 2018.
New Creation photography by Navya Dev Photography.
Bluestone Running photo by Bluestone Running.
Broad Porch Coffee Co. by The Commoneer.