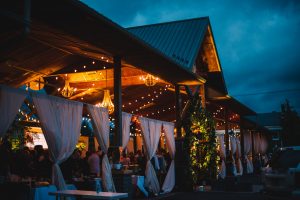 HDR celebrated our 15th Anniversary with a festive and food-filled night in the heart of downtown Harrisonburg!
The event featuref an elegantly transformed Turner Pavilion; 15 curated bar and tasting stations from downtown restaurants like you've never seen them before; 10 incredible experiences to be auctioned off to the highest bidder; plus music by DJ Ryan Clark, The Rosy Co. vintage photo booth trailer, craft cocktails and more!
See the full 2018 Dinner Party Photo Album, Video, and Photo Booth Album.
Thank you for supporting our fundraiser and the revitalization of downtown Harrisonburg!